Anna Bogutskaya argues that, much like Judd Apatow's 'frat pack' comedies, the central bromance forms the beating heart of Nicolas Cage's uproarious meta-comedy.

It's understandable that most of the marketing and conversation around The Unbearable Weight of Massive Talent has been about the meta-joke of Nicolas Cage playing Nick Cage, a fictionalised version of himself who is a washed-up action star longing to be taken seriously again. In the film, Nick Cage has almost the same career as Nicolas Cage: he's made action classics like Face/Off and Con Air (both 1997), he's been an eccentric leading man in Wild at Heart (1990) and Peggy Sue Got Married (1986) and, for the past decade or so, has top-billed poorly reviewed direct-to-streaming action flicks. 
What the movie is actually about, though, is not so much Nick Cage (or Nic Cage), but a bromance. Ah, yes, that staple word of mid-2000s comedies, ushered into box-office success by the Judd Apatow repertoire of comedy dude-bro superstars. Films such as The 40-Year-Old Virgin (2005) and Knocked Up (2007), Superbad (2007) and I Love You, Man (2009) made Steve Carell, Seth Rogen, Paul Rudd and Jason Segel into leading men whose films usually revolved around their close male friendships. Even when there was a pretence of heterosexual romance, the real story was always about men's intimacy, and the peculiar codes of their bonds.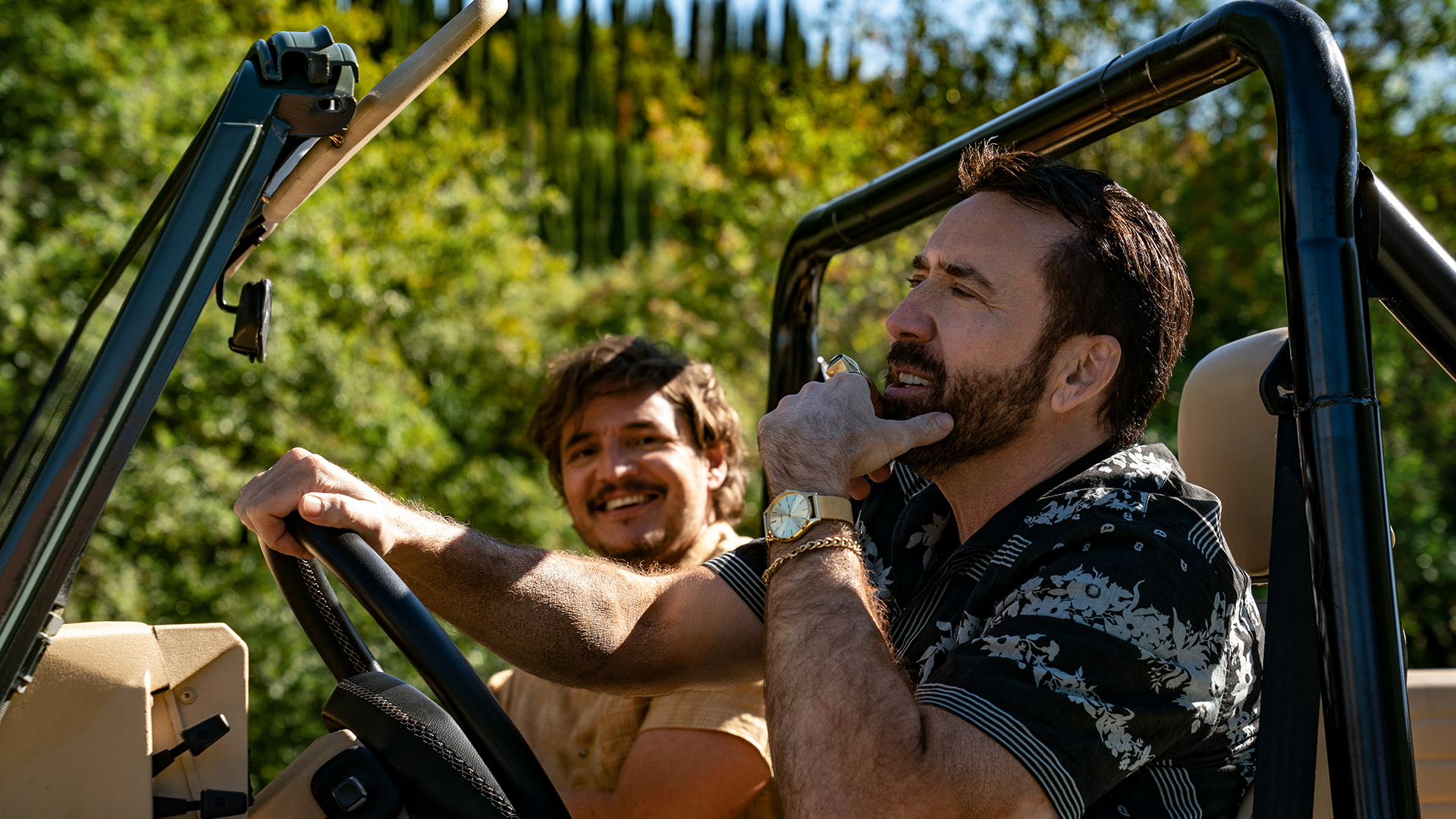 The Unbearable Weight of Massive Talent picks up that baton, with added action shenanigans and meme-reminiscent comedy stylings. When the fictional Nick Cage is booked to appear at a wealthy businessman's birthday party in Mallorca, he reluctantly takes the job for the money, sulking through the jet lag. The businessman, Javi Gutierrez, is played here by Pedro Pascal, who, like Cage, is one of the internet's favourite men. 
Javi is a Cage super-fan of the hyper earnest and hoarding variety: he has a secret cave lair with Cage memorabilia, including a life-sized wax statue of the actor complete with the golden gun from Face/Off, the teddy bear Cameron Poe gifts his daughter in Con Air and a sequin pillow with Cage's likeness. Instead of spooking Cage, it convinces him that Javi's awkwardness is genuine and only mildly creepy. They bond over their shared love of cinema, particularly German expressionist films like The Cabinet of Doctor Caligari (1920), and Nick Cage movies (duh).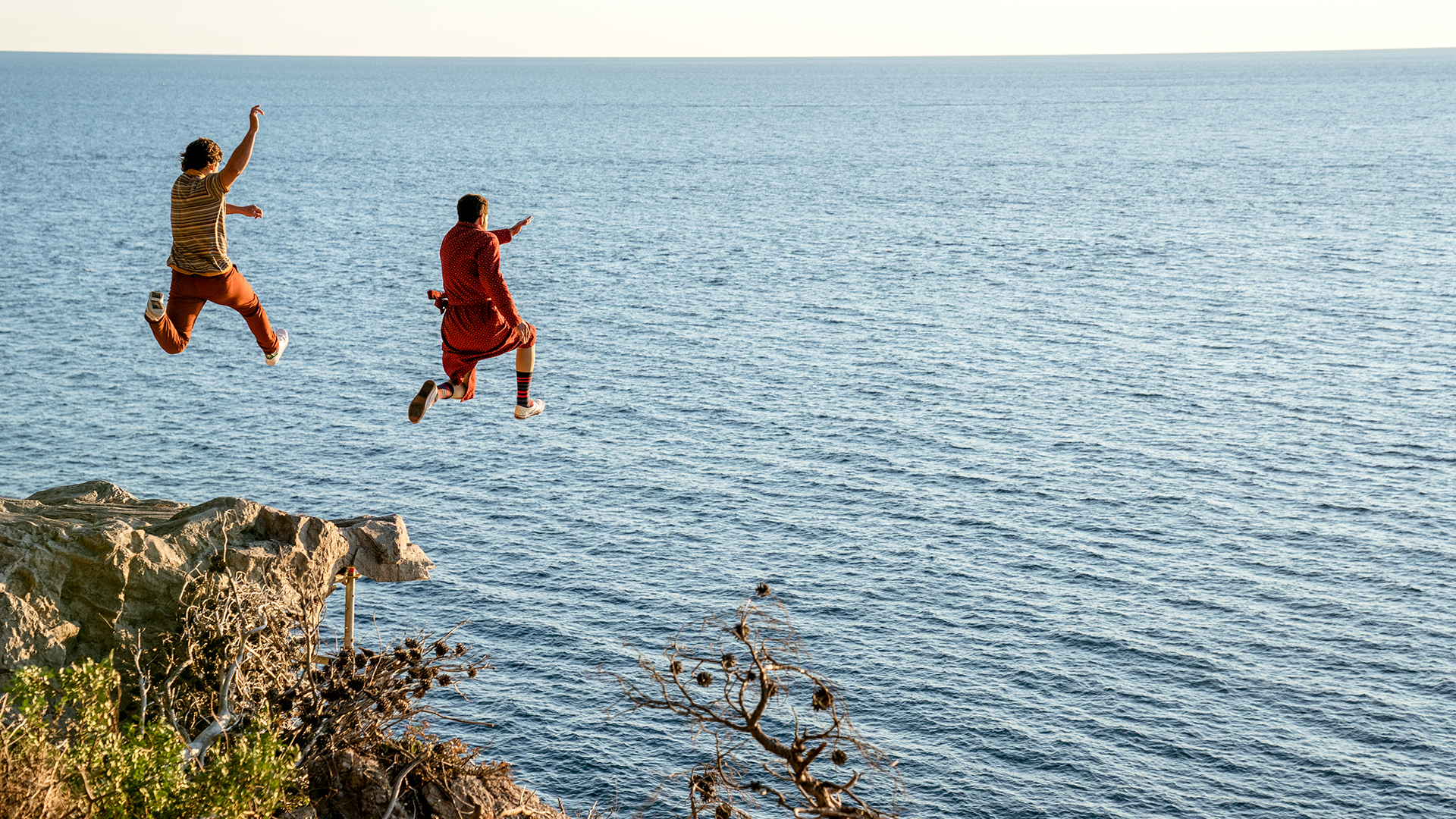 Pascal is himself a Cage fan, having grown up watching his Eighties films Valley Girl and Rumble Fish (both 1983) on cable television, and has called his work in Adaptation (2002) 'one of the best screen performances ever'. Despite enjoying vastly different careers, both Pascal and Cage have amassed quite the online following. The Chilean actor's turn as the cocky Oberyn Martell on Game of Thrones and helmet daddy in The Mandalorian have elevated his status in nerd culture. While Cage rose to prominence through independent films in the Eighties, and then to movie stardom with Nineties action fare, he became an internet sensation retroactively: to several generations, Vampire's Kiss (1988) and The Wicker Man (2006) are more recognisable for his much memed extreme facial expressions than as films in their own right. Pascal's star rose (particularly in the nerdiest annals of pop culture), and he has wholeheartedly embraced the bizarro meme humour that goes hand in hand with it. His face has become a reaction meme apt for almost any situation (see Pedro Pascal Laughing then Crying as the defining meme of 2020).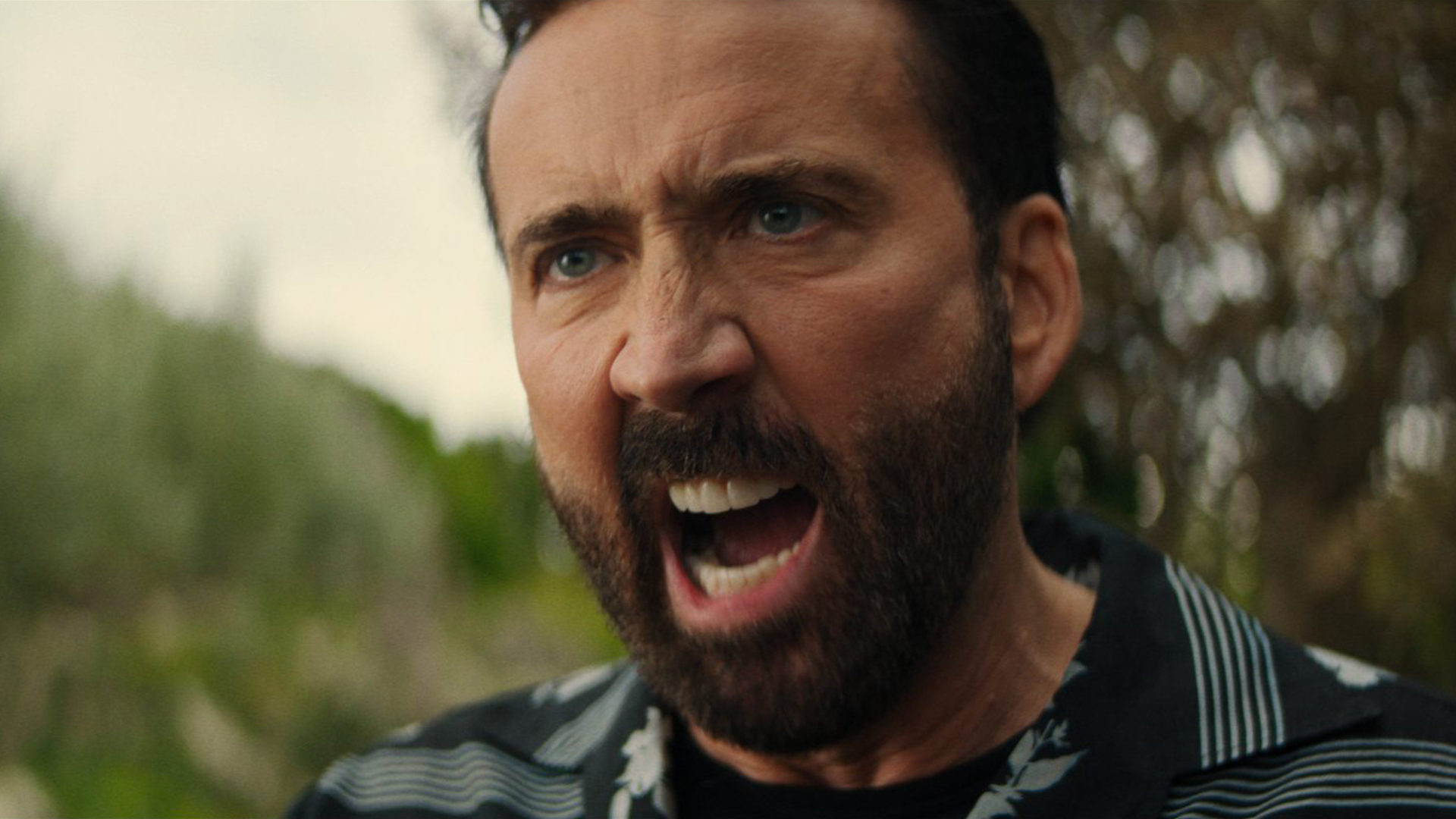 Before screengrabs became de rigueur, the bromance dominated comedy at the height of their popularity in the 2000s. Although you can trace their origins back to Barry Levinson's Diner (1982) or Kevin Smith's Clerks (1994), it was Judd Apatow who established a formula that would be replicated across populist comedies for a good decade (until it eventually tired itself out). The bromance movie often tries to meld itself with action narratives – because nothing is supposed to be funnier than a stoner in a shootout, like Pineapple Express (2008) and Harold and Kumar Escape from Guantanamo Bay (2008) taught us – and has a semblance of a romantic subplot, but these elements are rarely the point. Even in The Unbearable Weight of Massive Talent, the action, the potential rekindling of Nick Cage's relationship with his ex-wife (played by Sharon Horgan) and Javi's forbidden romance with an employee are completely forgettable. What sticks, though, is the brewing intimacy between Cage and Javi.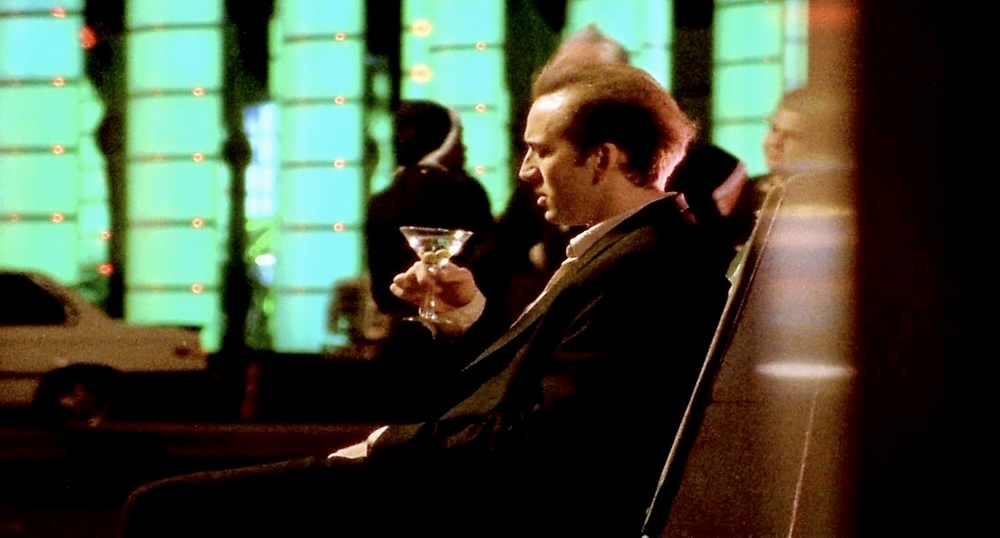 WATCH OUR NICOLAS CAGE COLLECTION ON CURZON HOME CINEMA
Start Browsing
The two follow on from the leads of classic bromance comedies, usually male characters who behave like overgrown teenagers, happiest smoking weed and playing dares with their buddies. They are non-judgemental of each other and, shockingly, express true love and affection for one another. Contrary to alpha-male bro characters like the ones Vince Vaughn and Bradley Cooper perfected in Wedding Crashers (2005) and The Hangover (2009) respectively, the male characters of the bromance are passive and well-intentioned, if clumsy in their actions. They are defined by what they like more than by what they do. The New Yorker film critic Richard Brody wrote in 2007 that such a character 'spends time memorialising his youth—archiving old movies, games, and jokes', as Javi does in the film.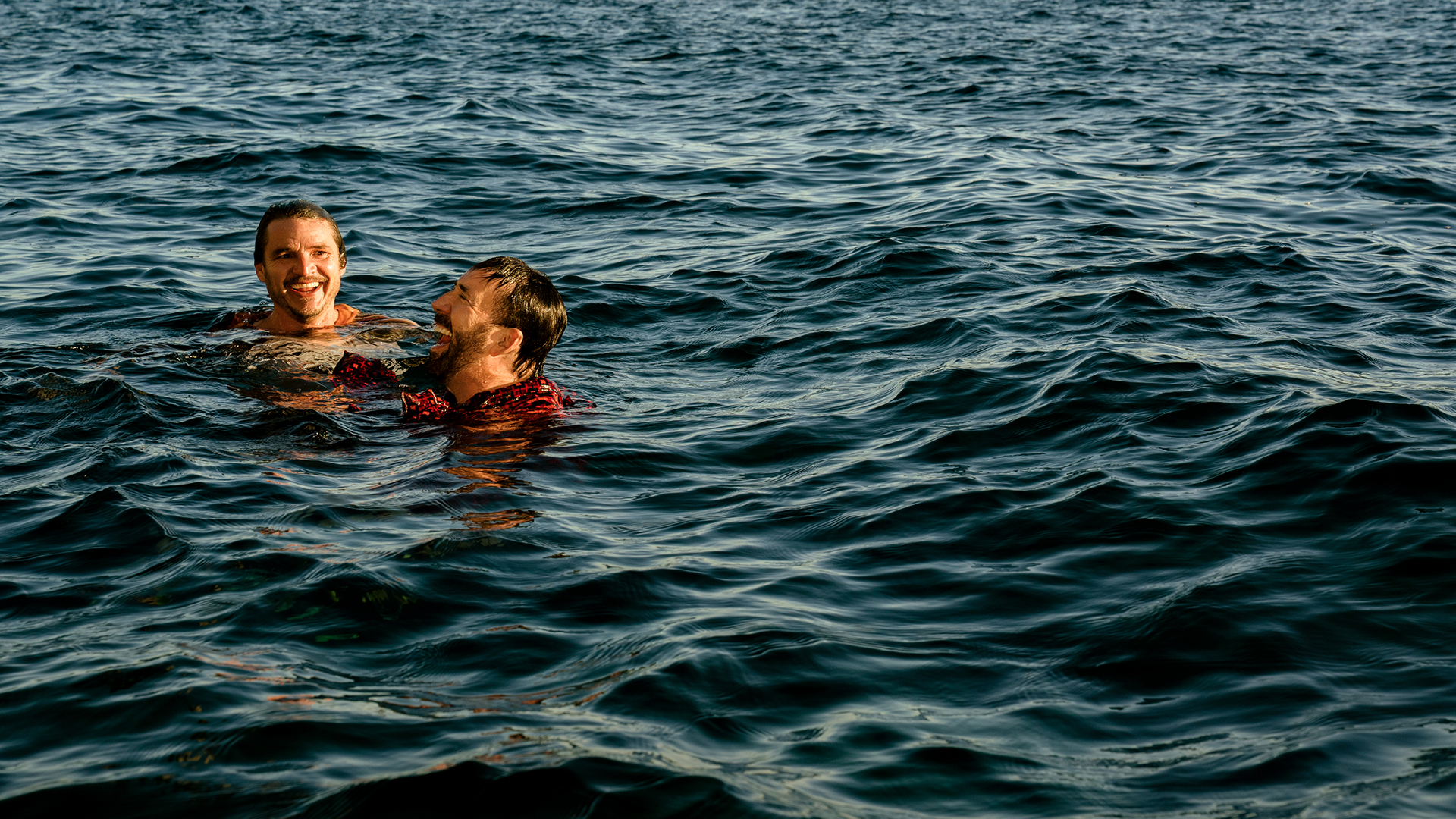 Because of his fandom (and an unbearably earnest ulterior motive), Pascal's Javi is so nervous around Cage at first, he's courting him like he's not on his turf in his own home, which just happens to be a glorious Mallorca mansion. Cage (the fictional one, let's be clear) is similarly disconnected, narcissistically obsessed with the things he loves and forever taking himself too seriously. In one quietly hilarious scene, Javi paces around him in a shirt and speedos (somehow one of the most vulnerable male presentations) until he plonks down next to him, trying to find the right words to ask Cage to – gulp – read a script he has written for him. Both their characters feel disconnected from others in one way or another, and the film is at its goofy best when it fully indulges them. The Unbearable Weight of Massive Talent allows both Cage and Pascal to goof off while indulging in their love of high-art cinema (especially Paddington 2) with unreserved passion.
WATCH THE UNBEARABLE WEIGHT OF MASSIVE TALENT IN CINEMAS