Margot Robbie's production line-perfect doll is thrown into an existential crisis in Greta Gerwig's sharply scripted, girl-power delight, writes Yasmin Omar.

When it was announced that Greta Gerwig was making a film about Barbie – the impossibly proportioned doll beloved by little girls and bemoaned by feminists – I was mildly horrified. Greta Gerwig? The outsider artist who earned her stripes in micro-budget mumblecore? Who was Oscar-nominated for her masterful directorial debut Lady Bird (2017)? Who adapted Louisa May Alcott's Little Women (1868) to great acclaim? Not another promising filmmaker pandering to corporate interests and compromising their creative vision, I grumbled. That the words 'a Mattel Production' appear before Barbie's title treatment did little to assuage my worst fears that the company had smeared its fingerprints over the film. But then it started with a laugh-out-loud parody of 2001: A Space Odyssey (1968) – substituting the monolith, a symbol of epic transitions in human history, for a larger-than-life Margot Robbie in a one piece literally winking at the camera – and my cynicism began to dissipate. Greta, I'm sorry I doubted you.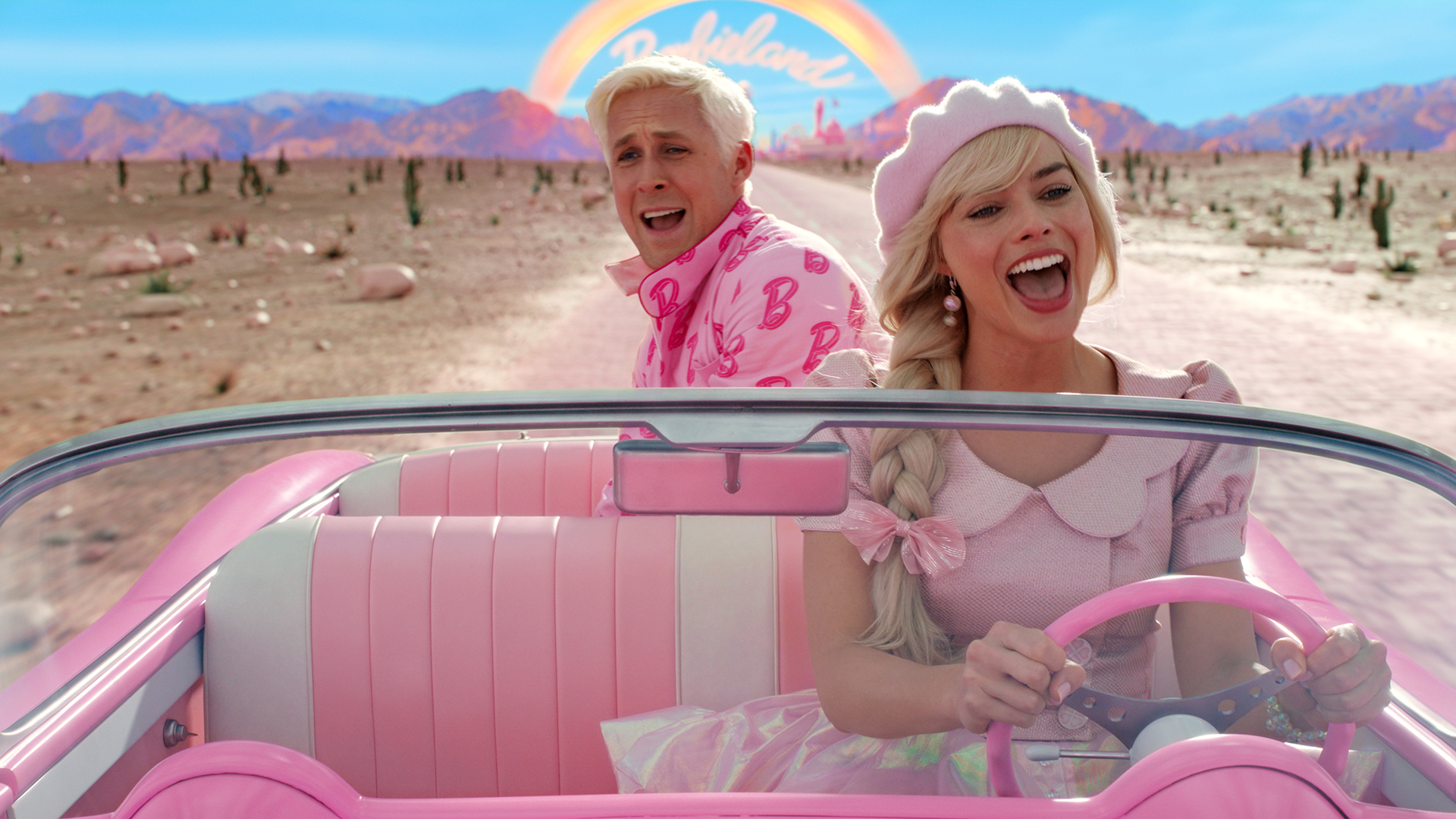 Barbie is a dazzling, frothy meta-comedy that's very much in on the joke. Its varnished artificiality is a powder-pink Trojan Horse with which the film smuggles its very real commentary on gender politics. We meet Stereotypical Barbie (Robbie, putting her appearance as Western beauty standards made flesh to excellent use) on a day like any other: perfect. Barbie Land is a peachy, pearlescent utopia where a vast array of high-achieving Barbies – from Issa Rae's President Barbie to Alexandra Shipp's Nobel Prize Winner Barbie and Nicola Coughlan's Diplomat Barbie – all reside in harmony.
They begin their days cheerfully waving to each other from their spotless Dreamhouses, and end them performing choreographed dance routines to Dua Lipa in a rainbow of shimmering dresses. On the outside looking in is Stereotypical Barbie's smooth-brained beau Ken (Ryan Gosling) – a beach-bound simpleton whom she deems 'totally superfluous' – and his fellow, equally directionless, Kens. Hairline cracks start to fissure Barbie's plastic-fantastic existence when she becomes aware of her own mortality, and they soon splinter apart to open the divide separating Barbie Land and the real world. To prevent such death-fearing dread spilling into the paradise she calls home, Barbie must journey to Los Angeles and put things right.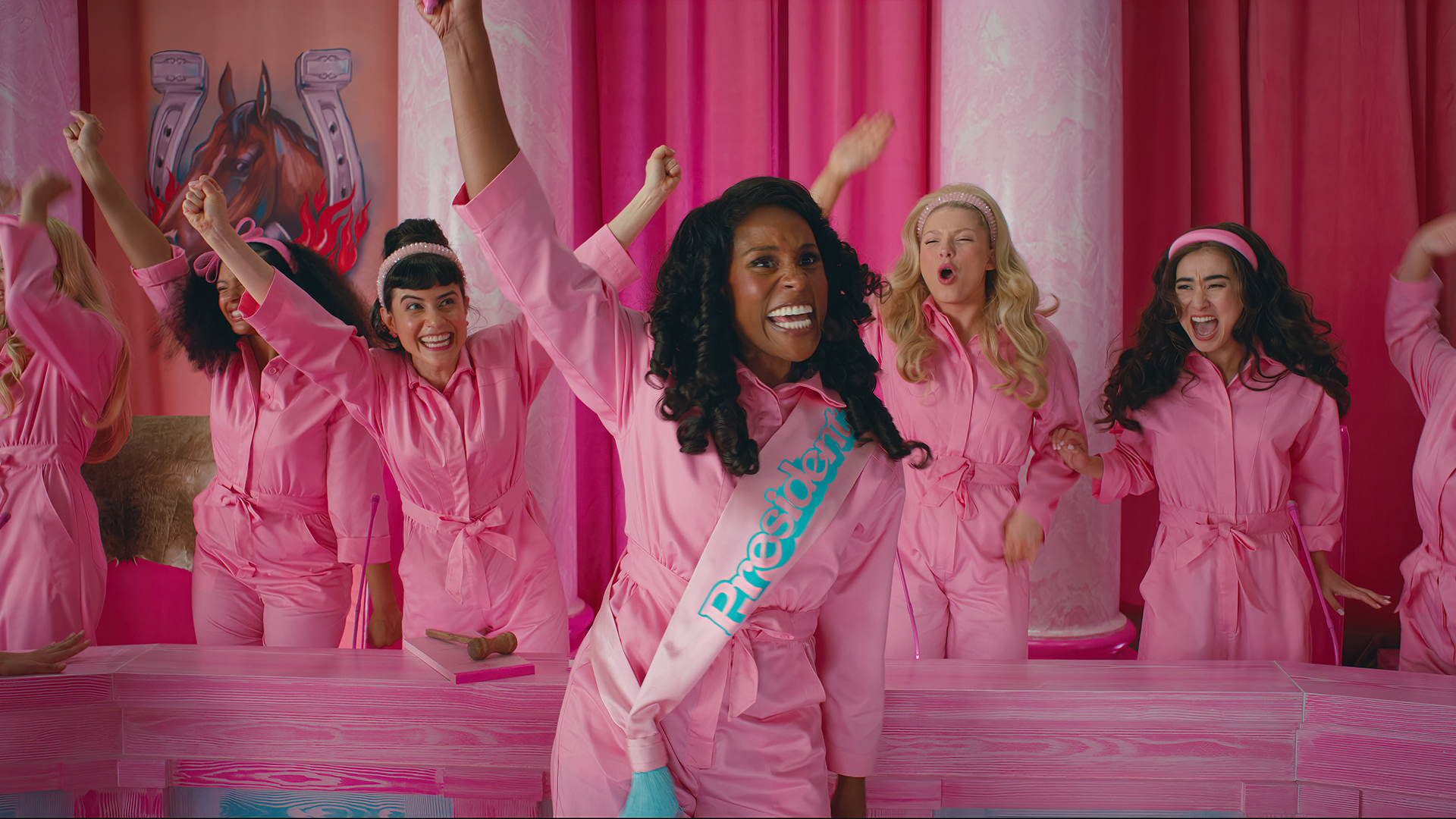 The film is much cleverer than it has any reason to be, swirling together literary allusions and philosophical concepts into a sugar-sweet confection with a deliciously zesty kick. Its setup is overtly biblical, though its Fall of (Wo)man comes not in the form of an apple, but a humble Birkenstock. Its existential anxieties feel ripped from the pages of a Jean-Paul Sartre novel – even Ken's doubled-up, pain-masking sunglasses seem to nod to Roland Barthes' A Lover's Discourse (1977). The film, co-written by Gerwig and Noah Baumbach, is remarkably astute with its skewering of gender expectations.
The disconnect between Barbie Land matriarchy and real-world patriarchy exposes the corrosive effects of oppression, which America Ferrera (as human receptionist Gloria) verbalises in a barn-burning speech about the unattainable standards women are held to that's powerful enough to alter the brain chemistry of all who hear it. (In the mouth of an actress best known for playing Ugly Betty, the monologue stings even more.) That's not to say Barbie's no fun. The film is eye-wateringly hilarious, gleefully satirising modern masculinity through Ken's mangled understanding of it. To him, it's all mansplaining The Godfather (1972), extended guitar serenades and horses. Lots of horses.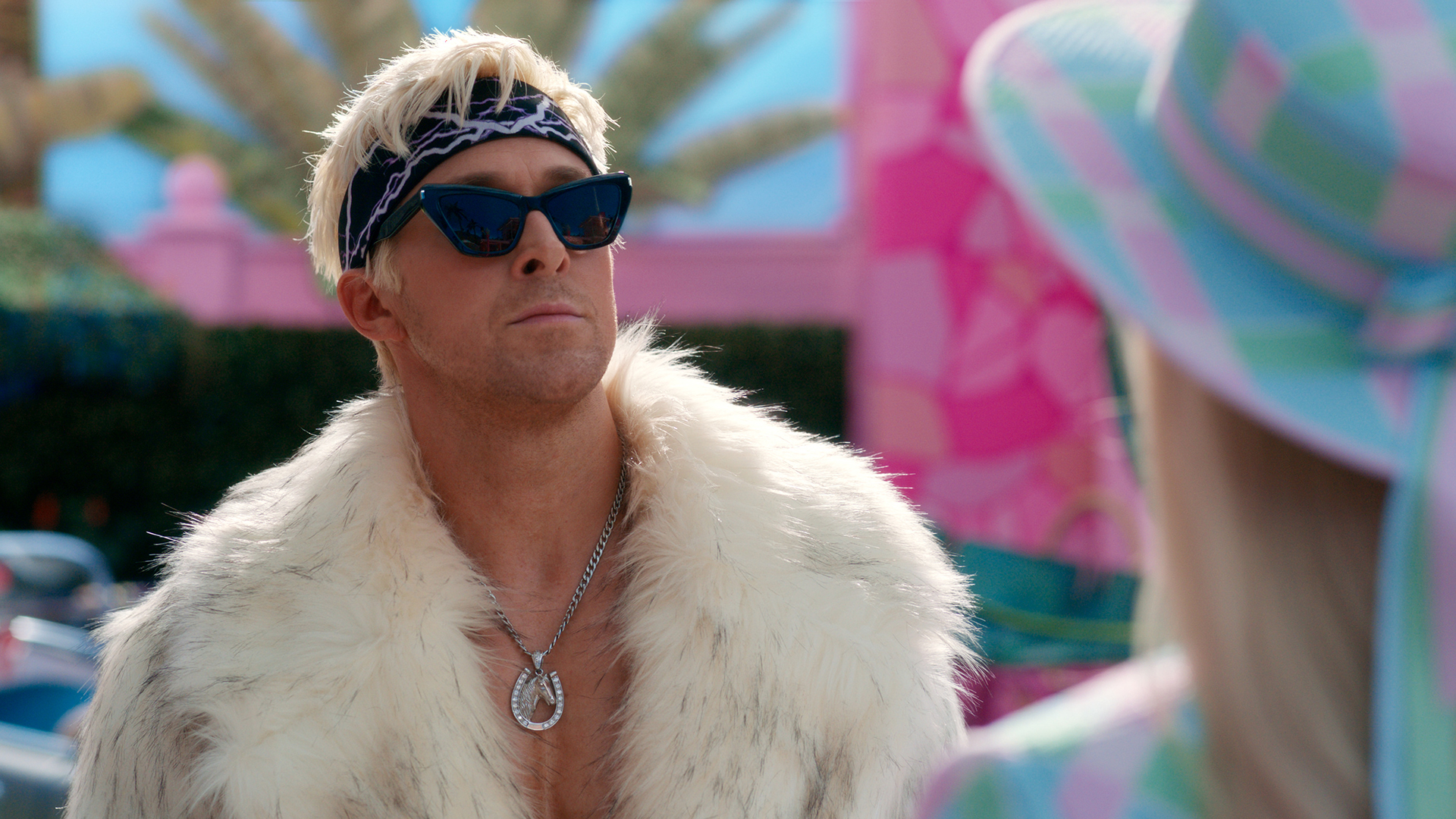 Misogyny isn't the only object of Barbie's satire. Amazingly, Mattel – the multibillion-dollar company that loaned out its most prized intellectual property for this movie – is frequently ridiculed by it. The business, and its employees, are characters in the film, and are largely portrayed as misguided buffoons. Gerwig and Baumbach's script relishes in dredging up the brand's past failures, calling attention to the expectant Midge (Emerald Fennell), who, Helen Mirren's snarky narrator tells us, 'was discontinued by Mattel because a pregnant doll is just too weird'. Similar dud products Tanner, the pooping dog whose plastic turds proved a choking hazard, and Ken's friend Allan (Michael Cera) also appear in Barbie's island of misfit toys, allowing the filmmakers to (lovingly?) roll their eyes at Mattel's missteps. (There is not one, but two jokes about Barbie inventor Ruth Handler's run-ins with the IRS.)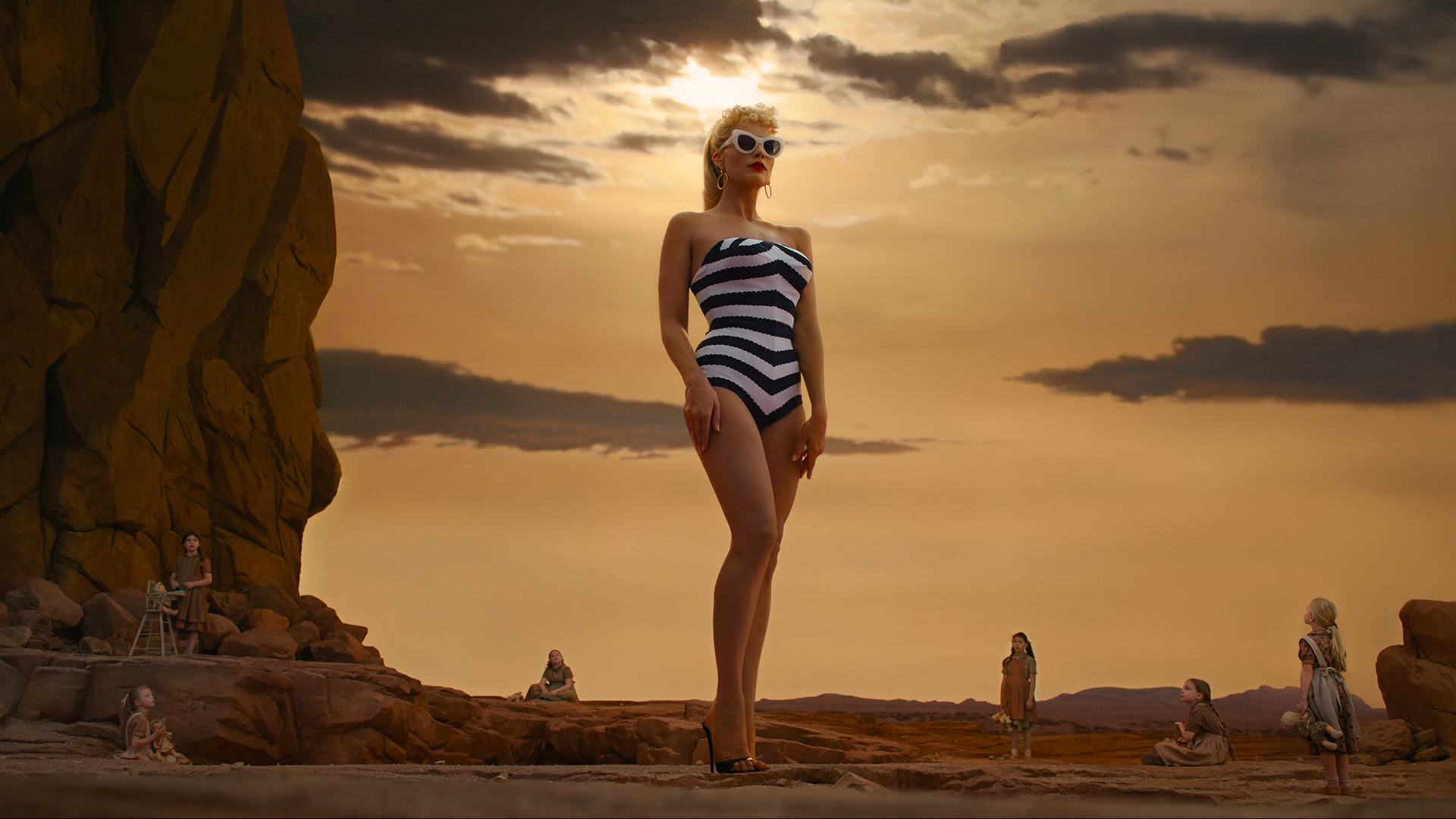 The so-called 'chuckleheads' working for the corporation – led by Will Ferrell in full clown-mode as its tickle-loving CEO – are preposterously empty-headed. When chasing after Robbie's runaway Barbie in their HQ, the all-male staff look like utter imbeciles as they scramble to catch her, pantomiming fear at each other and being flummoxed by the building's gated exit. They may be, um, intellectually challenged, but they are in charge. Barbie, who assumes that dollkind 'completed' feminism for the real world, is shocked to discover Mattel's pale, male and stale C-suite (which mirrors the lack of gender parity at the top of the actual firm). By poking fun at the toy manufacturer, Gerwig calls out workplace sexism and the difficulties women face clawing their way into a seat at a table – even at a company that creates dream factories for little girls, the fuchsia swivel chairs in its boardroom are all occupied by men.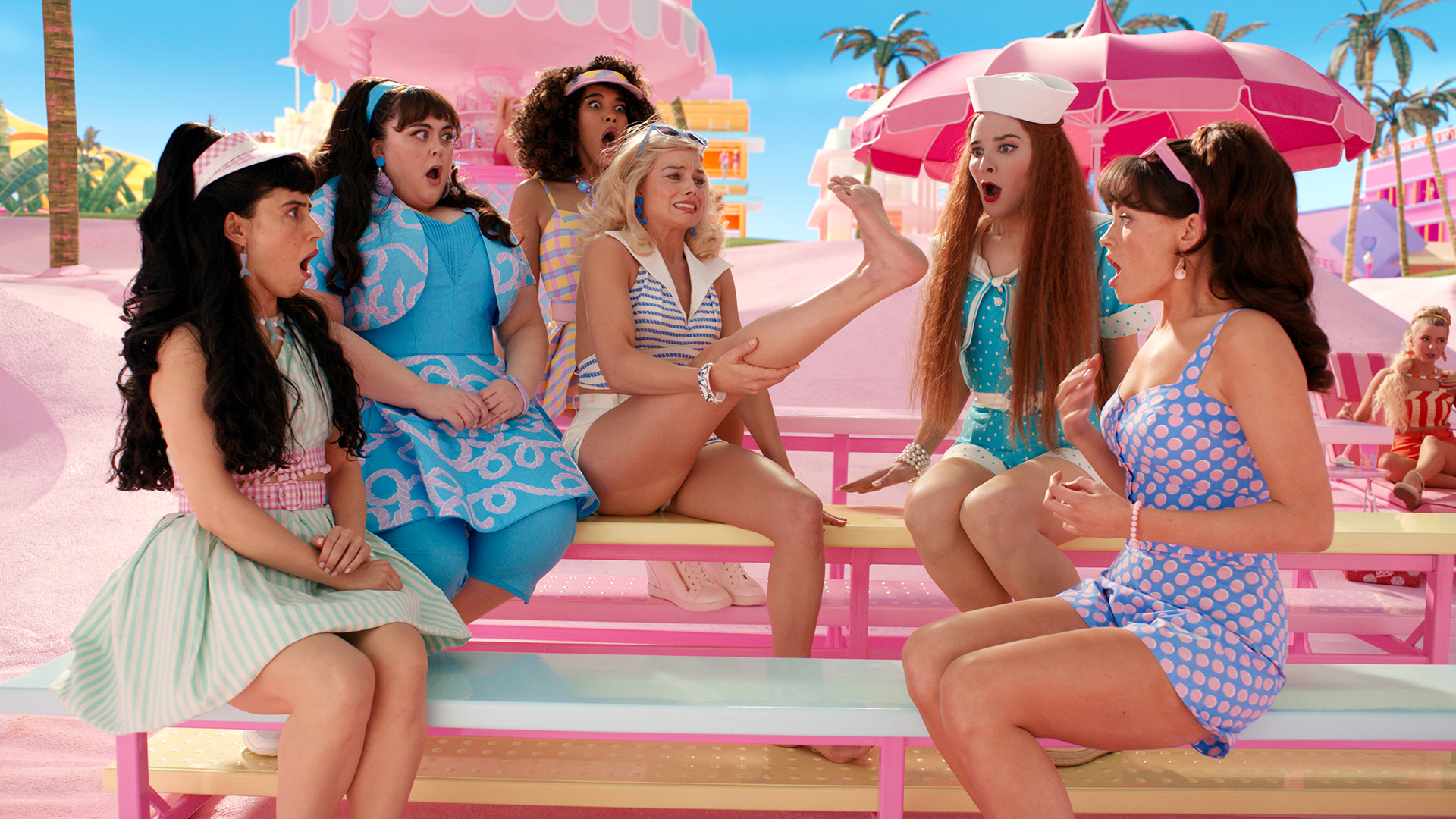 This is, ultimately, Stereotypical Barbie's story and its fish-out-of-water comedy is fertile ground for Robbie. Her performance is effective (and funny!) precisely because she plays it straight. There is no nudge-nudge of recognition to the audience when Barbie's permanently arched feet suddenly fall flat: the actress treats it with the abject horror it merits. Robbie shifts her behaviour in Barbie Land and the real world, illustrating how rapidly her character is socially conditioned by our customs. At home, she speaks quickly, in a high register, confident and assured; on Venice Beach, she lowers her voice to gain authority, and pauses more often as the self-doubt creeps in. Her character arc is fascinating, a hero's journey in which she becomes more and more human, learning to conceptualise feelings of sadness and anxiety unbeknown to Barbie Land. Plus, she's simply marvellous at slapstick – her stiff-limbed, robotic movements as the doll are unfailingly amusing.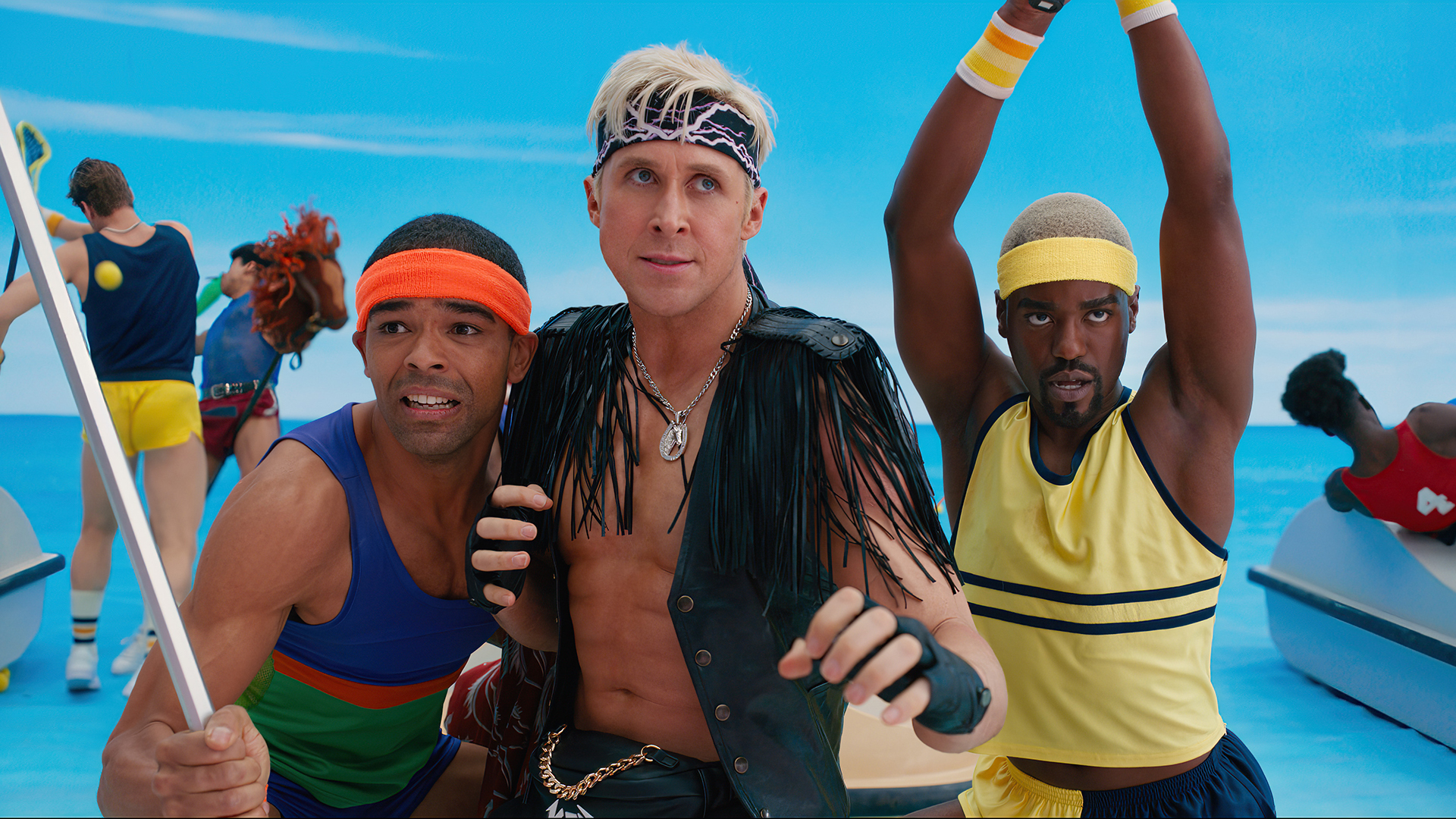 It feels wrong to single him out in this female-driven fantasy, but Ryan Gosling is the film's secret weapon. Always game to mock his own pretty-boy image, Gosling swans around vacantly in Barbie, shirt perpetually open, biceps perpetually flexed. With his guilelessness and giddy excitement, his Ken has rocketed to the top of the great cinematic himbos list (Channing Tatum, watch your back). In what is undoubtedly the movie's best scene, he belts out the original song 'I'm Just Ken', a lavish, Gene Kelly-style musical number assembling all the Kens in a twirling, soundstage-set dance battle that is practically tailormade to go viral online.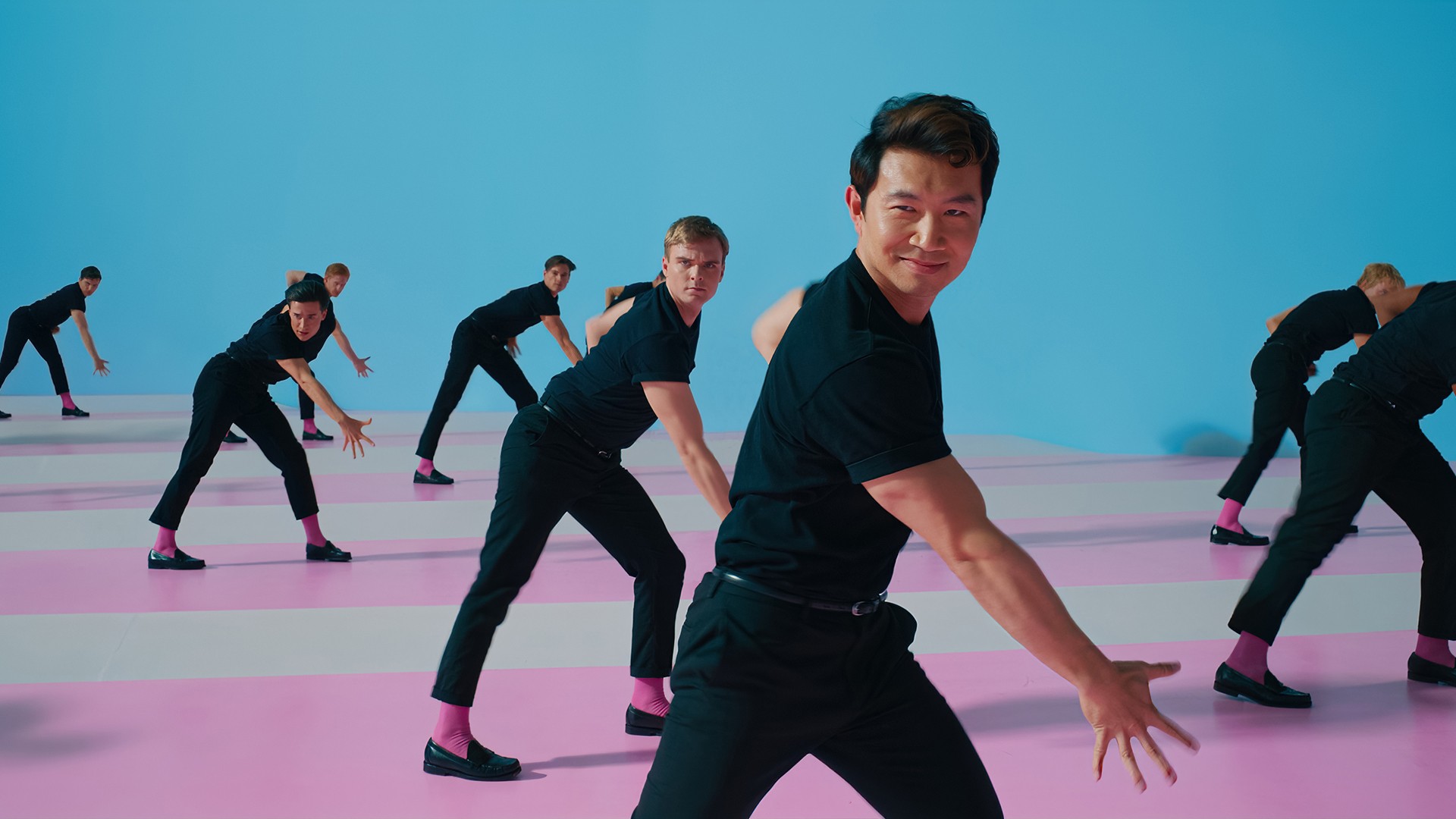 Barbie is so much fun that you almost forget that it's a ploy to sell toys. Almost. Although it is more probing than the pure hagiography of something like Air (2023), the film is essentially having its cake and eating it too, taking Mattel to task while also being a feature-length advert for Mattel. Perhaps such a contradiction is fitting, since Barbie herself is a contradiction. Google her name and you'll find just as many articles declaring the doll a feminist icon as those deriding her for destroying feminism. With this film, Greta Gerwig has pretty smoothly walked the line between appeasing her corporate sponsor and calling it out as part of the problem. Barbie is much like the stilettos that precipitate its narrative: stylish yet dangerous. It uses its surface beauty to humorously criticise societal ugliness – no easy feat.