Curzon Home Cinema programmer Jade Turner spotlights the films to look out for this month in our recently launched strand.

Our new strand Curzon Home Cinema Presents… continues this month in cinemas and on Curzon Home Cinema. It has been fantastic to see so many of you come together each week to enjoy the best independent films, whether in cinemas or from the comfort of your sofas. It is a pleasure to curate such a diverse and stirring film programme, and I hope these titles similarly open your eyes to new worlds and new ways of seeing in the weeks ahead.
We start on Wednesday 5 April with an exclusive preview of Curzon Film's Godland, the latest from visionary director Hlynur Pálmason (A White, White Day, 2020). This extraordinary epic accompanies Lucas, a 19th-century Danish priest, who is sent into the wilds of Iceland to establish a new parish. His faith is tested when he discovers the locals are as hostile and unforgiving as the barren wilderness he treks through to reach them. With breathtaking cinematography capturing the majestic, but terrifying, Icelandic terrain, the award-winning drama creates a world of transcendent, solemn beauty. Godland is a must-see for world-cinema lovers.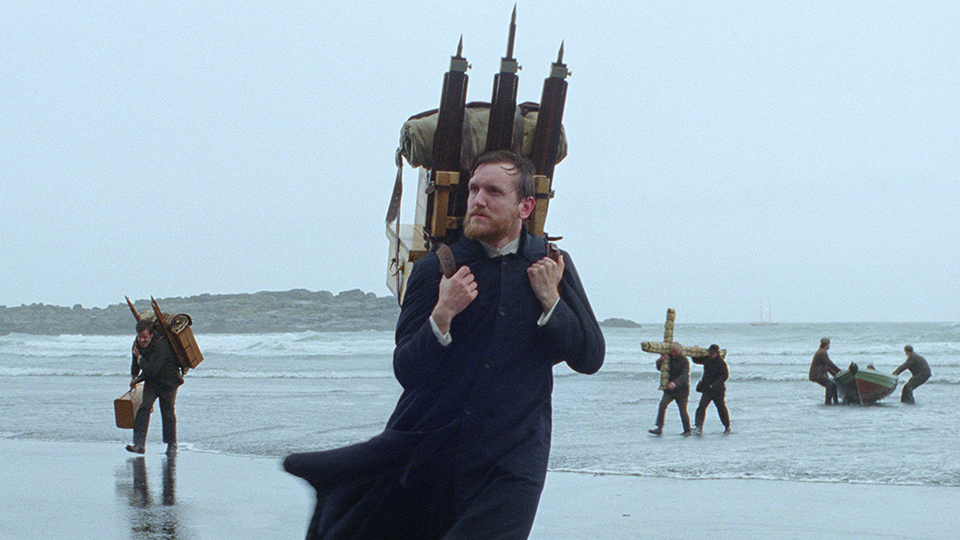 WATCH CURZON HOME CINEMA PRESENTS... GODLAND
Book Here
On Tuesday 11 April, we continue with Riotsville, U.S.A., accompanied exclusively in cinemas by a pre-recorded Q&A with the film's director Sierra Pettengill and journalist Afua Hagan. Taking its name from the fictional towns created by the US military in the 1960s to train police units in riot control, the documentary features shocking military and newsreel footage of the instructional exercises – with majors and generals cheering on the violence from the sidelines – as well as fascinating contemporary public television panels and debates. The haunting documentary reveals the explosive, hidden history of the insidious machine that destroyed the progress of 1960s civil-rights uprisings and paved the way for the police's increased federal funding – the effects of which are still felt to this day.
On Wednesday 19 April, we are thrilled to bring Loving Highsmith to Curzon cinemas and Curzon Home Cinema. The tender and insightful documentary illuminates the life and loves of one of cinema's greatest inspirations: Patricia Highsmith. Discover new insights into the visionary novelist behind The Talented Mr. Ripley (1999), Carol (2015) and Strangers on a Train (1951) through excerpts from the author's personal diary (beautifully brought to life by Gwendoline Christie), home videos, photographs, archive footage, and interviews with Highsmith's family and lovers. As the film delves into the acclaimed writer's wanderlust-fuelled adventures, it sensitively reveals what life was like for lesbians in the post-war period.
Finally, on Wednesday 26 April, don't miss our preview of Curzon Film's Rodeo followed by a pre-recorded Q&A exclusively in cinemas with director Lola Quivoron, hosted by Reclaim the Frame. Racing into the high-octane world of daring motorbike stunts, Rodeo is as fiercely rebellious as it is deeply felt. Julia (a mesmerising Julie Ledru) lives to ride but, as a young woman, she's desperate to prove herself to a group of macho bikers. When they learn she's devised the perfect scam – tricking owners into a test ride before tearing away on their pricey bikes – she finally has an in. But Jula's new life comes with strings attached and, following a horrific accident, not everyone is willing to accept their latest recruit. Tense and mysterious, Rodeo is an unforgettable adrenaline rush.
Join us from Wednesday 5 April for Curzon Home Cinema Presents… in cinemas and on Curzon Home Cinema. Sign up to our newsletter to be the first to hear about May's line-up.
BOOK YOUR TICKETS FOR CURZON HOME CINEMA PRESENTS...