We know you all love a good film poster, and we think this one is an absolute winner. So we wanted to give you a little extra as we launch the UK poster for this remarkably cinematic coming of age tale.
Read on for a behind-the-scenes interview with the talented creators behind this piece that beautifully depicts the themes at the very heart of the film, reminding us all that no matter our reality, some of us are always looking up at the stars.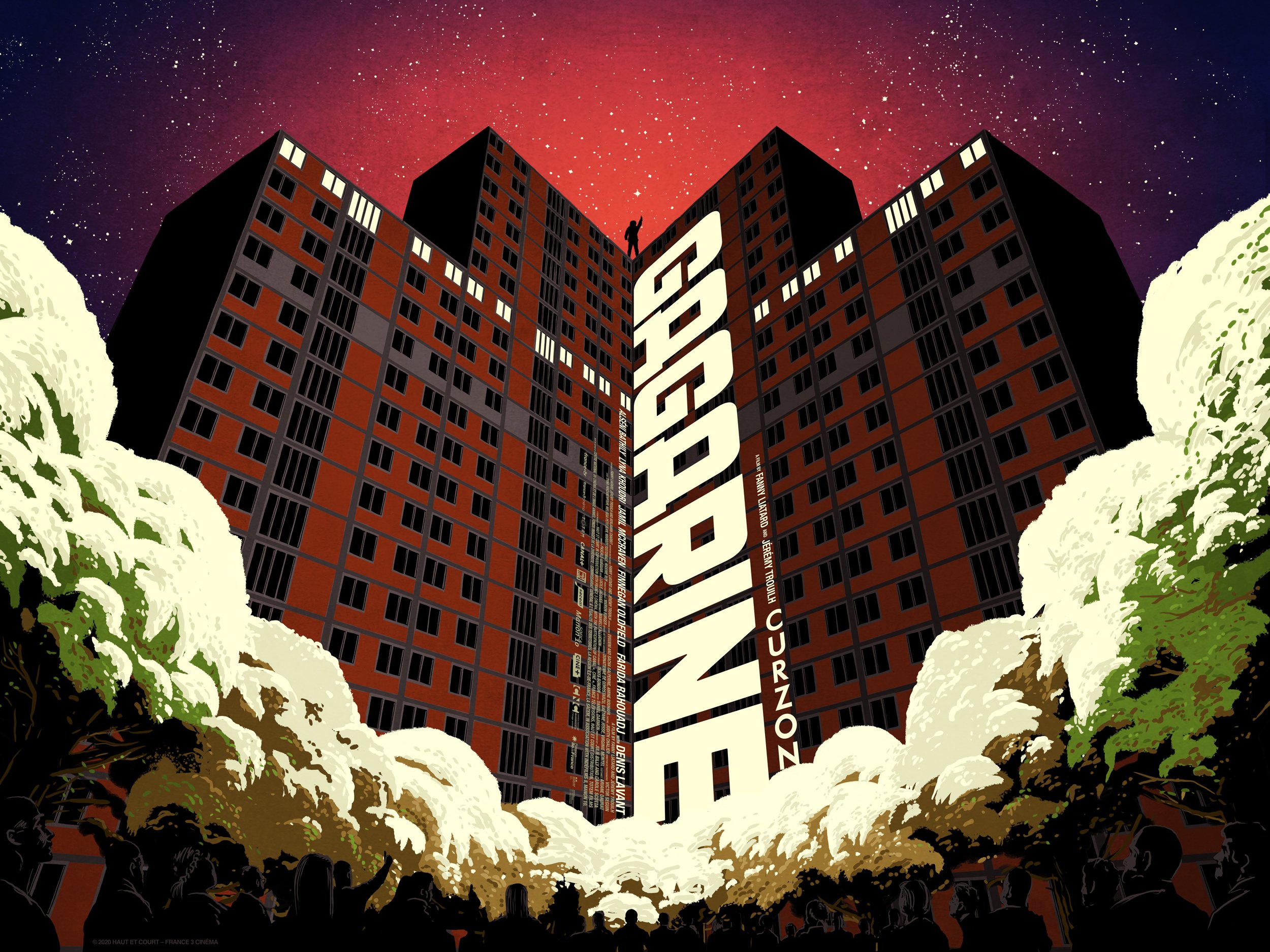 Interview
We spoke to Mark Towers (Curzon Marketing Team's Creative Lead) and illustrator and art director Chris Thornley, the creative minds behind this brilliant piece. We got to pick their brains about their initial ideas, the final product, as well as the process behind poster design for new releases.
Can you both talk a little about the general process of a poster design for new releases?
MARK TOWERS: From my perspective, it starts with watching the film. That sounds obvious but you're looking at it from a point of view of, "Okay, what is appealing here, and to whom? Who is this film made for?" And what are the key elements of the story we can communicate, of course avoiding any spoilers! I then sit down with the wider marketing team and we discuss in detail who the target audience is, and some key comparative titles, and then it's my job to translate all those elements into a single poster design. That starts with finding the right designer for the job and from there on it's a discussion of ideas with that designer until we arrive at a finished product we like.
CHRIS THORNLEY: Each film is different and there's a wide range of production, sometimes you can be brought in early and it hasn't started filming yet, so it can just be an outline of the film with storyboards or pre-production designs to films that are getting a re-release/anniversary edition. On this occasion, I was lucky enough to watch the film first.
What do you think is vitally important when it comes to the design of a poster? 
MT: My philosophy with posters as well as trailers is to show the audience the rabbit hole and not wonderland. Wonderland is what the filmmakers have achieved with the film, I just want to show the entrance to that in the best and most inviting way possible.
CT: It needs to grab your attention and communicate a little bit of the story, an element of intrigue.
What was special about Gagarine in particular, and can you talk about how you began to play with the themes of the film in relation to the poster?
MT: It's a really interesting and unusual film in that it combines a lot of space imagery and iconography with a real-world story and setting. I remember reading one review that says it starts as Fish Tank and ends as The Martian! That may be a slight exaggeration but it encapsulates the challenge. So the key goals Chris and I discussed was the idea of a protagonist wanting to reach space and the stars, the idea of the Gagarine building becoming a sort of spaceship to get him there (which is in the film), and then Chris had the amazing idea of making the trees look like blow-off smoke as a rocket takes off on a launchpad. They also double (triple?) as something else but I wouldn't want to get into spoiler territory.
CT: After chatting with Mark I got a good idea of the aesthetic approach for the poster as well as how we should portray the protagonist, it was a case of coming up with some ideas to make the poster interesting and unconventional.
What did you set out to achieve with this design? 
CT: I really wanted to use some of the soviet poster styles for this; hand-drawn, bold colours and strong typography designed to evoke emotions. I hit upon the idea to use the title to convey meaning more than just verbal significance: the angle of the building and the typography all point upwards⁠—not only to draw focus, but also to give it an aspirational feeling of 'reaching for the sky'.
MT: A few touchpoints we kept in mind throughout the creative process was to look at similar films which are French arthouse, but have this magical reality aspect to them; so I looked at the artwork for things like Leos Carax's films, which feel like they are a big inspiration to this wave of cinema, and, more recently, I Lost My Body. Then the two genre poles of the film, which would be something like Girlhood and Attack the Block. We also looked at alternative artwork for stuff like The Martian. Another key reference point was Soviet propaganda artwork about the Russian space program. Especially one based on Yuri Gagarine's own (supposed) quote "I see no God up here". The predominant red you see in the poster is from this touch of Soviet influence.
Mark, what were your initial thoughts on the poster after watching the film, and what was your initial brief to Chris?
MT: I knew I wanted to do something hand-drawn immediately after watching it. The film has this spectacular magical atmosphere and a theme of aspiration which I thought a hand-drawn piece could capture especially well, and then considering the aforementioned Soviet influences it made it feel like an obvious choice.
I hadn't worked with Chris before this. I sought him out because I'd seen his incredible alt artwork for High Rise and Gravity and I thought this film was broadly a mashup of those, at least from an aesthetic standpoint. He'd also done a book cover for a book called The Forever Watch which had this semi-Soviet, semi-German expressionism direction. So I emailed him and said I loved his work and wondered if he'd be interested in working on this film Gagarine for the above reasons. He said yes and we jumped on a call to go through the various film and art inspirations that we mentioned, and the key themes we wanted to make sure the artwork communicates⁠—space, home and defiance.
Can you tell us about the process of getting the poster approved for release once the final design is in?
MT: This varies from film to film based on contractual obligations, but it's usually a process of sending it to the sales agent and the producers to ensure they are happy with the design and that all the finer details have been executed correctly—stuff like the billing block, logo sizes and, usually in the case of American movies, the top-billed cast in the right order.
Chris, where do you usually start once you receive a brief?
CT: I did a little research when Mark first emailed, I found the trailer online and watched it a few times⁠—that normally sparks a few very loose ideas. After the brief it was a process of scribbling down all those first thoughts; I watched the film twice, the first time was just for enjoyment rather than work, and the second time was with a notebook, jotting down random ideas or elements. I then use the brief provided to start focusing on key themes.
How did this idea come to you, and did it change at all during the creative process?
CT: I had this idea to use the trees as smoke, similar to a rocket taking off, and I sent over a very loose/minimal sketch to Mark to get his thoughts on it. A lot of the design elements—the building shape, typography, etc.—was refined as we moved forward through the process.
 
What was the most challenging part of this design for you?
CT: Redrawing that building! I'd spent a bit of time getting it just right, but it ended up being too tightly drawn. After a little tweaking, I decided to redraw it from scratch but looser this time; it was a last-minute thing but the poster is better for it.
 
Not all film posters are so intricate in detail; can you describe the design for this spectacular poster, and perhaps the ways in which we can read it visually?
CT: There's a lot of different elements there but, hopefully, it captures the heart and the community of the film. After seeing the movie maybe you'll look at the poster a little differently.

MARK TOWERS is Curzon's in-house Creative Lead, in charge of getting all our films' creative materials ready for their release.
CHRIS THORNLEY is an illustrator and art director whose work has been published in Little White Lies, New York Times, Washington Post under alter ego of Raid71. He creates dynamic art with a retro illustration style, classic take and detailed line work, and his expert understanding of graphic design and wealth of career experiences. You can check out his work here.
[Interview conducted by Kelly Powell]