Films about alcoholism have run the gamut when it comes to their representation on the screen. On the one hand, there's the lightweight approach of Arthur (1981) and My Favourite Year (1982, loosely based on Mel Brook's encounter with legendary Hollywood hellraiser Erroll Flynn in the 1950s). Thomas Vinterberg's Another Round opens in this mode, but like so many films before it, soon takes a darker turn. It's that aspect – the demons that drive us to drink despair and beyond – that so many movies about alcoholism explore. Here are 25 of the best movies with alcoholic characters.

25. The Girl on the Train (2016)
Emily Blunt does her best to convince as the alcoholic witness to a possible murder in this adaptation of Paula Hawkins' best-selling novel, but the film feels more like a genre exercise than an attempt to grapple with addiction.
24. Flight (2012)
Whip Whittaker lives life in the fast lane. An airline pilot who frequently flies under the influence, when he steers his plane to a crash landing with a minimum of casualties, his behaviour comes under the scrutiny of investigators. Denzel Washington excels as a man whose professional and personal lives collide and then spiral out of control.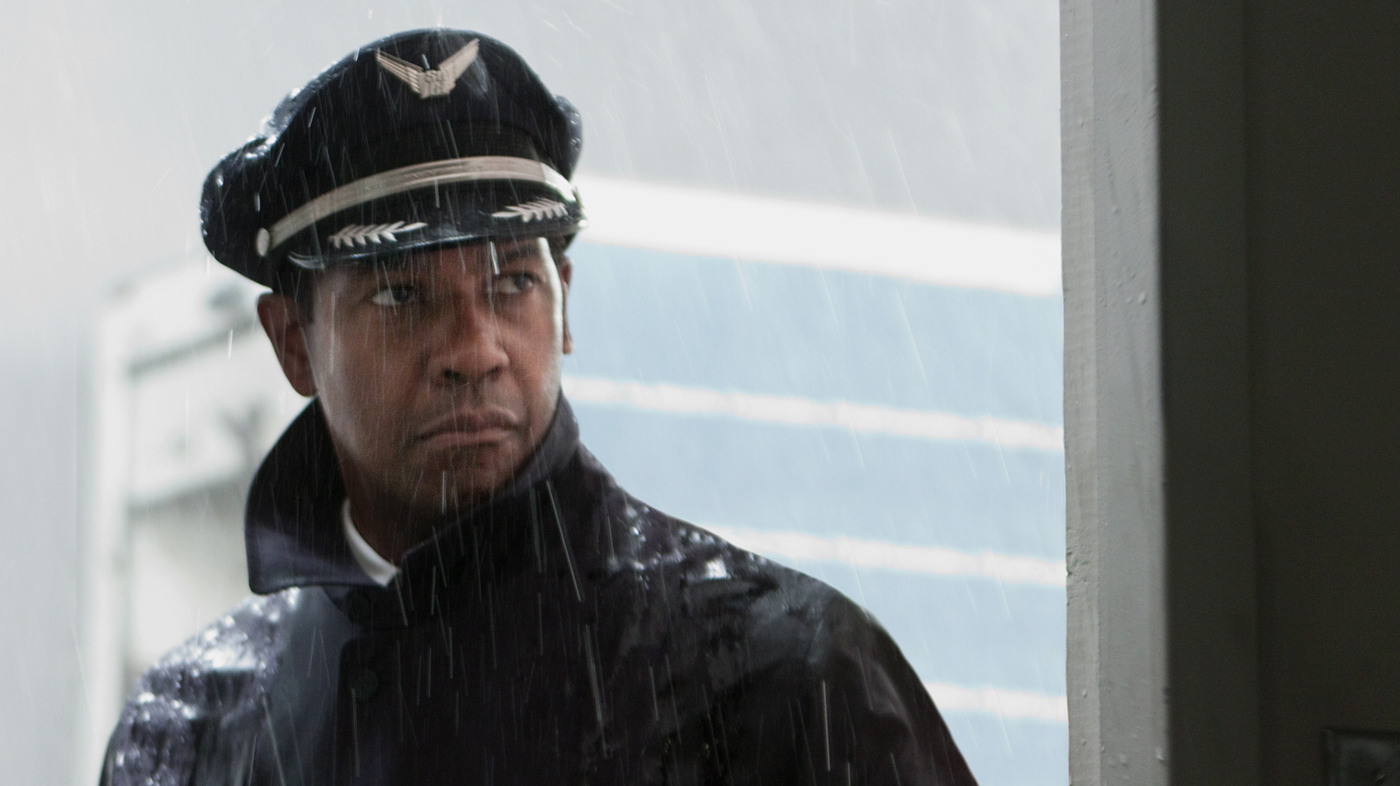 23. Julia (2008)
Previously known for her studied, immaculate performances, here Tilda Swinton lets rip as an alcoholic hellraiser cajoled into a plan to help kidnap a woman's son from his wealthy grandfather. But things fall apart when a Mexican cartel becomes involved. It's one of the actor's least-known performances and although the film fails to convince in the way that director Érick Zonca's previous The Dreamlife of Angels (1998) did, it feels like a key role in Swinton's expanding repertoire.
22. The Morning After (1986)
Acting with a capital A, Jane Fonda gives it her all as Alex, a washed-up actress who wakes up next to a dead man after an all-night bender. Iconic New Yorker filmmaker Sidney Lumet's rare excursion to Los Angeles paints the city as a sunburnt sleazehole, populated by life-sucking vermin such as Alex's estranged husband (a deliciously reptilian Raul Julia). Only Jeff Bridges' ex-cop appears sympathetic. The plot's set-up may have been a little tired even by then (and was recently exhumed for The Flight Attendant), but thanks to Fonda's deserving Academy Award-nominated performance, The Morning After is one of the better hangover thrillers.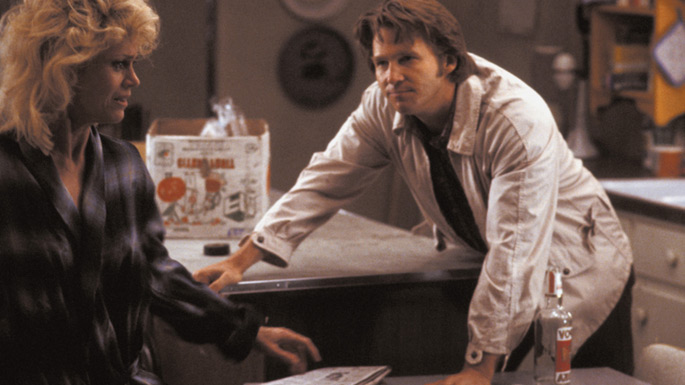 21. 16 Years of Alcohol (2003)
Former Skids frontman and TV presenter Richard Jobson wrote and directed this frank adaptation of his semi-autobiographical 1987 novel. Kevin McKidd, who played the fated Tommy Mackenzie in Trainspotting (1996) is riveting as the furious Frankie, a man driven by his drink-fuelled rages.
20. Honey Boy (2019)
Shia LaBeouf's off-screen antics have played as significant a role as his often searing on-screen performances. And although recent allegations regarding his abusive behaviour have been universally condemned, Alma Har'el's film, written by LaBeouf and based on his own experiences growing up, go some way to explaining – but never condoning – the accusations levelled against him. Noah Jupe and Lucas Hedges play on-screen versions of the actor, while LaBeouf himself plays his father. The result is both moving and unsettling.
19. Affliction (1997)
Russell Banks has long been one of the heavyweights of the US literary scene. There were two adaptations of his work in 1997: Atom Egoyan's excellent The Sweet Hereafter and this darker, more muted chamber piece written and directed by Paul Schrader. It's a dense exploration of the sins of the father, who is played with Oscar-winning gusto and splenetic rage by James Coburn.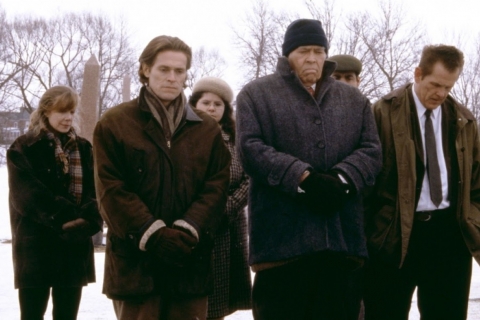 18. The Legend of the Holy Drinker (1988)
Every actor seeks the role that allows them to display their theatrical chops and here Blade Runner star Rutger Hauer found his. He brings a well of compassion to his portrayal of a homeless drunk who is given money by a stranger on the proviso that he repays it to a local church when he can. An adaptation of Joseph Roth's 1939 novella by the great Italian filmmaker Ermanno Olmi (best known for the 1978 Cannes Palme d'Or winner Tree of Wooden Clogs), it was awarded the Golden Lion at the Venice Film Festival.
17. Barfly (1987)
1987 was a vintage year for Hollywood heavyweights going big on booze. First up was Mickey Rourke and Faye Dunaway in Charles Bukowski's fictional portrayal of episodes from his own, drink-sodden life in LA. Directed by Barbet Schroeder, who had just made a documentary about the skid row writer (The Charles Bukowski Tapes, 1985), the film creates a convincingly shabby world. Rourke and Dunaway impress, even if their antics occasionally veer towards the theatrical.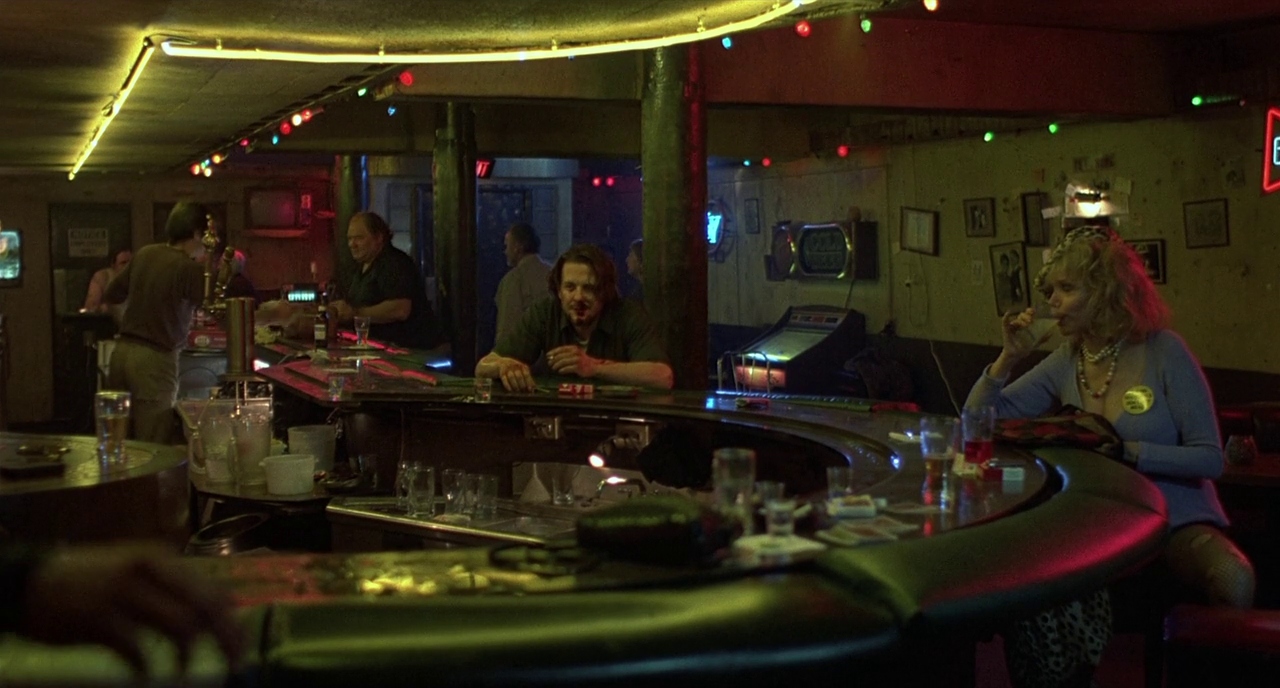 16. Ironweed (1987)
The other performance-led, alcoholism-themed film of 1987 was Pixote (1980) and Kiss of the Spiderwoman (1985) director Héctor Babenco's adaptation of William Kennedy's Pulitzer Prize-winning novel. Set in the depressed US of the 1930s, it features Jack Nicholson and Meryl Streep as two down-and-out lovers dealing with the ghosts – and guilt – of their past, whilst attempting to survive in a brutal and unforgiving present. It attracted Oscar nominations, but the combination of the two stars and the film's fatalistic tone failed to impress all critics or light up the box office.
15. When a Man Loves a Woman (1994)
From her scene-stealing cameo in Top Gun (1986) and star-making role in When Harry Met Sally (1989) to cementing her position as one of Hollywood's leading female stars of the 1990s with Sleepless in Seattle (1993), French Kiss (1995), City of Angels and You've Got Mail (both 1998), Meg Ryan revelled in sparky, wide-eyed characters. So, her decision to play an alcoholic in Luis Mandoki's sobering love story was something of a surprise. But like her later turn in Jane Campion's controversial and excellent In the Cut (2003), Ryan showed both her skill and her mettle as an actor.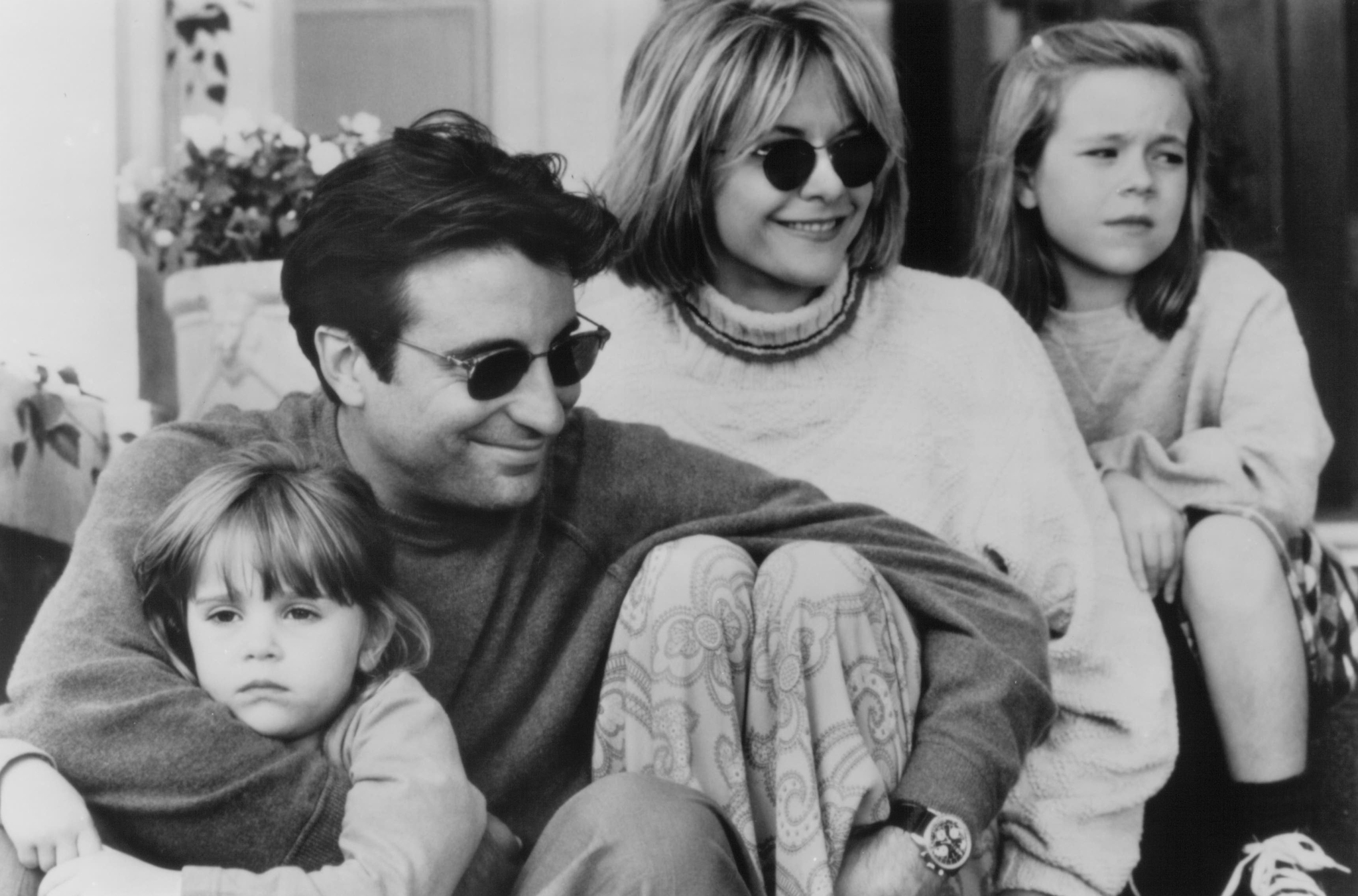 14. One for the Road (2009)
One of French cinema's most versatile actors, François Cluzet, shines in this adaptation of reporter Hervé Chabalier's autobiography, which deals with his battle with alcoholism. Unfolding in the French Alps, where Chabalier has retreated to seek help with his addiction, Philippe Godeau's film is a quiet study of one man's attempts to bring order back into his life.
13. A Star Is Born (1976/2018)
There have been four versions of this tale, detailing the relationship between a rising star who falls for a fading one cushioning their diminishing career with alcohol. The third version stars Barbra Streisand and Kris Kristofferson and is very much a product of the era it was made in. But the rapport between the two stars is electric. The same goes for the most recent version, which starred Lady Gaga and Bradley Cooper, who also co-wrote and directed. In particular, the first encounter between Cooper's Jack and Gaga's Ally is heart-rendering and showcases both actor's on-screen charisma.
Presented as a documentary but mostly staged, the Ross brothers' recreation of the last night at a fictional Las Vegas bar before it closes down for good is so convincing you almost expect to see Charles Bukowski hiding out in one of the corners. Shifting tone as it winds its way through a long night, this is a fascinating fictional portrait of the barfly existence.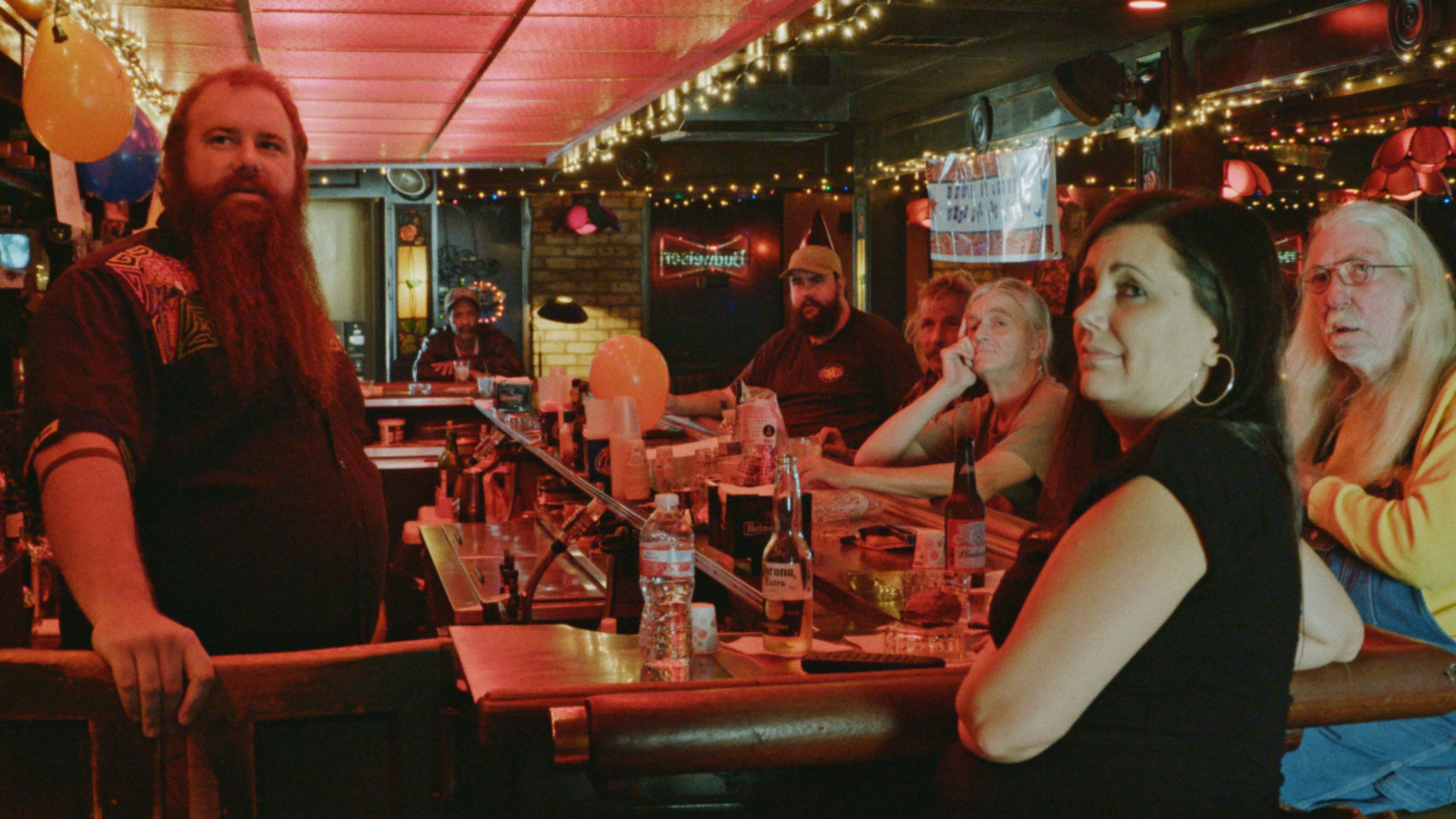 11. Opening Night (1977)
Gena Rowlands excels as an actor hitting a critical point in her career, witnessing a tragic accident and turning towards the bottle. Rowland's roles with real-life partner, actor and filmmaker John Cassavetes pushed emotional intensity to its limit. Nowhere more so than here. As Myrtle Gordon, Rowlands strips her character to the bone, laying bare the neuroses of life as a performer and the destructive behaviour that can emerge.
Nicole Kidman is barely recognisable as Erin Bell, an LA cop worn down by the demands of her job, the sacrifices she has made for it and her reliance on drink and drugs to get her through the day. At times resembling Michael Mann's Heat in a lower register, Karyn Kusama's thriller is at heart a complex character study and Kidman's commitment to the role is impressive. Beyond the make-up, the actor transforms her whole body, giving Erin the air of someone living on the very edge of their existence.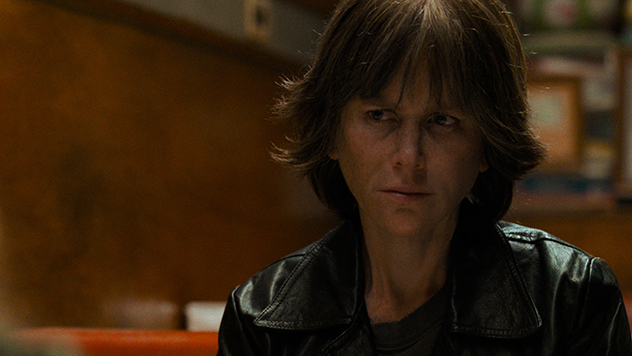 9. Long Day's Journey into Night (1962)
Addiction is rife in the Tyrone family. While Mary lives her life within a hazy fog of morphine consumption, her husband James and sons Jamie and Edmund down more than their fair share of alcohol. Jamie's drinking, in particular, is out of control. Over the course of one day and a long night, the family descends into a chaos of bickering, expressing long-held regrets and a bleak view of the future. There have been various versions of Eugene O'Neill's celebrated, semi-autobiographical play, but Sidney Lumet's version, featuring a stellar cast of Katherine Hepburn – giving one of the finest performances of her career – Ralph Richardson, Jason Robards and Dean Stockwell remains the best.
8. Drunken Angel (1948)
Akira Kurosawa's first collaboration with actor Toshiro Mifune is a contemporary Yakuza thriller about a doctor treating a young gangster with tuberculosis. But both the doctor, played by another Kurosawa regular Takashi Shimura, and Mifune's hood are alcoholics, which helps form a bond between the two but is also one of the numerous life-threatening elements in the young man's life. Addiction, to all things in life, is a central theme in the film and both Kurosawa and his actors handle alcoholism with sensitivity.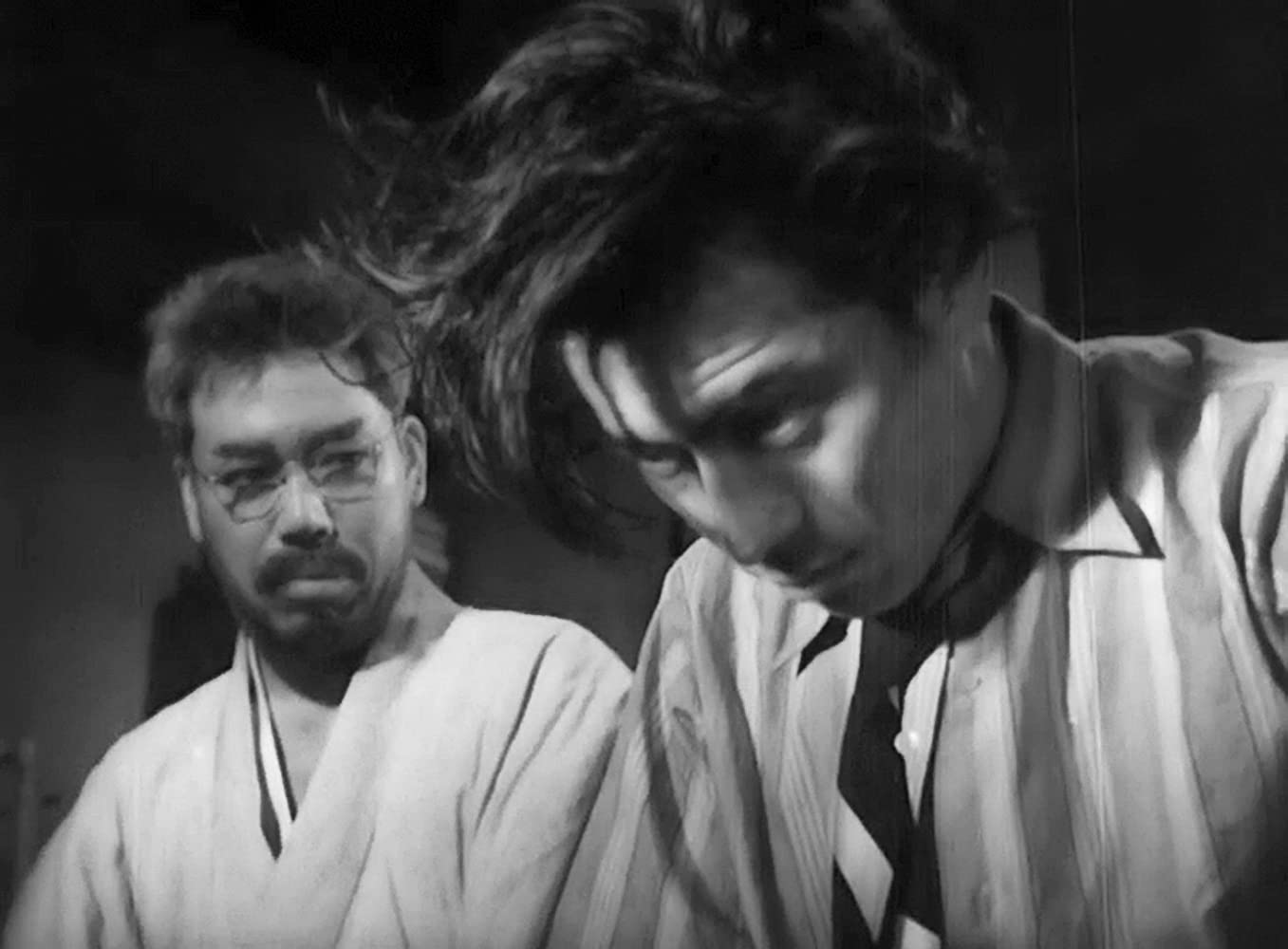 7. Smashed (2012)
By the time James Pondstedt's Smashed was released, any viewer of Breaking Bad knew that Aaron Paul – who plays Jesse Pinkerman in the series and is its desperate beating heart – could do intense. But this drama, with Paul and the equally impressive Mary Elizabeth Winstead playing a couple at different stages of both alcoholism and the determination to break free of addiction, captures the conflict of two people who are in love but also aware that they may not be good for each other.
6. Days of Wine and Roses (1962)
An outlier in the career of Blake Edwards – better known for comedies such as the Pink Panther series, 10 (1979) and Blind Date (1987) – this study of a couple's descent into an alcoholic haze of an existence is perhaps all the better for the filmmaker's lightness of touch. One of the most powerful domestic dramas of the 1960s, the film succeeds primarily because of Jack Lemmon and Lee Remick's performances. (Edwards had directed Remick earlier that year in another rare foray outside comedy with the taut chiller Experiment in Terror.) Lemmon in particular mined the flipside of the manic character he played in Billy Wilder's films and hinted at the pathos he would bring to later films, such as his Oscar-winning turn in Save the Tiger (1973) and the errant father in Short Cuts (1993).
5. Crazy Heart (2009)
Jeff Bridges finally won an Oscar for his portrayal of a grizzled country star in Scott Cooper's understated drama. Alcohol is Otis Blake's sustenance, but when he enters into a relationship with Maggie Gyllenhaal's journalist, he begins to question his way of life. Bridges' laid-back screen persona has earned him a legion of fans, but here he combines it with a lovelorn streak, creating one of his most complex characters, a man not so much driven by demons as a sense of loss over what could have been.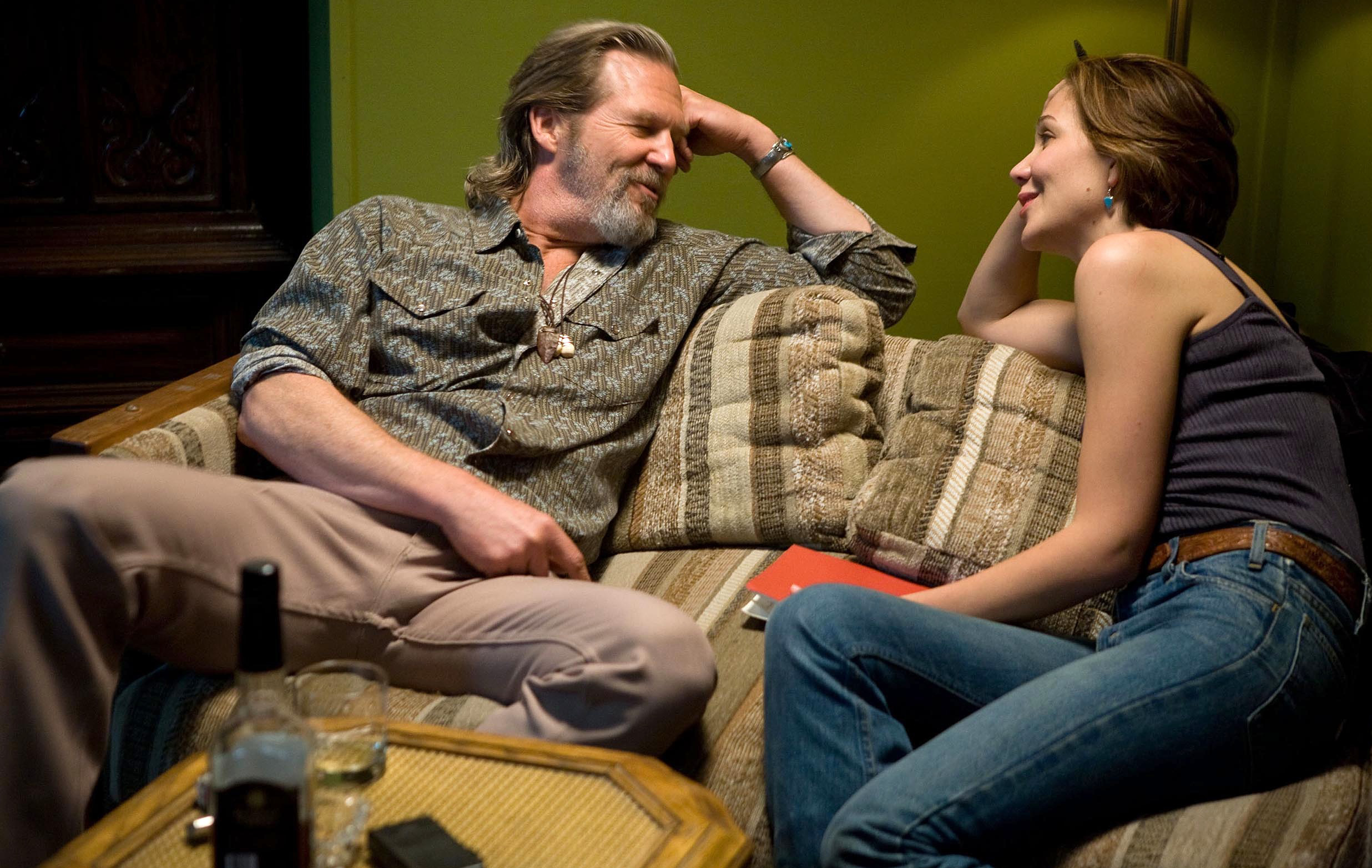 4. Once Were Warriors (1994)
New Zealand filmmaker Lee Tamahouri's breakthrough sophomore feature, which became an international success, focussed on alcoholism and domestic abuse within a close-knit Maori community. Unsparing in its portrait of violence and aggressive masculinity, the film distinguishes between the modern lives that some members of the Maori community lead and the traditional ways that encourage greater understanding and a more equal community. Some critics questioned the intensity of the film's violence, but there's no denying the power of Tamahouri's drama, adapted from Alan Duff's novel, and its equating alcohol with a disease that can tear communities apart.
3. The Lost Weekend (1945)
Billy Wilder's first Best Picture Academy Award winner, based on the novel by Charles Jackson, focuses on a writer and his battle with alcohol abuse over a long four-day weekend. Uncompromising for a mainstream Hollywood film at that time, it is driven by Ray Milland's committed, Oscar-winning performance, and Wilder and co-writer Charles Brackett's brittle screenplay. Along with Marty (1955) and Parasite (2019), The Lost Weekend is one of the few films to have won the top prize at both the Oscars and Cannes Film Festival.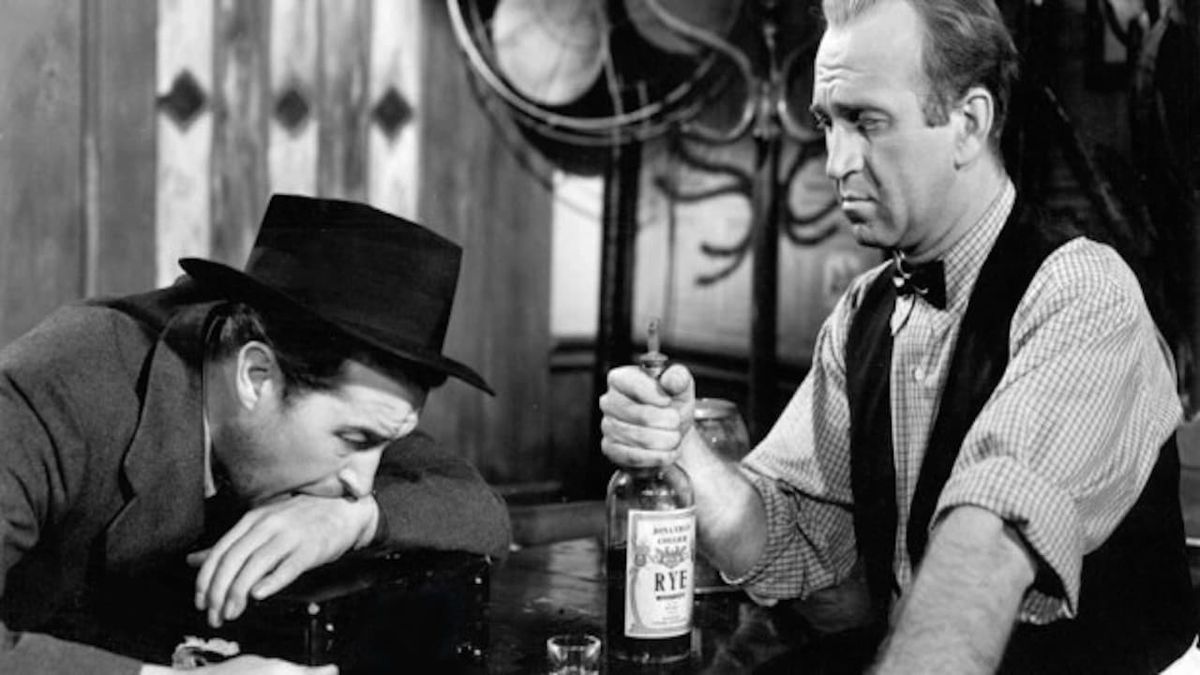 2. A Star Is Born (1954)
The best version by far of this story, Moss Hart's musical drama, sensitively directed by George Cukor, proved to be the perfect showcase for Judy Garland, whose own troubles with drug and alcohol addiction add immeasurably to the film's tragedy. She is the young star whose career is bolstered and hindered in equal measure by her relationship with James Mason's former Matinée idol. His drunken antics on stage late in the film are heart-breaking, while Garland's musical numbers, particularly her rendition of 'The Man That Got Away', give the film a sense of grandeur.
1. Leaving Las Vegas (1995)
A man arrives in Las Vegas with one aim – to drink himself to death. That's the premise of Mike Figgis' searing film, which earned Nicolas Cage a deserved Best Actor Oscar. Renowned for his wayward performances, often running the gamut from eccentric to downright bizarre, here Cage channels his intensity inwards. Sure, there are moments of outrage, but it's in the quieter moments of Ben Sanderson's downward spiral that Cage excels. He's matched along the way by a career-best performance from Elisabeth Shue, playing a prostitute Sanderson encounters, who decides to make his exit from life as endurable as it can be. Figgis shot the film on 16mm and mostly on the hoof around Las Vegas. Many scenes were completed in one take and the film evinces a vibrancy that makes Sanderson's journey even more tragic.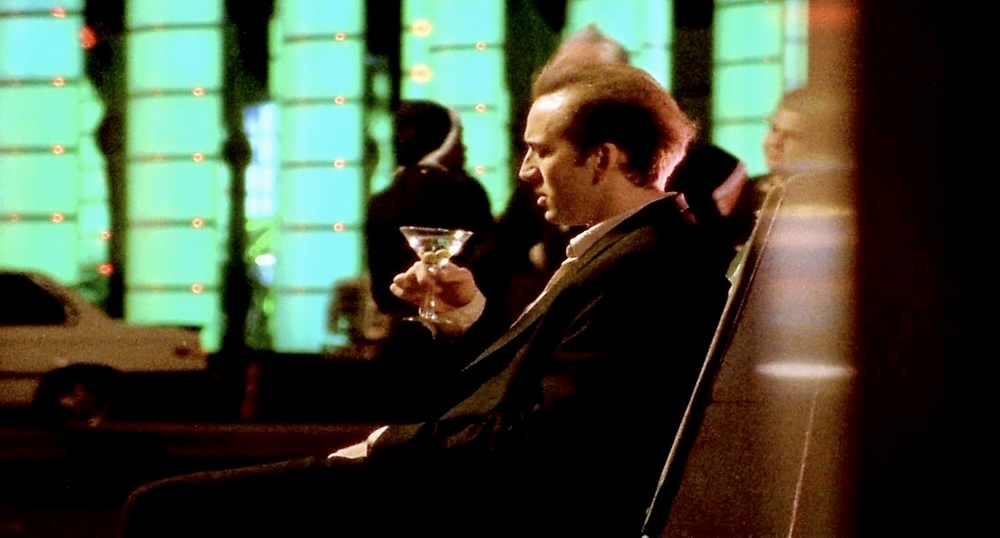 WATCH FILMS ON CURZON HOME CINEMA