For the lavish Netflix sequel to his 2019 whodunnit Knives Out, writer-director Rian Johnson took the story in louder, more outrageous directions. When Edward Norton's tech entrepreneur Miles Bron gathers a group of his closest friends (plus former partner and rival Andi, played by Janelle Monáe) on a Greek Island for a weekend getaway, suspicion and surprises quickly follow. Particularly because Daniel Craig's Southern-drawling detective Benoit Blanc also mysteriously receives an invite. In order to visually realise Miles' garish, nouveau riche home – partially located in an imposing Glass Onion – Johnson sought the expertise of Oscar-winning production designer Rick Heinrichs (Fargo [1996], Pirates of the Caribbean: Dead Man's Chest [2006]). Here, Heinrichs discusses how onion autopsies, an actual fire and Francis Bacon inspired his work.

NICOLE DAVIS: WHAT WERE YOUR FIRST IMPRESSIONS OF THE SCRIPT, AND WHAT APPEALED TO YOU ABOUT WORKING ON THE FILM?
Rick Heinrichs: I've worked with Rian before [on 2017's The Last Jedi] and was keen to sign onto basically anything that he wanted to do. I love the way his mind works and how open he is to allowing creative inspiration to flow through him and entertain ideas. I also really enjoyed the first Knives Out and loved the idea of exploring a genre that I hadn't done before.
ND: GIVEN YOU HADN'T PREVIOUSLY WORKED ON A WHODUNNIT, WHAT WAS YOUR STARTING POINT FOR DESIGNING THIS WORLD?
RH: The idea of the Glass Onion itself, and the way that Rian was using it. It needed to reference the process of uncovering the truth that Benoit Blanc goes through. I actually cut open an onion and really studied the layers. I didn't realise how fat they were and how they themselves are very architectural – if you cut into them in a certain way it reveals successive layers.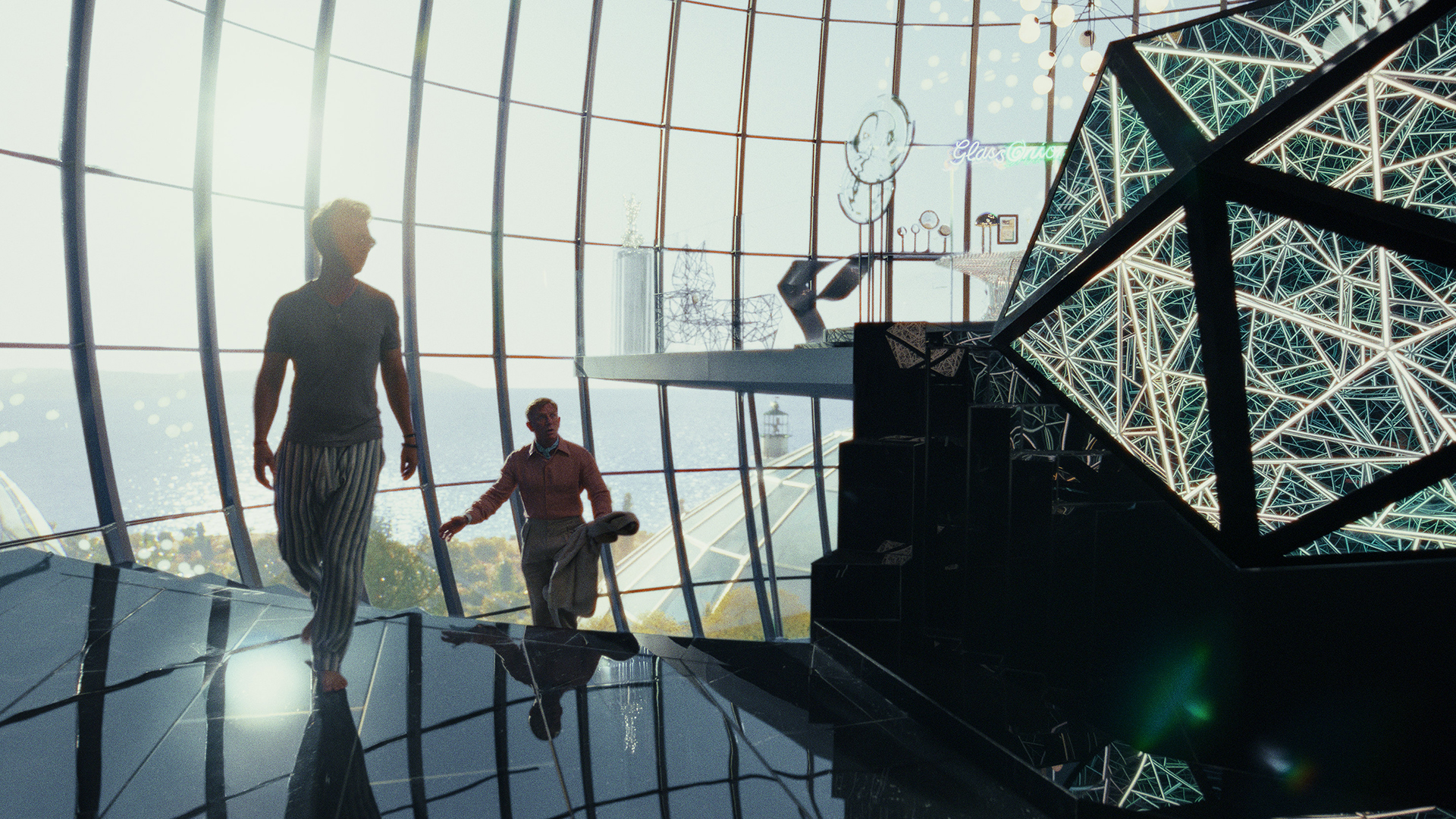 ND: HOW DID THE FILM'S THEMES OF DISRUPTION, DECEPTION AND DESTRUCTION INFLUENCE YOUR APPROACH TO THE PRODUCTION DESIGN?
RH: Rian was interested in magic tricks, and in fact [stage magician] Ricky Jay is mentioned in the script. He was very knowledgeable about how magic tricks are created and what the point of them is, so that's woven into the film itself. We were thinking about misdirection and clues being dropped along the way, and designing spaces that might distract you from the important thing happening over there.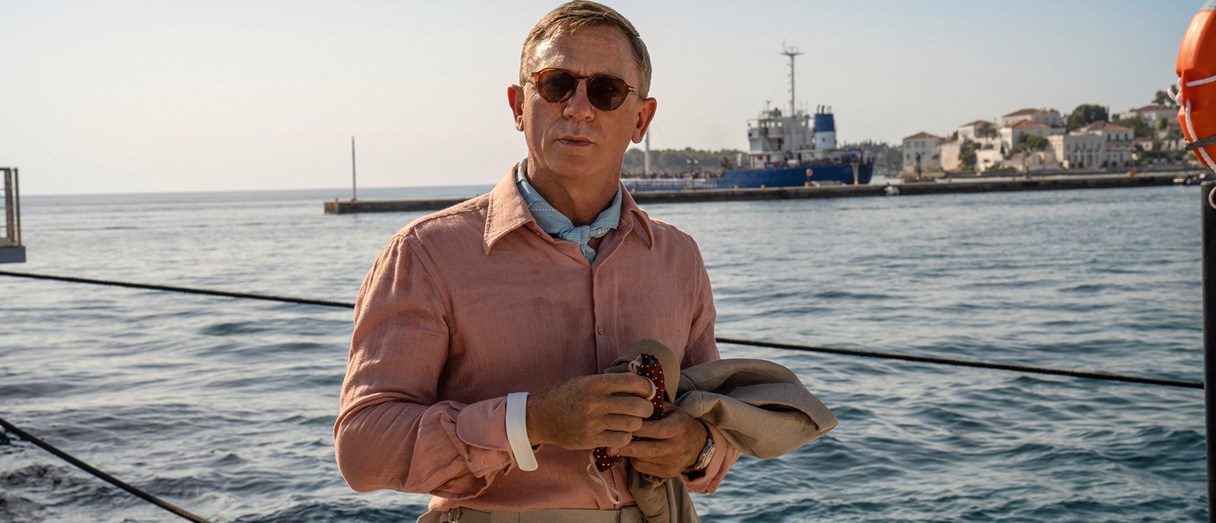 READ OUR JOURNAL INTERVIEW WITH RIAN JOHNSON
Click Here
ND: SPEAKING OF THINGS BEING DROPPED, THERE IS A CLIMATIC SCENE WHEN LOTS OF GLASS SCULPTURES ARE BROKEN. TALK ME THROUGH HOW YOU CREATE AND STAGE SOMETHING THAT IS DESIGNED TO BE SMASHED.
RH: Yes, it was about [Janelle Monáe's character] smashing up stuff at the end of her tirade, but it was also about something that Rian called 'the forest of lenses'. These were lenses for him to distort scenes and make them more surreal. So we needed it to be high-quality. We were going, 'OK, but we can't smash that.' We had to figure out how to work within that parameter. We went down the road of original designs that we sculpted and then cast in a clear resin, which is tricky because if you don't do it right you get air bubbles or discolouration. So it's a very sensitive process.
We were having some luck with it, but unfortunately our props warehouse burnt down about three weeks before everyone was coming back to the studio in Belgrade, so we had a lot of work ruined. But it provided an opportunity to solve the problem in a different way as well. There are a bunch of factories around Prague where they hand-blow glass, so we found one, they set aside all their other work for about four weeks and we started manufacturing glass art out of this place. So it was real glass. Some of them are so-called 'candy glass' and resin, but, I have to say, the actors were also breaking some of the real ones that we didn't have any duplicates of. In a lot of cases they were appearing to throw something off camera, which was then safely caught by someone else.
And the Porsche that comes through the ceiling was all visual effects. We didn't destroy a Baby Blue Porsche in the making of this movie!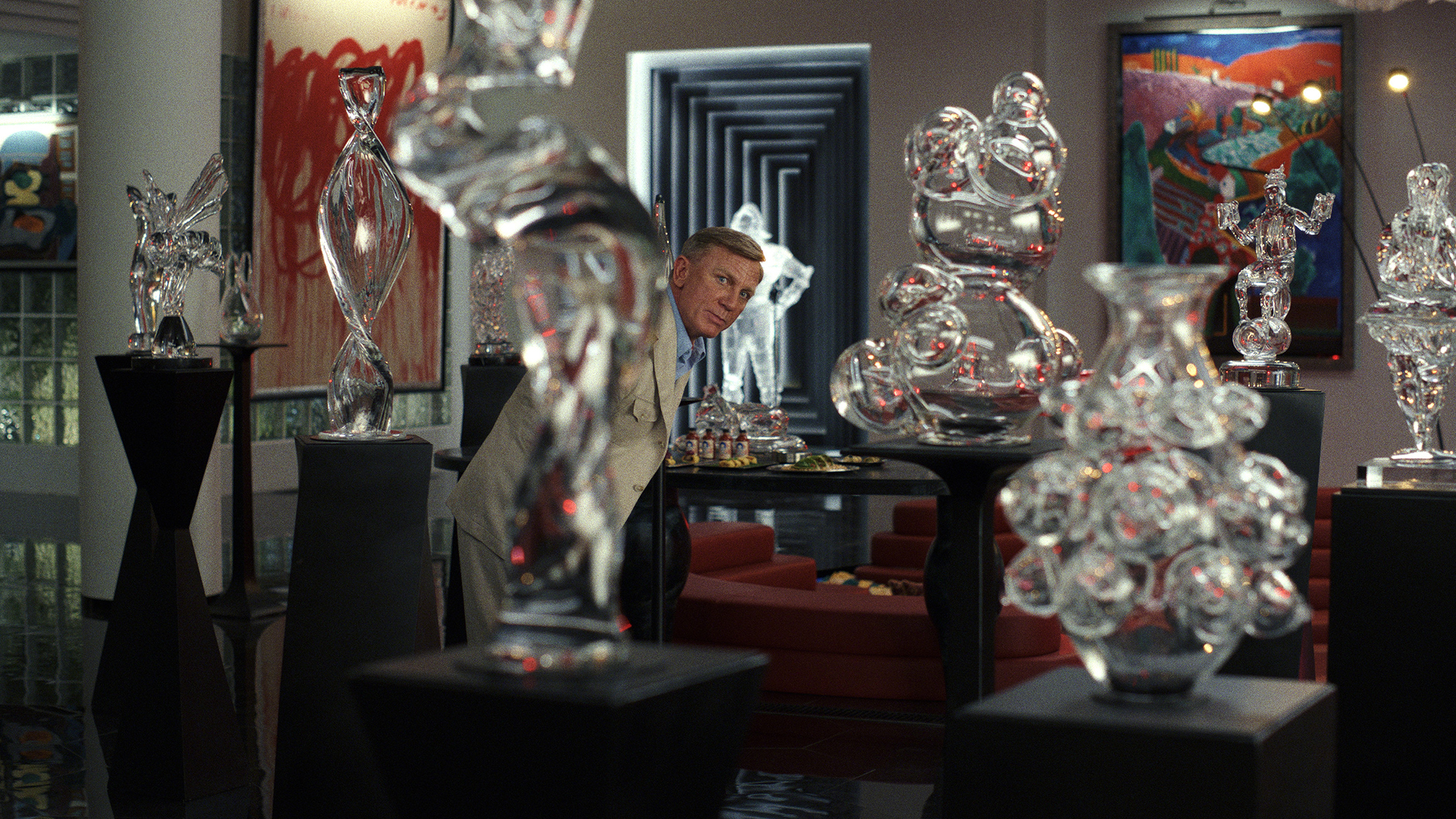 ND: WHAT WAS BEHIND THE SELECTION AND PRESENTATION OF THE ART DISPLAYED ON MILES BRON'S WALLS?
RH: To make the atrium, as we called it, more outlandish and ostentatious – and to communicate Miles' inflated sense of himself – we had the idea of exhibiting all this famous artwork from very well known artists. We featured subversive artists as well, because Miles considers himself a disruptor, which is represented more by the Basquiats and Banksys. Everything in this room is about Miles. His art collection had to say 'I'm rich, I'm powerful, I can have whatever I want', but not necessarily that he had good taste.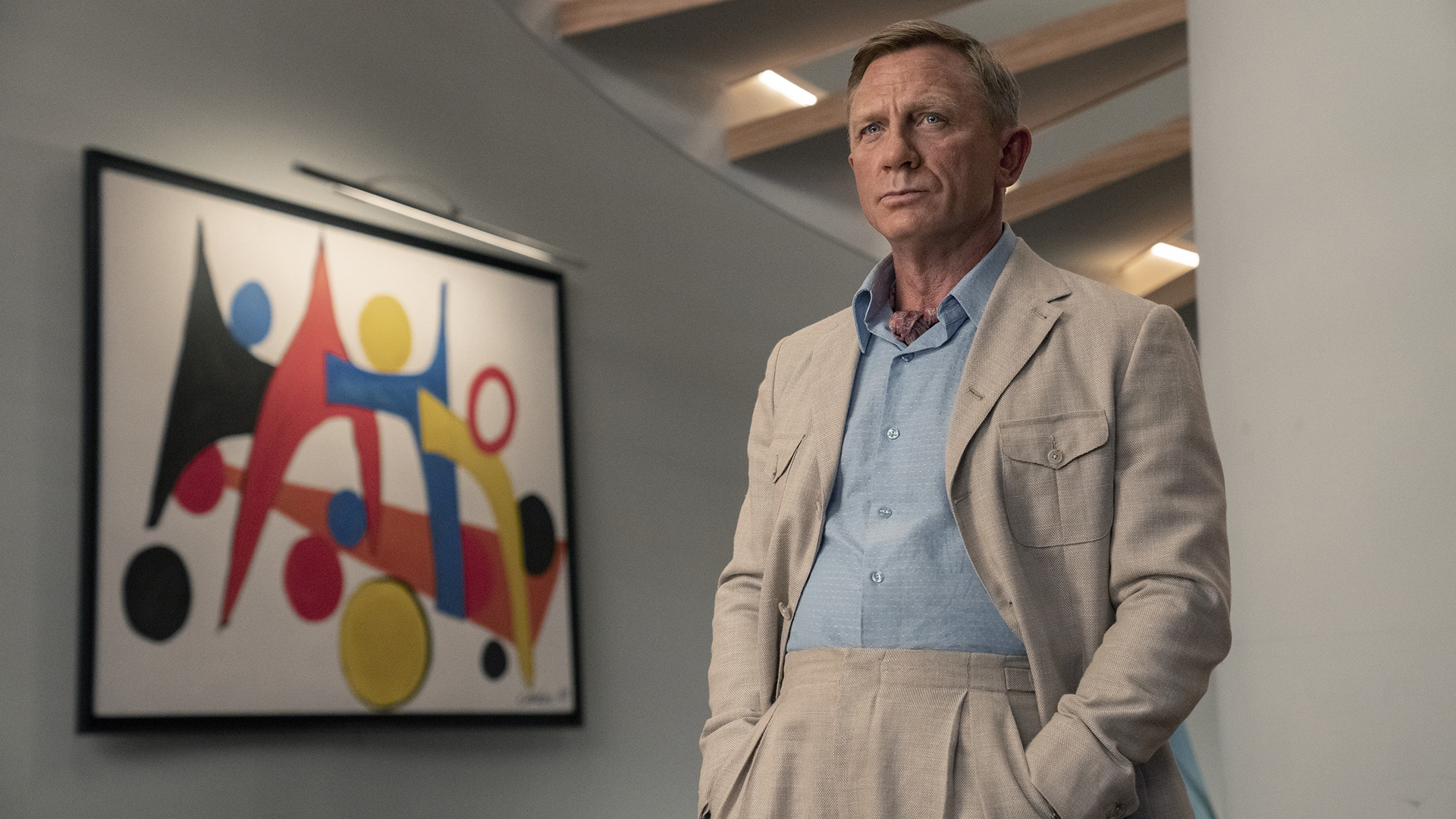 ND: A PERFECT SEGUE. WHO CREATED THAT PAINTING OF A RIPPED EDWARD NORTON?
RH (laughing): We painted it and we came up with the concept. We had a number of artists in mind who inspired us: Francis Bacon, Cy Twombly, Lucien Freud.
ND: I NOTICED THE MARK ROTHKO PAINTING IS HUNG UPSIDE DOWN. WHEN AND WHY WAS THAT CHOICE MADE?
RH: That was Rian, of course. It's called Red over Dark Blue on Dark Gray [1961] and so we hung it properly and Rian came in and said, 'Well don't you think Miles would mess that up?' So that was that.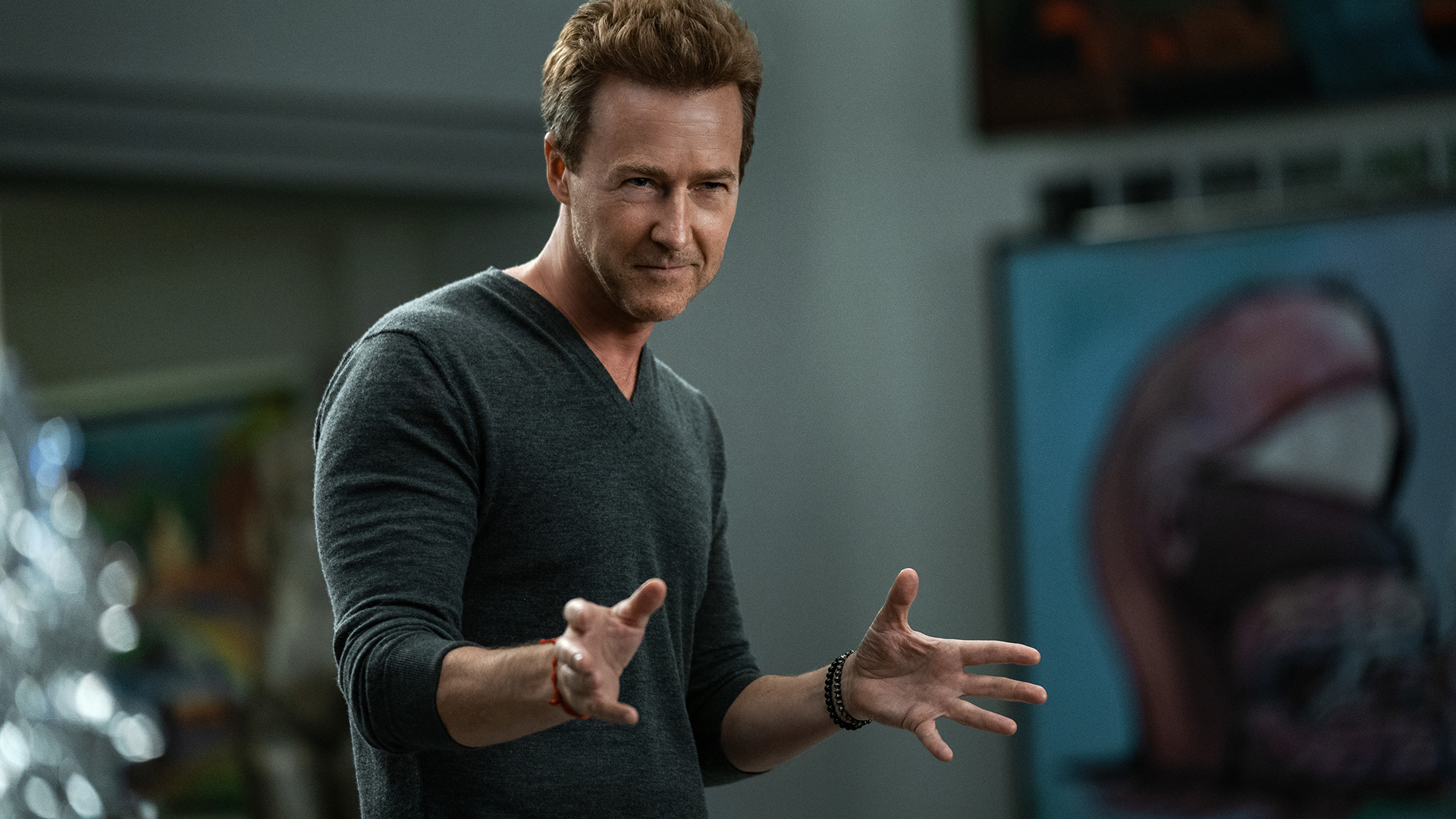 ND: GIVEN THE ROOMS HAVE BEEN PERSONALLY DECORATED ACCORDING TO EACH GUEST'S TASTES, HOW DID YOU INTERROGATE EACH OF THE CHARACTERS AND DESIGN THEM ACCORDINGLY?
RH: I had multiple conversations with Rian and my set decorator Elli Griff where we talked about their different 'chakras': is [Kate Hudson's] Birdie yellow or red? That sort of thing. We also wanted them to correspond with the environments you see them in at the very beginning. But it was about Miles [again] too, and his idea of what that person would want in their room, so that was another layer we had to think about.
ND: IF YOU COULD TAKE HOME ONE ITEM FROM MILES' HOUSE, WHAT WOULD IT BE?
RH: Well I'd love to have a Mona Lisa. I wished I could have. Maybe that would have been possible in the good old days of Hollywood filmmaking, but we were contractually obligated to destroy all of the artwork we licensed and painted at the end. Not the Mona Lisa though, so I don't know if anybody got that…
ND: ANOTHER MYSTERY TO SOLVE.
WATCH KNIVES OUT ON CURZON HOME CINEMA