Laura Venning pays tribute to a filmmaker who creates moving dramas that shy away from spectacle, and instead focus on simmering emotion.

In her five feature films to date, Joanna Hogg has been more interested in unacknowledged tension, in absence and the aftermath, rather than the spectacle of drama itself. What makes her privileged characters so painfully real is their unarticulated struggle against the hardship of simply being 'a human being with life to live', as Julie's therapist from The Souvenir Part II (2021) phrases it. Emotional wounds are deeply repressed in her films, meaning when they do surface it's all the more powerful.
In Unrelated (2007), Anna (Kathryn Worth), a middle-aged, middle-class woman, joins an old school friend and her extended family on a group holiday to a Tuscan villa. An outsider from the beginning, she is first seen trundling along a road in the pitch dark with a suitcase, alone save for the shouts of the almost adult children of the group. Anna is displaced and looking for distraction, lying about why her husband can't join them on the holiday. After her friend Verena (Mary Roscoe) tells a patronising story about Anna being ostracised as a child, she starts chasing after the easy hedonism of the younger members of the group. As she is drawn in by Oakley (Tom Hiddleston), golden-haired and gorgeous, no one says a word about the incongruity of her presence, yet it permeates the air.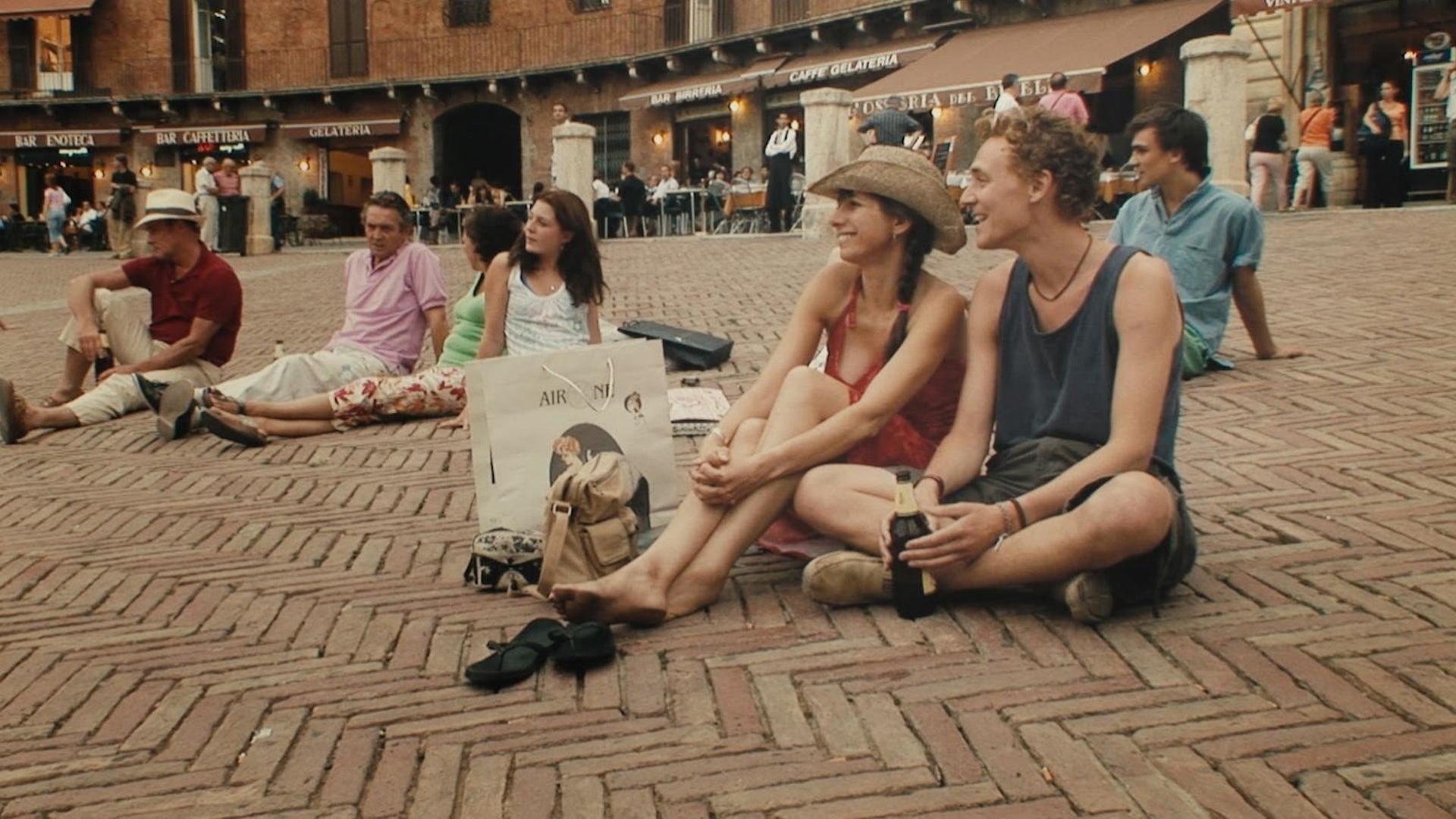 Anna eventually frees herself from her turmoil with an impassioned outburst; however, the most striking scene in the film is a row between Oakley and his father, which we solely experience via the rest of the group overhearing it. 'When have you ever given a fuck about me?!' Oakley screams, but we only hear his anguished voice while the others wince, ashamed of his emotional release and frozen by middle-class social rules.
Archipelago (2010) is like a sister film to Unrelated, with Tom Hiddleston on another  bourgeois family holiday from hell. This time, the director transports us to the Scilly Isles, rendered wintry and colourless. But Archipelago is even more subtle than its sibling, giving us minimal exposition. Hogg employs her signature naturalistic composition, with long, static takes of the family slowly emotionally torturing each other in wide shot, inviting us to search the tableaux for nuances that might reveal what's unsaid. 
The family resembles, of course, a group of scattered islands divided by expanses of water, to which the title refers. Instead of expelling the resentment Cynthia (Lydia Leonard) feels towards her brother Edward (Hiddleston), she turns lunch in an empty restaurant into probably one of the most agonising scenes in British cinema. She channels her aggression towards an argument with the chef while the others look on in dismay that she can neither express her frustration directly nor conceal it. Nothing earth-shattering is communicated in Archipelago, and yet there is some small sense of relief as the family departs, the film draws to a close, and life does go on.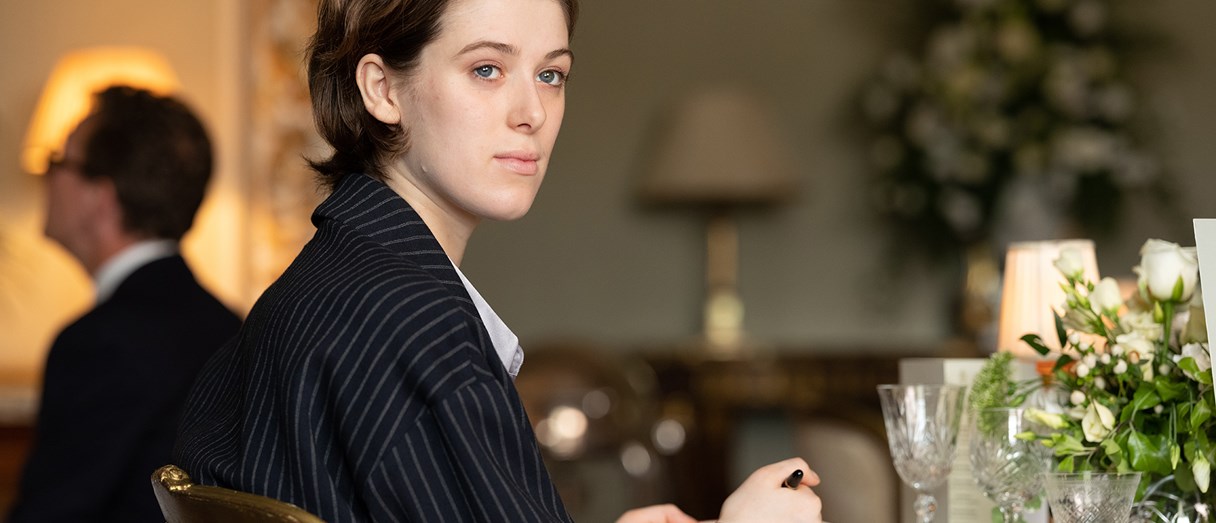 EXPLORE OUR JOANNA HOGG COLLECTION ON CURZON HOME CINEMA
Start Browsing
Marriage is under the microscope in Exhibition (2014), a film told in a succession of fragments that form a portrait of long-term partnership. Hogg entraps us in a striking modernist house in central London: although this film is her first in an urban location, it feels as isolated as the villa in Unrelated and the holiday house in Archipelago. Artists D (Viv Albertine) and H (Liam Gillick) work in separate studios within their spartan, soon-to-be-sold home, calling each other on a landline. We're granted minuscule insights into their relationship, but the film captures its essence, both its tensions and joys. D is unable to vocalise why she can't bear to leave the house behind, or put up much of a fight against her husband's wishes. She won't tell him what she's working on because she says he'll criticise it, and she carries either a fantasy or a memory of him interviewing her on stage, fully focused on her for once. We're left to imagine that there's only ever been room for one genius in this house.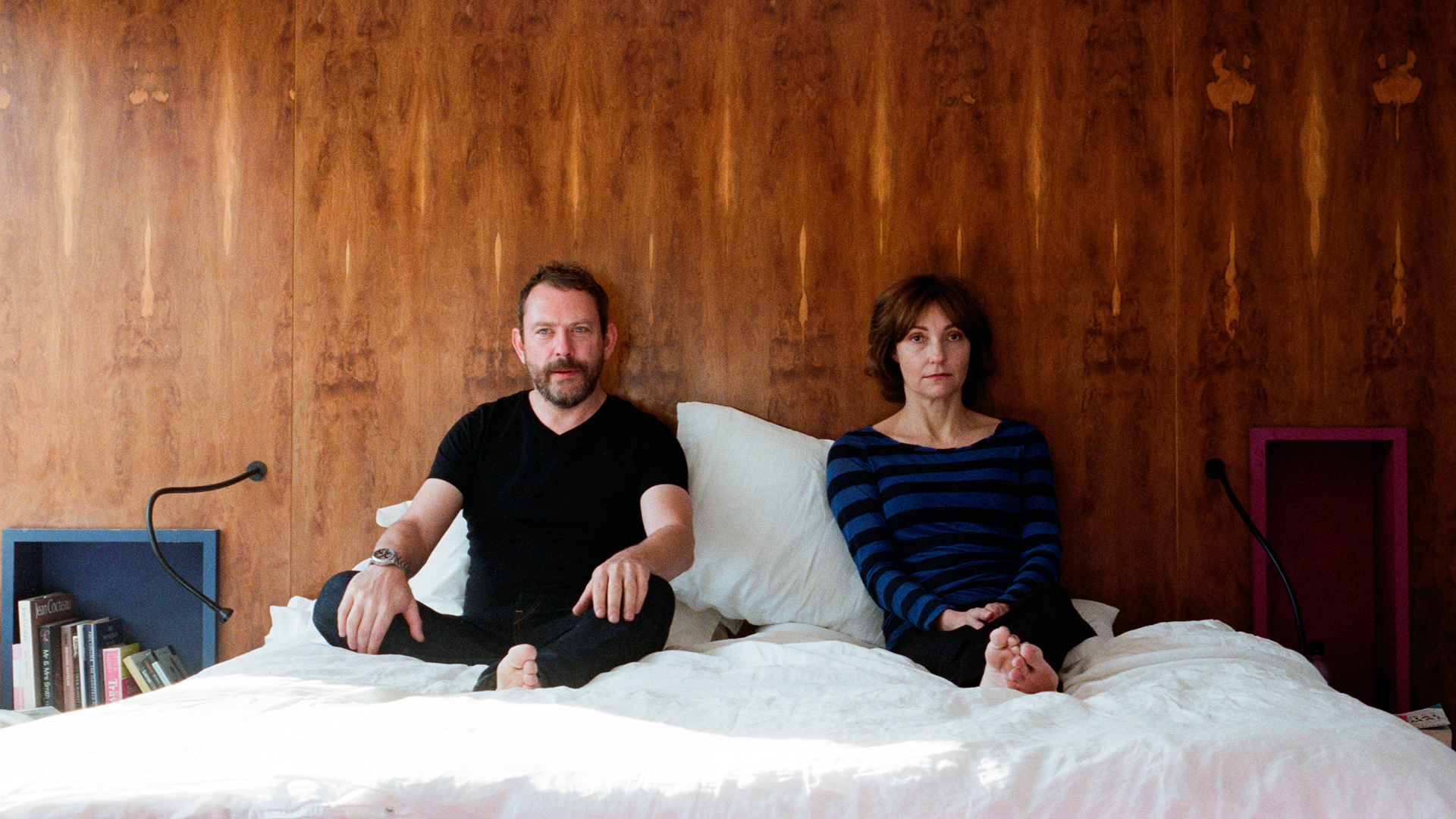 Though Unrelated was an expression of Hogg's own anxieties about middle age and Exhibition portrays a woman artist, The Souvenir (2019) and its sequel are undoubtedly her most personal films. A fictionalisation of Hogg's own coming of age in the 1980s, the story of Julie (Honor Swinton Byrne), a wealthy, London-based film student, and a tumultuous relationship with a charismatic addict is familiarly austere, and yet, in its conclusion, is unexpectedly expressionistic and free.
Anthony (Tom Burke) is a larger than life character, all aloof entitled machismo in a pinstripe suit. His almost languorous arrogance makes him a terrible match for the young Julie, with her earnest but misplaced desire to make social-realist films. It's implied that she never directly confronts Anthony about his heroin addiction when she first discovers it, but endures his damaging behaviour until it becomes too much to endure. Moments of drama punctuate the film, but Hogg never shows Julie and Anthony openly discussing what they're both facing. Even after his body is discovered, Julie's devastation is all-encompassing, but quiet.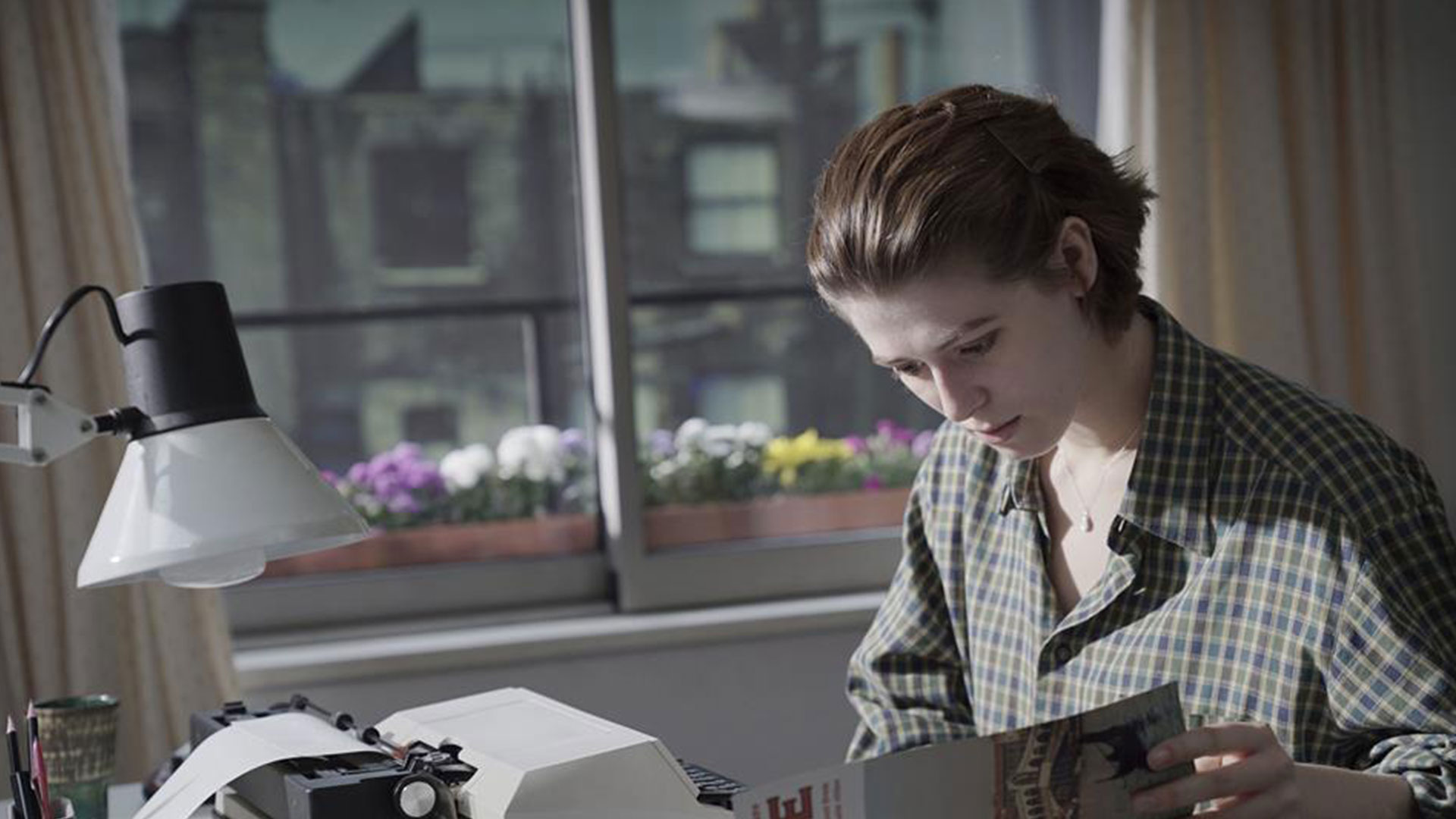 READ OUR JOURNAL ARTICLE ON THE SOUVENIR PART II
Read Here
And yet, finally, at the end of The Souvenir Part II Hogg lets Julie, and perhaps herself, tell her story clearly. Not through dialogue, but via a fantastical, Gothically resplendent sequence inspired by The Red Shoes (1948) that portrays Julie experiencing the trauma of the relationship with Anthony. It's not the graduation film we've watched her directing, rather, a reinterpretation of Hogg's own graduation film Caprice (1986), that takes Julie on a dark journey through an underworld that presents her own past. But only in this release of the repressed can Julie find freedom and begin to become a visionary filmmaker.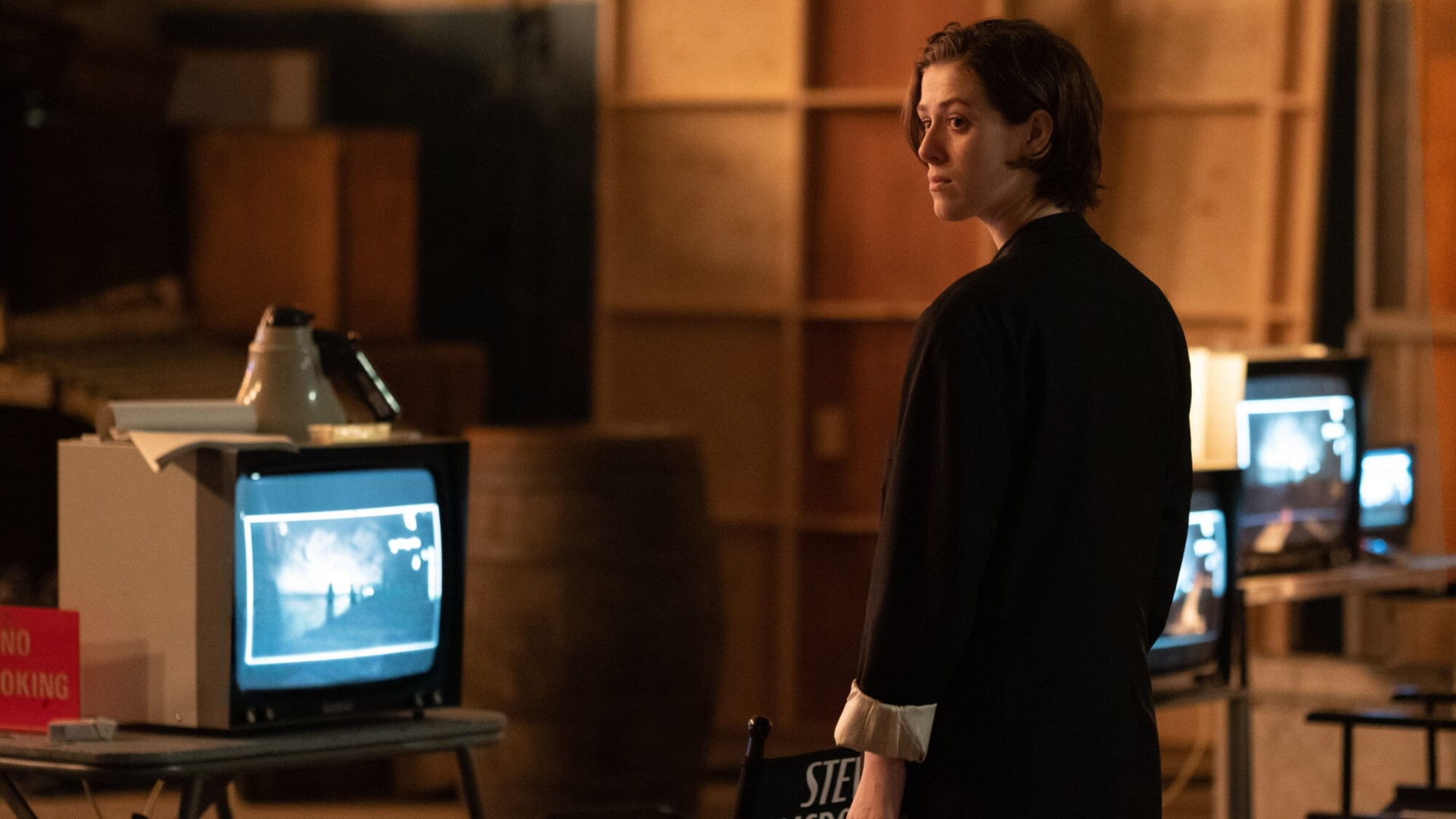 Like many great British filmmakers before her, particularly those chroniclers of the middle and upper classes, Hogg explores deflective words, silent glances and buried feelings in her work. But her emotional intuitiveness combined with a formal bravery in leaving the obvious unsaid and unvisualised makes her a unique voice in cinema. Julie asks her mother (Tilda Swinton) what she felt when Anthony died: 'I felt through you,' she replies. And we can feel through many of the characters in Joanna Hogg's quietly powerful work.
EXPLORE OUR JOANNA HOGG COLLECTION ON CURZON HOME CINEMA