Yasmin Omar teases out the thematic parallels between the sex-industry drama Pleasure and fitness-influencer film Sweat – both rich character studies about women who create perky online personas to advance their careers.

An adult-film performer and Instagram influencer may not appear to have much in common, but the characters in Ninja Thyberg's Pleasure (2021) and Magnus von Horn's Sweat (2020) are more alike than one would assume. On a superficial level, Sofia Kappel's Bella and Magdalena Kolesnik's Sylwia are blonde, conventionally attractive, white European women trying to make it in a competitive, public-facing industry (porn and fitness respectively), and both films plot the unglamorous reality of their chosen career paths. The women's connection, however, runs much deeper than that. Each protagonist has a carefully honed façade she holds up to the world – bubbly, enthusiastic, fuckable – that obscures the deep unease, melancholy and dissatisfaction that take hold when the cameras stop rolling. By creating a gap between Bella and Sylwia's on- and off-screen personas, the movies' writer-directors criticise exploitative industries built on performance: as an aspiring porn superstar Bella must present herself as an up-for-anything male-fantasy object even when she is in physical pain during sex scenes, while the lonely fitness guru Sylwia needs to remain deliriously upbeat for Instagram because being sad online threatens her sponsorship deals. Deception, therefore, lies at the heart of the thoughtful character studies Pleasure and Sweat, which mine this dissonance between projected emotion and real feeling in order to lend humanity to their leads and, by extension, their sniffed at professions.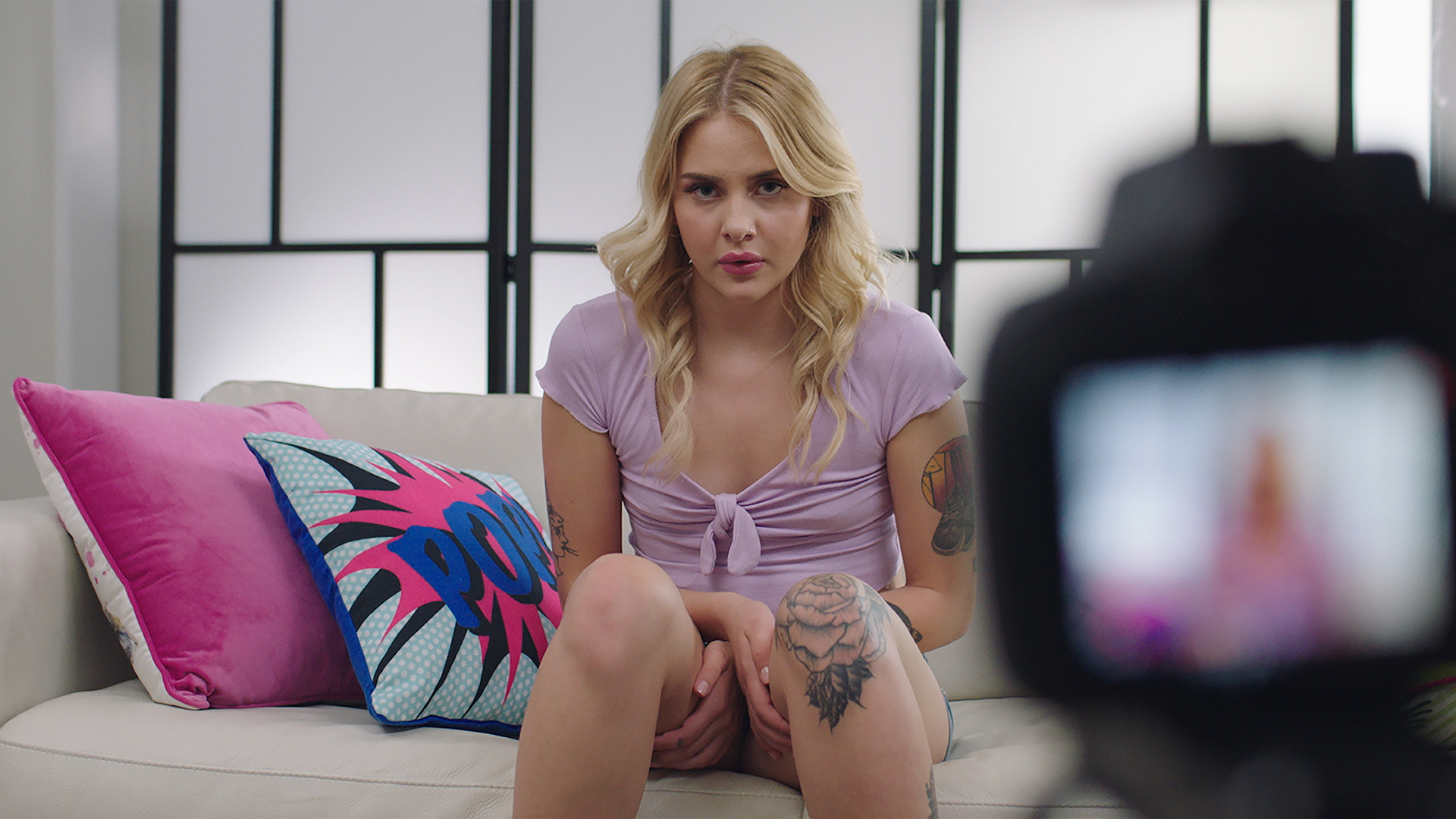 These two films are ultimately about the construction of an image. In the opening minutes of Pleasure, Thyberg focuses on Bella shaving her pubic hair in the shower, notching up the excruciating scrape, scrape, scrape of razor against flesh on the sound mix, and we later see her covering her face in layers of make-up in the quiet sanctuary of her bathroom. The filmmaker foregrounds these intimate, getting-ready moments to underline the level of performance required for this young woman to go from Linnéa (her true self and real name) to Bella (her manicured on-screen persona). In Sweat, by contrast, von Horn launches us headlong into Sylwia's performance in the film's introductory scene, which shows one of the fitness instructor's popular gym classes. The sequence bristles with infectious energy, the camera zipping around the beaming, pink-Lycra-clad Sylwia as she shouts out words of encouragement to her sweaty acolytes over pounding dance music. It is only when she goes backstage – sheltered from the watchful eyes, and smartphones, of her followers – that Sylwia lowers her buoyant front, complaining of muscle pain and scrolling stony-faced through her Instagram feed. Although Thyberg and von Horn structure their movies differently (with the former emphasising the artifice, and the latter initially obscuring it), they both establish that their protagonists behave differently in public and in private.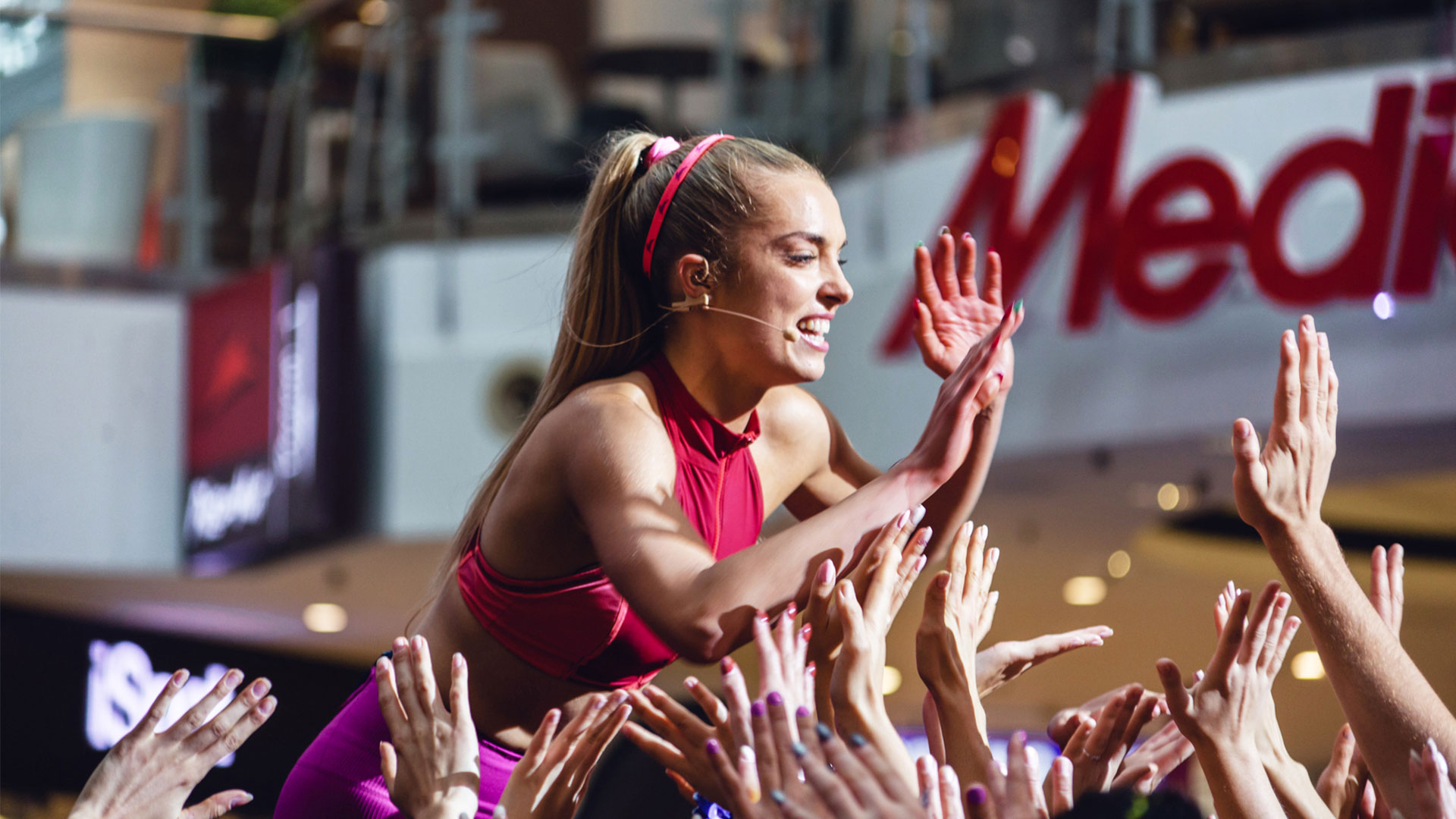 This is particularly evident on social media, where Bella and Sylwia document the most palatable aspects of their daily lives with similarly hyper-feminine, pink-encased iPhones – and pointedly mask their sordid off-camera experiences. In Pleasure, Bella most closely approximates Linnéa when she is spending time with her sorority of fellow porn actresses. Dressed down in oversized hoodies that hide her body, hair scraped back into a topknot, she is looser and more relaxed than we ever see her on set. There, she is constrained in form-fitting lingerie and thigh-high PVC boots, and Kappel hints at her character's general discomfort with stiff body language (and even smothered grimaces in one hard-to-watch double-penetration scene). Surrounded by her friends, however, Bella is herself: she laughs, sings, flails her body around and unashamedly burps up mouthfuls of Chinese food. Basically, she relinquishes control. Her Instagram feed tells a different story of who Bella is, with its immaculately lit photos revealing her preened, polished and in suitably sexy poses. Thyberg highlights this disparity during Bella's first on-camera sex act. The performer is initially reluctant to go through with it, retreating to the bathroom and breathing deeply in an attempt to lessen her mounting panic; she is so ill at ease that the director has to coax her into appearing in the scene. You'd never know this from the images she shares online afterwards. A gleeful Bella, face covered in ejaculate, suggestively sticks four fingers deep into her mouth, batting her eyelids in a series of selfies. By highlighting the difference between how Bella felt in the moment and how she digitally depicted it later, Pleasure pulls back the curtain on a manipulative industry and reveals that joyous uploads may actually cover up dark secrets.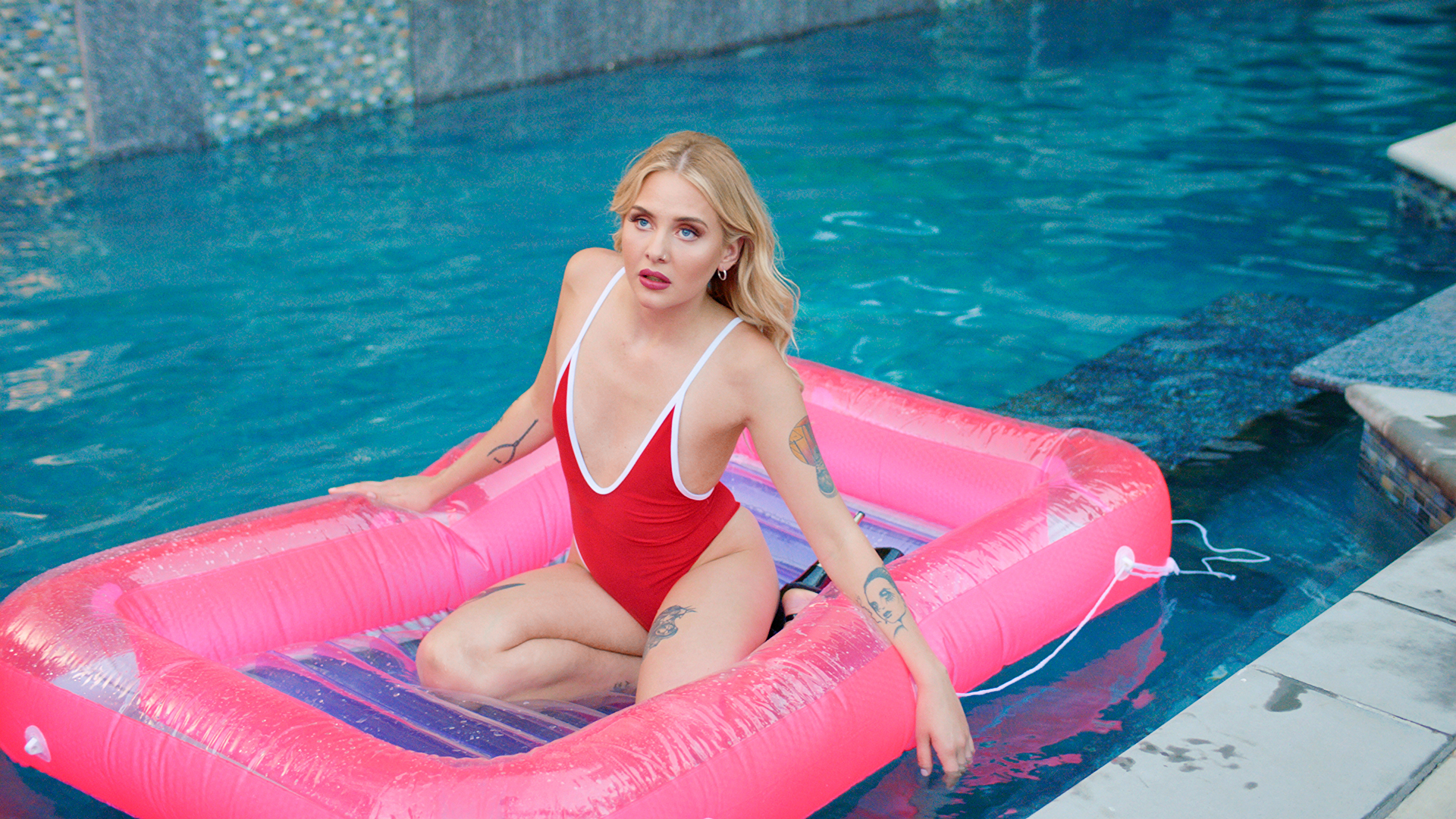 The same goes for Sweat. There is an 'I woke up like this' effortlessness to Sylwia's Instagram account that jars, since von Horn shows us the hard mental and physical graft it takes to be her. Although willing to show off merchandise unboxing in her feed, the instructor notably refuses to let her 50,000 followers see her demanding workouts. During a weights session, the director trains an extreme close-up on Sylwia's face, crumpled with exertion, and zooms in on her groaning, sweating, gritting her teeth and, at one point, crying out 'Jesus, I can't!' As in Pleasure, the pain is disguised for social media. Following the workout, Sylwia slips off her slouchy vest to reveal her toned abs and films a video of herself bouncing around and extolling the importance of exercising in a jovial, singsong voice. There is a suggestion, early on in Sweat, that she is so accustomed to presenting an elevated version of herself that she doesn't even know what is real anymore. On a livestream, a follower asks if her poker-straight blonde hair is natural, to which she immediately replies yes, despite the fact that we have already seen her emerge from the shower with a mass of damp curls. It has become second nature to pass off this happy-go-lucky persona as the real Sylwia. Interestingly, by the film's denouement, she refers to this on-screen fabrication as 'the awesome Sylwia' on breakfast television. The influencer has bifurcated her own identity to the extent that she talks about her digital persona in the third person: 'When I'm the awesome Sylwia from the posters I feel very lonely. And I'm just tired of pretending that I'm better than I really am. I want to be weak and pathetic, because that's when I'm myself.' By the end of Sweat, Sylwia learns to reveal the cracks in her carapace, which benefits her mental health but stymies her career because wellness brands do not want to be associated with her sadness.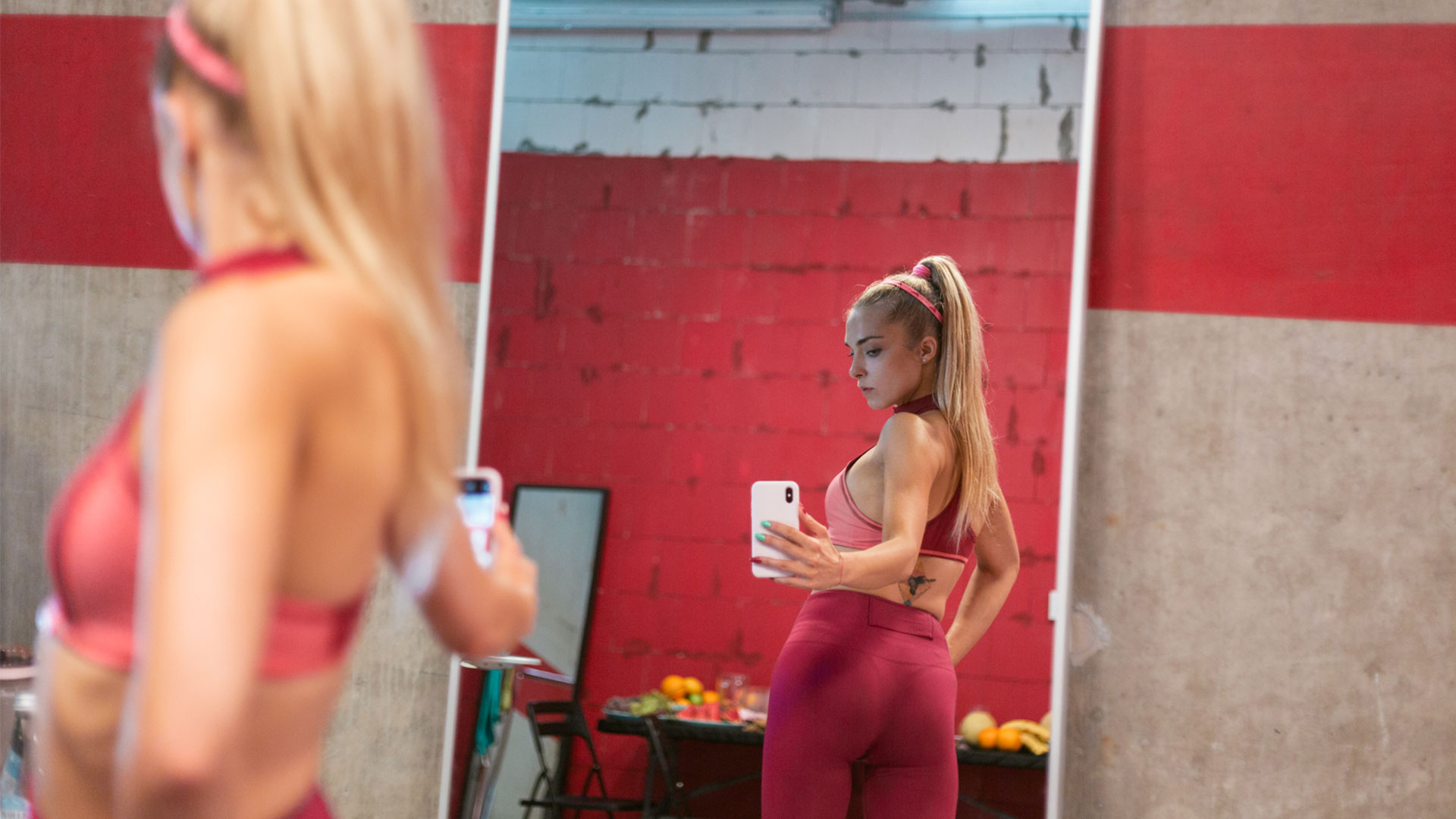 Another commonality between Pleasure and Sweat is their undercurrents of sexual violence, which both Bella and Sylwia endure at the hands of men. These characters are commodified in that their bodies are their currency. For Bella, footage of her deepthroating a banana can be packaged into clips to sell on the internet, and Sylwia must maintain an impossibly sculpted physique to safeguard her sponsorship deals. Because they 'sell' themselves (to varying degrees), the men in their orbit are emboldened to treat them however they want. In Pleasure, Thyberg consciously draws parallels between a respectful, female-directed BDSM shoot, in which safe words and clear boundaries are established, and a dangerous, male-directed rough-sex scene. The latter – shot by an all-male crew, and starring Bella with two guys – is utterly degrading. There is no discussion of choreography ahead of time, instead the men insult her, pull her hair, spit in her face, peel open her eyelids and grab her by the throat. Thyberg ramps up our empathy for Bella by plunging us into her point of view, relying on horrifying, hazy images of teeth-baring men and smacking flesh that disorient and disturb. Bella is traumatised and has to stop mid-shoot. She has withdrawn her consent. And yet, her scene partners and director do not behave like colleagues at this moment. Stroking her back and kissing her forehead with sickening overfamiliarity, they pressure her into continuing. What starts as a reassuring 'You don't have to do anything you don't want to do' quickly mutates into the closed question 'You wanna finish, don't you?' (which she begrudgingly accepts). For all the sex industry's talk about consent forms, Pleasure shows that this unregulated sector is only really interested in catering to male consumers' desire – the safety of female performers is secondary.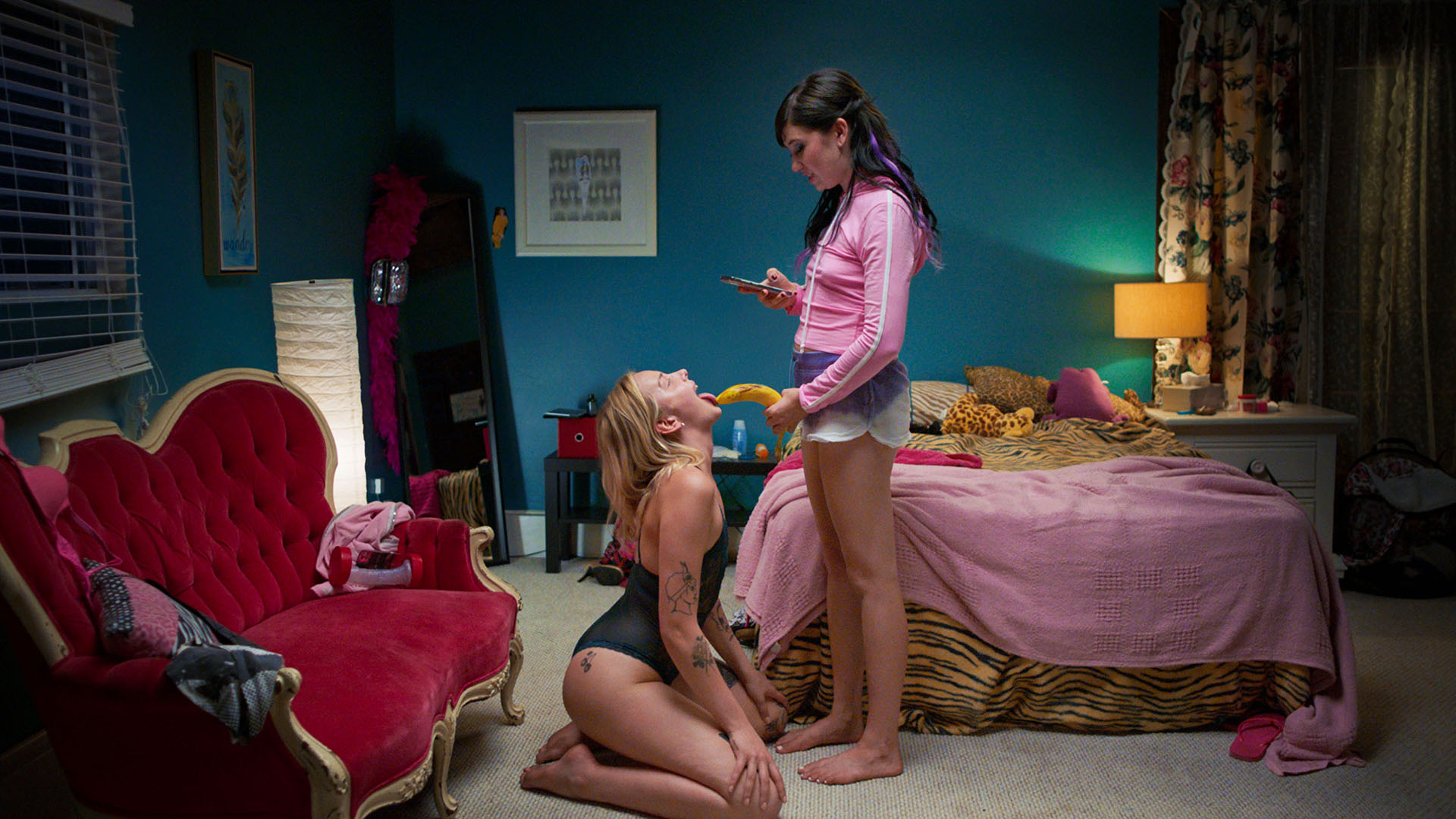 Sylwia, for her part, also has some sinister encounters with men in Sweat. Firstly, there is the stalker Andrzej who parks outside her building and masturbates while watching her walk her dog, which she meets with white-hot rage, smearing her Jack Russell's excrement onto his window. That evening, she invites the instructor Klaudiusz back to her flat, but then pushes him away, deciding not to sleep with him (showing, as Bella does, that consent can be relinquished at any time). The PT – like Andrzej who remains in his spot opposite her apartment block despite her screaming at him to leave – does not take no for an answer, even after Sylwia confides in him about the sexual assailant downstairs. Ironically, Klaudiusz does exactly what Andrzej did: pleasuring himself in front of her, while Sylwia looks on, trying to convey a steeliness behind her glassy eyes. The men in Sweat operate on the false logic that because Sylwia once revealed that she is lonely and yearns for a romantic partner, she should want male attention at any time, which reflects those in Pleasure who believe that, since Bella sells sex for a living, she should always be up for it. Because of how they are perceived online, both of these women are stripped of autonomy and left vulnerable to abuse.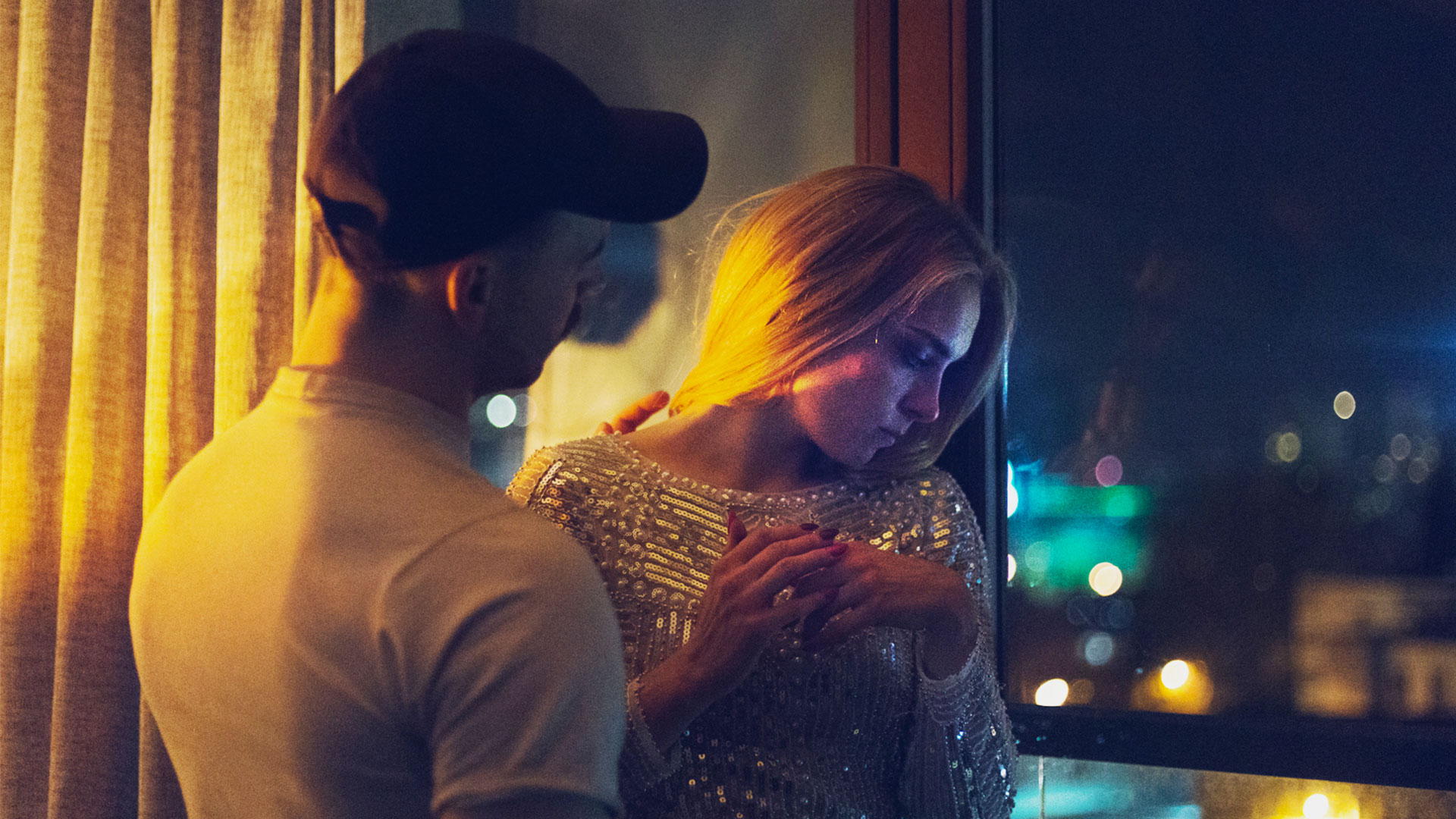 With resounding empathy, Pleasure and Sweat offer honest assessments of the sex industry and influencer culture through their main characters, who hide their true selves and suffer workplace indignities in order to get ahead in their careers. The films recontextualise what are often erroneously considered 'shallow' jobs and remind us that the euphoric images in our social feeds rarely dovetail with the unpleasantness going on off-camera. As the movies draw to a close, Bella and Sylwia may have grown their online followings but they end up isolated and alone, with no one to confide in. Pleasure and Sweat posit that the cost of internet fame – friendship, agency, authenticity – is more than it's worth.      
WATCH PLEASURE IN CINEMAS; AND SWEAT ON CURZON HOME CINEMA