The final chapter in the story of Keanu Reeves' canine-loving hitman shows just how far the series has come: the stakes have been raised, the ante has been upped. Here, Ian Haydn Smith digs into John Wick: Chapter 4's myriad cinematic influences.

From its beginnings as a lean vengeance thriller that revelled in impressively choreographed fight scenes, the John Wick franchise has transformed. Now, it's a universe-building epic that conjures up a world controlled by a labyrinthine criminal fraternity, which is slowly torn apart by Keanu Reeves' grief-stricken, gun-toting hero. The final part of Chad Stahelski's tetralogy is its most expansive, running to almost three hours and spanning the globe. But like the previous instalments, there is no let-up. Character is action here. And the action, which borrows from a number of cinematic schools, is bloodlettingly spectacular.
For fans of the series, the pleasures of John Wick's attempts to bring down the High Table – underground overlords who appear to rule the world through high-tech surveillance, unlimited firepower and some analogue filing systems – can be found in the ingeniousness of each bloody encounter. Taking their cue from the bullet ballets of John Woo's Hong Kong crime classics such as A Better Tomorrow (1986), The Killer (1989) and Hard Boiled (1992), these sequences are dominated by gun battles, with a shot – or more – to the head not only guaranteeing a certain death, but a spray of blood that transforms each location into a human abattoir. Such sustained violence should prove unpalatably grisly, but these scenes are leavened with a sly humour that offsets the escalating body count.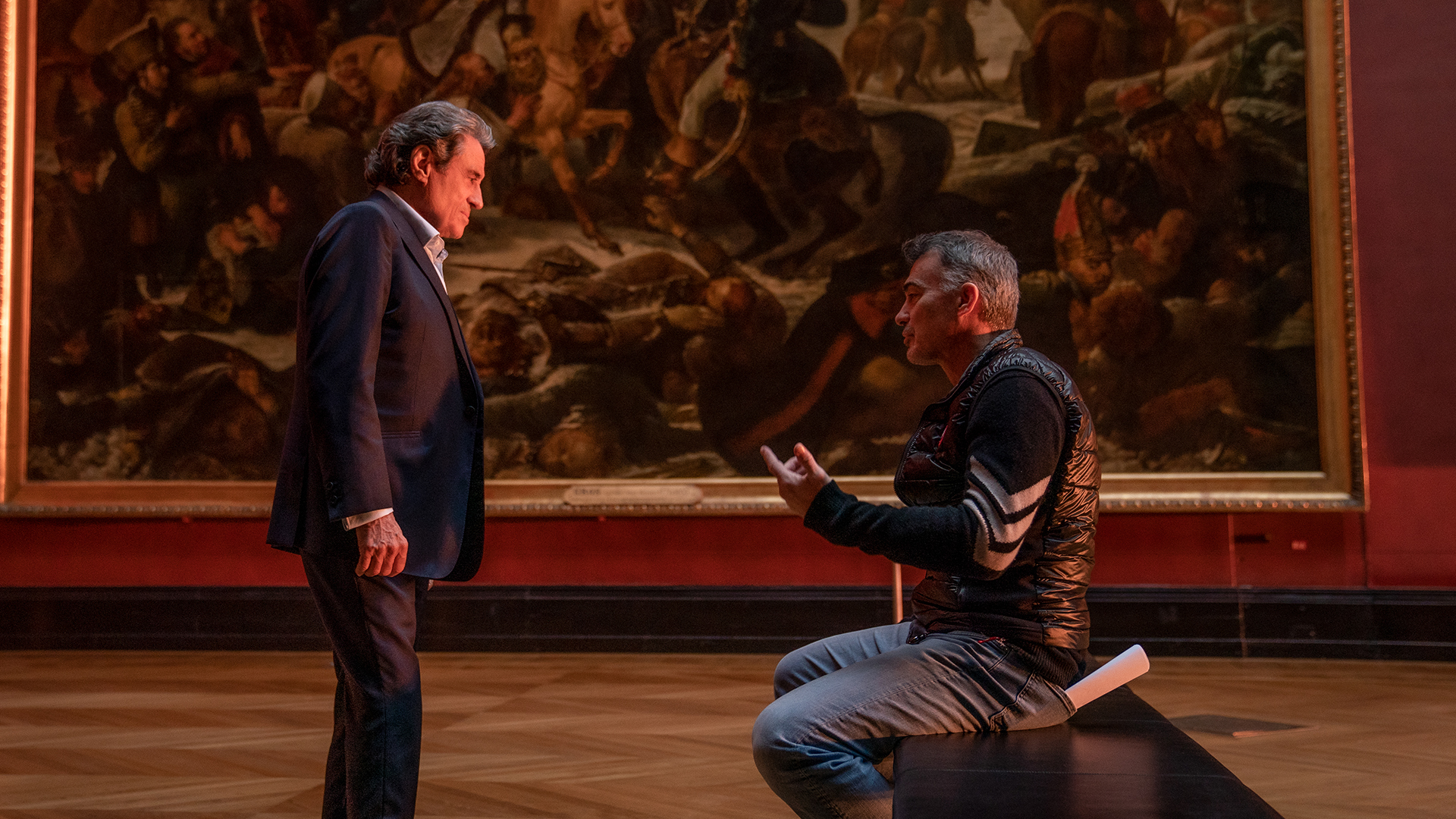 Wick's ability to fight with any prop plays into the archness of the films.(This is not unique to these films, but they push the envelope in just how outrageous a role these props play.) At the opening of John Wick: Chapter 3 – Parabellum (2019), with minutes remaining before a global contract on Reeves character goes live, Wick tangles with fellow assassin Ernest (played by the 7'3" Houston Rockets basketball star Boban Marjanovic) in the New York Public Library. Armed with nothing but an old book, Wick despatches him quickly. Injured, but still on the run, he uses a horse to kill more assassins, before taking off through the city, on horseback, with motorcyclists in pursuit. The pace is frenetic, the violence constant, but the sheer nonsensicality of it all is what makes the films so entertaining.
John Wick: Chapter 4 continues on this path. At the beginning, Laurence Fishburne's Bowery King – a street-smart variation on the actor's role as Morpheus in The Matrix series – talks about revenge and the world order while walking through a set, soon to be lit up with flames, that resembles the kind of location used in 1980s shoot 'em-ups like the Sylvester Stallone crime thriller Cobra (1986). Intercut with this is Wick pummelling a rope board, à la Beatrix Kiddo in Kill Bill: Vol. 2 (2004) and countless 1970s Shaolin movies. From there, Stahelski and writers Shay Hatten and Michael Finch pull off an outrageous cinematic theft – recreating the match-sunrise cut from David Lean's Lawrence of Arabia (1964).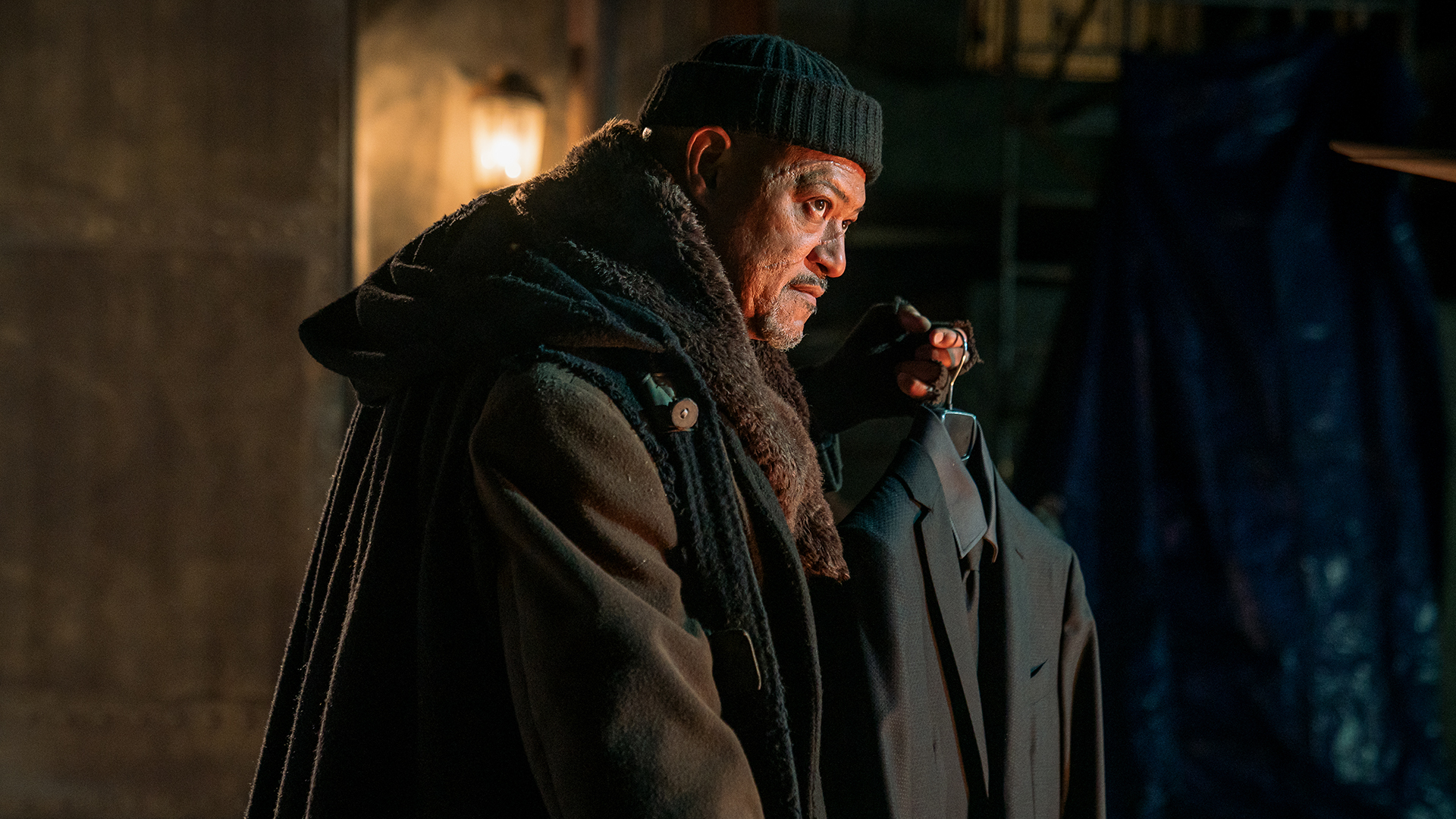 A chase follows, this time with Wick – on horseback again – in pursuit. The scene, even by the standards of this series, is wildly over-the-top, as Wick's three quarries are picked off one by one. The chase was shot in Jordan's Wadi Rum reserve, where Lawrence was filmed, but Lean's protagonist would have had to be pumped with MDMA to even think about doing what Wick does, let alone with the level of insouciance that Reeves displays as he works.
This sequence, like so many others, plays up to the mythic element of the series. Even the first film, though significantly more modest in scale, has the glimmer of an alternative reality. When a Russian mobster (Michael Nyqvist) finds out his son has attacked Wick, stolen his car and, crucially, killed his dog, he knows what is to come and attempts to gain the upper hand by sending a team of assassins to kill Wick at home. The noise from the ensuing fight brings the police. An officer sees bodies on the floor of Wick's kitchen, but only seems interested in knowing if Wick is working again. It's a hint, borne out as the film progresses, of a vast criminal subterranea that works in the shadows.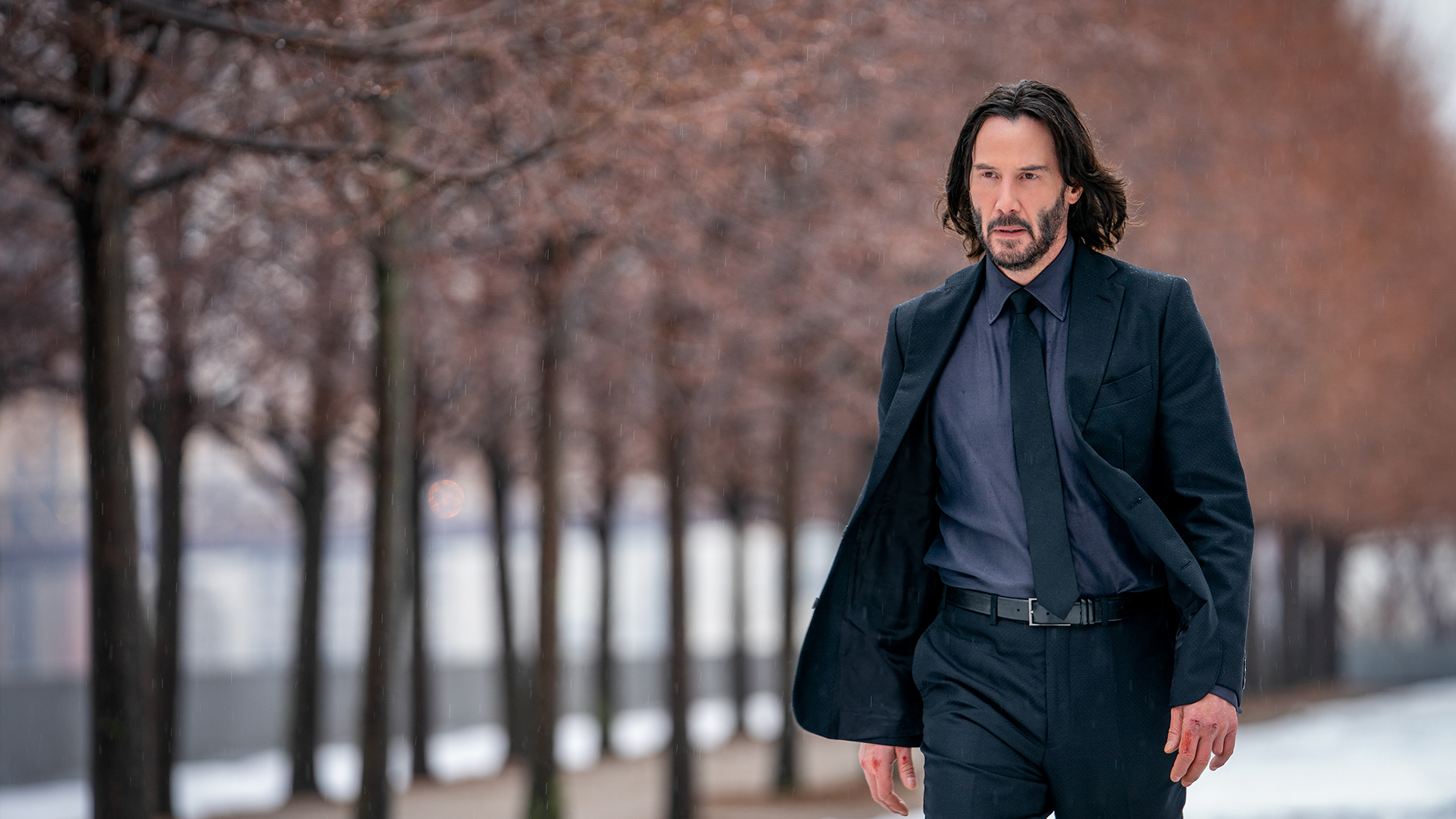 David Lean and John Woo aren't the only cinematic influences at play in the film. Interior scenes employ light in a way that recalls Ridley Scott's early work. Sergio Leone and Akira Kurosawa are also in the film's DNA. (That horse chase echoes the one Kurosawa filmed for 1958's The Hidden Fortress.) There is a fetishism for Japanese gang and martial-arts culture. It was seen in the climax of Chapter 3. Here, Wick travels to Osaka, hoping to find refuge with old friend Shimazu (Hiroyuki Sanada), the manager of that city's Continental Hotel, part of a chain of worldwide residencies where no 'business' can be carried out. (Its New York counterpart, managed by Ian McShane's Winston, plays a more significant role in the earlier films.) But the High Table, who have given Bill Skarsgård's Marquis the job of killing Wick, are shutting down any possible channels of help. Shimazu's concierge is his daughter Akira, played by singer-songwriter Rina Sawayama – the latest in a line of female action characters to play a significant role in the series, and the first to be fighting Wick's corner. She's a key participant in the first extended fight sequence, which sees Wick use nunchaku.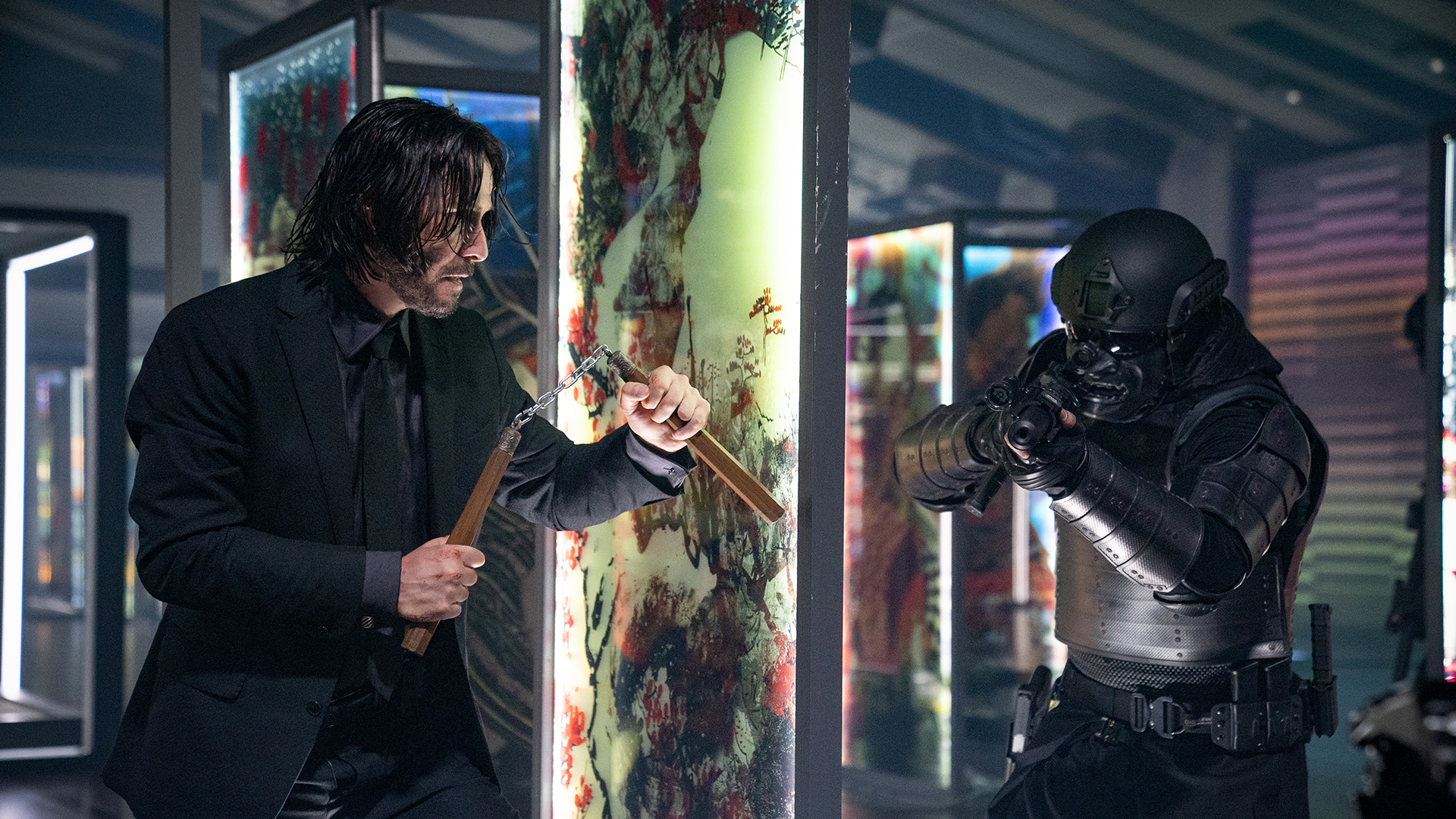 Chapter 4's climactic battle, unfolding on the steps leading up to Paris' Sacré-Cœur and then in the shadow of the Roman-Byzantine basilica, is arguably Stahelski and the series' finest example of sustained, vertiginous action. Stunningly choreographed, it's thrilling to watch, but also aware of the silliness of what unfolds. It's a fine balance that Stahelski, like one of John Wick's hits, executes to perfection.
WATCH JOHN WICK: CHAPTER 4 IN CINEMAS