Sophie Monks Kaufman pays tribute to the dearly departed composer Stephen Sondheim, celebrating the continued relevance of his powerful lyrics as Steven Spielberg's West Side Story remake arrives in cinemas.     

The day the musical died was Friday 26 November 2021. Stephen Sondheim reached the venerable age of 91, yet when a giant dies it means a sudden stopper on a certain strain of genius. The very next Monday, Steven Spielberg's West Side Story premiered in New York. Elegiac timing, since West Side Story was Sondheim's first Broadway job, which he took aged 25 after some personal conflict. The then aspiring composer was only asked to write the lyrics, with Leonard Bernstein composing the music.
West Side Story was birthed on Broadway in 1957 and  turned into the Technicolor film by Jerome Robbins and Robert Wise in 1961. The musical update on Romeo and Juliet transposed to New York had the white gang the Jets warring against the Puerto Rican gang the Sharks with Tony and Maria as the star-crossed lovers. 
Sondheim was self-critical of everything from his social suitability for the subject – saying 'I've never been that poor and I've never ever met a Puerto Rican' – to his emphasis on 'a', the least important word in 'Somewhere (There's A Place For Us)'. And, yes, he would go onto harness more esoteric interests to tell stranger and more specific stories, all the while perfecting his skills as 'a world-class rhyming gymnast' (per The New York Times obituary). Nonetheless, West Side Story was a hell of a calling card filled with bangers that still feel relevant, as does most of his work and, indeed, his entire presence. There are currently revivals of Assassins and Company on Broadway, and he consulted on Lin-Manuel Miranda's new film Tick,Tick... Boom!, a musical biopic about Rent composer and lyricist, Jonathan Larson.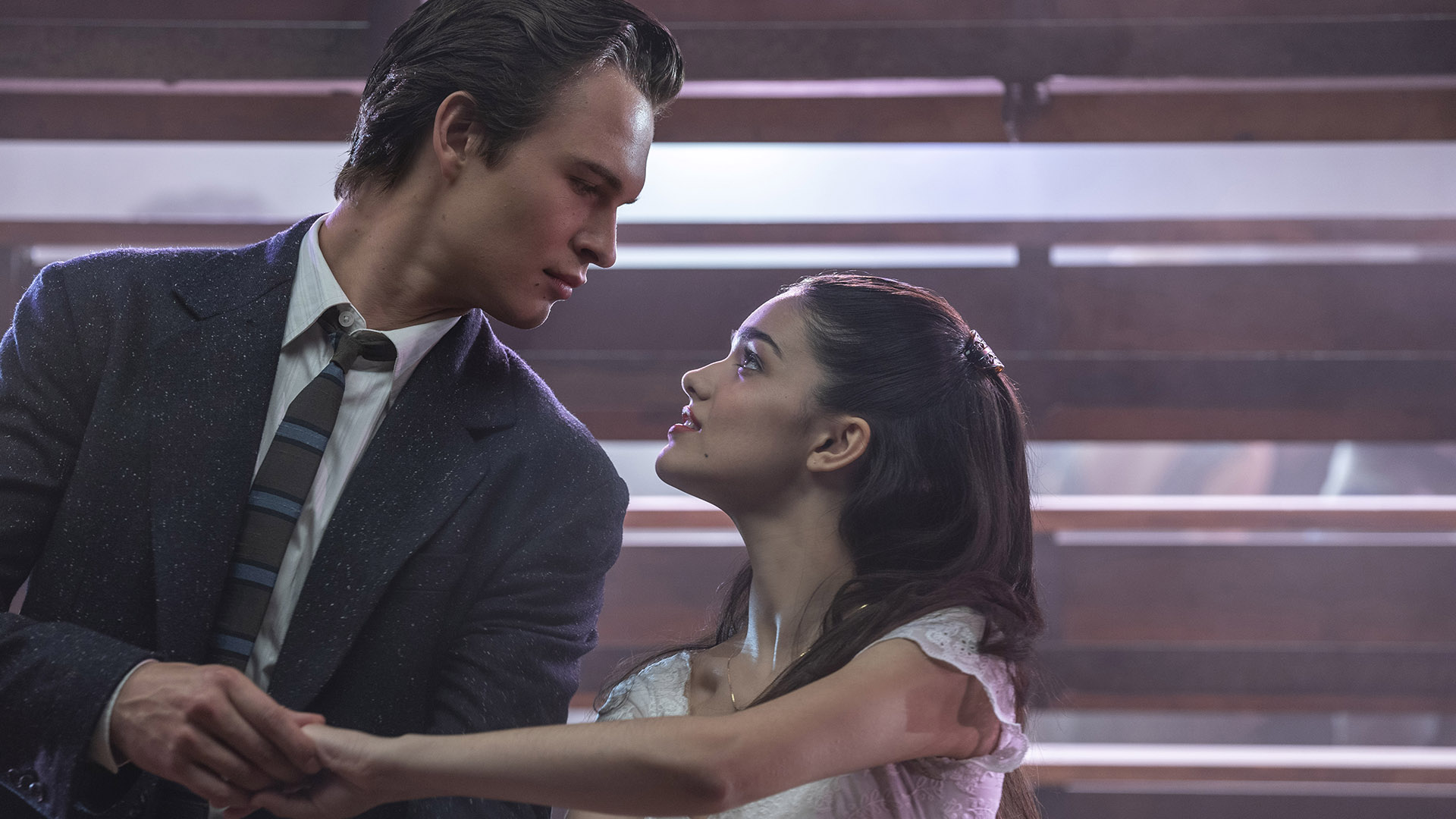 Spielberg's West Side Story is a curious beast. It corrects the problematic representation of Puerto Ricans who in the original, with the exception of Rita Moreno's Anita, are white actors in brown-face. Tony Kushner's updated screenplay features unsubtitled Spanish for verisimilitude and to speak directly to Latinx audiences. Peripheral tomboy character, Anybodys, becomes a peripheral trans character. But these touches are just social due diligence when modernising a 60-year-old classic movie. Any more pressing sense of vision is lacking, as Spielberg and his collaborators take pains to stick to the source material. The result is a perfunctory hybrid of past and present, a well-worn tale sung by fresh faces. Ansel Elgort is miscast as Tony, resembling (as ever) a handsome ostrich, as opposed to a greaser with dirt under his fingernails, fresh out of jail for killing a man.
Spielberg's smartest move is to conserve the all-singing, all-dancing throughline, reshuffling and restaging numbers, yet keeping a fidelity to the essential trappings of the original as it moves from colourful fiesta to grand tragedy. Perhaps because I saw it three days after Sondheim died – following a weekend spent listening to cast recordings of Into the Woods and Sweeney Todd, watching his masterclasses and the documentary Six By Sondheim – what cut through the most sharply were the lyrics. They sing out with sparkling chutzpah from the period setting to today, speaking on subjects of gang violence, anti-cop sentiments and American racism.  
'Life is all right in America/If you're all white in America' goes the call/response refrain of 'America' led by Anita (Ariana DeBose) who, with her female friends, rhapsodises about America, while her boyfriend Bernardo (David Alvarez) leads the men in responding with a dry reality check. The quick rhymes amount to clipped wings, as every attempt to fly the flag for the American Dream is met by a grounding riposte. It's simultaneously a great vehicle for the Shark couple Anita and Bernardo, whose love language has teeth. (Bernardo: 'I think I'll go back to San Juan.' Anita: 'I know a boat you can get on.')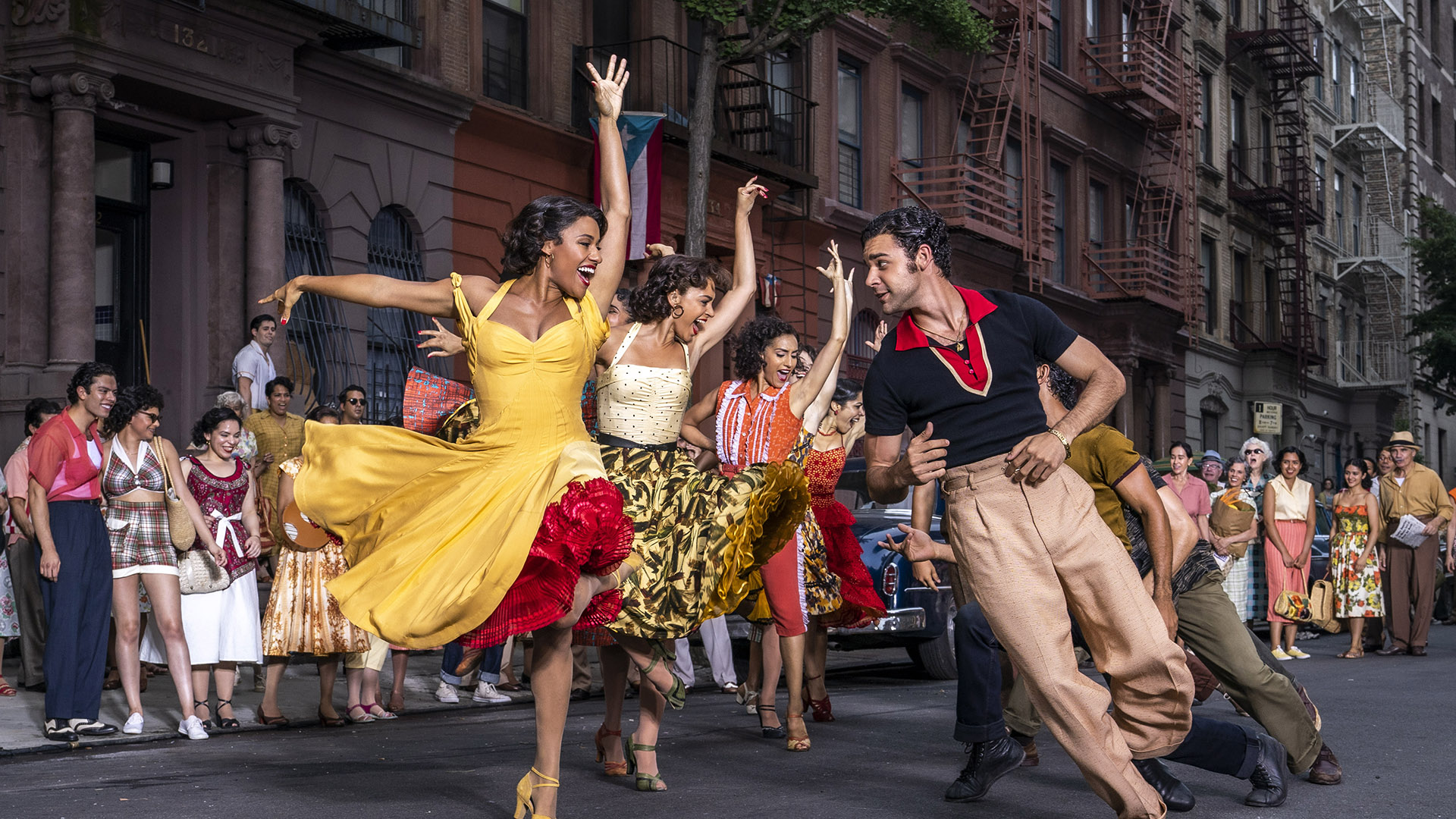 DeBose is one of the film's strongest performers, up there with Mike Faist as Jet leader Riff and MVP Rita Moreno. Having won the Best Supporting Actress Oscar in 1962 for playing Anita, she could be back for seconds as Valentina, an update on the world-weary Doc, who speaks the heartbroken line, 'Why do you kids live like there's a war on?'
The kids are at their best in 'Gee, Officer Krupke', an upgrade on what was originally a casual streetside ditty that springs up after Officer Krupke tries to move the Jets along. Spielberg restages it to dazzling effect in the 21st Precinct of the NYPD. The comedy song involves the Jets mock-pleading with various law-enforcement officials. 'It's not I'm antisocial/I'm only anti-work/Gloryosky, that's why I'm a jerk!' The wit, wordplay and internal rhymes are matched by escalating physical intensity as they feverishly tapdance and trash the police station, scattering papers everywhere. The extra carnage suits a song built on mockery and irreverence. These boys don't believe in nuthin'!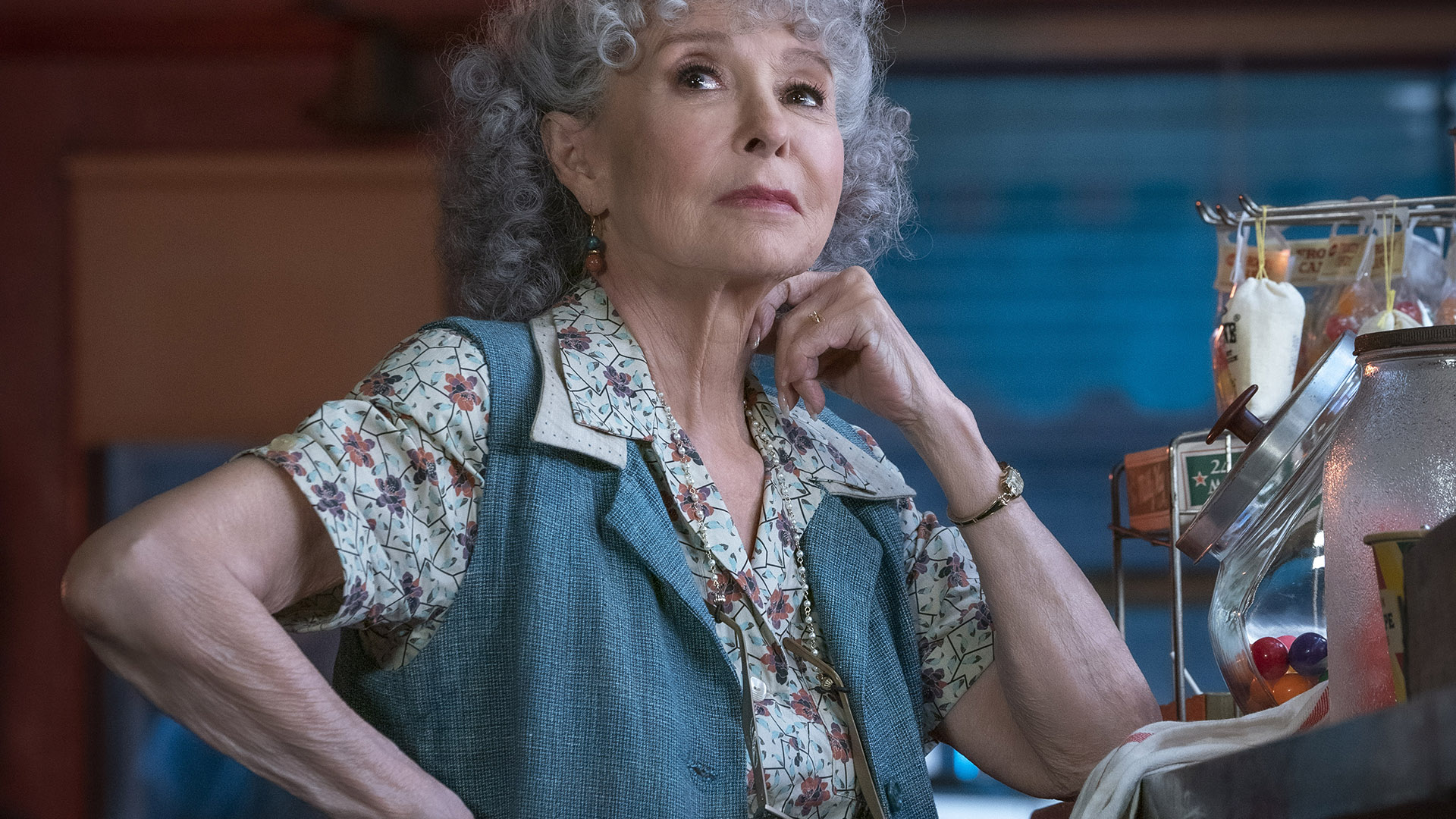 'Somewhere (There's A Place For Us)' underlines Sondheim's versatility, the way he could drop playfulness to pen an earnest song from the heart. It's first sung as a duet between Maria and Tony as they dream of building a life together untouched by the violence their love has accelerated. The opening lines are sung again at the end of the original film as Maria holds Tony, dying, in her arms. Spielberg plays a blinder by giving the second version to Rita Moreno. She sings it with muted despair, sitting alone in her shop, her presence acting as a human bridge over 60 years. Sondheim may have disliked the emphasis on 'a' but it is actually the 'Somewhere' that lingers, a mirage of a place where the dead don't die.