WORK AT CURZON
Curzon is an award-winning film company,  spanning across  exhibition, distribution and digital. We have a rich heritage from our first cinema in 1934 to the acquisition of Artificial Eye distribution arm in 2006 and the start of digital exhibition with our Curzon Home Cinema platform, which launched in 2010. Over the years Curzon acquired and has released several BAFTA and OSCAR winners.
We like to think of ourselves as innovative curators, playing the films you expect but also unearthing new gems. As part of the cinema or head office team, you'll be at the forefront of making those connections with customers. 
We are a Living Wage and flexible working employer. As of 2017, we have had a strong sustainability remit which we are implementing across our cinemas and at head office.
We are proud to be a group of diverse and creative individuals with a passion for films, cinema and customer experience and we strongly believe in our philosophy and values.
Our philosophy is about discovering the new and sharing it with the world.  
We know we are a trusted voice in cinema and want our teams and customers to be part of the journey, rewarding curiosity and enriching lives with great films and experiences. 
If you share our vision and values, then please check out our vacancies below.
OUR VALUES
PASSION
We care about our customers' experience and strive to make their visit to our cinemas a memorable one. We love talking with our customers about the latest and upcoming film releases, rediscovered classics, premieres and Q&As, as well as spoiling them with our delicious food and drink offers.
UNIQUENESS
We bring audiences films with diverse stories from around the globe. By embracing technological innovation, we also make our authentic Curzon films available on our Curzon Home Cinema platform on the day of release.
INCLUSIVITY
We value individuality and diversity as we like to be creative and innovative. Together we work with integrity. We take initiative and look for opportunities for our own development, always delivering to the highest standards.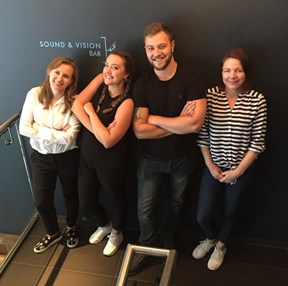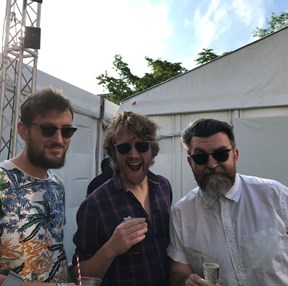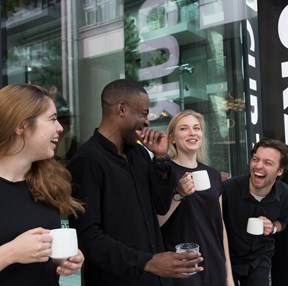 OUR BENEFITS
WATCH MORE FILM!
Free cinema, events, Q&As tickets, Curzon films previews and up to 50% discount on Curzon Home Cinema catalogue.
WORK-LIFE BALANCE
Remote/office work for office employees; Flexi-hours; Enhanced sickness, maternity, paternity and adoption leave pay
OTHER BENEFITS
Free soft drinks whilst on duty; 50% discount on food and drink in cinemas; Cycle to work scheme; Quarterly performance bonus for cinema managers; Office days for cinema teams to explore their career options.
"I NEVER WORKED IN A PLACE WHERE SO MANY PEOPLE WANT TO BE DEVELOPED AND ARE REALLY PASSIONATE ABOUT THE JOB"
CHRISTINA FLOURENTZOU, REGIONAL MANAGER
VACANCIES
HEAD OFFICE ROLES
There are several departments within Head Office supporting all the business operations and more detailed descriptions can be found below.
ACQUISITION AND DISTRIBUTION
The acquisitions team has a global remit of unearthing new talent via scripts and international film festivals as well as nurturing established filmmakers. The distribution team creates the campaigns when a film is on release.
PROGRAMMING
The cinema programme team has responsibility for curating, negotiating and scheduling the films, live cinema and special events that play across Curzon venues from titles on new release to original programming.
CURZON HOME CINEMA AND TECHNOLOGY
The team manages the virtual venue - Curzon Home Cinema are at the forefront of delivering a unique streaming service to evolve film exhibition. The technology team works closely with operations to facilitate box office and analytical systems.
MARKETING
The team looks after group theatrical and digital marketing and publicity and oversees film releases, membership, editorial content, CRM, web and audience development.
CINEMA OPERATIONS AND CINEMA DEVELOPMENT
The Cinema Development team focuses on new site openings, whilst the Cinema Operations Teams include private hire, food and beverage, cinema projection and technology, and support our cinema managers to deliver the best cinema experience and drive the overall commercial objectives for the venues.
HUMAN RESOURCES
The team that recruits, train, develops and nurtures Curzon employees. From providing a great induction and structured training plans, to organising team events, listening forums, focus groups, promoting diversity and inclusion and encouraging internal career advancement.
FINANCE AND BUSINESS AFFAIRS
The finance and business affairs team has fiscal and legal responsibility through all legal agreements, budget planning, monitoring sales and costs and are the backbone of a successful business.
We are looking for a SENIOR MARKETING MANAGER with Brand and Exhibition experience to join our marketing team. Send us your Cv at [email protected] if you believe you have the skills and experience detailed in the job description. We look forward to hearing from you!
CINEMA MANAGEMENT ROLES
WE CURRENTLY HAVE NO CINEMA MANAGEMENT VACANCIES, BUT KEEP CHECKING THIS SPACE AS WE UPDATE WHEN THEY COME UP!
GENERAL ASSISTANT
Our General Assistants are Curzon's ambassadors. They provide our guests with the greatest customer service by sharing their knowledge and passion of films whilst recommending food and drinks to complement the cinema experience.
If you are interested in any of the vacancies below, then please contact the cinema team directly.
If you are passionate about teamwork, customer service and films, please check our vacancies below and send your CV and cover letter with the relevant job title and location in the subject heading at [email protected] We are looking for: