Documentary is the oldest form of cinema. Before storytelling was introduced, the earliest films captured life as it unfolded. In the century since, one of the most powerful elements of documentary filmmaking has been its ability to capture journeys – both physical and emotional, as this collection of some of the finest non-fiction films highlights.

Night Mail (1936)
From a simple premise – a documentary following a mail train from London to Scotland – Harry Watt and Basil Wright created both a rhapsody of movement and industry, and a paean to the English landscape. Alongside the wartime films of Humphrey Jennings (London Can Take It! [1940], Listen to Britain [1942], Fires Were Started [1943]), Night Mail is arguably the most famous example of a golden age of British documentary filmmaking. Hardly a surprise, considering the talent involved. Composer Benjamin Britain wrote the propulsive score, while the verse was penned by W.H. Auden. And what verse: 'This is the night mail crossing the Border, Bringing the cheque and the postal order/Letters for the rich, letters for the poor, the shop at the corner, the girl next door.'
Daybreak Express (1953)
If you pick one short film to start your day, make it this gorgeous, rapturous wonder. It's the first film by D.A. Pennebaker, who would establish himself with the landmark music documentary Don't Look Back (1967), about Bob Dylan's 1965 tour of England; as well as Monterey Pop (1968), which pretty much defined the 'Summer of Love', and The War Room, an account of the people behind Bill Clinton's 1992 Presidential campaign and arguably one of the finest political documentaries ever made. His first short is deceptively modest, charting a commuter train's journey into Manhattan. Its title is taken from the Duke Ellington track that works in tandem with the train. And the whole thing is shot through the golden hues of a rising sun. In an alternative universe, the credit sequence of Mad Men might have looked like this.
Powers of Ten (1977)
Charles and Ray Eames were a powerhouse of design and contemporary thinking in the US for over three decades. They designed that chair, made countless artworks, installations and contributed more than a little élan to domestic life. But none of their works have had the enduring impact of this gem. Inspired by Dutch educator Kees Boeke's 1957 book Cosmic View, the Eames' nine-minute film opens exactly one metre above a couple lying on the grass next to the shore of Lake Michigan in Chicago. The frame spans one square metre. Every 10 seconds, the camera moves away to the power of 10, until it reaches a perspective some 100 million light years across. It then descends, back to the original position, before zooming in, through the man's hand and finally reaching the quarks in a proton of a carbon atom. Narrated by MIT professor Philip Morris, and with music by Elmer Bernstein, Powers of Ten relays an infectious sense of wonder at the world around us.
Burden of Dreams (1982)
Werner Herzog heard a story about a rubber baron in 19th-century Peru who took a steamboat deep into the Amazon basin with the intention of holding a classical concert there. He even disassembled the ship to carry it over a mountain. For his 1982 epic Fitzcarraldo, the maverick German filmmaker chose to employ a local tribe to transport an intact ship overland. This feat, along with the countless other acts of insanity that went into the making of this film, were captured by Les Blank. The result is arguably the greatest film about the making of a film. And as maniacal as Herzog at his most driven may appear, he pales against his frequently deranged star, Klaus Kinski. Burden of Dreams is an all-too-real journey into a heart of darkness.
Sherman's March (1985)
Ross McElwee's original intention was to make a journey that followed General Sherman's 'March to the Sea', from Atlanta to Savannah, whose savage trajectory was one of the key turning points in the American Civil War. But he becomes sidetracked by a desire to look up old girlfriends and to assess where he has reached in his life. A masterclass in self-reflexive filmmaking, Sherman's March is, by turns, witty, indulgent, revealing and singular.
Shoah (1985)
The journey Claude Lanzmann took to make his epic record of the Holocaust is remarkable in itself. The original commission was to turn around a modest 90-minute film. But his subject pulled Lanzmann in, resulting in five years of interviews, an equal duration in the editing room and a resulting 566-minute film. Comprising first-hand accounts, with no archive footage, Shoah is an extraordinary, exhaustive feat. Among the incredible sequences, one of the most unsettling is an interview with a Polish train driver who transported captives to Auschwitz. His testimony, distanced, emotionally remote, is chilling.
The Emperor's Naked Army Marches On (1987)
Japanese director Kazuo Hara occupies a singular place among documentary filmmakers. Like Nick Broomfield, Michael Moore and, latterly, Louis Theroux, he plays a central role in his films – less as a 'persona' within the narrative than a more complex figure, whose interaction with his subject raises questions about the very nature of subjectivity in the filmmaking process. In this instance, his focus is Kenzo Okuzaki, a former Japanese soldier convicted of anti-imperialist activity (he once attempted to assassinate Emperor Hirohito). The film follows him as he travels the country, interviewing old comrades from World War II, to find out what happened to two soldiers who were executed near the end of the conflict. If anyone refuses to talk with him, Okuzaki becomes violent and Hara's role in filming these scenes muddies the water between filmmaker and subject.
Roger & Me (1989)
Before Bowling for Columbine (2002) and Fahrenheit 9/11 (2004) made him the first blockbuster documentary filmmaker (the latter film was the first doc to pass $200 million at the box office), Michael Moore made this film about life in his hometown of Flint, Michigan, after GM, the area's main employer, closed all operations there. His target was Roger Smith, then the CEO of the company, and his attempts to interview him are as hilarious as any of the stunts in Moore's subsequent films. But along with all his best work, there is a sense of outrage at the way the wealthy and powerful use those less fortunate like pawns. The film's final moments are startlingly prescient, with Moore's journeys around Flint and the US leading to the conclusion that GM's greed has not so much led to the end of an era but is the start of a new one where the disparity between the haves and have nots will only grow.
Blind Ambition (2021)
Four men, who escaped violence in Zimbabwe, become sommeliers in South Africa and eventually enter the World Blind Tasting Championships in France in the rousing documentary Blind Ambition. Directors Robert Coe and Warwick Ross hit every right note of the competition arc narrative (previous examples include Jeffrey Blitz's 2002 box office hit Spellbound and the visceral 2005 doc Murderball) as they follow Joseph, Tinashe, Marlvin and Pardon on their journey as unlikely underdogs in a rarefied world.
Lift (2001)
Acclaimed British documentarian Marc Isaacs' debut is a short of modest means but richly rewarding, occasionally moving and often very funny. He takes up residence in a lift in a London residential tower block. Every day he films people who come and go, initially only talking to them when they engage with him. People appear bashful or suspicious at first, but slowly become used to his presence. He then asks questions, with the responses frequently surprising. The interviewees range from the young to the very old. Some are gruff, a few drunk, others generous.
The Gleaners and I (2001)
For the first few decades of her storied life and career, Agnès Varda was better known as a feature filmmaker, who had directed acclaimed works like La Pointe Courte (1958), Cléo from 5 to 7 (1962), Le Bonheur (1965) and Vagabond (1985). All the while, she made documentaries. But none are as beloved as this rapturous journey around France, interviewing people who collect – vegetables left in a field, food thrown away by supermarkets, the detritus of other people's lives that find new purpose. Acknowledging that as a filmmaker, the scraps of film she shoots qualifies her as a kind of gleaner, Varda delights in the wonder she displays towards her subjects and the world at large. The Gleaners and I is her masterpiece and one of the finest documentaries ever made.
Touching the Void (2003)
In 1985, experienced climbers Joe Simpson and Simon Yates set off for Peru to climb the West Face of the Siula Grande. With the onset of bad weather, their descent became treacherous, resulting in an accident that, by all rights, neither should have survived. Kevin Macdonald's Touching the Void, which integrates talking heads with the dramatic recreation of the climb and the extraordinary journey that brought both back to base camp, plays out like a white-knuckle ride. If Errol Morris' landmark 1988 true-crime documentary The Thin Blue Line pushed the form with its use of staged sequences, Macdonald's film goes further, challenging the best fictional climbing films in terms of sheer suspense.
Grizzly Man (2005)
It is a story that was tailormade for adventurer-filmmaker Werner Herzog. Timothy Treadwell was a misfit in general society, finding difficulty interacting with people in any conventional way. But in the wilds of Alaska, he found a place he felt at home and in the North American brown bear a species he thought he understood. Flouting the rules regarding interaction with wildlife in Katami National Park, he spent 13 summers living amongst the bears. Treadwell's hours of filming comprise the majority of Grizzly Man, while his death – along with his then girlfriend Amie Huguenard – reinforces the filmmaker's belief in the ambivalence of nature, an ideology that contrasts with Treadwell's.
Waltz with Bashir (2008)
For years, filmmaker Ari Folman was troubled by the blanks in his memory of the time he spent as a conscript in the Israeli Defence Force. In particular, around the time of the 1982 war with Lebanon. So, he sets out to speak with those he served with, uncovering the truth behind his presence in Beirut during the infamous Sabra and Shatila massacre. Using recordings of these conversations – in a few cases an actor played a character, reading a transcript of what had been said – Folman animated what took place, the encounters with old comrades, military officials, historians and a psychiatrist, as well as conjuring up a series of surreal dream sequences. The effect is hallucinatory, but switching to actual footage in Waltz with Bashir's closing moments underpins the horror of what took place.
Man on Wire (2008)
It's regarded by some as the greatest criminal work of art. In 1974, Philippe Petit crossed between the two towers of the World Trade Center via a highwire. A few photographs are the only record of what took place, along with the testimonies of witnesses and those involved. James Marsh's film is at its most thrilling in recounting the lead-up to the extraordinary event, with Petit a charismatic presence on screen. Released seven years after the terrorist attacks on the towers, the film never mentions that event, instead allowing it to remain as an unspoken but very present footnote in the story Petit's achievement.
Atlantics (2009)
Before she crafted the stunning narrative feature of the same name, Claire Denis-regular Mati Diop made this quiet and moving film about the conversations between a group of Senegalese friends who want to escape the economic hardship of their world and find work in Europe. But that requires a perilous journey in small boats out into the Atlantic. The less you know about the short's trajectory, the better, but Diop's film is a moving portrait of young men whose only desire is to see their families enjoy a life that isn't dominated by desperation and worry over where the next meal will come from.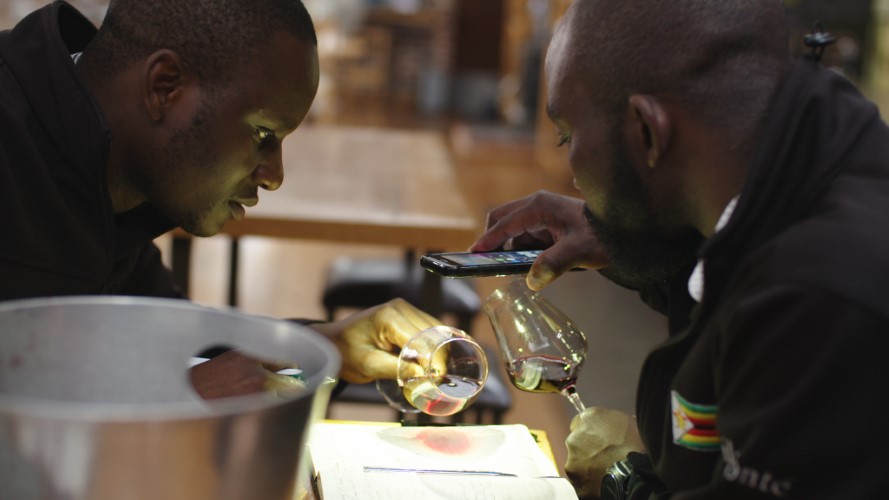 Explore our Documentary Collection on Curzon Home Cinema
Start Browsing
Nostalgia for the Light (2010)
Patricio Guzman made one of the most admired examples of revolutionary cinema with the epic Battle of Chile (1975-79), detailing the events that brought General Augusto Pinochet to power. With Nostalgia for the Light, the filmmaker starts out with a discussion of his passion, astronomy, before combining the work of scientists with the story of survivors of Pinochet's regime and their hunt for the remains of loved ones who were killed and likely buried in the arid heights of the Atacama desert. As women look for evidence of fathers, husbands and sons, nearby telescopes peer out into the infinity of space. One woman movingly ponders on the possibility of these telescopes pointing down into the earth, finding those she lost and finally giving her some solace.
The Act of Killing (2012)
When General Suharto came to power in Indonesia in 1965, it prompted a bloodbath in the country, with supporters and thugs ultimately responsible for the death of approximately one million communists and anti-government figures. Anwar Congo and Adi Zulkadry both led death squads, with the former believed to be responsible for killing over 1000 people. Joshua Oppenheimer's film takes a radical approach in getting these men, and others like them, to face up to their actions. They reenact moments from their past through the prism of their favourite film genres. The ploy works and many of the killers admit to their part in the massacres. The Act of Killing is a fascinating, surreal and chilling exploration of our capacity for cruelty, and the lies we tell ourselves in order to carry on living.
Stories We Tell (2012)
It began with a comment by Sarah Polley's brother, who noted that she didn't look like her siblings. From here, the actor-turned-director decided to investigate her parents' life, uncovering the story of their relationship and the truth about her mother, who died when Polley was young. Stories We Tell employs snippets of staged sequences not to reenact a specific moment, but to give a sense of the fabric of her parents' past life. These scenes, which were shot on Super-8 are integrated with interviews Polley carries out with family and friends, slowly revealing a past more complex than the narrative she had been brought up with. It's a compassionate, generous and warm-spirited film, with Polley an intelligent, witty and honest narrator of her personal history.
Leviathan (2012)
The Sensory Ethnography Lab at Harvard University is an interdisciplinary project whose goal is to find ways of producing anthropologically informed works that draw heavily on ethnography and evince a certain aesthetic. If that sounds unappealing, just watch this film, directed by two of the lab's luminaries Lucien Castaing-Taylor and Véréna Paravel. GoPro cameras were planted around, inside and beneath a fishing vessel, recording what life is life for its crew out at sea in the Northwest Atlantic. It's an astonishing visual and aural experience. Frequently disorientating, the film upends the conventions of narrative documentary to produce a profound sensory experience.
I Am Not Your Negro (2016)
Acclaimed writer James Baldwin left the US for France because of his country's racism. He returned for exactly the same reason. Based on the unfinished manuscript 'Remember This House' and letters Baldwin wrote his agent, Raul Peck's film essay grapples with racism in the US, from the 1950s to the present, through the work and deaths of three key figures: NAACP activist Medgar Evers, Malcolm X and Martin Luther King Jr. All were friends of Baldwin's and their murders devastated him. Peck's film is a compelling portrait of Baldwin, but his lucid assessment of the racism that is ingrained in most aspects of US life and culture is what makes the film essential viewing.
Fire at Sea (2016)
Gianfranco Rosi's previous films Boatman (1993), Below Sea Level (2008) and the Venice Film Festival winner Sacro Gra (2013) highlight the director's skill in documenting marginal lives. But his account of the migrants who arrive on the small Italian island of Lampedusa, their impact on the lives of its residents, and the coast guard and navy that often have to come to the rescue of those who make the perilous journey from Africa is a powerful work of humanism. There is no judgement or political engagement with the larger issue of migrancy, just a compassionate portrait of these very different lives.
Further Beyond (2016)
Neither a fiction film nor a documentary, Christine Molloy and Joe Lawlor's intriguing Further Beyond grapples with the limits of cinema when it comes to representing history. Their subject is initially Ambrosio O'Higgins, a 19th-century Irish adventurer who somehow ended up becoming the viceroy of Peru. But even though we learn a lot about O'Higgins' life, the filmmakers spend as much time detailing the problems of the historical biopic. Along the way, Lawlor's own family history comes into focus, the role of place in memory is discussed and some kind of film treatment is read/performed by actors Denise Gough and Alan Howley. It's a captivating work by two of the UK's best filmmakers.
For Sama (2019)
A university student when the first waves of opposition to Syrian President Bashar al-Assad began in 2013, Waad Al-Kateab became a citizen journalist, reporting on her homeland's descent into chaos and civil war. During this period, she met and married a doctor, and they had a child, Sama. Al-Kateab's moving film is a cinematic letter to Sama, to tell the girl of her infancy in her native country, the people who fought to transform it into a democracy and the violence that was used to defeat them. Shot between 2013 and the family's eventual escape from the country in 2016, For Sama is a moving and at times disturbing portrait of Aleppo under attack from its own forces.
Fire of Love (2022)
It was love at first sight for Maurice and Katia Krafft. But their shared love of volcanoes, travelling the world to film eruptions and lava flows, was the reason their relationship endured. Sara Dosa's hugely enjoyable film, narrated by Miranda July and shot through with the spirit of the playfulness of the early French New Wave, immediately makes clear that the Kraffts' passion was ultimately responsible for their death. But it succeeds in allowing us to understand the nature of their obsession, revel in the extraordinary footage their shot and accept that in death, as in life, they wouldn't likely have had things any other way.
EXPLORE OUR DOCUMENTARY COLLECTION ON CURZON HOME CINEMA