The nights are still long. Spring seems some way off. And sometimes, you just need a feel-good moment. We've put together a list of some of the best feel-good films from across the decades and a wide spectrum of genres. You'll laugh. You'll cry. But you'll come out feeling on top of the world.

High School Heroes
Clueless (1995)
The first of a loose trilogy of comedies that arguably became the defining US high-school film of their respective decades, Amy Heckerling's smart, sassy and eminently quotable 1995 classic takes Jane Austen's Emma and updates it to the high-maintenance world of Beverly Hills. Alicia Silverstone is priceless as Cher, with great support from Stacey Sher, Brittany Murphy and Paul Rudd – giving an early example of his easy-going screen charm.
Mean Girls (2004)
Acerbically scripted by Tina Fey (an adaptation of Rosalind Wiseman's non-fiction book Queen Bees and Wannabes), Mark Waters' high-school comedy takes the environment of Clueless and throws a little of Heathers' (1988) edginess into the mix, albeit minus that film's darker elements. The result is both dazzling and dizzy, as Lindsay Lohan's new arrival is seduced by Rachel McAdams, Amanda Seyfried and Lacey Chabert's Plastics, who rule the school with their rigid 'girl code', while Lizzy Caplan's art-freak gang attempts to save her soul.
Easy A (2010)
The classic high-school trilogy is rounded out by this very, very loose update of Nathaniel Hawthorne's The Scarlet Letter. Emma Stone takes the lead this time, as a student who decides to turn a rumour on its head, but along the way risks rejection by her peers. As with the earlier films, the script is everything and Bert V. Royal delivers on both quotable one-liners and drama.
Love, Simon (2018)
Simon Spier is gay. It's something he's kept from his family and most of his school. When a fellow student anonymously announces they're gay online, Simon decides to reach out. But he soon discovers that some secrets can't be kept forever. Director Greg Berlanti's adaptation of Becky Albertalli's novel Simon vs. the Homo Sapiens Agenda balances heartfelt emotion and knowing humour to create a film that manages to tackle sexuality and identity in a way that is joyously upbeat, without ever diminishing the importance of its message. You have to have a heart of stone not to be won over by the film's ending.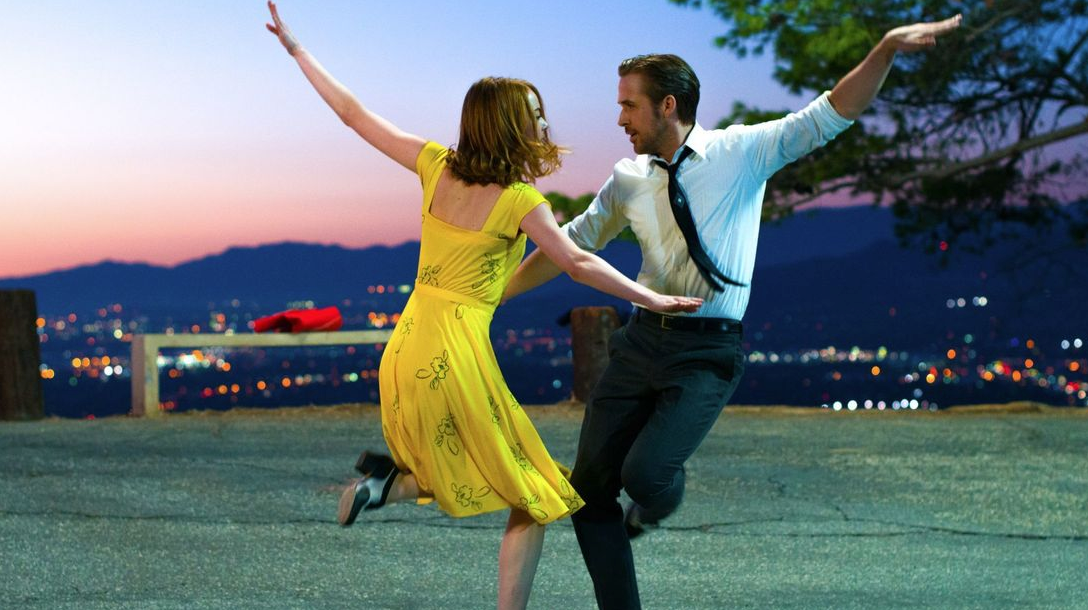 Upbeat Musicals
Singin' in the Rain (1952)
The greatest musical of all time? The best feel-good film? Gene Kelly and Stanley Donen's perfect recreation of the moment when Hollywood embraced sound is a feast for the eyes, a smart satire that includes some of the greatest song-and-dance numbers ever committed to film. It's a brilliant send-up of Hollywood in the 1920s and the fantasy dance number comprising the film's climax is an explosion of colour and a showcase for Kelly's genius as a choreographer.
Mary Poppins (1964)
Author P.L. Travers was famously suspicious of Walt Disney's charm offensive in order to gain the rights to adapt her popular books. (The subject of the enjoyable 2013 drama Saving Mr. Banks.) She feared he would turn it into schmaltz. But her concerns were ultimately unfounded, as the result became one of Disney's loveliest live-action films. Julie Andrews is perfect as Poppins, although the less said about Dick Van Dyke's woefully Cockney-accented chimney sweep, the better. That casting error notwithstanding, this is a joy from start to finish.
Pitch Perfect (2012)
Nominated for a Tony at the tender age of 12, Anna Kendrick had already enjoyed success in musical theatre when she was cast as too-cool-for-school Beca, a freshman student who is pressured into joining all-female acapella group The Bellas. Director Jason Moore's campus comedy works well alongside the competition narrative, with The Bellas finally standing a chance of winning a varsity championship. Kendrick is joined by a great ensemble cast, although Rebel Wilson steals every scene as Fat Amy. She gets a lion's share of all the best lines, including this riposte to Adam Devine, 'You're going to get bitch-slapped so hard your man-boobs are going to concave.'
The Golden Oldies
The Circus (1928)
Charlie Chaplin's comedy is a stunning showcase of his comic genius and an unadulterated delight. His Tramp happens upon a dream job working in a circus, but things don't go quite to plan. An extraordinary acrobat and physical comedian, Chaplin choreographs a series of brilliant set-ups that are as madcap as they are inspired. Filmmaker Ingmar Bergman would show this movie to his family every Christmas, marvelling each time at what Chaplin achieved.
Bringing Up Baby (1938)
In his long career, filmmaker Howard Hawks mastered a variety of genres, from Westerns and war films to gangster movies. But his skill at screwball comedy – a blend of quick-fire dialogue and slapstick physicality – was beyond compare. This masterpiece, with Cary Grant and Katharine Hepburn at the top of their game, was a box-office dud on first release. It has since grown in stature and is widely acknowledged as one of Hollywood's greatest comedies. The script is a marvel, Hawks' direction moves at a furious pace and the stars play each scene as though their lives depended on it.
An Affair to Remember (1957)
Leo McCarey's romance might be known by some as the film that Meg Ryan's character watches in Sleepless in Seattle (1993) and from which that film takes its dénouement. (They make a perfect double bill.) But An Affair to Remember remains a peerless example of how effortless the Hollywood machine could be at the peak of its power. The film tells the story of Cary Grant's playboy who risks everything when he falls in love with Deborah Kerr's fellow traveller on a journey across the Atlantic. Have a box of Kleenex at the ready.
Some Like it Hot (1959)
Billy Wilder's thriller-comedy-romance rounded off a decade in which the filmmaker established himself as one of the most uncompromising voices in Hollywood. He could be caustic, but there was also a tenderness in his work. With this masterpiece, he not only succeeded in fusing three genres together, he brought out the best of a notoriously difficult Marilyn Monroe, began an important working collaboration with lead actor Jack Lemmon – who is matched here by an equally game Tony Curtis – and, with its tale of cross-dressing jazz musicians and barely concealed sexual frisson, the film helped overturn an outdated Hollywood moral code. As for that all-too-perfect last line, it wasn't even meant to be in the completed film. Wilder and co-screenwriter I.A.L. Diamond just couldn't think of anything better to replace it.
Wholesome Romantic Comedies
Roman Holiday (1953)
On a state visit to Rome, Audrey Hepburn's European Princess takes off on her own – and without permission – to explore the city. She encounters Gregory Peck's roving expat journalist, who sees a potential story in the Royal's exploits. But he soon starts to fall in love with her. An actor better known for his dramatic roles, Peck always suspected that the comedy or romantic parts offered to him had been turned down by Cary Grant. But he's tailormade for this film, which makes the most of its location and the leads' charming chemistry.
Gregory's Girl (1981)
Few films have captured the agonising awkwardness of teen life as well as Bill Forsyth's comedy about a boy (John Gordon Sinclair) who fancies a new member of the football team (Dee Hepburn), only to realise that his romantic yearnings are best directed elsewhere. It's in the tiny observations that the film excels, along with its wonderful climax featuring Clare Grogan. Close to perfect.
When Harry Met Sally (1989)
Rob Reiner's career as director hit a straight run in the 1980s. After the cult hit This is Spinal Tap (1984), coming-of-age dramas The Sure Thing (1985) and Stand By Me (1986), and the fairy-tale comedy The Princess Bride (1987), he directed one of the finest relationship comedies with When Harry Met Sally. Written by Nora Ephron, it's a beautifully performed four-hander featuring Meg Ryan – cementing her status as the leading star of romantic comedies – Billy Crystal, Carrie Fisher and Bruno Kirby. Outside the now legendary 'I'll have what she's having' scene, the film is a cavalcade of perfectly written vignettes as best friends Harry (Crystal) and Sally (Ryan) fail to see why they are ideal for each other.
Groundhog Day (1993)
No one in American cinema does grumpy quite like Bill Murray. Before he became a perfect foil for Wes Anderson and scored gold with Sofia Coppola in Lost in Translation (2003), he starred in fellow Ghostbuster Harold Ramis' inspired every day-repeating-itself comedy. Playing truculent weatherman Phil Connors, tasked with witnessing the Punxsutawney, West Pennsylvania tradition of determining how winter will fare by the reaction of the local groundhog, but becoming trapped in a day that repeats itself, Murray convinces in his transformation from grouch to good Samaritan.
Notting Hill (1999)
Some might choose Four Weddings and a Funeral (1994) as their perfect feel-good film, but Richard Curtis' west-London-set romcom is wonderful comfort-watch fare. What this follow-up for Hugh Grant, which cemented his star status, lacks in quirky British humour is made up for by Julia Robert's bringing Hollywood glamour to the occasion. There's no denying this film's charm and the two actors are well matched.
A Summer's Tale (1996)
In the 1990s, Eric Rohmer embarked on his four-seasons series. This film was the third, following on from A Tale of Springtime (1990) and A Tale of Winter (1992). It might lack the depth and emotional resonance of the final entry Autumn Tale (1998), but as a record of summer love and youthful romance, it would make a perfect double bill with Gregory's Girl. It's set in and around Dinard and features Melvin Poupard's Gaspard as a shy maths graduate looking for love and soon realising he has more than he can deal with.
The Mumbai dabbawala system sees millions of home-cooked lunches delivered to their recipients on a daily basis. But one day, the lunch made by a woman in an unhappy marriage is delivered to the wrong person – a slightly older office worker. His delight at how good the food is prompts him to write a note in with the returned dishes. And so begins this epistolary romance. It's a stunning showcase for the late Irrfan Khan, who plays the office worker, while Nimrat Kaur is impressive as the woman deciding on her future. Ritesh Batra – who wrote, directed, shot and edited the film – balances comedy with heartfelt emotion, creating one of the most unusual and satisfying cinematic romances of the last two decades.
Plans Gone Right
The Shawshank Redemption (1994)
By all rights, this should be one of those films that you never heard of and discover late at night on TV. That seemed to be the destiny for Frank Darabont's adaptation of a Stephen King short story. The film performed poorly at the box office. Critics liked it and it eventually received seven Oscar nominations. On re-release, word-of-mouth saw the film quintuple its original box office and on home video it became a sensation. It now ranks high in audience polls of the best films ever made. And even though it is unremittingly bleak at times, the film's faith in the human spirit and its smart screenplay make it an unlikely feel-good hit.
The Thomas Crown Affair (1999)
John McTiernan's remake of the oh-so-60s original (which featured Steve McQueen and Faye Dunaway) replaces the kitschness with action and sass. The former is brilliantly staged, as one would expect from the director of Die Hard (1988), while the latter is generated by the sparks that fly between Pierce Brosnan's titular billionaire investor-turned-art thief and Rene Russo's insurance investigator who soon pins the theft of a Monet on the Manhattan playboy. In an age when so many blockbusters are aimed at a younger market, this remake felt refreshingly adult.
Quirky Classics
This film, which Taika Waititi made before his success with Thor: Ragnarok (2017) and Jojo Rabbit (2019), is a contender for the most absurdly enjoyable movie of the last decade. It stars Julian Dennison as Ricky Baker, a young orphan who is placed with a retired couple in a rural part of New Zealand. When tragedy befalls the new family, Ricky takes off for the hills but is soon joined by his curmudgeonly foster father, played by Sam Neill. The local authorities think the boy has been kidnapped and so, under the leadership of an overly zealous probation officer (Rachel House), the two become the subject of a massive manhunt. Waititi's screenplay, based on Barry Crump's novel Wild Pork and Watercress, highlights his sweetly anarchic humour, while the two leads have a whale of a time evading the law.
Frances Ha (2012)
Greta Gerwig began her screen career as one of the more significant members of the US low-budget film movement known as mumblecore, writing and appearing in films such as Hannah Takes the Stairs (2007), Baghead (2008) and Northern Comfort (2010). She attracted acclaim and a wider audience starring opposite Ben Stiller in Greenberg (2010), her first film with director Noah Baumbach. The two then collaborated on this film. Co-written by them, with Baumbach directing and Gerwig playing the lead, it is a smart metropolitan comedy about a young woman trying – and mostly failing – to get her shit together. And it succeeds because of Gerwig's on-screen exuberance. An excellent comedy actor with the ability to infuse her performances with dramatic heft, she steers clear of cliché to create in Frances an all too believable twentysomething balancing her real life with the one she aspires to. And the film features arguably the finest pratfall – as she's running down a street – since Henry Fonda in Preston Sturges' The Lady Eve (1941).
The Grand Budapest Hotel (2014)
There's no mistaking a Wes Anderson film. Arguably more than any other contemporary filmmaker – with the possible exception of Pedro Almodóvar – you know when you're watching a film by him. This was his biggest success to date. Its story-within-a-story-within-a-story-within-a-story structure leads us back to the golden age of a grand Eastern European hotel and draws heavily from the spirit of author Stefan Zweig. The filmmaker's signature precise camera movement is present, as is his attention to detail when it comes to production design. The supporting cast is impressive. Alexandre Desplat's music is a delight. But ultimately, the film belongs to Ralph Fiennes, whose skill as a comic actor is peerless.
Amélie (2001)
With films like Delicatessen (1991) and City of the Lost Children (1995), writing-directing duo Jeunet et Caro produced fairy tales infused with a steampunk aesthetic and a blackly comic humour. They parted company after their second film. Jean-Pierre Jeunet had a stint in the US, but on his return to France he produced this much-loved present-day fantasy. The eccentric world view of the earlier films remained, but the darkness was replaced by the radiance of Audrey Tautou's eponymous performance. This isn't a Paris anyone would recognise (the film's whiteness was commented upon by many critics), but audiences were kept rapt by the magic Jeunet weaves as he tells the story of a budding romance between the film's protagonist and Mathieu Kassovitz's slightly inept Romeo.
Explore Our Feel Good Collection