The latest wave of 'tech cinema' warns of an apocalyptic future where we've forgotten how to pleasure anyone but ourselves.

Film and television have done much to bring sexual thrills to our touch-starved lives over the past year, with Normal People (2020) sparking a rush of reportage on the role of 'Intimacy Coordinators' on set, and Netflix allegedly scrambling to get scenes from Bridgerton (2020) deleted from porn sites. What's more, solo sex scenes are seemingly breaking out of their taboo prison, cropping up in everything from BBC comedies to teen TV shows and indie dramas. This is especially evident in films exploring online relationships and parasocial obsessions. Created prior to and released during the Covid pandemic, films such as PVT Chat (2021), Who You Think I Am (2020) and the upcoming Sweat (2021) lead us into a not-so-distant future where partnered sex is obsolete and we've forgotten how to pleasure anyone but ourselves.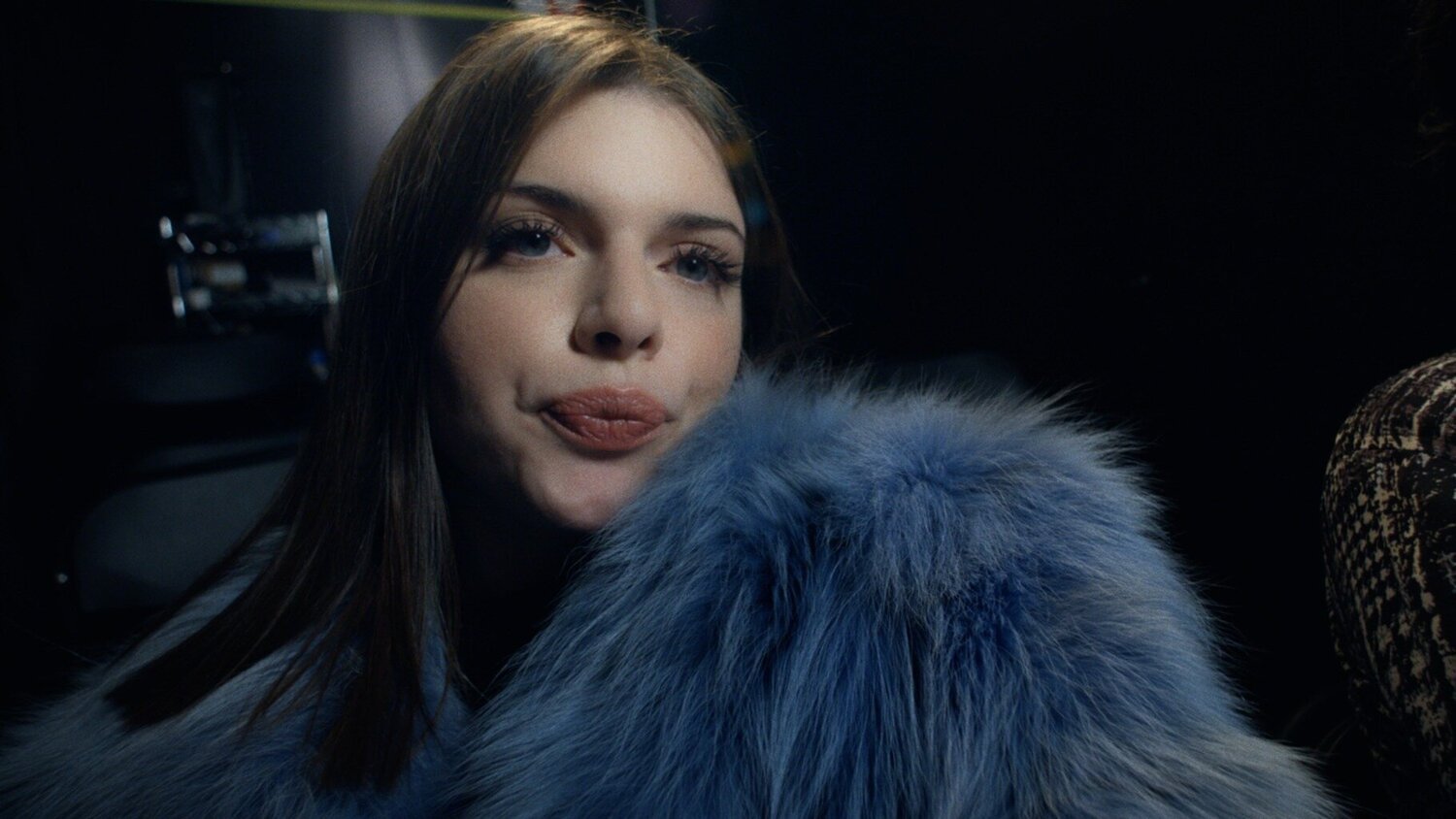 Released last Friday, PVT Chat invites the viewer into a grimy world of urban alienation. Outside there are pretentious art exhibitions in the Lower East Side of Manhattan where people are still talking about Occupy Wall Street. Inside is Jack: addicted to online blackjack and mansplaining his theories on the inherently exploitative nature of human relationships to online sex workers. He's also about to get kicked out of his apartment. The one ray of light and beauty in this dank world is Scarlet, a latex-clad cam girl who specialises in insults and smoking. Scarlet's beauty, like her dominatrix-with-a-touch-of-manic-pixie-dreamgirl persona, is unreal. Perhaps it's a coincidence that as the impossibly beautiful language of celluloid gave way to stark, unforgiving HD, the internet began to shroud itself in futuristic gloss and face softening filters. But films like this certainly make the most of the contrast, visually coding the online realm as the place of desire and longing that the cinema screen once was.
Scarlet confesses a love for painting to Jack, but her hobby reads as more of a premium add-on than a fleshing out of her character. This merging of artistic aspiration with physical perfection brings to mind Emily Witt's description of one of the cam site Chaturbate's most popular performers in her 2016 book Future Sex: 
"Edith was a nineteen-year-old college student who seduced her audience by dressing like an American Apparel model, revealing the depth of her existential despair, and making every one of her viewers feel as if he and only he were the person who might understand and rescue her from both her tortured soul and her vow of celibacy."
Even a flip of the screen to reveal the ins and outs of Scarlet's personal relationships does little to bring her to life; tip more tokens for tragic backstory. Perhaps that's the point, since more than anything else, this is a film about masturbation, both physical and philosophical.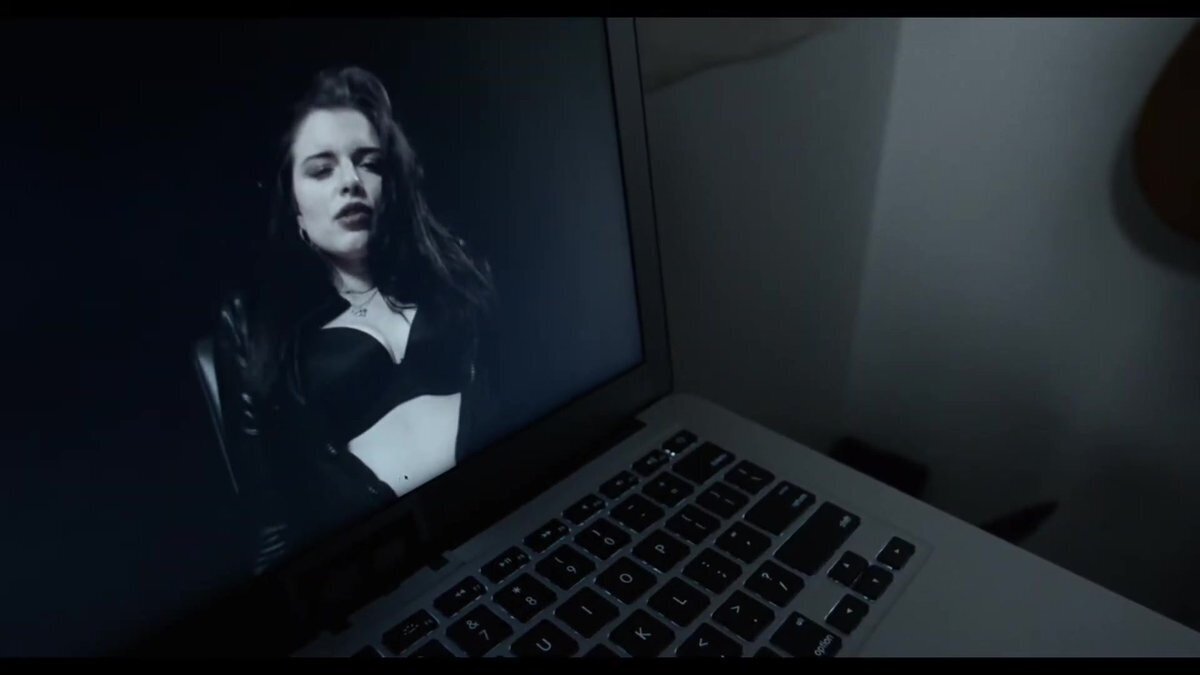 PVT Chat begins and ends with masturbation. The level of Jack's sexual dysfunction is such that he sends a girlfriend out to buy wine in the middle of the night so that he can use her laptop to visit cam sites – a scene that recalls one of the 21st century's best films about the internet so far, and likely an inspiration for PVT Chat: 2018's Cam. Based partly on the real-life experiences of screenwriter Isa Mazzei, Cam tells the story of creative and ambitious cam girl Alice, who wakes up one day to find her account taken over by a mysterious doppelganger. As with PVT Chat, some of Alice's customers become stalkers, and she's forced to turn to one of them for help with her predicament. Waking up in the middle of the night in his hotel room, she finds him in the bathroom engaged in a session with her online double – confronted with the flesh and blood Alice, he seeks out her virtual replica instead.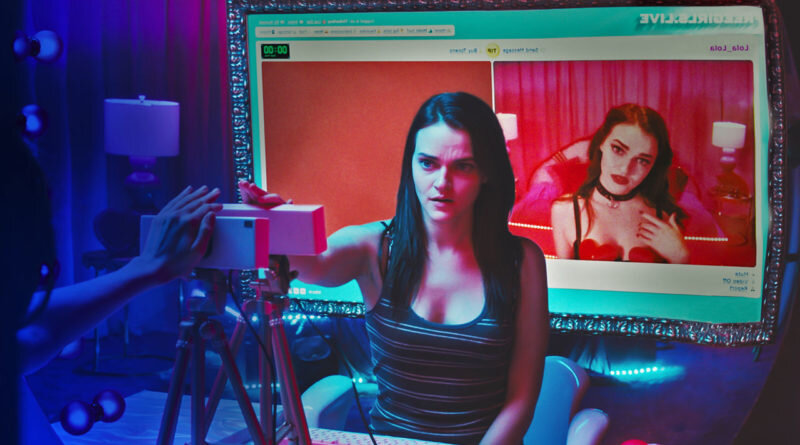 Returning to PVT Chat, when Jack is finally in a room with the object of his affection, the couple have to construct an imaginary screen in order to perform sexually. Jack's relationship with Scarlet is also a relationship with an idealised version of himself. He tells her he's an app developer working on "Seestream", technology that will allow people to "trade thoughts directly through the cloud." Does his imaginary tech venture reveal a desire to relate to others on a deeper level? One suspects he would simply use Seestream to impose more of his philosophies of life onto the women he meets online. "I wish I was as passionate about something as you are about Seestream," Scarlet purrs. How unrejectable we would be if others could see us the way we see ourselves in our most secret fantasies: not the sexual ones, but the ones where we are confident, creatively fulfilled and financially free. 
Writing at the start of the pandemic, pop philosopher Slavoj Zizek theorised in an Op-Ed for Russia Today that separation would bring with it a new appreciation for physical intimacy. This positive prediction was tempered by a psychoanalytic reading of masturbation as the fundamental sex act. "Even when I am alone with my partner," he writes, "my sexual interaction with him/her is inextricably intertwined with my fantasies, i.e., every sexual interaction is potentially structured like 'masturbation with a real partner' – I use the flesh and body of my partner as a prop to realize/enact my fantasies." Online relationships act out this dynamic but substitute flesh and voice for pixels and soundwaves.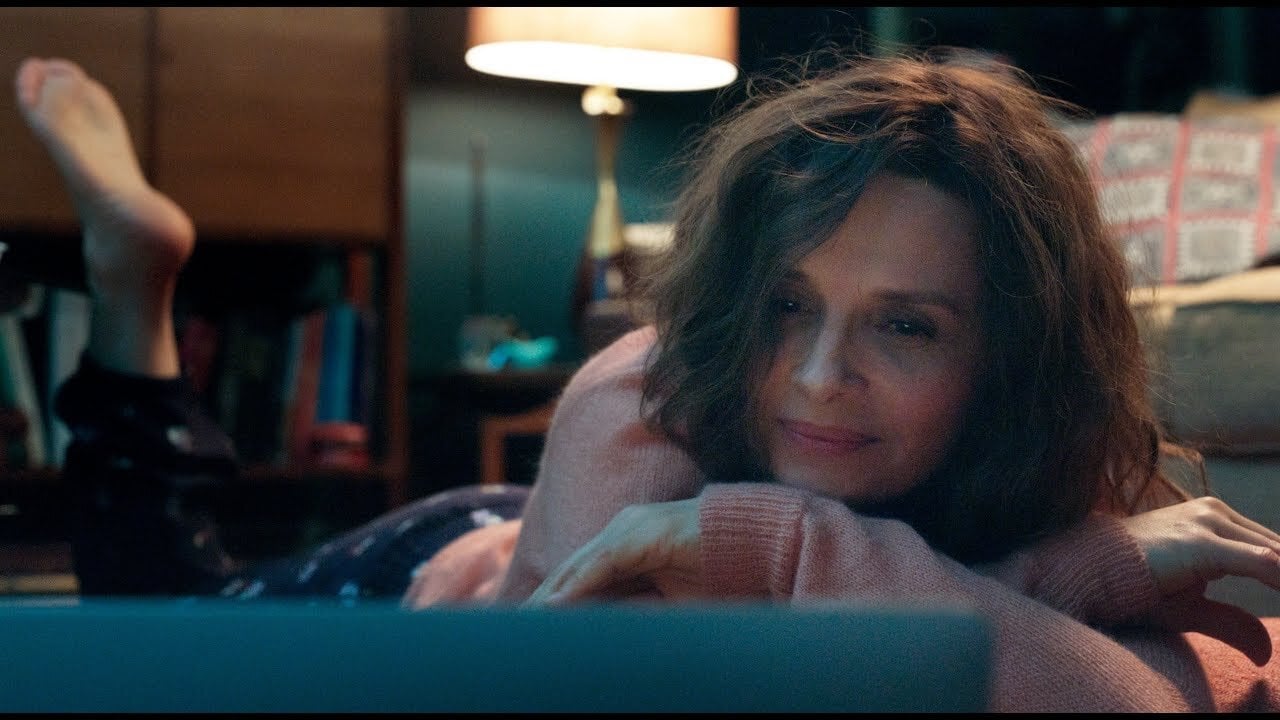 Last year's Who You Think I Am tells the story of an older woman—Claire—played by Juliette Binoche who, divorced, angry and insecure, attempts to keep tabs on her disinterested lover by creating a fake Facebook profile and befriending his inner circle. She is distracted in this task by her lover's friend Alex, with whom she inexplicably forms a romantic relationship in the form of direct messages and phone calls. Inexplicable because we're given no real clue as to what connects Claire (or Clara as she calls herself on Facebook) and Alex. The lovers engage in banal conversation, a change of pace for Claire who is a professor of literature at a university. "You're gonna be bored with a guy like me," jokes Alex at one point, and we're inclined to agree. The real object of desire emerges when it's revealed whose face Claire has been wearing online.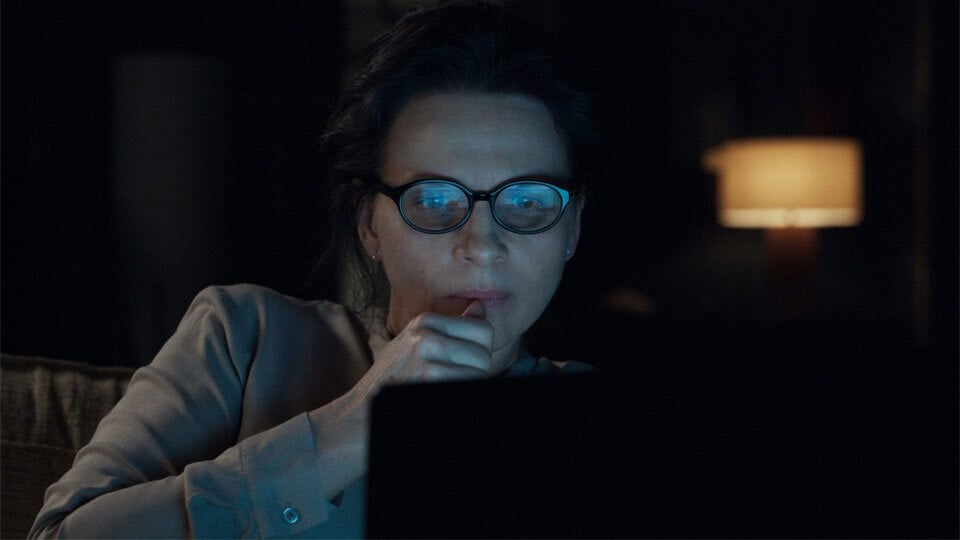 At one point in the film, her virtual lover looks right at her without even seeing her: by sacrificing her own identity in favour of her online double, Claire has rendered herself a ghost. In conversation with her therapist, she describes a real event from her life where she masturbates on the phone to Alex as a 'scene', a slip that brings to mind another Zizekism on the subject of female sexuality: "The true enjoyment is not in doing it, but in telling about it afterwards... maybe while they are doing it they already enact or incorporate this minimal narrative distance." In Claire's sex life, the story has already been written, and her lie and the online space are what allow her the distance to inhabit her narrative fully. Couples inhibited by the chaos of their day to day lives might retreat to a hotel to make love, but single people online can retreat from their identities entirely if they want to.
Following on from a long legacy of films that explore parasocial obsession in the online world—from 1997's Perfect Blue to 2017's Ingrid Goes West—Sweat (2021) follows three days in the life of a fitness influencer, Sylwia, who is dismayed to find that opening up to her followers about her desire for a relationship has attracted the unwanted attention of tabloid sites, and a stalker. This man parks outside Sylwia's apartment and masturbates when she walks past, replacing the screen he previously watched her on with the windows of his car. He's one of two men in the film who masturbate in front of Sylwia, giving the impression that contact with her physical body is neither a necessary component of intimacy nor a deterrent against it. She's simply an image.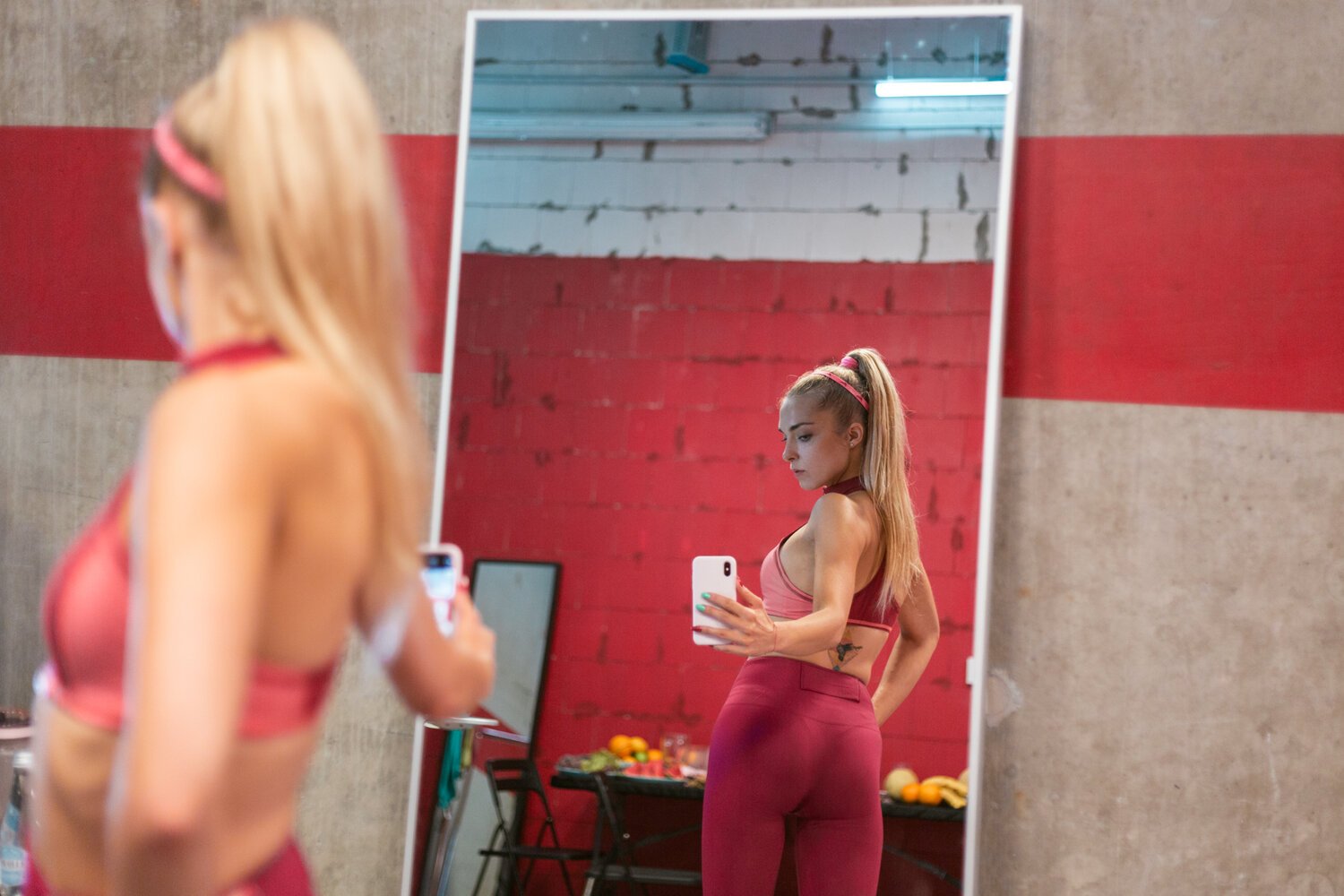 Mirroring the Instagram story that caused Sylwia's current situation, the stalker posts a tearful video. "I just wanted to say that we are very much alike," he says to the camera, "I also want someone to hold hands with." His obsession is sparked, not by any particular quality of Sylwia's but by his idea that she has expressed his own feelings. He perceives her narcissistically as some kind of double who can feel like him on the inside but look like her from the outside. Many celebrity stalkers periodically replace their targets with new ones, implying that it's not the object so much as the obsession that's significant. In Ingrid Goes West, the eponymous Ingrid becomes infatuated with Instagram Influencer Taylor, going so far as to move to LA in the hopes of manufacturing a relationship with her. Ingrid may believe that what she wants is a best friend, but it's clear from her behaviour that her need is really to be seen as a best friend in the eyes of her social media audience. Throughout the film, she writes letters to an ex-friend who will never read them, but that doesn't matter. Ironically, Ingrid can't live life unless she imagines being watched by someone who's obsessed with her.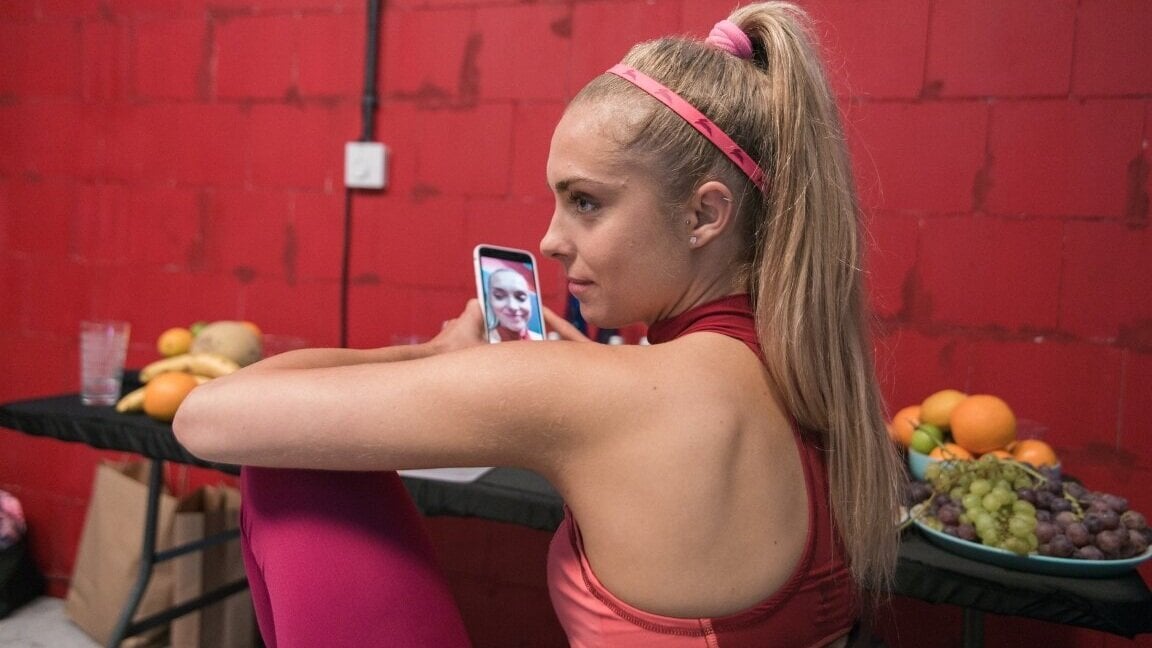 Just like Cam's Alice, Sylwia's belief that she needs to show her authentic self to her followers to achieve professional success gets her into trouble. By the end of the film, Alice has adapted to the dangers of the online space by creating a professional persona separate from her true self, but in Sweat, Sylwia refuses to be stripped of the vulnerability she may one day need for an IRL relationship. Maintaining something real is one of the threads that link these female characters, and perhaps it's their hold on something physical rather than digital—Scarlet's painting, Claire's books, Sylwia's workouts—that ensures their emotional survival. To paraphrase The Godfather: when the pandemic ends, we don't want to be coming out of our homes with just our dicks in our hands. 

Films Available to Stream now on Curzon Home Cinema