Novels, plays and short stories can all provide the perfect starting point for a compelling movie, which explains why filmmakers are always keen to secure the rights to page-turning stories, from Wuthering Heights to Dune. To mark the upcoming release of Cyrano, a musical based on the 19th-century French play by Edmond Rostand, we've curated a list of 17 of the best films based on books.

Atonement director Joe Wright examines the gut-wrenching heartbreak of unrequited love in Cyrano, a film adaptation of the 2018 stage musical, which itself takes inspiration from the classic 1897 play. The title character (Peter Dinklage) is a gifted poet, pining for the affection of the radiant Roxanne (Haley Bennett). He refuses to pursue her for fear of rejection, and instead channels his love through writing amorous letters on behalf of Christian (Kelvin Harrison Jr), Roxanne's attractive but dim sweetheart.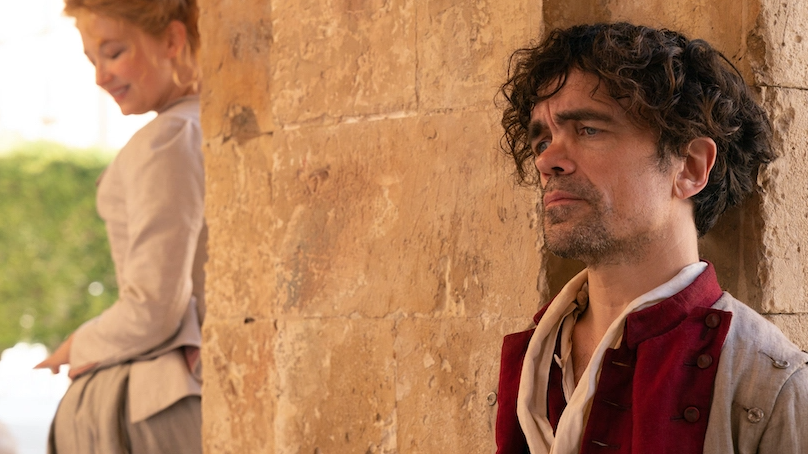 Based on Emma Donoghue's 2010 novel, Room paints a harrowing tale of desperate circumstances and hopeful new beginnings. Brie Larson, who received an Academy Award for her work, delivers a performance of a lifetime as the young mother Joy, who is held captive in a small room where she raises her son Jack (Jacob Tremblay), who was fathered by her abductor. They finally escape, and Jack is introduced to the real world for the first time, while Joy struggles to readjust to freedom and face her trauma.
This taut, BAFTA-winning film follows the hunt for a mole in the British Secret Service at the height of the Cold War and features a cast of British-acting stalwarts including Colin Firth, Gary Oldman, Benedict Cumberbatch, Tom Hardy and Kathy Burke. John le Carré's 1974 novel, upon which the story is based, was inspired by the uncovering of the Cambridge Five, a ring of K.G.B. moles working within British intelligence, so named as they were recruited while studying at the University of Cambridge in the 1930s.
This cult film traces the intergalactic tale of a young duke, tasked with leading desert warriors against a tyrannical, all-powerful emperor to liberate his people. Dune divided audiences: some consider it a visual masterpiece, others a complete disaster that tainted the legacy of the book. Many, however, fall somewhere in between, appreciating it as a sort of bizarre but enjoyable mess. David Lynch cites his version of Dune as the only failure of his career. He turned down an offer to direct Star Wars: Return of the Jedi (1983) to work on it, and the project became one of the most famously divisive films of the 1980s.
Everyone's favourite jet-black comedy horror, American Psycho started out as a 1991 novel, written by controversial member of the literary "Brat Pack" Bret Easton Ellis. Ellis originally created Patrick Bateman, the serial-killer protagonist portrayed by Christian Bale, as a disillusioned but essentially harmless investment banker. Following an evening out with friends who worked on Wall Street, the author decided to give him a violent and disturbing edge. Several actors were considered for the role of Bateman, including Ewan McGregor and Leonardo DiCaprio, but the then relatively unknown Bale landed the role. He was said to embody the part on and off set so perfectly that fellow cast members had no idea he wasn't really American.
Charles Dickens crafted some of the most spellbinding tales of plight and fortune ever to appear in the English language, and the 2019 adaptation of his celebrated novel does him justice. Following the young orphan (Dev Patel, in a brilliant coup for colourblind casting) who triumphs over his destitution on more than one occasion, and lives to tell the tale, The Personal History of David Copperfield is a crowd-pleasing delight to watch, and features a stellar supporting cast that includes Tilda Swinton, Hugh Laurie, Peter Capaldi and Ben Whishaw.
Mere mention of the name 'Heathcliff' conjures a brooding, black-browed misanthrope, such is the power of Emily Brontë's sparkling prose. In this adaptation, her iconic romantic hero is played by James Howson, plucked from obscurity by director Andrea Arnold to better bring out the character's rough-hewn edges. Natalie Portman, Lindsay Lohan and Gemma Arterton were all considered for the part of Catherine Earnshaw, but Skins actress Kaya Scodelario eventually won the role.
On Oscar-winning form, Julianne Moore stars as a linguistic professor coming to terms with her premature Alzheimer's diagnosis around her 50th birthday in Still Alice, for which married couple Richard Glatzer and Wash Westmoreland serve as co-screenwriters and directors. At the time of writing, Glatzer had recently been diagnosed with the neurodegenerative disease ALS, which drew the pair to the project as its subject matter hit close to home. The final screenplay borrowed from Glatzer's real experiences with his disease, as well as Westmoreland's role as a primary caregiver.
Set against the stunning backdrop of Tasmania's Mount Field National Park, The Hunter follows the pursuit of the last Tasmanian tiger by a fanatical trapper, played by Willem Dafoe in full existential-crisis mode. The purpose of the hunt? To access the beast's unique genetic code that holds the key to powering a dangerous weapon.
A young pickpocket finds herself roped into a plot to rob a rich heiress in Park Chan-wook's captivating thriller, which is bolstered by plentiful intrigue and stunning visuals. Park is notorious for challenging audiences with extreme cinema, the most renowned of which is his Vengeance Trilogy – Sympathy for Mr Vengeance (2002), Oldboy (2003) and Lady Vengeance (2005) – all of which push boundaries with their depictions of sex and violence. The Handmaiden takes us further into his uniquely crafted, sensually intoxicating world, transplanting Sarah Waters' 2002 crime novel from Victorian Britain to Japanese-ruled Korea in the early 20th century. From the unlikely source material, Park concocts a thriller so suspenseful it rivals Hitchcock's Rebecca, with a shifting perspective leaving viewers perpetually immersed, enthralled yet utterly unknowing.
Franz Kafka's incomplete novel The Castle has been adapted for film several times, but it is Michael Haneke's version that rises up as the cream of the crop. Themes of isolation and provincial clashes set the scene for this nightmarish tale as a bureaucrat is summoned to a far-flung village and moves into the castle. Since Kafka died before completing the novel, Haneke was granted full creative licence with the ending, and creates a memorable, suitably surreal, conclusion to the film.
Andrei Tarkovsky's allegorical sci-fi Stalker is set in the near future in a wintry wasteland with an eerie spirit. A guide, known as a "stalker", is permitted entry into the Zone – a restricted area said to reveal one's innermost desires – and accompanies two travellers there: a brooding writer and a rational science professor. Their perilous voyage sees them travel through the Soviet Union's industrial wilderness to the metaphorical, luminous heath of Western Utopia. With unparalleled command of colour and light, Tarkovsky takes the viewer on a cinematic odyssey. While the Strugatsky brothers' script, based on their own 1972 novel Roadside Picnic, toils over metaphysical questions and deeply Russian existentialism.
Hugh Grant and James Wilby star as lovers in Edwardian England in the adaptation of E.M. Forster's Maurice, inspired by the writer's own encounter with the early gay activist Edward Carpenter. However, despite writing the novel in 1913, it was only shared with close friends until it was published posthumously in 1971. Forster thought it would be considered unpublishable at the time due to attitudes around same-sex relationships and the fact that its happy ending may make it liable to legal prosecution (homosexuality still being illegal in Britain at the time).
Little Women (2019)
Greta Gerwig followed up her directorial debut Lady Bird (2017) with a refreshing adaptation of a literary classic. The story, inspired by author May Alcott's own life and relationship with her three sisters, follows the lives of the March daughters as they pursue their creative passions and find love.

Faithful to its source material yet innovative in its interpretation, it delighted the book devotees, while introducing a whole new generation to the eclectic and endearing March sisters. Despite its commitment to a historically accurate 19th-century America – garnering an Oscar for its Victorian costumes designs – Gerwig's version nonetheless achieves a modern-day relevance. This is in part due to its exuberant Gen Z ensemble cast, as well as its nuanced portrayal of adolescence and early adulthood.
One Flew Over the Cuckoo's Nest (1975)
Based on the book by Ken Kesey, the film stars Jack Nicholson as Randall McMurphy, a criminal who pleads insanity, winds up in a mental institution and proceeds to wreak havoc from within. Chief antagonist to McMurphy is cinema's most revered villain, Nurse Ratched. A cold, heartless tyrant, the character was so iconic she inspired a spin-off Netflix series starring Sarah Paulson.  
Kesey remained unmoved by the film's huge commercial and critical success: he detested what director Miloš Forman did with his material and refused to ever watch the film in its entirety. He even tried to sue the producers for changing the story's perspective. He is perhaps one of the few dissidents of One Flew Over the Cuckoo's Nest, which is one of only three films to ever win all five major Academy Awards (Best Picture, Best Actor, Best Actress, Best Director and Best Screenplay).
To Kill a Mockingbird (1962)
Gregory Peck's Atticus Finch – named the greatest movie hero of the 20th century by the American Film Institute – is a widowed lawyer in small-town Alabama during the Depression. Defending a Black man against an unjust rape charge, he teaches his children about prejudice, and what is to walk in another man's shoes. An adaptation of Harper Lee's 1960 Pulitzer Prize-winning novel, To Kill a Mockingbird is a beloved classic.
The Color Purple (1985)
The Color Purple draws from Alice Walker's 1892 novel, tracing the childhood and coming-of-age of Cecile, a young Black woman who endures unpardonable abuse at the hands of her father and husband, but finds strength through the bonds of female friendship. At the time of the film's release, director Steven Spielberg came under fire for his somewhat sugarcoated  adaptation of the hard-hitting novel. However, 35 years later, many consider his film a dignified attempt to transform the blunt trauma of the book into an entertaining, mainstream release with an empowering message.
WATCH CYRANO IN CINEMAS FROM 25 FEBRUARY