Laura Poitras' Venice Film Festival-winning documentary, which has just received an Academy Award nomination, is a collaboration with and about acclaimed photographer Nan Goldin. It balances a fascinating portrait of her life with her campaign to bring the Sackler family to account for their part in the opioid crisis. Here, Poitras talks about how she became involved and the challenge in bringing all these disparate elements of Goldin's life together

I was first introduced to Nan's work by a photographer friend while I was studying filmmaking at the San Francisco Art Institute. She had Nan's book [The Ballad of Sexual Dependency, 1986] and had seen her slideshow. I eventually saw the show in the 1990s, but it wasn't live then – more in an institutional context than the interactive show you hear about in the film. These slideshows, even though comprised of stills, create a narrative that transforms them into moving images. I knew that Nan had personal relationships with all the people who feature in the images – she doesn't just film people on the street. But that's not something you necessarily need to know when you see them. You can just feel [that intimacy] in the work. This was influential to my understanding of the relationship between a photographer or filmmaker and their subjects: how you film them.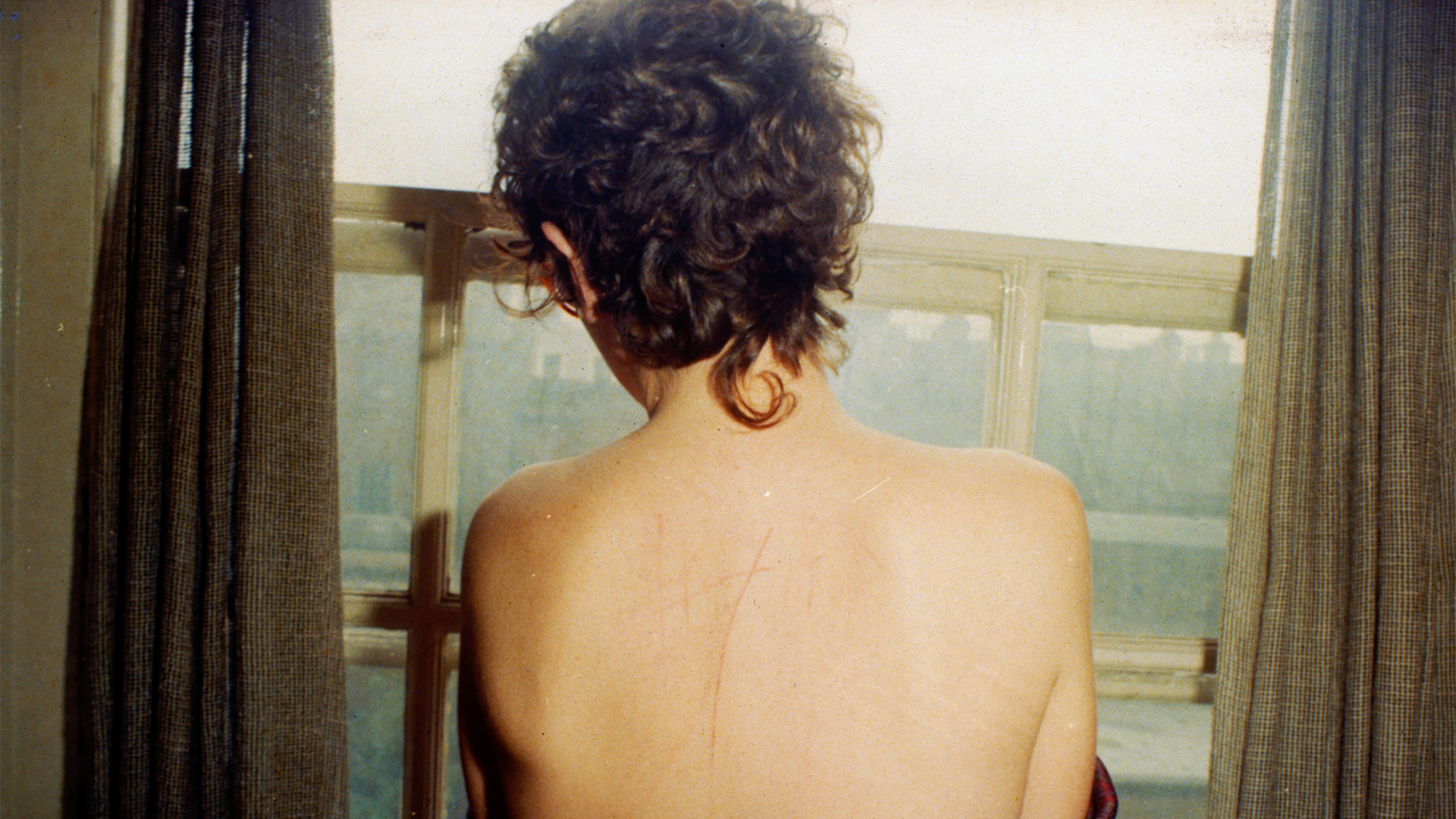 WATCH ALL THE BEAUTY AND THE BLOODSHED IN CINEMAS
Book Tickets
In contrast to Edward Snowden, the subject of [the 2014 Oscar-winning documentary] Citizenfour, who approached me with his story, I volunteered to work with Nan on this film. She had already been filming with P.A.I.N. [the activist group Prescription Addiction Intervention Now, founded by Goldin]. As soon as they started carrying out their [protest] actions, they were documenting them. They had been doing that for over a year when I met her. She was originally looking for a producer. But then, as the discussion progressed, I wondered if she was actually looking for a director and so I asked if I might be the right person to do that.
Before I came on board, I had to meet the members of P.A.I.N. to make sure they trusted me. I then began telling the story as it was happening, in real time, in a similar way to my work on Citizenfour and [Julian Assange documentary] Risk (2016). It was telling a story about confronting power, in this case the Sacklers: how people do that and what happens behind the scenes. Nan, in every sense, is a collaborator on the film. She produced it, was the main cinematographer for much of it and was also involved in the editing process. I admit to being nervous. Nan has been making incredible work about herself for most of her life. I sometimes wondered what I could contribute to this project.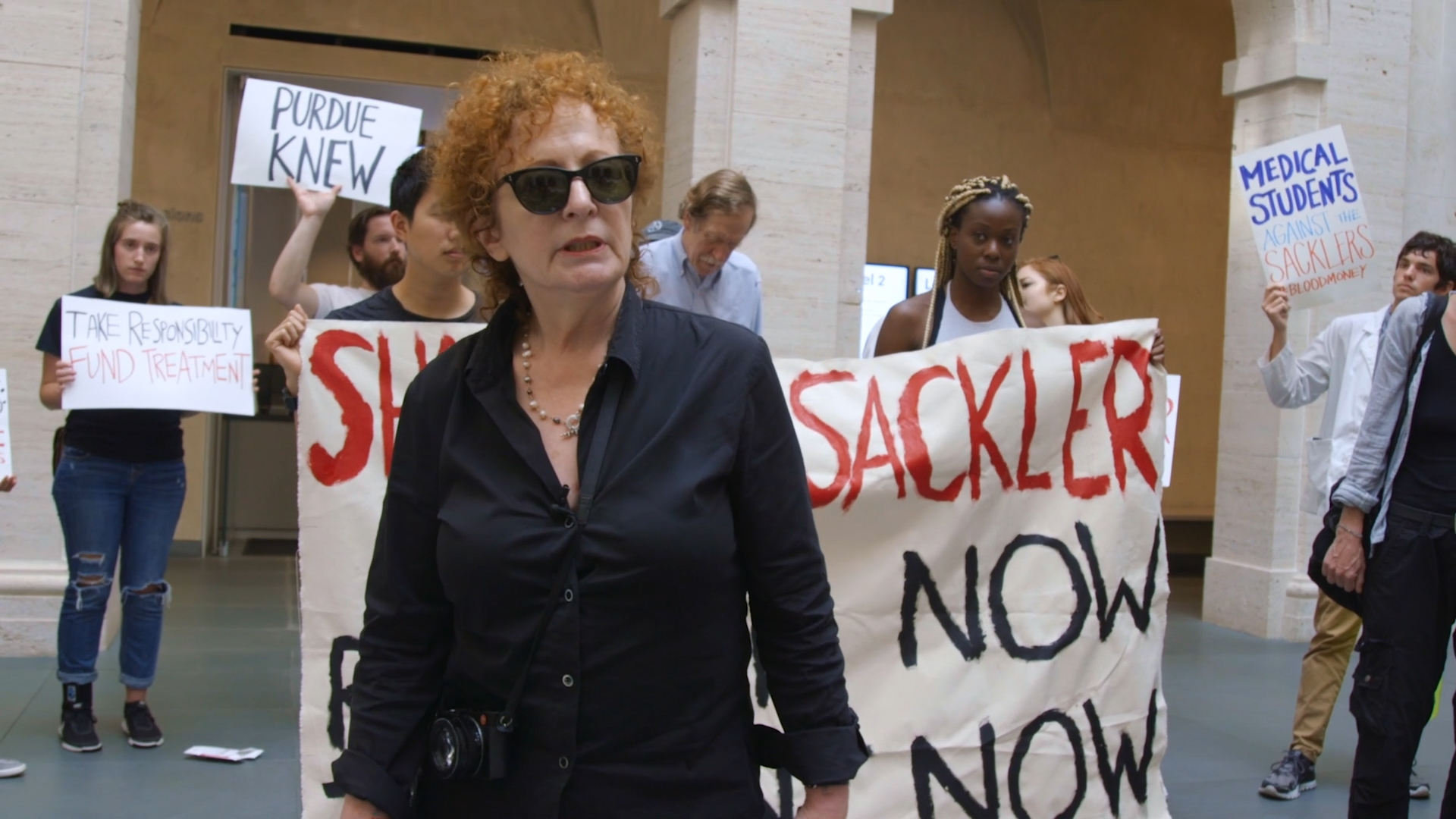 Ultimately, this film is the collaboration of a lot of different people, including some amazing editors. Key among them Joe Bini and Amy Foote. Joe is a genius storyteller. He really helped with the structure. I knew there was going to be the P.A.I.N. story, which would be the contemporary throughline. That would then converge with the AIDS crisis and Nan's show that appeared in the 1980s. And Nan's sister's story was also going to play an important part. There was a lot of material. Joe came up with a document that gave an overview, moving between past and present. He contrasted the 'inner story' – as he described it – of Nan's life, which resembled a memory space, with the 'outer story' that dealt with contemporary political events. The editors pieced the film together with this structure in mind. Nan came in when we had a rough cut and discussed where she wanted to go deeper into certain narratives, like her sister Barbara, or close friend and occasional subject Cookie Mueller.
As for the Sacklers, the target of Nan's campaigning [Goldin had been prescribed OxyContin and subsequently became addicted to it], they had been masterful at keeping this low profile for many years. At least, until recently. Journalist Patrick Radden Keefe [author of Empire of Pain: The Secret History of the Sackler Dynasty] was one of the first to put the spotlight on the family and not just their company, Purdue Pharma, when talking about the overdose crisis. He contributed to shaming the family name. But a name can still be abstract. With my team, I looked for video footage of the family, but found very little. So, the footage of them, as ordered by a court, listening to families and loved ones talking about how their lives have been torn apart because of the impact of prescription drugs, is devastating in so many ways. To have to listen to families talk about the loss they have experienced, a loss that has been affecting families for over 20 years, is painful. Then there's the fact that this was, after everything, the punishment that the Sackler family received. That's obscene. It was important for everyone that this footage be included in the film. As a record of what took place and the unimaginable loss people experienced.
WATCH ALL THE BEAUTY AND THE BLOODSHED IN CINEMAS