Rich Johnson explores how the homemade A.I. in the lo-fi buddy comedy Brian and Charles becomes a source of companionship for its isolated creator.

In cinema, corporate androids, bioengineered replicants and time-travelling cyborgs have often projected a bleak vision of things to come, and foreshadowed humanity's ultimate downfall. Now, Jim Archer's Brian and Charles is offering a humorous spin on the genre. Of course, in terms of comic relief, we've been here before: the tailor bot of Woody Allen's Sleeper (1973) and the bickering droids of George Lucas' Star Wars (1977) were highly amusing. But Brian and Charles provides one of the funniest entries into this canon to date with its heartwarming story of a human-A.I. friendship that helps both man and machine stave off loneliness.   
Archer – with writers (and leads) David Earl and Chris Hayward – has also been here before. Brian and Charles is an adaptation of his namesake 2017 short, which was based on characters developed on the UK stand-up circuit. The oddball Brian (Earl) is our underdog inventor. His latest creation Charles (Hayward) – dressed carefully by costume designer Gabriela Yiaxis – is an awkward and imperfect mix of monotone mannequin and washing machine who bumbles about the countryside. There is a certain charm to his childlike curiosity, deadpan nature and lanky physicality. Although he lacks the song and dance of Oz's Tin Man or Johnny 5's rapid reading ability (Short Circuit, 1986), what Charles does share with his robot relatives is a desire for human companionship. Before long, the shy and remote loner Hazel (Louise Brealey) meets Brian, and Charles helps connect them. Their clumsy relationship is unabashedly feel-good, and has none of the British cynicism one would expect from such a film. Just the ticket for these times.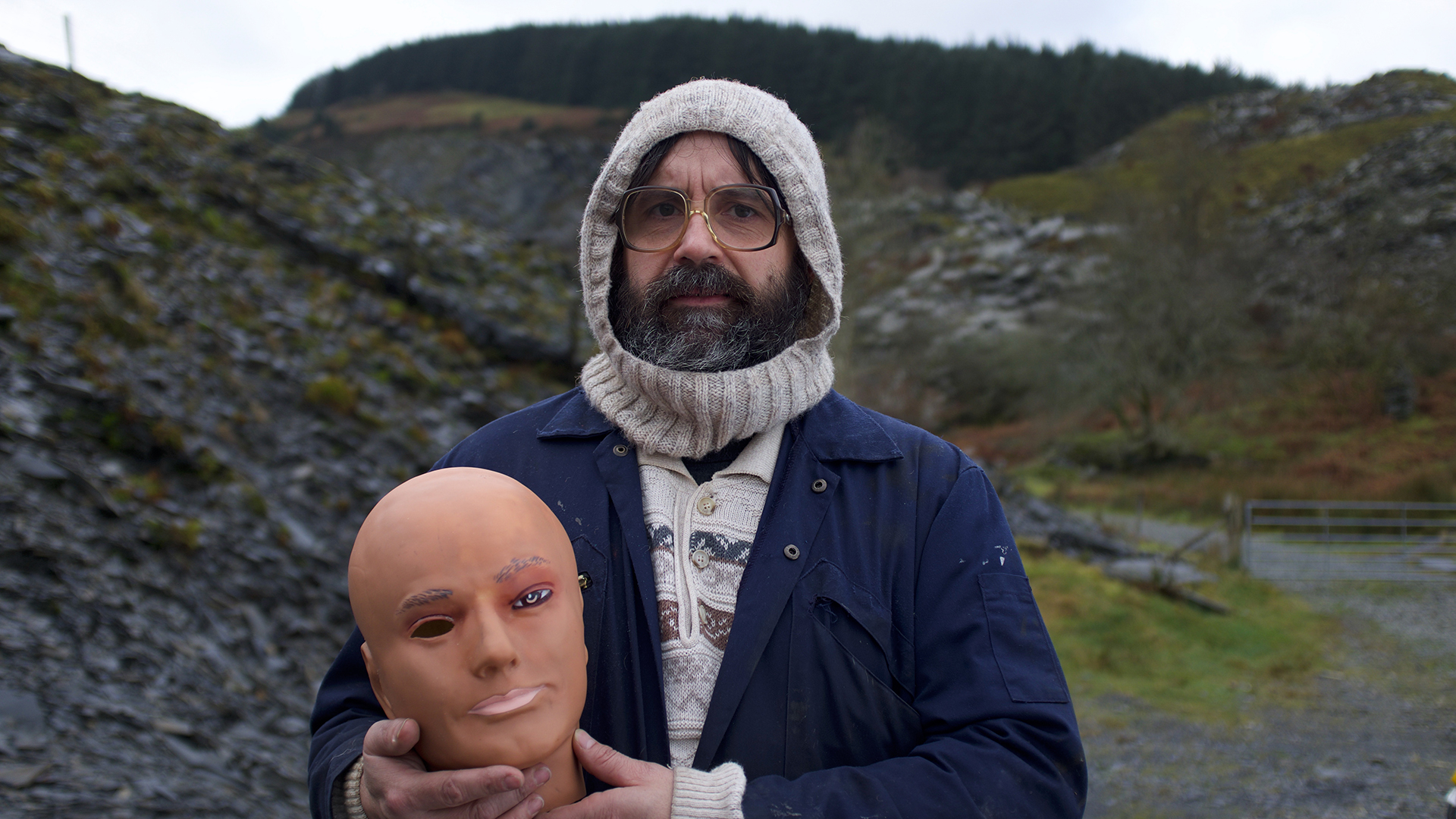 Filmed during the pandemic in the remote Welsh countryside, Brian and Charles is a 'little England' mockumentary that explores the trials and tribulations of friendship, reminiscent of Bruce Dern's lonely and playful interactions with the drones Huey, Dewey and Louie in Silent Running (1972). Archer's film explores loneliness, isolation and boredom, themes that have become ever more prevalent since the pandemic.
Blending social awkwardness, slapstick and Spielberg sentimentality, Brian and Charles builds on the original short's prosaic sense of humour, as Brian is filmed fussing over one failed experiment after the next with a sense of awe and wonder... and naivety. 'What do they call it...? Artyfish... artif... what is it?' he stammers, before the cameraman interjects, 'Artificial Intelligence'. We relate to and love him all the more because he doesn't know the terminology; he's just an eternal optimist who seems to see potential in everything. Brian shows us what it means to be human with his determination and self-belief.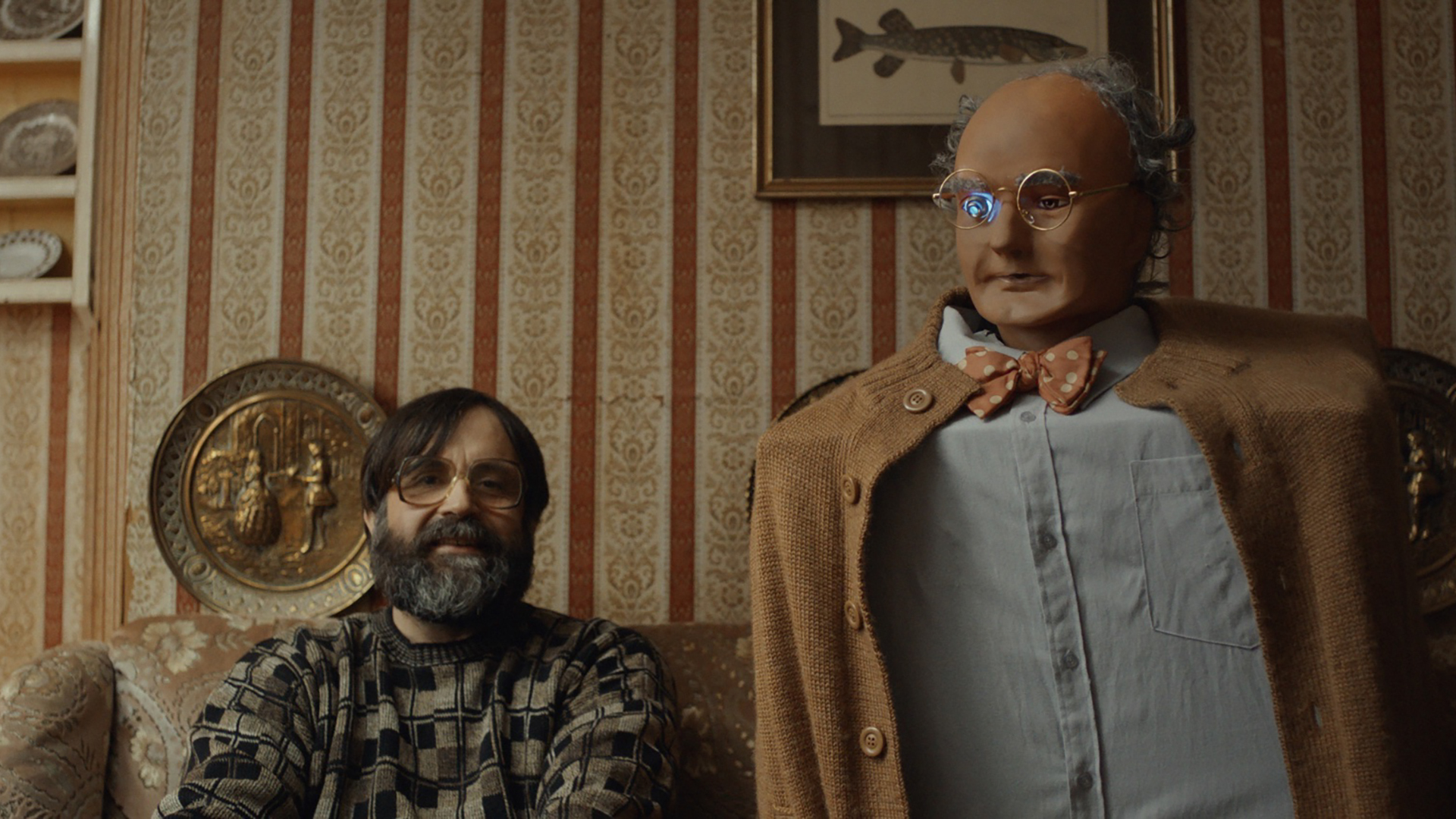 Last year's robo-rom-com I'm Your Man (2021) – which explores similar themes of companionship – cast Dan Stevens' doting love robot Tom as the perfect man who, despite being synthetic, is almost indistinguishable from a human being. Charles, on the other hand, is rather more rough-hewn than Tom. His first (conjoined) words, 'I-am-your-friend' are touching in their imperfection. Both films deal with everyday life, Brian and Charles, however, emphasises its mundanity. The routines in the movie run counter to the dehumanisation frequently depicted in A.I. films, where repetition is a crushing experience. Here, the pair are happily 'boiling cabbages and just chillin' out' to The Communards as Charles, with the manic glee of a toddler, is surprised to discover his dancing feet, '… watch-me-go'.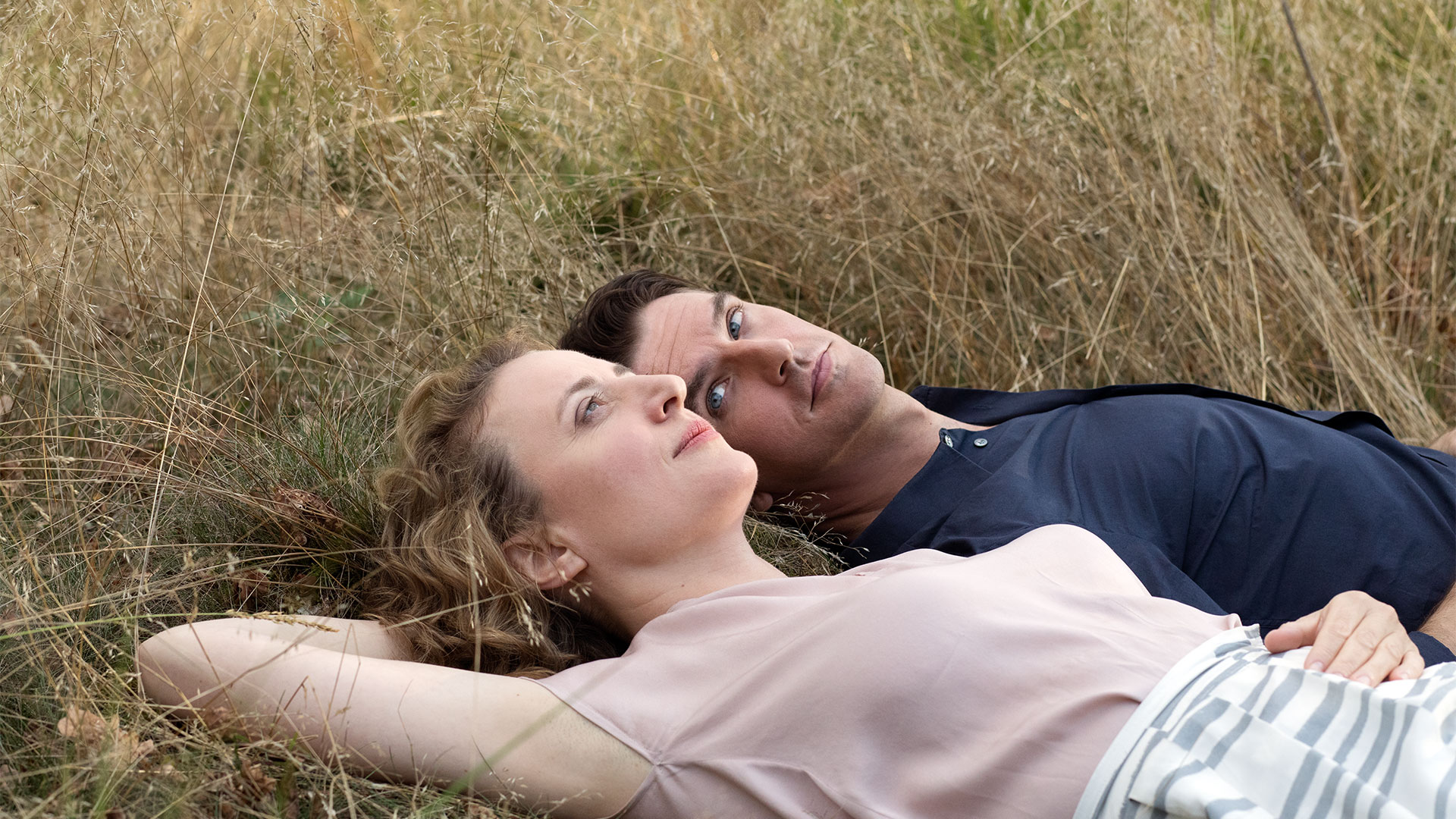 In contrast – less like Charles, the cowshed invention, and more of a postmodernist's wet dream – a cool and sinister dance plays out in Alex Garland's flawless sci-fi thriller Ex Machina (2014), whose isolated backdrop of Norway's Valldal valley, framed in glass and Apple aesthetics, emphasises a disconnection from society. Although Garland's film explores the complexities of what makes us human, Archer, Earl and Hayward strip all of this back in Brian and Charles, establishing a father-child dynamic between creator and robot that shines through despite Charles' limitations and crude construction. As he grows in character, this android doesn't dream of electric sheep (à la Philip K. Dick) but Hawaiian hula dreams. He is innocence and (inherited) optimism personified.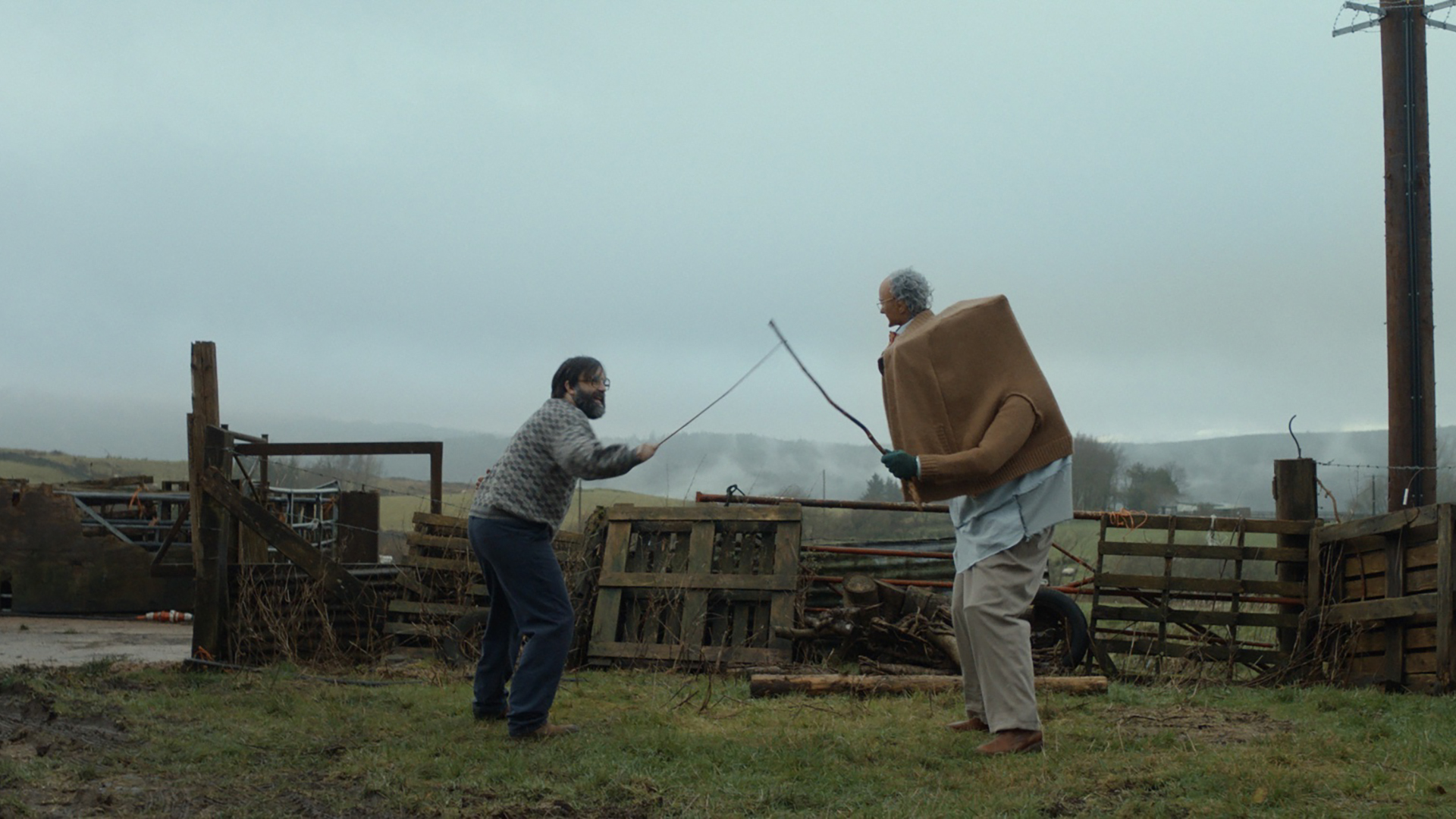 Our optimism has been tested to the absolute limit over the past two and a half years, as we have fought to protect ourselves (and loved ones) from coronavirus. A side effect of long months of lockdown has been social isolation, something the Stockholm-based firm Furhat Robotics is aiming to tackle with its namesake robot, which now resides in nursing homes and healthcare facilities. Comparable creations have been shown on screen for nearly a decade. Spike Jonze's Her (2013) and Jack Schreier's Robot & Frank (2013), for example, presaged Furhat's invention with their dramatising of social-robot stories. In Her, Theodore (Joaquin Phoenix) falls in love with an operating system he calls Samantha (voiced by Scarlett Johansson) and, as they connect, we realise that she is capable of breaking hearts as much as healing them. But it is Robot & Frank (2012) that provides an eerily familiar comparison to Furhat's invention – which was designed to provide social stimulation for the elderly – as old-timer and ex-convict Frank (Frank Langella) is gifted a robot by his son when he is diagnosed with dementia. Providing therapeutic care, Robot assists Frank as a companion (and partner in crime) and, more importantly, helps him avoid the ultimate solitude: jail.
Brian and Charles reconfigures what robots can be. The film characterises its titular A.I. as a potential cure for loneliness, a way for Brian, and those in need more generally, to make friends. It achieves all of this while putting a smile on our faces with its quirky sense of humour. Something we sorely need as we navigate this strange new world of ours.
WATCH BRIAN AND CHARLES IN CINEMAS