The actor delivers another commanding, multifaceted performance in her West End debut, which is coming to cinemas thanks to NT Live. By Yasmin Omar

This article contains discussion of sexual assault that some readers may find distressing. 
Jodie Comer is one of our most versatile actors. The ultimate shapeshifter, she does her best work when creating characters within a character. Take her BAFTA-winning role serving looks and slaying crooks as the capricious assassin in Killing Eve (2018-2022). To play Villanelle, she is required to switch between multiple accents (clipped Russian, lilting Australian, soft French), foreign languages (Spanish, German, Mandarin) and craft unique personalities for each of her countless personas when going undercover to track down marks – all while plotting the larger emotional arc of her primary character. Comer set herself up for a similar challenge with Ridley Scott's The Last Duel (2021), in which she stars as Marguerite de Carrouges, the real-life noblewoman who accused her husband's friend of rape. The film is split into chapters, which present the events from three different perspectives, meaning that she must overhaul her performance – spanning subservient wife to flirtatious temptress – depending on the point of view.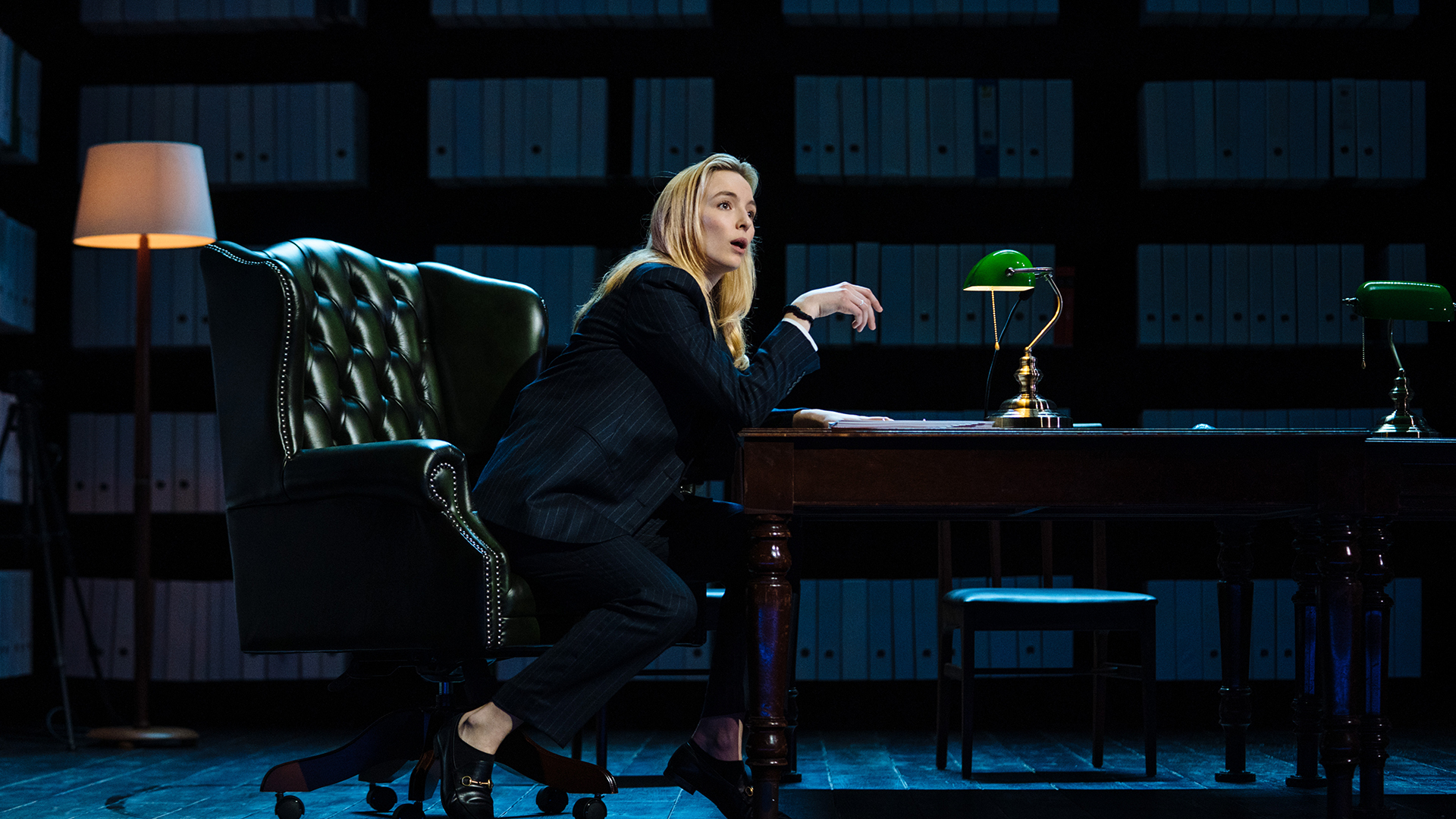 Suzie Miller's blistering play Prima Facie (2022) shares much of The Last Duel's thematic DNA, since it also deals with a sexual-assault survivor risking her livelihood to seek justice. In her West End debut, which enjoyed a sold-out nine-week run at the Harold Pinter Theatre, Comer plays Tessa, a bubbly, high-flying barrister whose unshakeable faith in the legal system is rattled after a colleague rapes her. Prima Facie is a play of two halves. It hinges on the assault, cleaving the narrative into what comes before and after this shattering act of violence. Comer, therefore, evolves the character as the play goes on, twisting Tessa's charismatic confidence into traumatised, fidgety panic. (This duality is well expressed on the poster, which overlays an image of a self-satisfied, lawyer-mode Comer onto one of her letting out an anguished, scrunched-eye scream.) And, as if that wasn't already enough to contend with, the production is a one-woman show that has the actor playing all the other supporting roles. We watch her slip between the prim propriety and rounded vowels of Tessa's Cambridge professors to the crotch-scratching arrogance of policemen and Eton-boy drawl of her peers, among many, many others. Only someone as versatile as Comer could pull this off. Her towering performance ensures that Prima Facie is more than a rallying cry of 'believe women'; it's a howling, bone-chilling wail.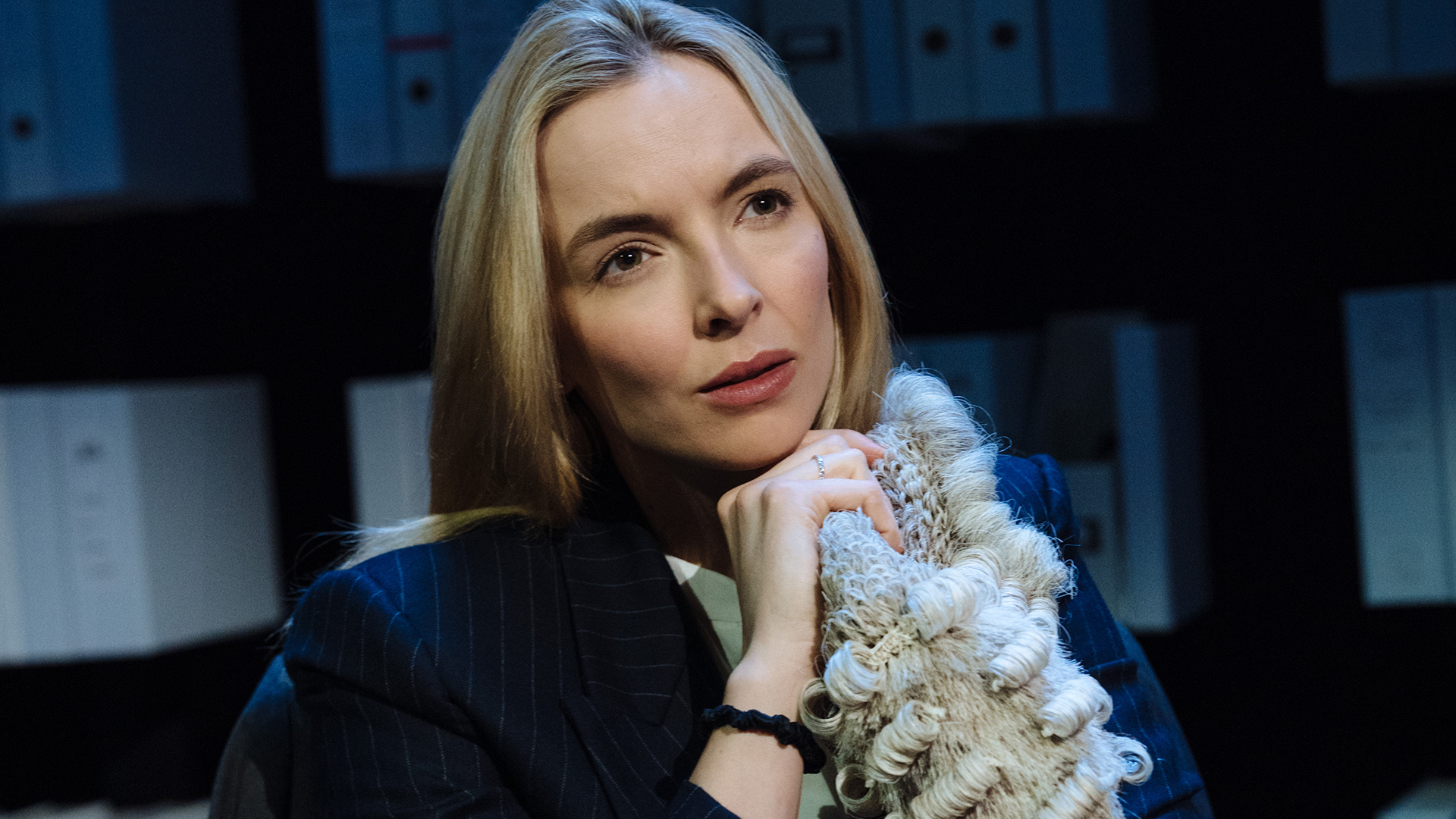 The play, of course, deals with difficult subject matter, but it is never dour. On the contrary, the first act is surprisingly exhilarating. In a barrister's wig and silks, Comer gallops through her lines like a racing commentator when she cross-examines witnesses, standing on a table in a dominant power pose as she sets lexical traps for them to fall into (which they inevitably do). Then, suddenly, she's speeding home on the train to Liverpool, Merseyside accent thickening as she leaves the courtroom and flicks off her workplace codeswitch. Before you know it, we're back in London on a night out, and she's drunkenly doing the macarena with her barrister friends and bellowing about the importance of their job ('We believe in the law!' she slurs, happily. 'We believe in the system! Defence is about human rights!'). There is a relentless energy to Prima Facie initially that reflects the character's mile-a-minute lifestyle. In these opening scenes, the actor establishes Tessa's fun-loving spirit. She slides her voice up and down in this excitable, singsong way and threads through humour with a well placed eyelash flutter or cheeky grin.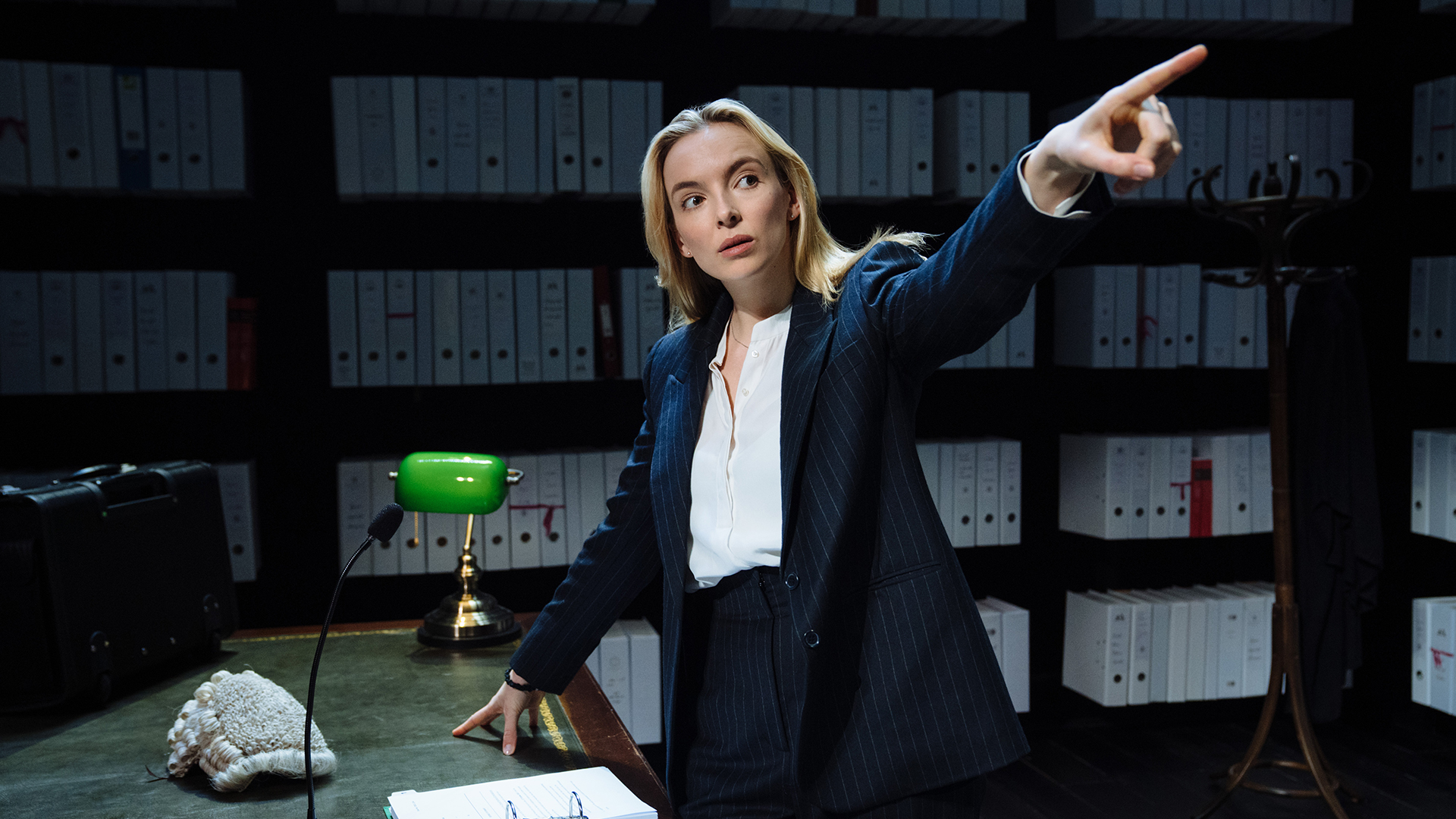 Comer aside, much of the brilliance of the play lies in its self-reflective two-part structure. Miller is careful to set up a network of echoes throughout the piece, so that lines of dialogue and set design reappear with renewed significance following Tessa's attack. Such is the case when she is grilling the sexual-assault survivor Jenna on the stand. On the sparse stage, which is simply decorated with walls of floor-to-ceiling folders and little furniture, an empty chair (representing Jenna) sits on a table under the harsh glare of a spotlight. Tessa paces around it authoritatively, picking holes in the young woman's account of her assault. It is telling that, unlike in previous interrogations where Comer plays both defence and witness, Jenna is not given a voice here; she is literally silenced. Because sexual assault is purely hypothetical to Tessa at this point, she says the words so dismissively, waving Jenna off as 'an alleged victim'.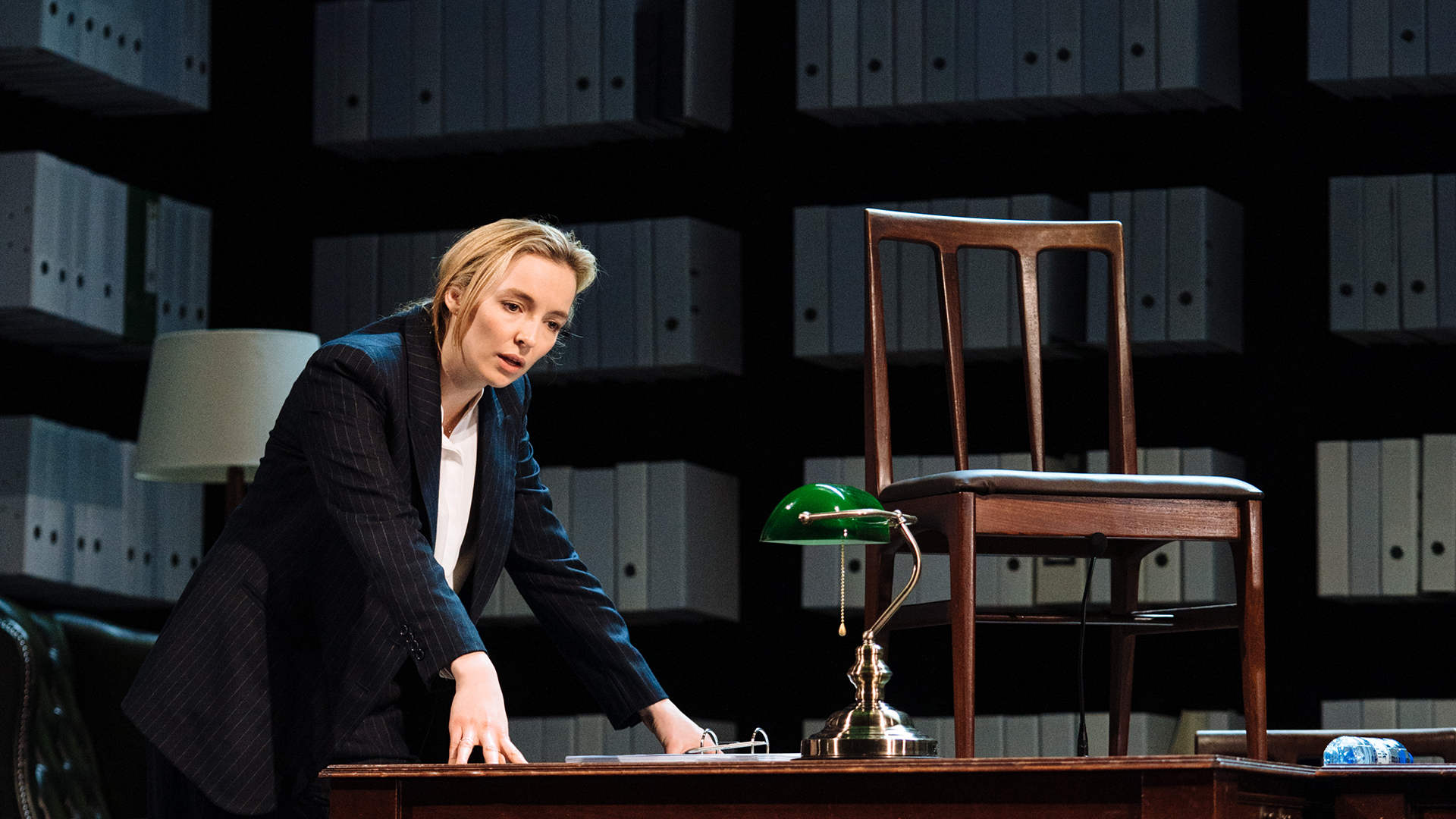 What was light and carefree, however, grows heavy and burdensome in the light of Tessa's own rape. We see her character's whole worldview shift in real time: sexual violence is not an abstract idea anymore, it's a painful lived experience. In the immediate aftermath of the assault, Tessa asks herself the same questions she so dispassionately posed to Jenna, this time through a vale of tears with a breathless, faltering delivery. When Tessa becomes, as she puts it, 'a witness in her own courtroom', the staging is identical to Jenna's interrogation: chair on the table, white light beating down. In a reversal of the earlier sequence, the defence's questions are now silenced, and we only hear a shaky-voiced Tessa answering intrusive prompts with increasing desperation, beseeching eyes flashing with agonising sincerity. With this mirroring, the play underlines just how painfully ill-equipped the courts are to punish sexual assault. Even if, like Tessa, you know all the ins and outs of the law, you are still vulnerable to a lacerating, patriarchal legal system that interprets any trauma-induced inconsistency in testimony as a lie – which goes some way to explaining why only 1.3% of rapes are prosecuted.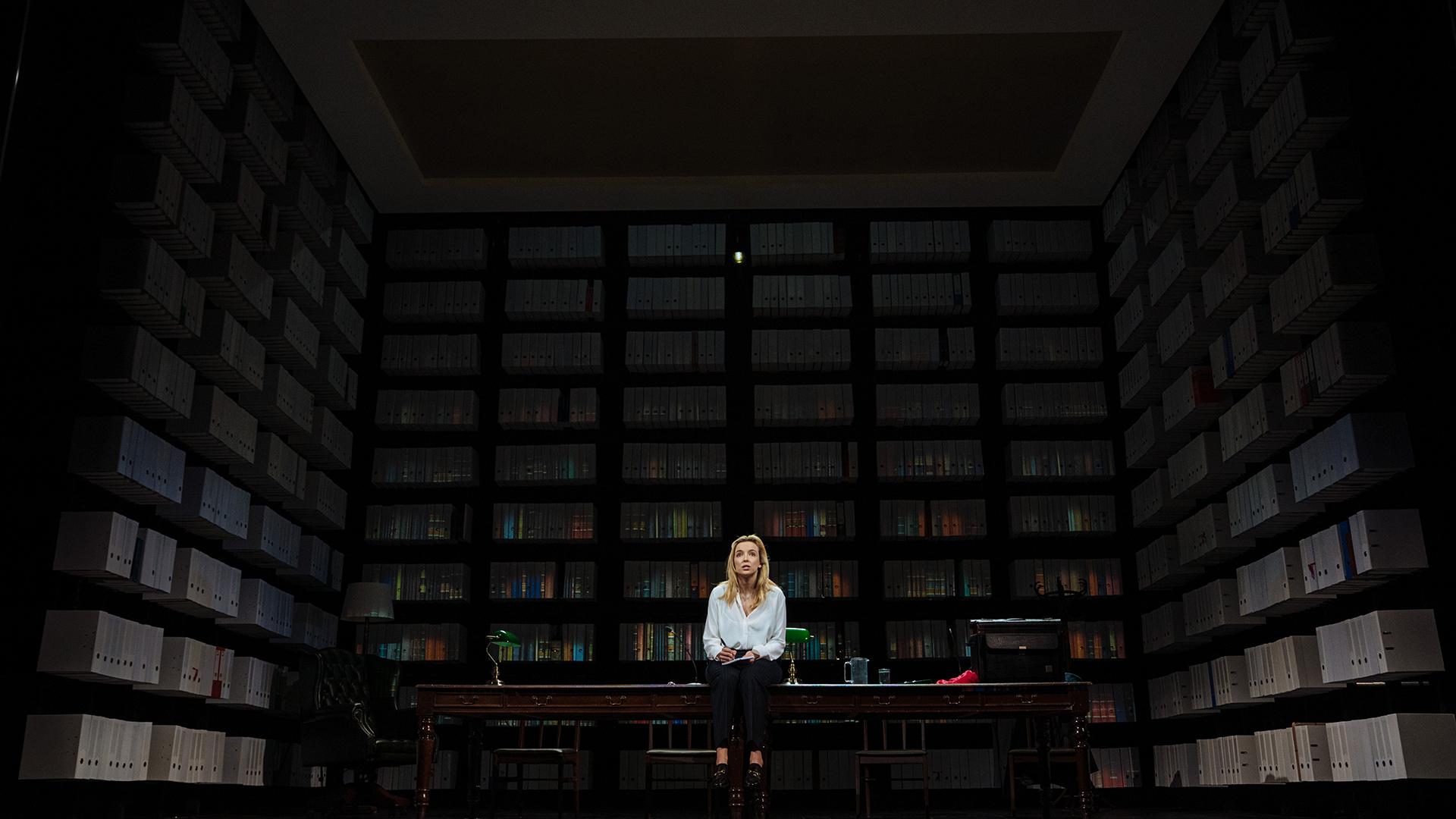 Prima Facie is an important work of art. It underscores how the intellectual understanding of sexual violence is no substitute for the emotional gut punch of first-hand experience. It critiques the entrenched misogyny of male barristers, who go out of their way to make survivors 'look like liars' and 'doubt themselves'. But, for all its hand-wringing about Britain's broken courthouses, this is not a hopeless play. Shoots of optimism can be found even in Prima Facie's darkest moments: a policewoman squeezing Tessa's shoulder in encouragement before she takes the stand, a nurse ending her forensic exam with a kind word. Even though Comer is alone onstage throughout the performance, you feel other women lifting her up, spurring her on. There's something fundamentally hopeful about that.   
WATCH PRIMA FACIE IN CINEMAS