Drawing on the expertise of film critic and former Catholic schoolgirl Justine Smith, Sophie Monks Kaufman charts the evolution of the nunsploitation movie. 

Pleasure, pain and prayer. Sex, suffering and scripture. These are the tenets of the nunsploitation film, a genre that peaked in the 1970s, and is now back in the news thanks to Paul Verhoeven's wild convent romp, Benedetta. It's a loose biopic based on the 1986 Judith C Brown book Immodest Acts: The Life of a Lesbian Nun in Renaissance Italy, and boasts a startlingly great, frequently nude title performance by French actress Virginie Efira. Her Benedetta rises to the role of Mother Superior at a Tuscan convent where she has lived since childhood on the strength of her 'miracles'. All the while, she is hallucinating a strapping, horse-riding Jesus and making sweet love with her loyal Bartolomea (Daphne Patakia), an ingenious soul who whittles a dildo out of a statue of the Virgin Mary.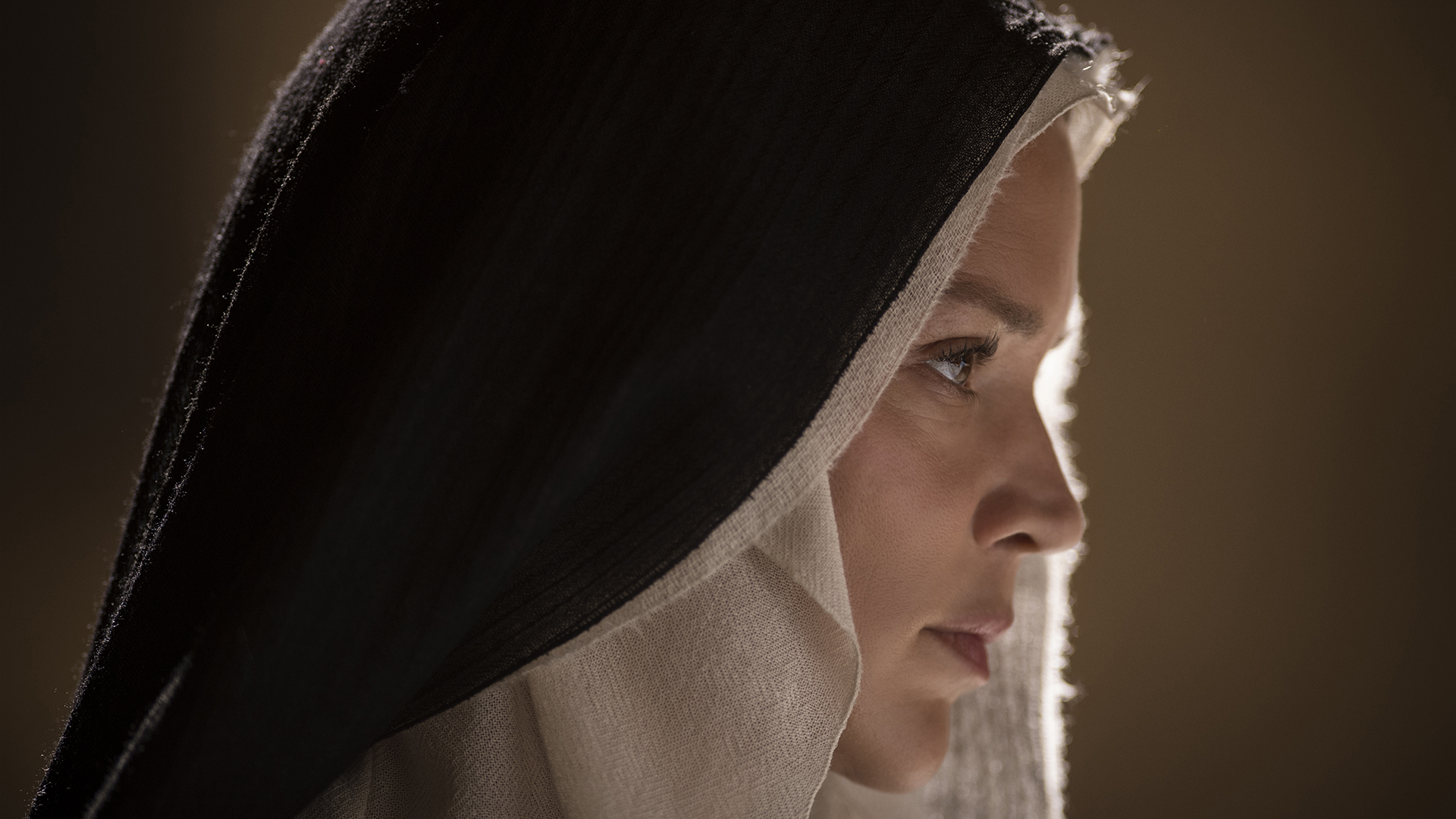 Some of us are better placed than others to contextualise such scenes. None could be better than Justine Smith, a Canadian film critic, former Catholic schoolgirl and writer of two nun-infused porn films. She defines nunsploitation as a niche within the exploitation film genre 'a vague category that sells itself on sensationalism or controversy. Nunsploitation is very close to women-in-prison films, focusing on women who are almost exclusively cloistered, rather than a nun out there living her life'.  
Is it possible to list the usual ingredients of a classic nunsploitation film? Smith does not miss a beat: 'Sex, very often lesbian sex, although not exclusively. Often torture. Self-flagellation is very common, as are psychedelic elements because you have hallucinations in the form of visions that may or may not be real.'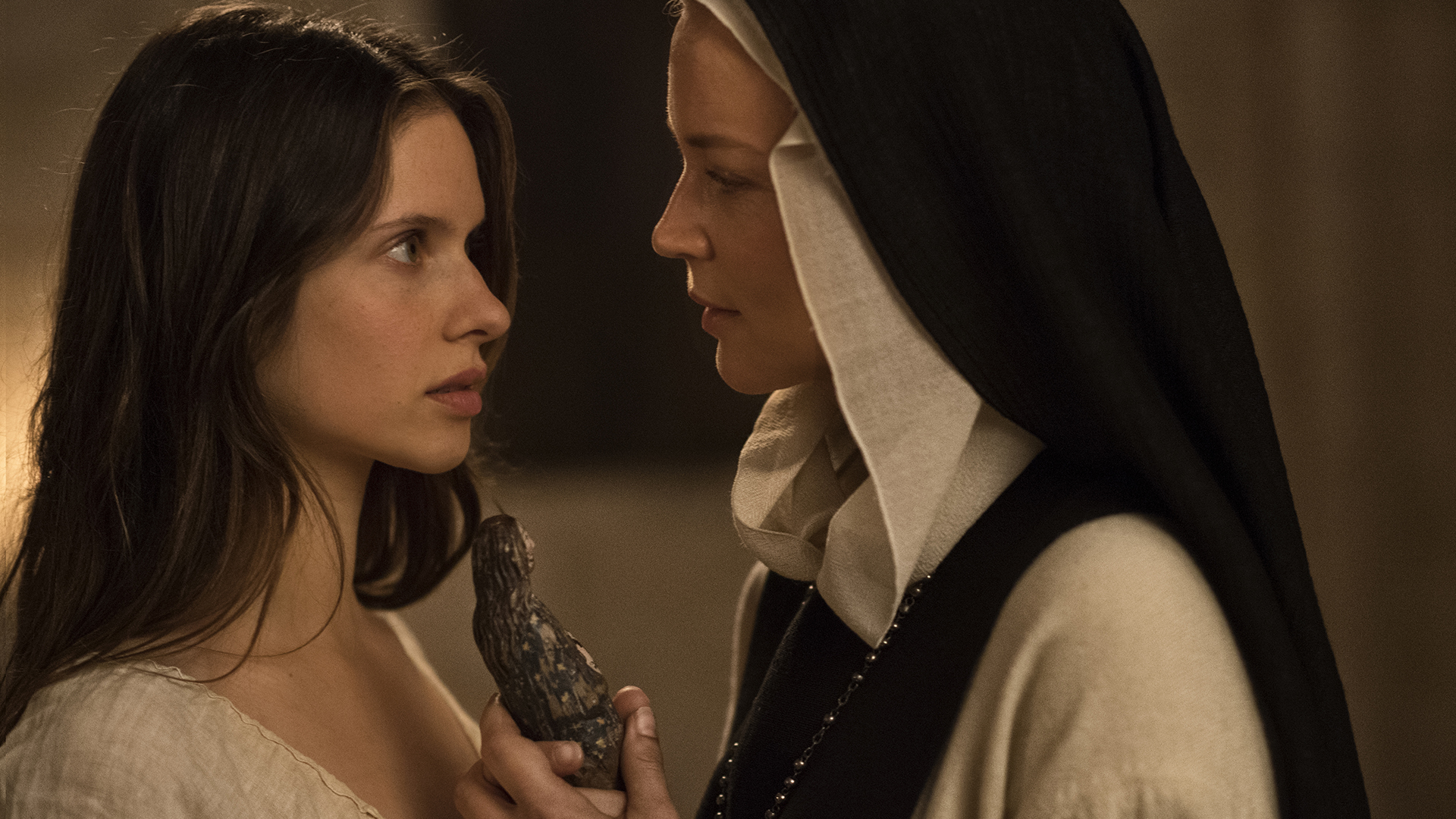 Benedetta incorporates all of these elements and shrewdly demonstrates that both virginal nuns and the supposedly fallen ones are equally obsessed with the body. The former are shown trying to efface their physical form  – 'Your worst enemy is your body. Best not to feel at home in it,' a nun warns Benedetta – while punishments handed down by superiors include a nun being ordered to whip her own naked back until it bleeds and the sadistic torture inflicted on Bartolomea to elicit a confession. In contrast, the love scenes between B and B seem relatively free of pain, although one early kiss does draw blood. 
The 1970s were the heyday of nunsploitation (and, indeed, the entire exploitation genre) with films like Ken Russell's The Devils (1971), Jesús Franco's Love Letters of a Portuguese Nun (1977) and Norifumi Suzuki's School of the Holy Beast (1974). The DNA of these films can be found centuries earlier. Smith clues me into Giovanni Boccaccio's The Decameron from 1353 about a handsome young man who pretends to be mute so he can work within the otherwise forbidden walls of the convent. Another motif of nunsploitation, she adds, is that 'you frequently have a character who enters the space as an outsider, either a novice or a literal outsider investigating'. This is the case with Benedetta, for it is the dramatic arrival of Bartolomea, fleeing her sexually abusive family, that sets the plot in motion.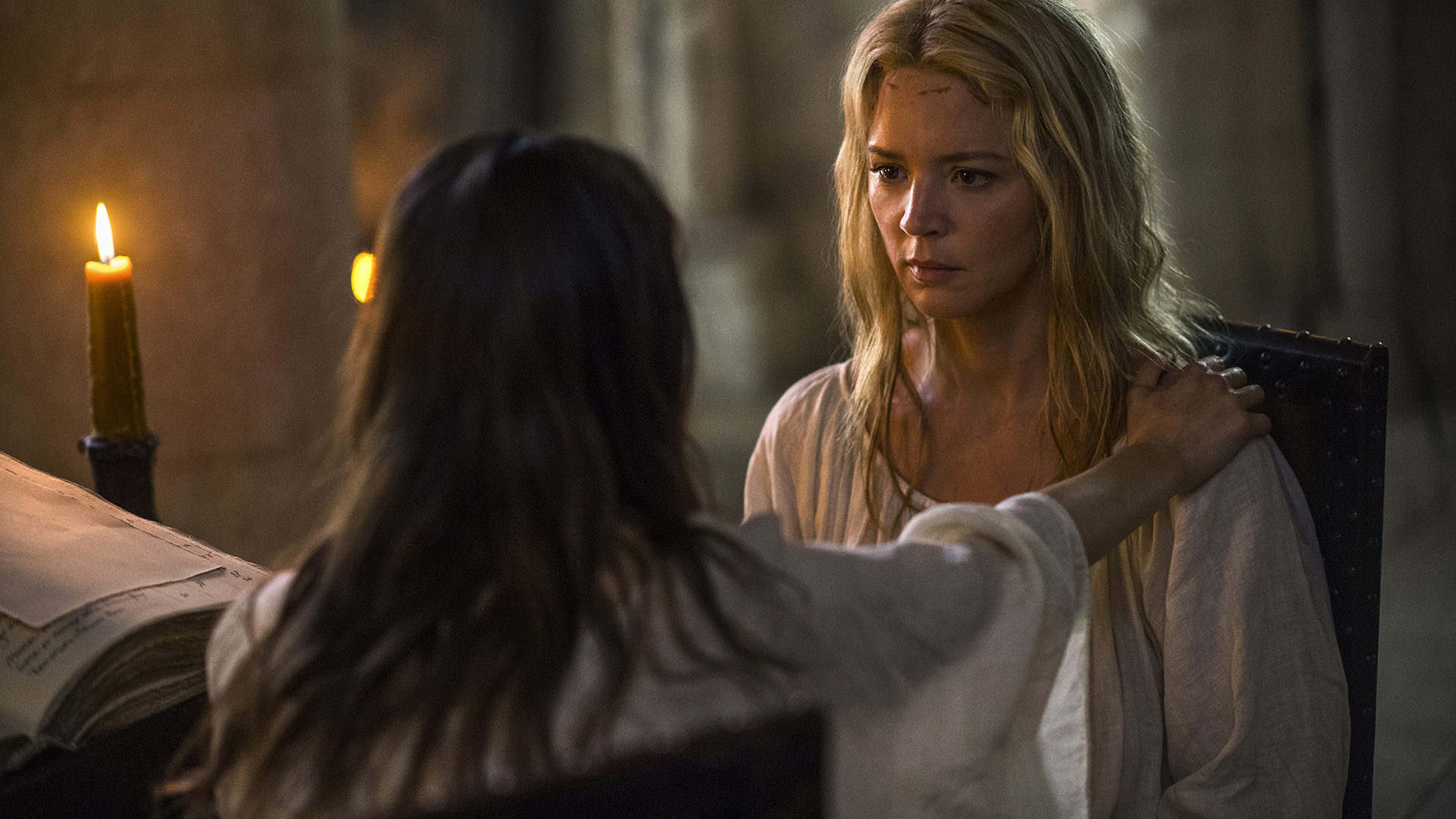 I point out that the genre seems to riff on a male fantasy around what happens in a female-only space, and she agrees. 'From a cultural point of view, these films ask: "What could women do together? Would they talk about politics? No, that's not what they're doing. They must be doing something so depraved." Most exploitation movies fail to take into account the woman's point of view. Even the ones that try to be feminist are retrograde in a different way.'
Smith says that the nun films that cleave more to a female point of view are not classical nunsploitation films, although they may share similar tropes. Examples of nunsploitation-adjacent films include Maggie Betts' Novitiate (2017), in which Margaret Qualley plays a young nun whose quivering desire pinballs from the ethereal lord to flesh-and-blood women; and the two prominent adaptations of Denis Diderot's 1796 book La Religieuse about a 16-year-old forced into a convent. The first was by Jacques Rivette with Anna Karina in 1966, and the second by Guillaume Nicloux with Isabelle Huppert in 2013. This is a title that, like nunsploitations, includes lesbianism, sacrifice and torture, yet its ponderous arthouse framing puts it in a different category. Smith says that La Religieuse 'speaks to the fact that, generally, making a movie about nuns as human beings almost automatically puts you in the dangerous territory of exploitation and being offensive [in the eyes of the Church]'.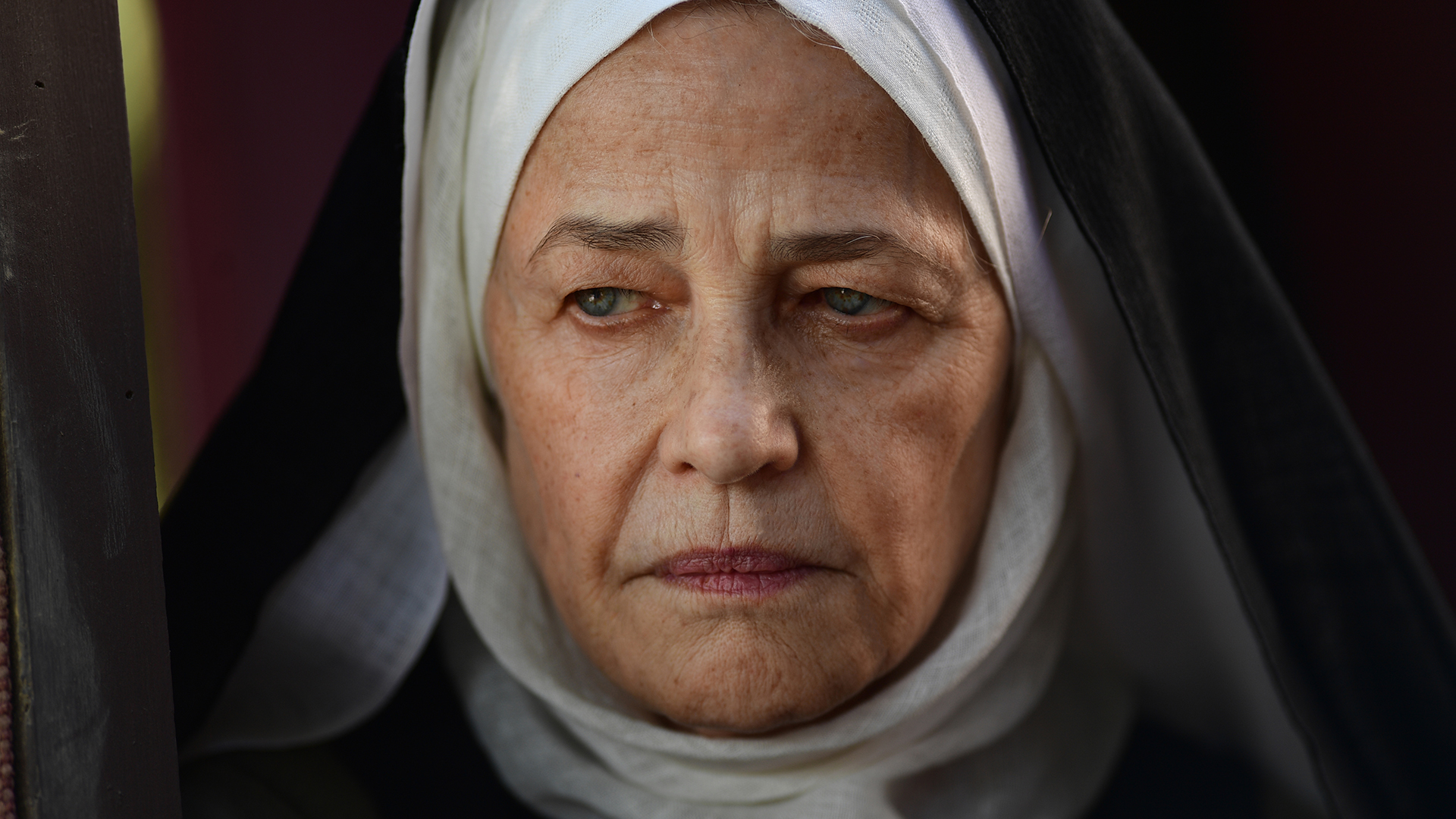 Even in her own creative realm of porn, an area one might consider to be a free-for-all, exploring religion is considered controversial. Smith co-wrote Under The Veil with Shawn Alff, which was nominated for Best Screenplay at the 2022 AVN awards. The ceremony organisers would not show a clip of it for fear of offending believers. 
Whether a film is perceived as nunsploitation, arthouse, porn or a Church-approved religious drama is largely a matter of framing. Between the ages of 12 and 17, Smith attended an all-girls Catholic school in Montreal, and recalls a school trip to see Mel Gibson's The Passion of the Christ (2004). 'The movie is absolutely gruesome. That, to me, is religious exploitation at its finest, right? But because it's sold as this very pro religious movie, it gets a pass.'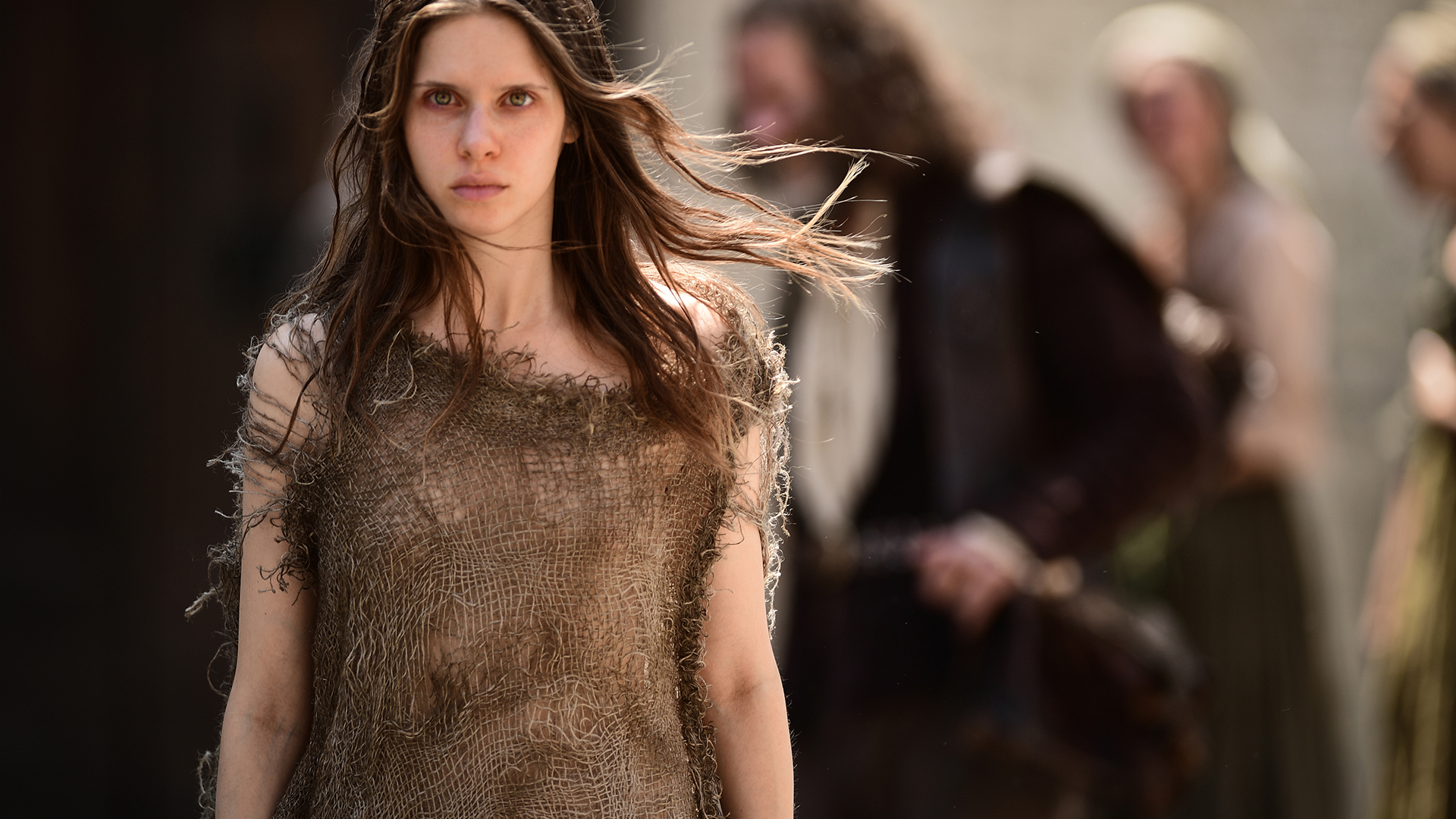 The crucial issue seems to be not blood, not gore, not even the sensation of ecstasy, but in whose name these things are directed. Smith reads an extract from 16th-century Spanish nun Saint Teresa's diary describing her meeting with an angel that includes this erotically charged passage: 'In his hands I saw a great golden spear, and at the iron tip there appeared to be a point of fire. This he plunged into my heart several times... and left me utterly consumed by the great love of God. The pain was so severe that it made me utter several moans. The sweetness caused by this intense pain is so extreme that one cannot possibly wish it to cease, nor is one's soul then content with anything but God.'
This intense emotion and sensuality could pass for a sexual climax, however it is acceptable to Catholic tastes because it is not of this world. 'All that energy has to be articulated towards God,' says Smith. When it isn't, there are protests. Outside Benedetta's New York Film Festival screening at Alice Tully Hall last September, members of the fringe Catholic group, The American TFP, appeared with placards reading, 'Why the endless insults to Jesus?' and 'Stop Blasphemy Now!' This mild, to the point of endearing, protest sits in sharp contrast to the terrorist cinema attack that happened in 1988 when an integrist Catholic group set fire to the Saint Michel cinema in Paris while it was showing Martin Scorsese's The Last Temptation of Christ, injuring 13 people.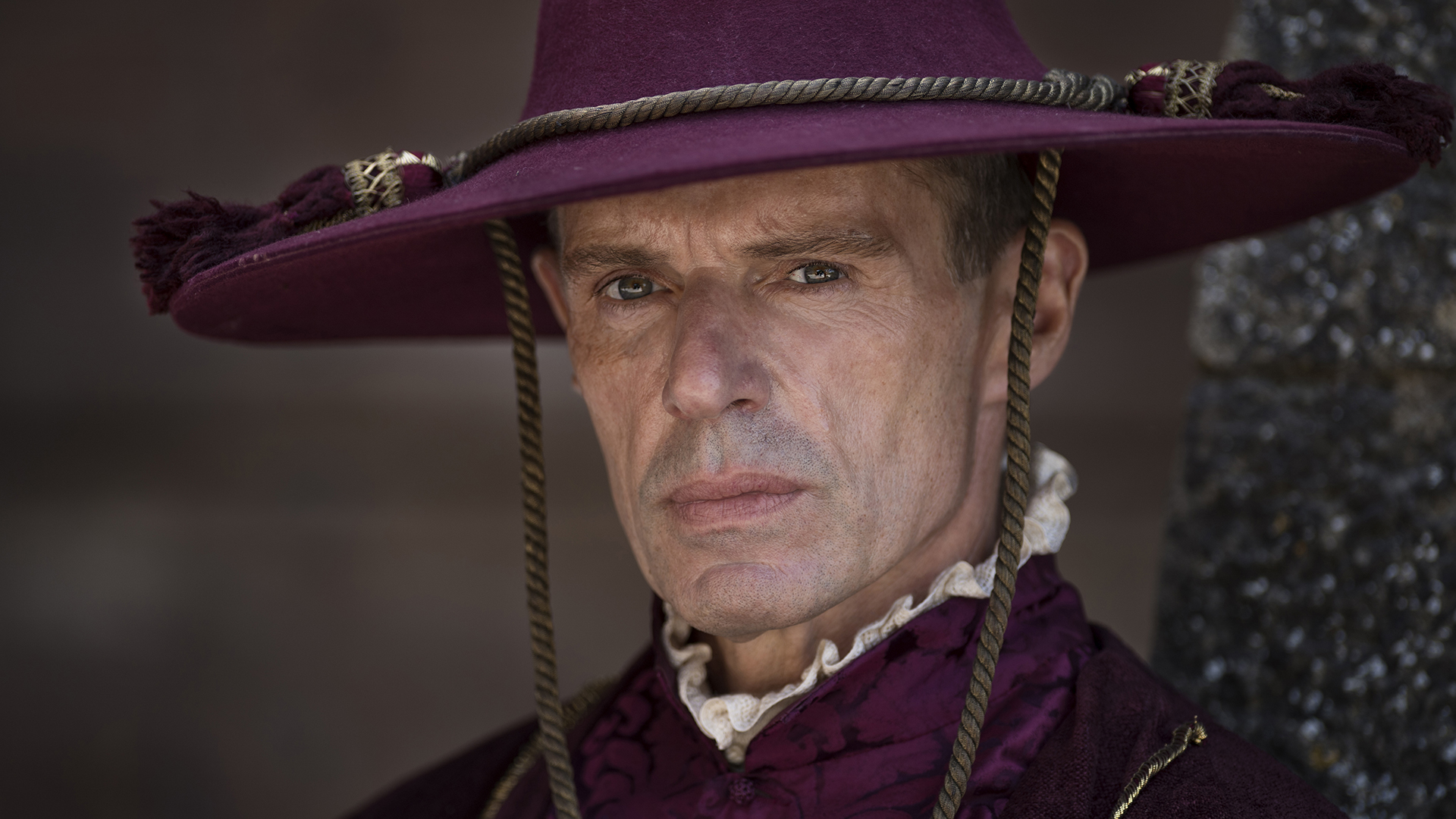 For all her clear-eyed criticisms of Catholicism, there is something that keeps Smith returning to it, as she did in this personal essay for Cléo magazine and does under her porn pen name, Maddy Burton, in films like Under The Veil and Confessions Of A Sinful Nun Volume 2. What is her unfinished business with nuns? The answer is a fittingly existential one.
'Really believing in God has to be a very lonely thing. Because if you have any kind of self-awareness, it's a bit of a paradox because you have to believe in God, and you're never going to be presented with concrete proof until possibly after death. A lot of nun movies, even nunsploitations, deal with very lonely people – people who are locked up against their will because their families don't want to pay their dowry, or people who go there in the hopes of having this religious awakening and don't have one. It's a genre that taps into a strong desire to connect spiritually and intimately with people around you. And the failure to do so.'
Even Benedetta, in its own carnage-fuelled way, possesses an appreciation for the lonely condition of the nun. The penetratation of sex into the novice's personal sanctuary, after a lifetime of chastity, lands as the most overwhelming miracle of them all.
WATCH BENEDETTA IN CINEMAS