As William Friedkin's classic celebrates its 50th anniversary, Savina Petkova investigates the importance of the dual mother-child relationships at the film's centre and how maternal figures often play key roles in contemporary horror.

Studies of horror cinema have always located its potency in the way it allegorically presents deep-seated environmental, sociopolitical and gender anxieties. It's become a general truism that horror unearths fears as much as it elicits them, but the films that stand the test of time are much more than a snapshot of whatever the dread haunting humanity was at the time of their release. 
Take William Friedkin's 1973 cult classic The Exorcist, which got people weeping, vomiting, fainting and running out of the cinema when confronted with the unsettling demonic possession of a young girl. Although the director himself refused to frame The Exorcist as a horror movie – calling it a 'realistic film about the mystery of faith' – it still sits at the top of many polls celebrating the genre. This continued fascination with the film is not only a testament to Friedkin's proficiency (amid behind-the-scenes controversies), but it says something about The Exorcist's chameleonic ability to express our contemporary angst, half a century later.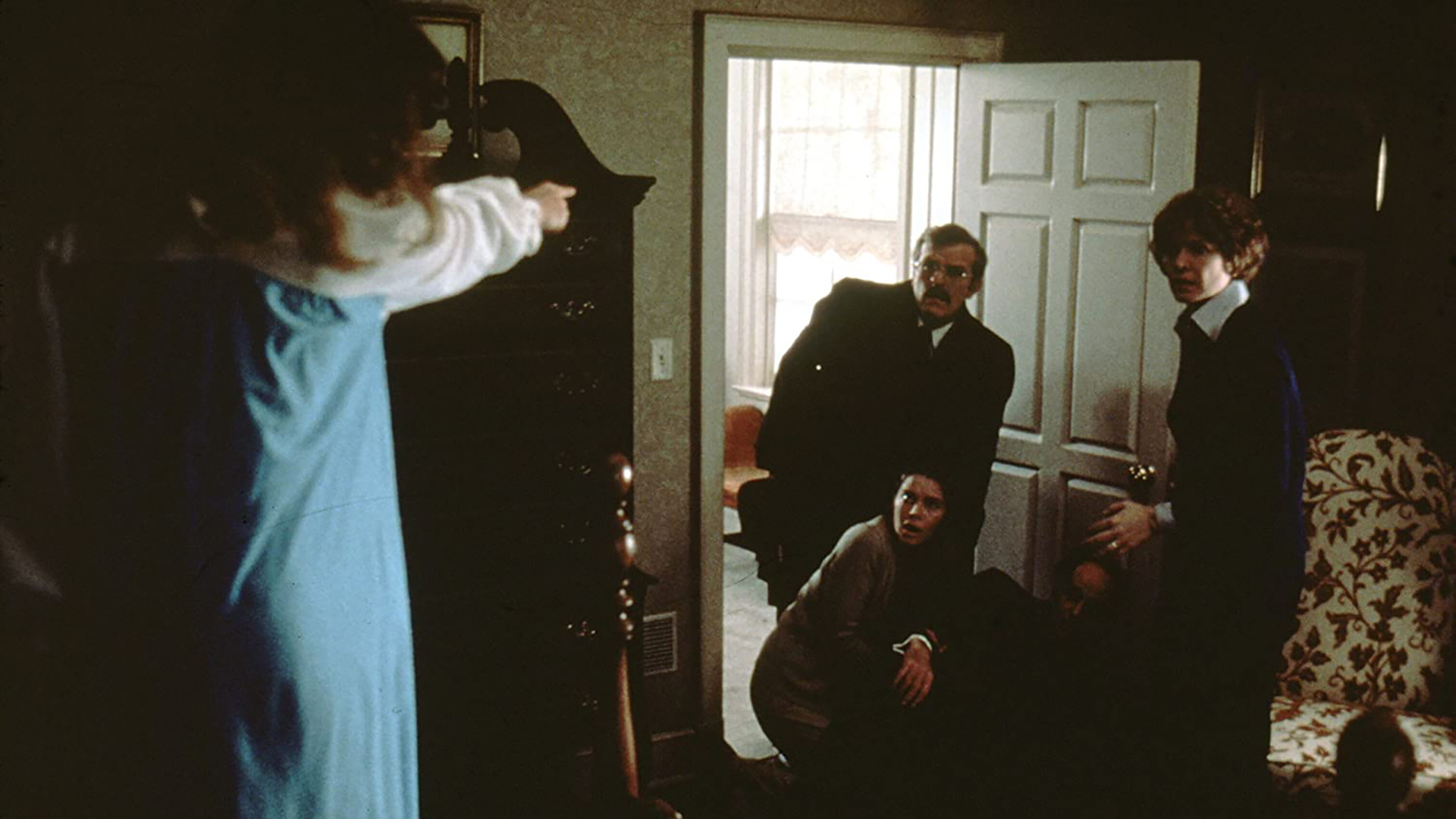 As a story about 12-year-old Regan MacNeil's (Linda Blair) possession by the devil himself – while her mother Chris (Ellen Burstyn) resorts to traditional medicine, psychiatry and the Church to free her child from the grip of Pazuzu – The Exorcist reads as a fight between good and evil. However, the characters' consistent failures to rid Regan of Pazuzu reframe this opposition as 'evil (Pazuzu) versus evil (violent repression)', and an uneasiness permeates the film's carefully paced runtime. In such a reading, the film speaks to the clash between conservatism and progressivism familiar to audiences of the 1970s, in addition to the rivalry between scientific knowledge and faith. But today, a new focal point emerges: if the figure of the possessed child was indeed a cautionary tale about corruptible innocence, nowadays we question the mother-child relationship. 
What is often forgotten is that there are two mothers in The Exorcist, both of them prominent figures initially, who are then sidelined as their children take centre stage. One is, of course, Chris, the first character we meet after the film's prologue. A successful actress and single mother, Chris seems to have it all. Her status as a respected, in-demand film star has secured her a luxurious temporary home in Georgetown DC, with servants and a nanny, through which she moves around with ease, her chirpy voice responding to Regan's every wish. Still, she strives to be present for her daughter even when she takes out the Ouija board and mentions the mysterious Captain Howdy (a prototype for the demon who'll come to possess Regan). Chris approaches it as child's play, but when the girl's behaviour becomes more and more worrisome, she has no choice but to believe that evil is lurking.
This belief, however, incurs a cost. Once she becomes Regan's carer following the possession, Chris effectively stops working. The film shoot falls apart and is never mentioned. This moment can be interpreted as the impossibility for a woman to hold two roles at once (as it turns out, she cannot have it all). Yet, that renunciation never seems to bother Chris. Her devotion to Regan's wellbeing is absolute and she has no ambivalent thoughts about it. Chris is a glowing example of motherhood as sacrifice. Much of the film's visual power comes from how it reimagines Regan's body as a battlefield – Friedkin wanted it to look like 'she scarred herself' and for the sores to get 'worse and worse'. Therefore, the urge to protect this frail, clearly suffering, pre-teen female body comes across as instinctual. Once possessed, Regan is no longer Chris' daughter – she is the devil's host organism – but Chris never ceases to be her mother.
In line with the film's elliptic storytelling, the second mother figure slides in and out of the frame. Mary Karras (Vasiliki Maliaros) is first introduced when her son, Father Damien Karras (Jason Miller), comes to visit her in her dilapidated home. She's ill and old, but independent. Their mother-son relationship is only hinted at here, but it's obviously beset by the son's guilt. A little down the line, it's revealed that even though Father Karras wanted to take care of his ailing mother, she died alone. That gnawing guilt coincides with the Father's crisis of faith – no wonder his mother's name is Mary! – in a rather obvious psychoanalytic link that, like Chris' attitude towards motherhood, is never commented on.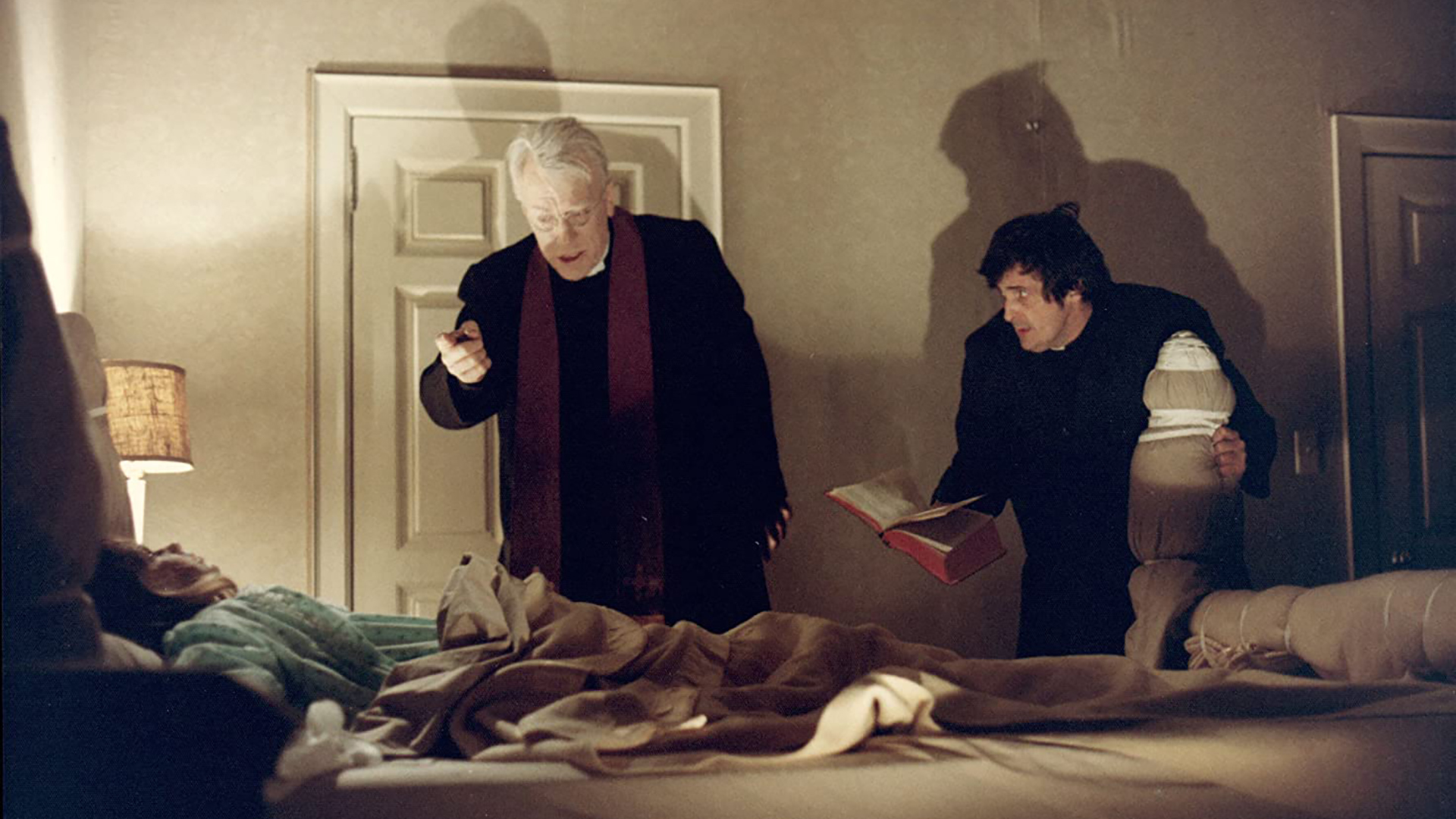 Father Karras may be a psychiatrist who counsels priests, but he fails to acknowledge that his own guilt is rooted in his relationship with his mother. This trauma remains disguised until the demon possessing Regan assumes Mary's image in order to divert the exorcism. Father Karras seems central to the film's plot, but he's defined by his deceased mother. In fact it's her who gives him the strength to finalise the exorcism, since he finally overthrows the demon's authority along with his remorse towards Mary.
Regan's demonic possession rearranges the dynamics at play between her and her mother, but also with regards to Father Karras and his deceased mother. If the mothers are so crucial, why doesn't The Exorcist acknowledge that more openly? It's unsettling to see women sidelined in the film. Regan is no longer a girl, Chris is no longer a working woman, Mary is no longer alive… and still they all owe their powerful presences to motherhood as seen through a religious, psychoanalytic lens. Chris (the sacrificing mother) and Mary (the abject mother) seemingly exist for their children. Regan is battling for independence and Father Karras feels liable for his. In both cases, maternal authority is a defining principle.
Today, horror has taken up this maternal legacy in ways that incorporate more of that subliminal tension, that ambivalence towards motherhood, and express it in novel ways. In Barbarian (2022), there is a naked, deformed woman – credited just as 'The Mother' – whose role epitomises everything that's wrong with the patriarchal world. The monstrous figure cannot speak for herself, but she wants to be seen and heard, even if she can only relate her pain through murder. Jennifer Kent's The Babadook (2014) – endorsed by Friedkin himself – presents a widow struggling to bring up her six-year-old son alone and includes visions of her murdering the child. More recently, the disavowal of motherhood has been rendered formidable in cross-generational horrors Relic (2020) and Evil Dead Rise (2023). Rather than simply condemning motherhood, horror movies explore our evolving anxieties towards it, our fears attached to it. The genre's ever changing presentation of mothers makes each film a time capsule – a snapshot of a particular moment that, if it becomes a classic like The Exorcist, will still have plenty to say about modern society.
WATCH THE EXORCIST IN CINEMAS