Make-up is a cornerstone of the televangelist Tammy Faye's persona, therefore Jessica Chastain's adoption of her exaggerated look allows the actress to fully tap into the character, says Anna Bogutskaya.

Christened 'the first lady of religious broadcasting' by RuPaul, Tammy Faye and her husband Jim Bakker may not be well known in the UK, but they were indelible in Christian households in 1970s and 80s America. She co-hosted the evangelical television show The PTL Club daily, produced 16 records and co-founded one of the largest theme parks in the world (third only to Disneyland and Walt Disney World). She was also an unlikely ally to the LGBTQ+ community, talking openly about the AIDS epidemic before the sitting President did, and urging compassion from her viewers. But after the fall from grace of the Christian corporation she had built with her preacher husband, Tammy Faye – and more specifically, a crying Tammy Faye with mascara running down her face – became a cultural laughing stock, an image of greed, hypocrisy and fakery. 
The Eyes of Tammy Faye (2021) falls squarely in a wave of cultural reclamation of maligned women of recent history. Podcasts like You're Wrong About, films like I, Tonya (2017), documentaries like Framing Britney Spears (2021), and shows like American Crime Story: Impeachment (2021) and Pam & Tommy (2022) are all trying to offer a different perspective on women who were put on trial by the public. Tammy, although acquitted of any wrongdoing, was dragged into infamy once her husband was arrested.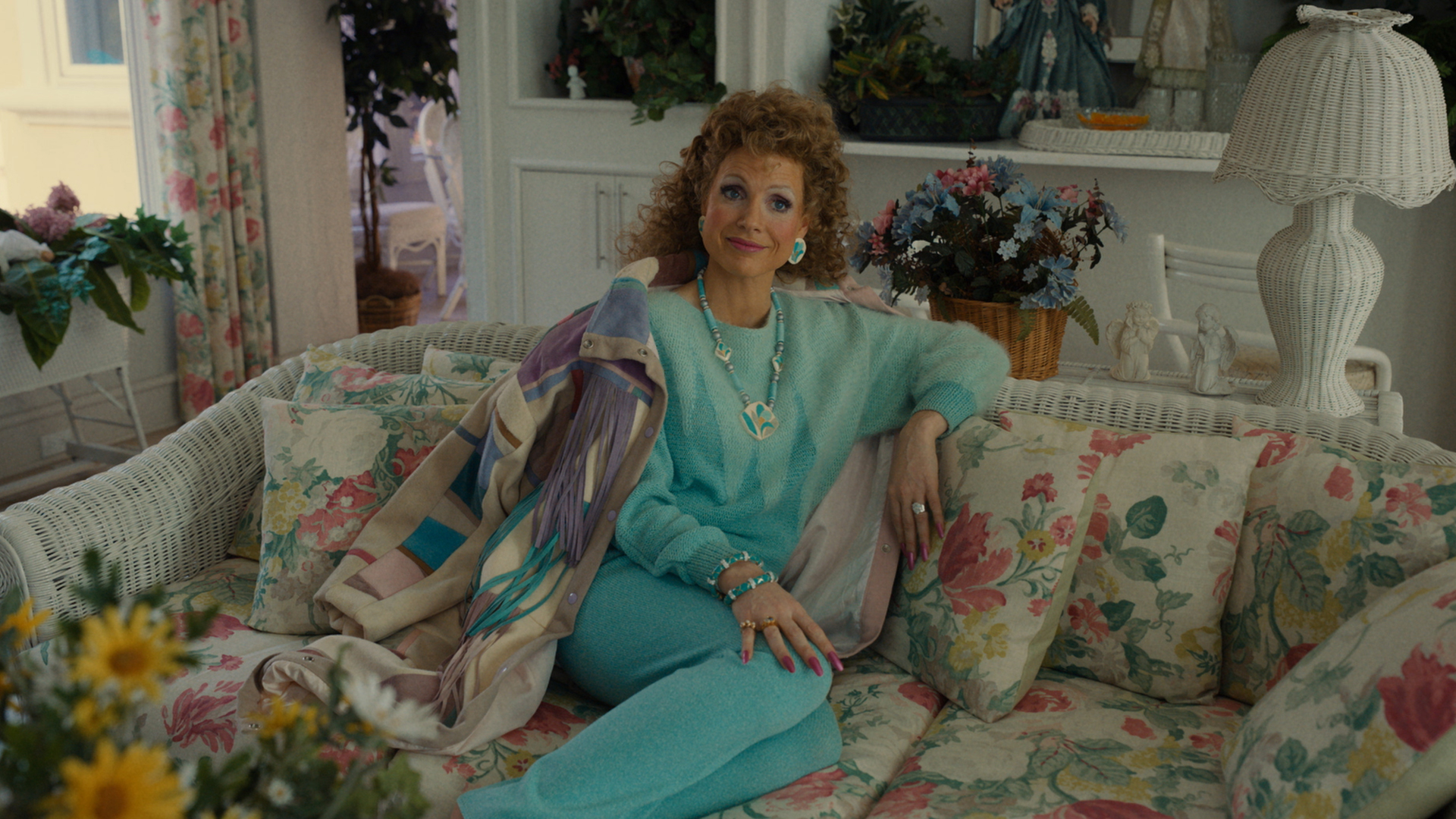 The film takes little interest in the bad actions of bad men, choosing to ignore a lot of the darkness that surrounded Jim Bakker – the embezzlment, the fraud, the rape of Jessica Hahn – and instead angles the story entirely through Tammy's point of view, looking up close at how a woman built herself a contradictory public persona that was simultaneously artificial and sincere. Next to Andrew Garfield, who plays Bakker as a true believer in his own bullshit, Jessica Chastain finally veers away from basic wham-boom-kapow movies like Ava or The 355, and is borderline unrecognisable as Tammy Faye. The actress acquired the rights to the 2000 documentary of the same name and spent seven years researching for the role, careful not to fall into a mocking tone. 
On the surface, it's hard to believe there's a real human being underneath the extreme lashes. The film, based on the aforementioned documentary, opens with a close-up of Tammy's notorious lashes, thick and sticky with mascara. A make-up artist's attempt to redo her face reveals that Tammy's exaggerated look is mostly permanent. Her lips are tattooed with liner, as are her eyebrows. With a disembodied make-up brush hovering around her, she won't budge on any major changes to her appearance because if she's not got the Tammy Faye face on, would people even be able to recognise her?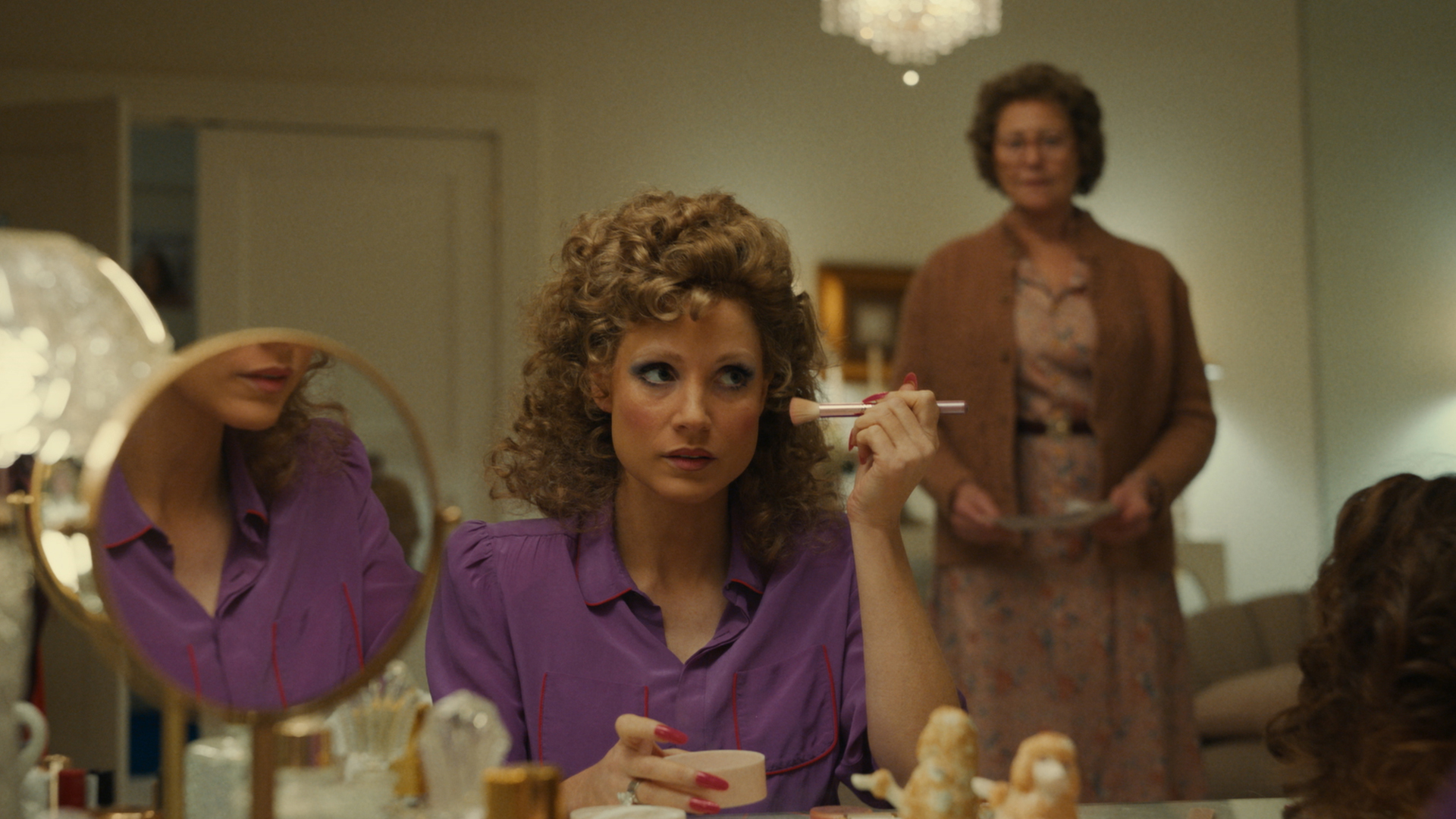 Tammy Faye's mother forbade her from using make-up, and whether in an act of conscious rebellion or a divine connection with the L'Oréal Waterproof Lash Out mascara, make-up would become her signature identifier ('Without my eyelashes I wouldn't be Tammy Faye,' she said). By contrast, Chastain is not an actor known for flirting with extreme transformations or relying on prosthetics (not like, say, Christian Bale or Jared Leto). She embodies Tammy Faye in different stages of her life, becoming less and less visibly Chastain as her character grows older. As a teen girl and young woman, she's barefaced and sports a bob with flipped ends; as a grown woman performing on live television every night, she's a machine of exaggerated mannerisms, shoulder pads and silver eyeshadow. The transformation is dizzying, and in the hands of a lesser actor it would distract from the performance.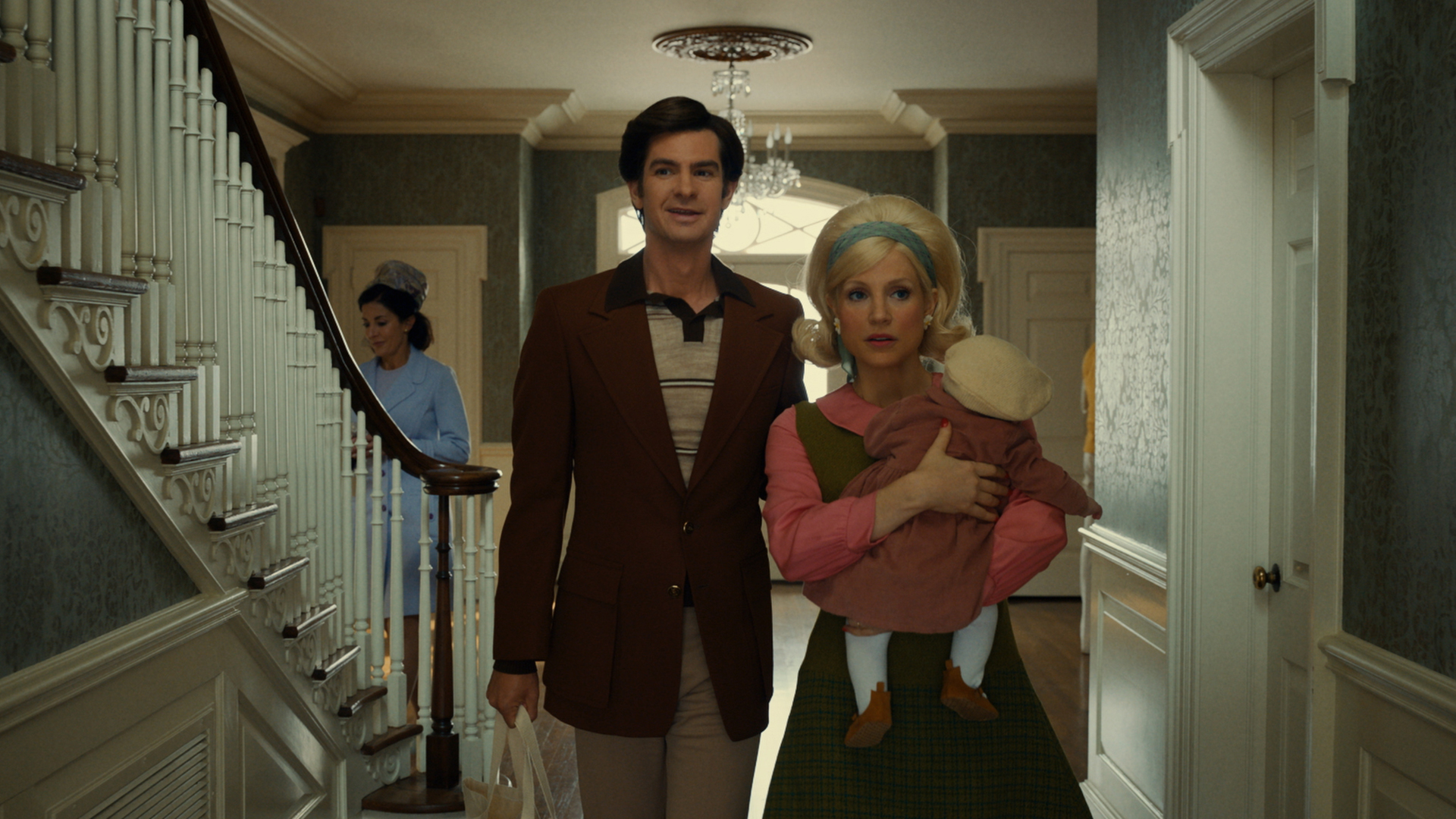 Chastain never allows prosthetics to dominate her characterisation of Tammy Faye. She had to undergo four to seven hours of make-up to become Tammy Faye, a process that weighed her down physically and emotionally, gave her hot flashes and made her concerned she wouldn't be able to reach Tammy's emotional heights through the layers of prosthetics. Actresses tend to get praise for 'uglifying' themselves (remember Charlize Theron in Monster [2003]?) and that conversation can drown out the role itself. This particular fascination  carries an implication that the women they are portraying are ugly, not worthy of being filmed unless it's an endurance test for a supernaturally beautiful actress. But make-up was such a big part of Tammy Faye's identity, both private and public. While her look made her the subject of public mockery (and also a drag icon), it cannot and should not be separated from her character. We're quick to look down on the hyper-feminine as fake by default, but Chastain tries harder to channel her unguarded earnestness than to approximate her mannerisms. There's something hokey about sincerity, which is why it's so much more difficult to play. While the film tiptoes around the dark dealings of the Bakkers' business, it doesn't around Tammy Faye's intense sincerity, the very same thing that was so appealing to the PTL audience and makes Chastain's performance so much more tender.