Unlike other recent coming-of-age movies that treat lesbian sex as a joke or means of titillation, Girls Girls Girls offers a sincere, authentic presentation of queer relationships, argues Emily Maskell.

It is a truth universally acknowledged that growing up is a hellish period of angst and confusion. The road to self-discovery is paved with pent-up emotions and raging hormones where teenagers rebel against parental authority and push towards independence. Such brewing feelings are at the heart of Alli Haapasalo's Finnish coming-of-age movie Girls Girls Girls (2022) about two best friends on the cusp of womanhood. Told across three Fridays, the candid drama finds its teenage companions exploring first love, and discovering that their desires are leading them in different directions. Rönkkö (Eleonoora Kauhanen) is on a journey of pleasure-seeking sexual discovery, whereas Mimmi (Aamu Milonoff) is navigating queer love and intimacy. Both narrative threads are compelling, but it is Mimmi's story that offers a new slant on the well trodden coming-of-age genre.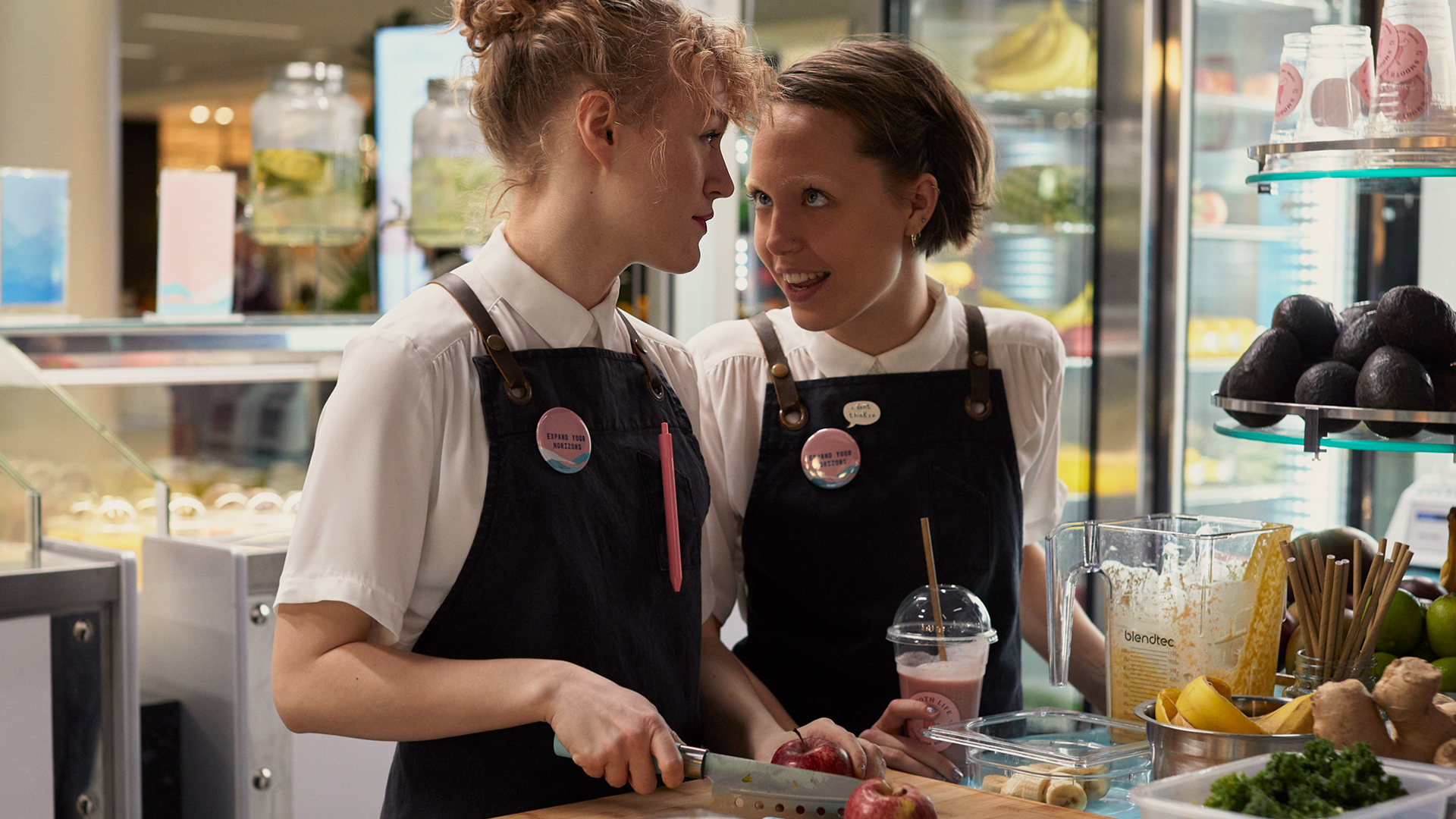 Mimmi, introduced with bleached eyebrows and a red-lipped smile, is a lesbian who rolls her eyes at Rönkkö's grand hopes of love at first sight. That is, until the girls are blending fruit at their after-school smoothie-stand job and competitive figure skater Emma (Linnea Leino) steps up to order a drink. Mimmi ends up bickering with her, but when they meet again at a party, she's swooning. The film tracks the pair's tumultuous relationship: Emma is determined to land her triple axel, while Mimmi is wrestling with matters of the heart.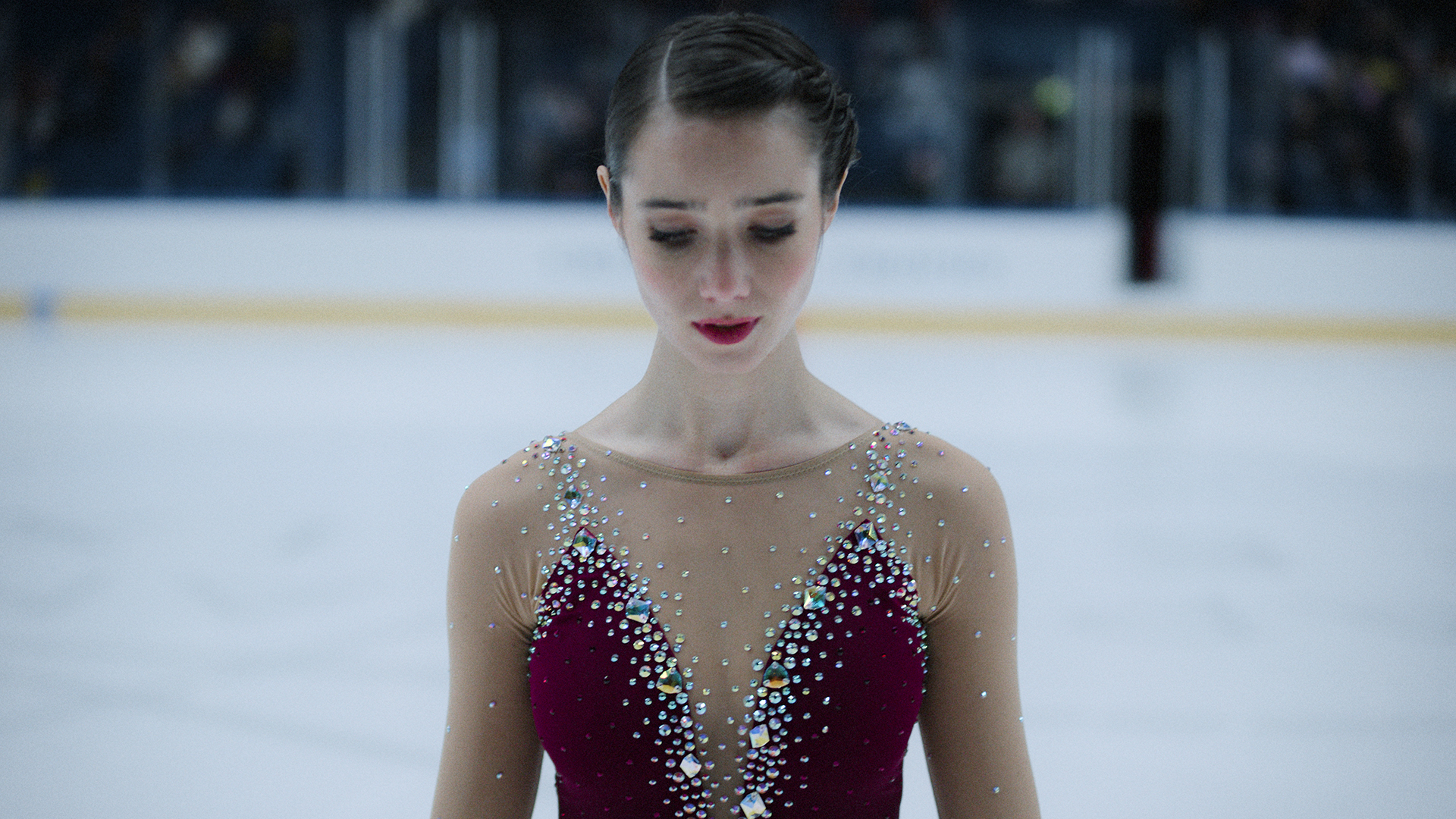 The film isn't an immediately obvious outlier in the queer-romance canon. There is no longer a shortage of LGBTQ+ coming-of-agers, however the subgenre is often tied to coming-out journeys. In recent years, we have seen films about open queer youth from every corner of the world, including the UK (Sweetheart [2021]), Australia (My First Summer [2020]), Kenya (Rafiki [2019]) and Argentina (One in a Thousand [2020]). Girls Girls Girls arrives on the heels of these movies, and yet it updates their genre tropes. This is clearest in its nuanced portrayal of lesbian relationships, which, in lesser films, are unrealistic and notoriously constructed for the male gaze.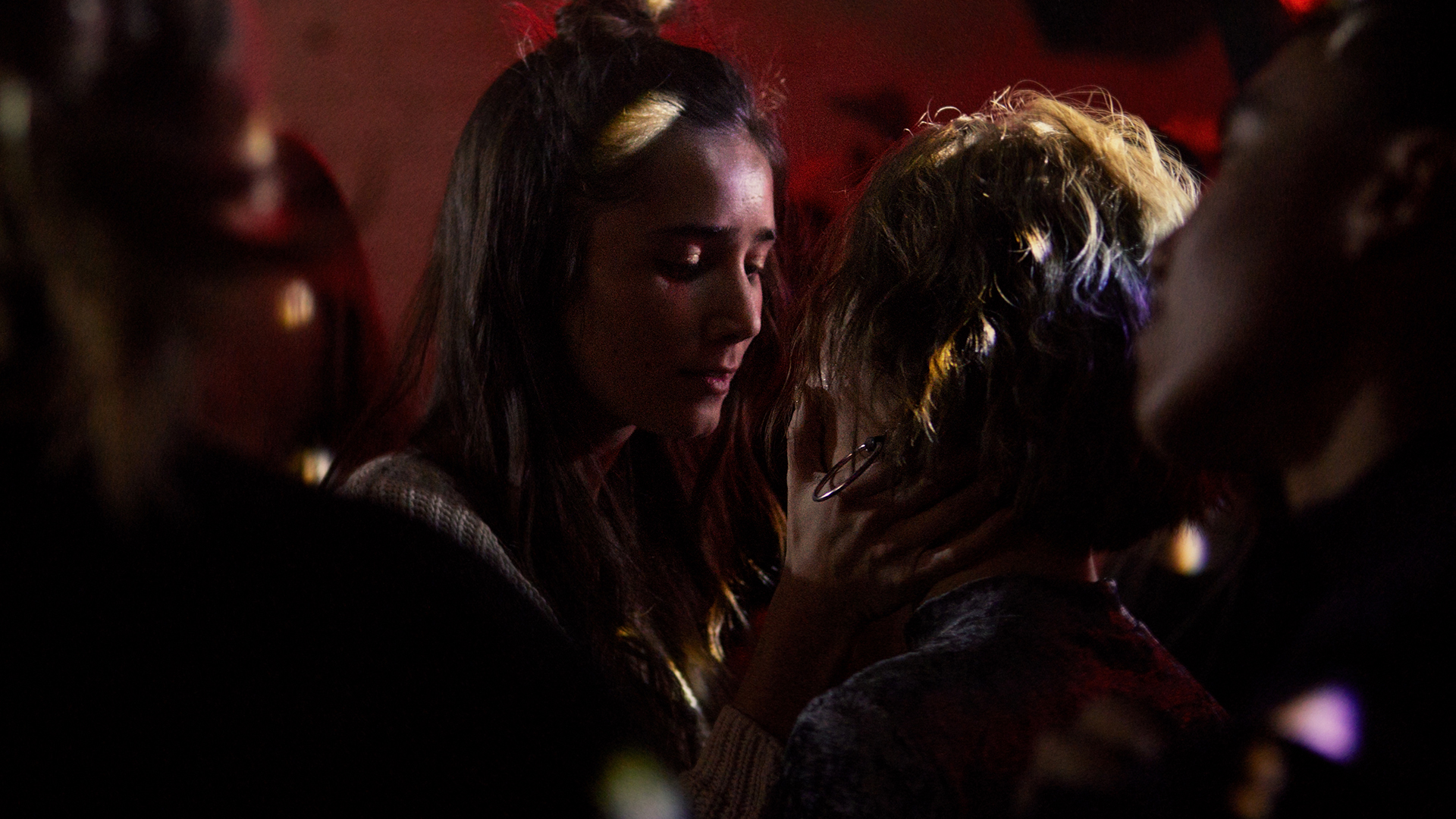 With its similar focus on young women graduating into adulthood, Girls Girls Girls has garnered favourable comparisons to Olivia Wilde's Booksmart (2019). Indeed, both deliver unabashed queer representation, though they diverge in terms of their lesbian relationships. In Girls Girls Girls, Perfume Genius' track 'Slip Away' plays as we hard cut from a party sequence, where the couple dance like attracting magnets, to Emma's moans as Mimmi's fingers graze sensuously over her body. 'I love that I can give you pleasure,' Mimmi whispers against the other's skin at this erotic moment as soft sunlight streams in. This is one of a few tastefully done gay sex scenes in Haapasalo's film, where desires are fulfilled and consent is always asked for, and pale skin and gentle smiles become the focus of cinematographer Jarmo Kiuru's squared framing.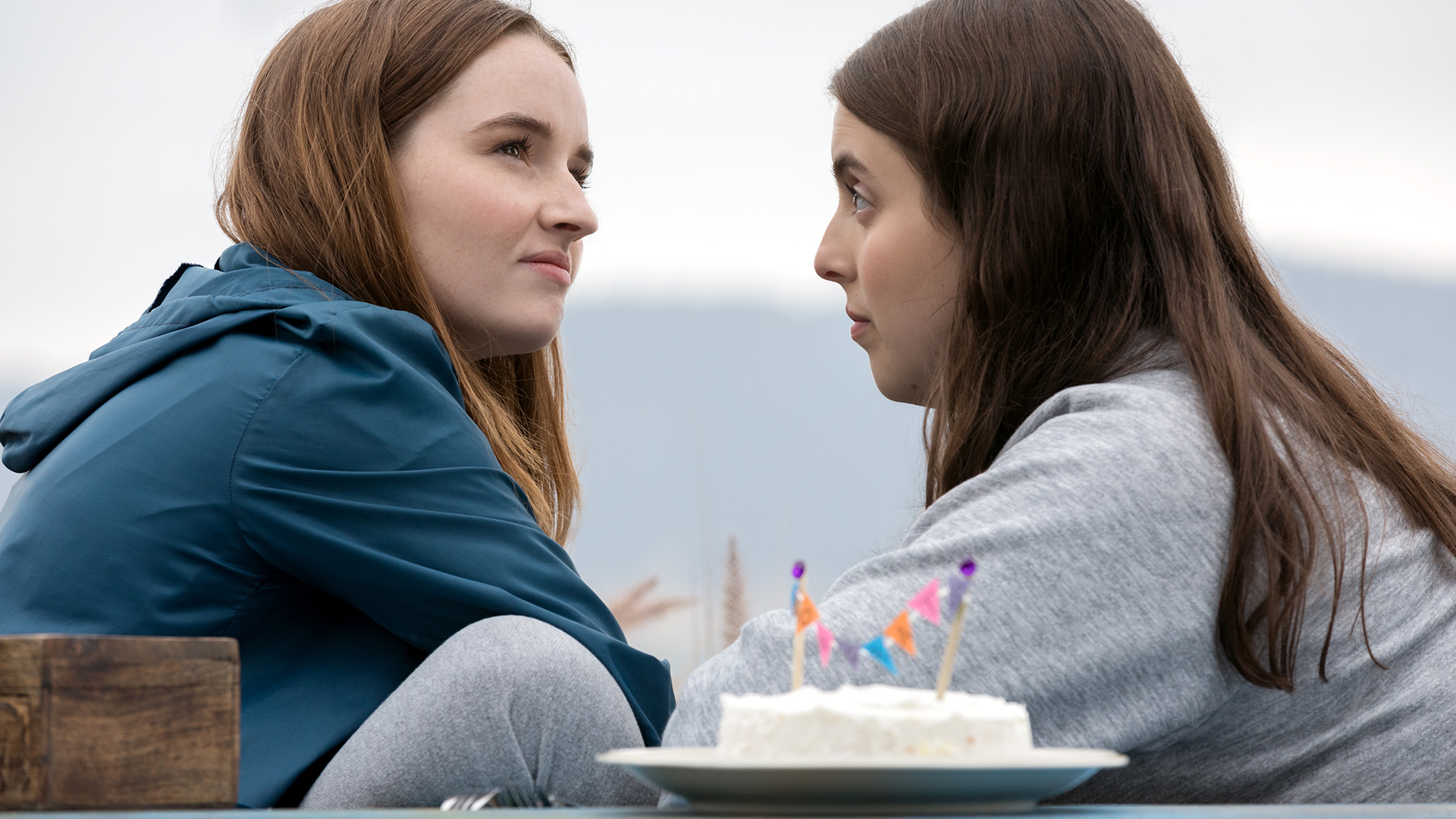 Although 'Slip Away' orchestrates a euphoric moment of succumbing to pleasure in Girls Girls Girls, the same needle drop in Booksmart comes at a moment of crushing disappointment. As the song reaches a crescendo, lesbian teen Amy (Kaitlyn Dever) sees the girl she's fawning over making out with a man. She runs into the bathroom where she collides with Hope (Diana Silvers) – a sharp-tongued mean girl who has cruelly teased Amy up until this point, but is presented as her only chance for sex. Sadly, their tender and vulnerable love scene is interrupted with gross-out comedy. Amy accidentally takes a swig from a cup filled with cigarette butts and pukes all over Hope. Booksmart may welcome its supporting lesbian character with open arms, but it stops short of letting her meaningfully engage with a lover. While the film's protagonist Molly (the incredible Beanie Feldstein) gets her chance at (heterosexual) romance, Amy's desires are reduced to a punchline.
The lesbian sex in Booksmart is used for cheap laughs. Girls Girls Girls, by contrast, offers moments of sincere intimacy in its stripped-back sex scenes, which authentically shoot queer sex with closely held camerawork and unbroken frames. Here, women's bodies are not fetishised in service of audiences' desire. Haapasalo's coming-of-age plot is refreshingly grounded and void of homophobic antagonism; queerness is individualistic in the film and its well drawn characters are identifiable by much more than just their sexuality.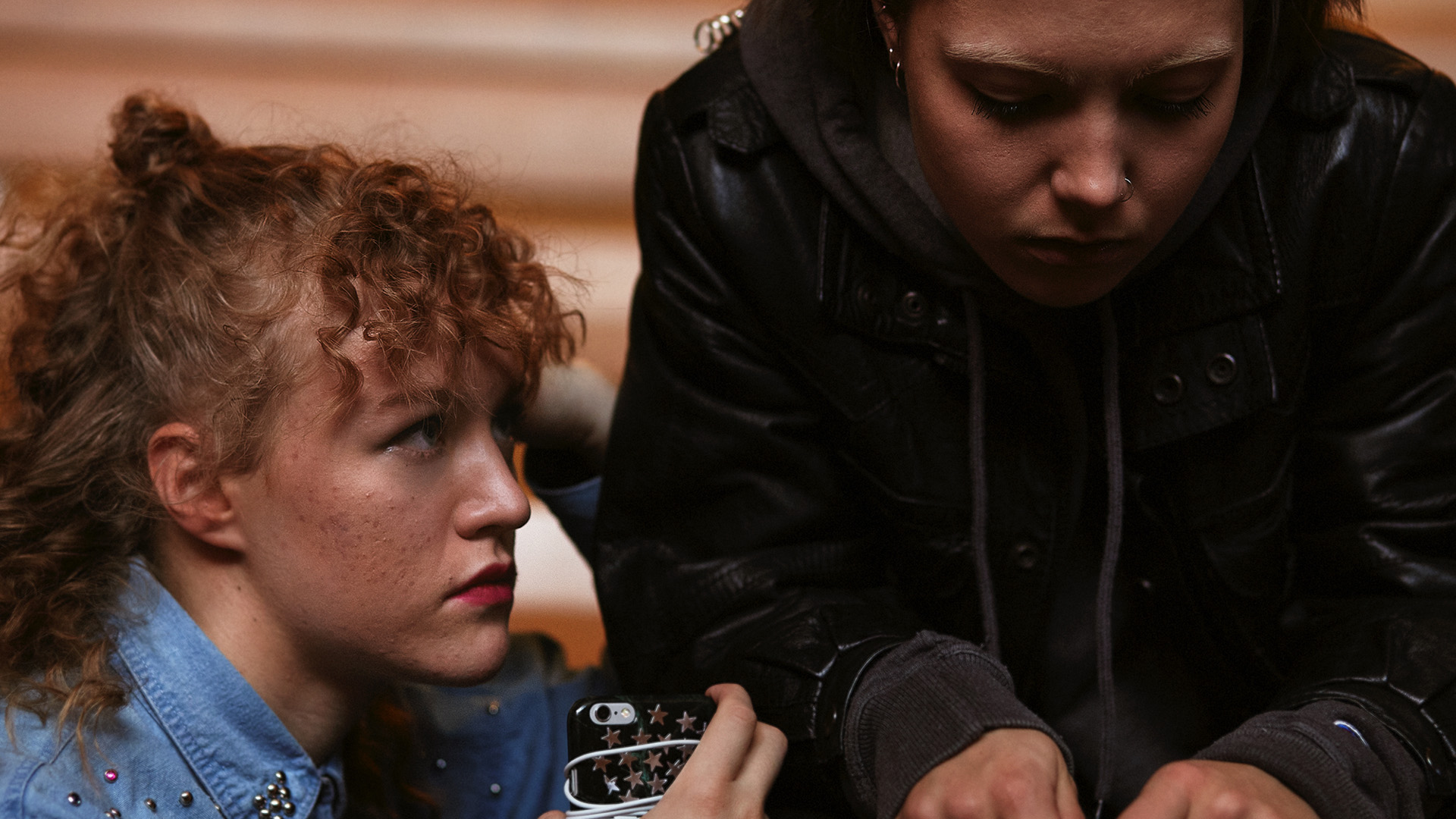 That said, Girls Girls Girls also explores female pleasure and queer-youth dynamics through Rönkkö's search for sexual satisfaction. She craves an all-consuming, deeply romantic connection with someone. As she puts it: 'Wanting to be so close to another person that it's not enough that your skin touches. Wanting to get deeper and, like, swallow the other person.' This visceral wanting is frequently correlated with sex, but not for Rönkkö, who soon realises that she is asexual. As depictions of asexuality remain scarce in cinema, the sincere, non-judgemental way Haapasalo presents Rönkkö's narrative is hugely satisfying.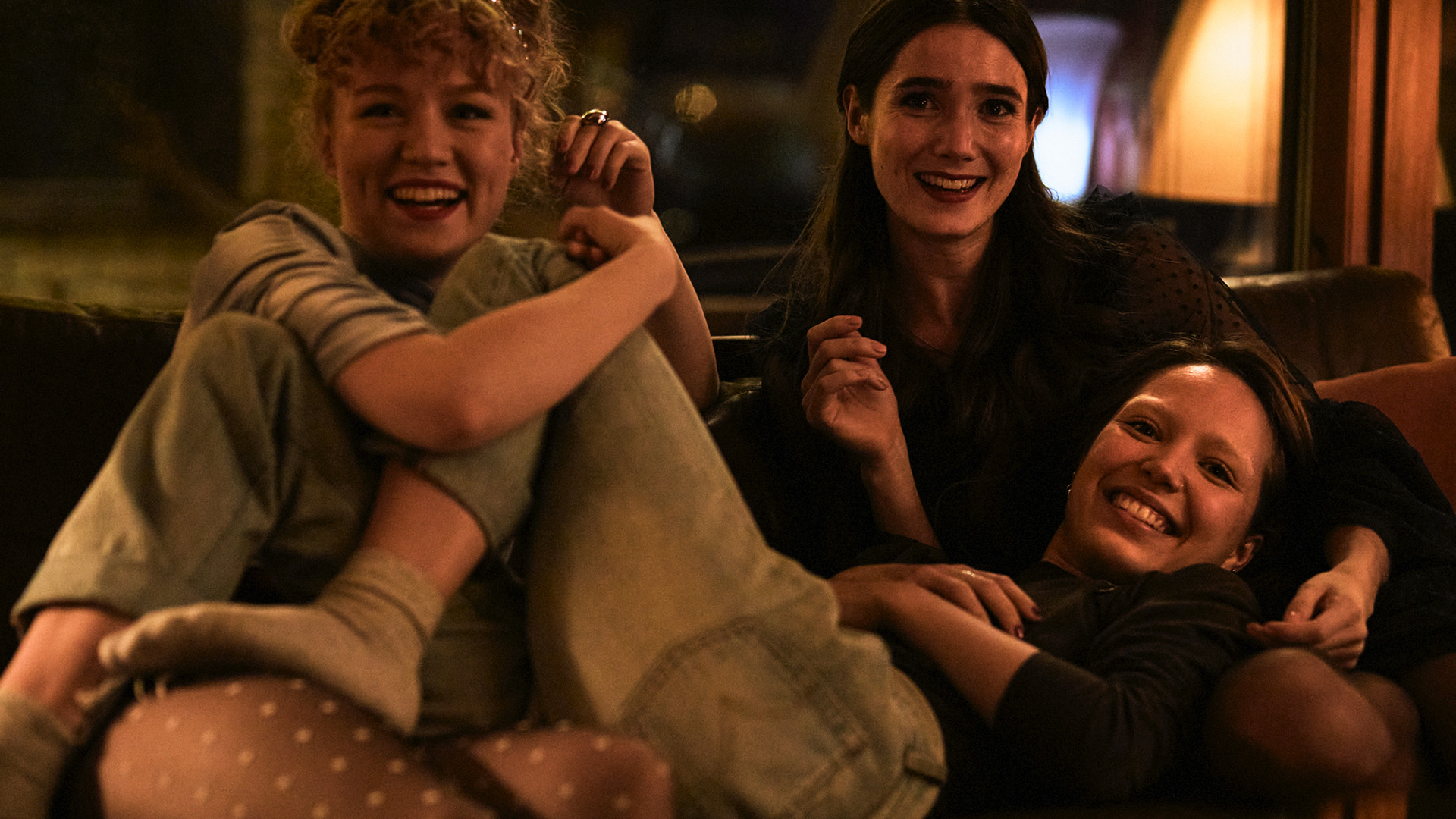 It may be sensitive, low-key and naturalistic, but Girls Girls Girls still paints a portrait of adolescence that feels radical in its progressiveness. The fact its central characters are a lesbian and a virgin goes unremarked upon – there neither jokes at their expense nor exploitative titillation – which is what distinguishes this teen flick from its more conventional predecessors. Crucially, the film does not rely on spectacle to depict queer teen life. With its earnest focus on female desire and honest presentation of lesbian relationships, Girls Girls Girls is a slyly subversive coming-of-age movie.  
WATCH GIRLS GIRLS GIRLS IN CINEMAS