'It's been a whirlwind of work,' says Ludwig Göransson, reflecting on the last five years. It's easy to see why the Swedish composer has been in such high demand. After winning an Academy Award for Black Panther (2018), he produced memorable work on the likes of The Mandalorian (2019-), Tenet (2020) and Turning Red (2022). 
He may have hit yet another career high with his score for Oppenheimer, a dense, bold, violin-led soundscape that is a crucial component of Christopher Nolan's latest opus – a masterful biopic of the titular physicist (played by Cillian Murphy) that traces the invention of the atom bomb. We ask Göransson what it was like reteaming with the writer-director after Tenet, the stomping sound in his latest score and much more.

Amon Warmann: As a composer, are you able to tell when your music is really landing with audiences? I clearly remember watching Avengers: Infinity War (2018), two months after Black Panther came out, and the crowd was getting excited about the transition to Wakanda ahead of time because they teed it up with your score. 
LUDWIG GÖRANSSON: I heard when they screen-tested that scene with that theme people started applauding. There was some dialogue afterwards that audiences couldn't hear because of the applauding and cheering. They actually changed the cut and allowed more time for the music to play out. I never heard of anything like that before, and it was obviously very gratifying to hear people immediately react to the character's sound. That was a special moment. 
Did you keep in touch with Nolan after your collaboration on Tenet? How did he pitch you Oppenheimer? 
Yes, we talked about music and film, but he never gives any hints on what he's doing next. So the phone call comes out of the blue. It's like: 'Do you want to read the script for my new movie tomorrow?'
Why do you prefer writing to scripts rather than writing to picture? 
For me, when you're writing for a script, you have that picture in your mind. What comes out is more of a complete musical idea, rather than seeing something on the screen, and then trying to follow it and channel what's there. I obviously do that too when the time comes, because it's very important that you're also following what's happening. But, for me, it's very rewarding to turn the screen off and just sit there with an idea. It can be the script, it can be a conversation with the filmmaker, it can be something you talked about during lunch. You want to get that emotion, that feeling out with no limitations. It can be a four-minute piece that has a beginning and an end, rather than sitting and writing music for a scene that's one minute and 47 seconds long. It feels more like a real piece of music than just something that was created for something else.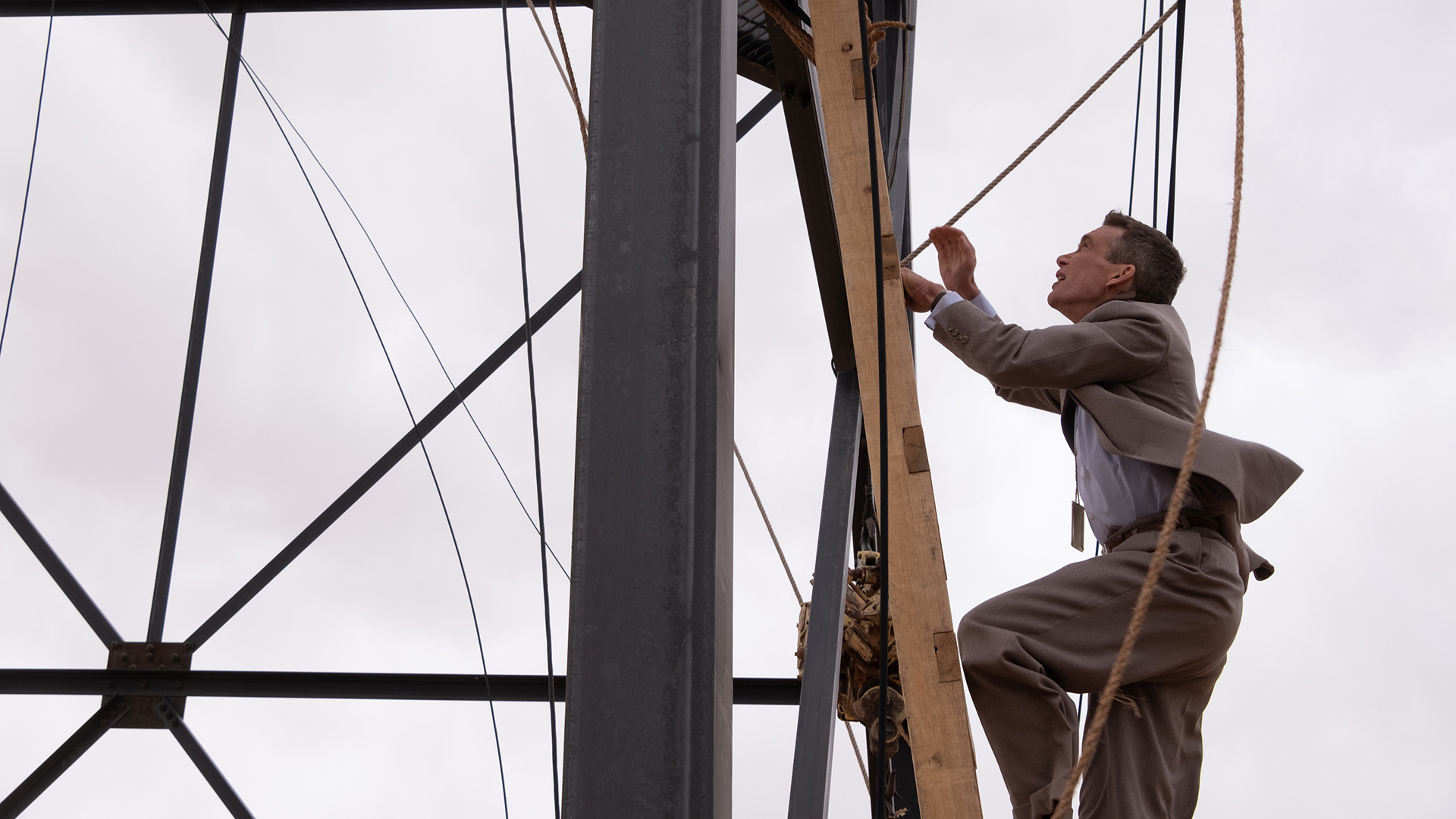 Your go-to instrument is typically the guitar, but Nolan gave you the note to work the violin into your score.
He wanted that to be the main instrument to channel Oppenheimer's emotional state. My wife [Serena McKinney] is a violinist, so spending time together, experimenting with that instrument and creating a unique sound world for the film was the first journey on Oppenheimer.
I wanted to find the core of the emotional aspect of Oppenheimer. I knew that the only way to do that would be to write the melodies and have everything be organic with the violin, the piano and the strings. So, in the first couple of months, everything I did was in a very classical setting. I knew that incorporating synths and other modern production would be easy as long as you have this emotional core first, before infusing it with the sound that makes it more unique. 
When we do bring in the synths, it's to symbolise the impending doom. Another thing about this score is that there's no percussion. There are no drums. That's something I didn't even think about when I was writing the music. It was only after I finished the movie that I realised it.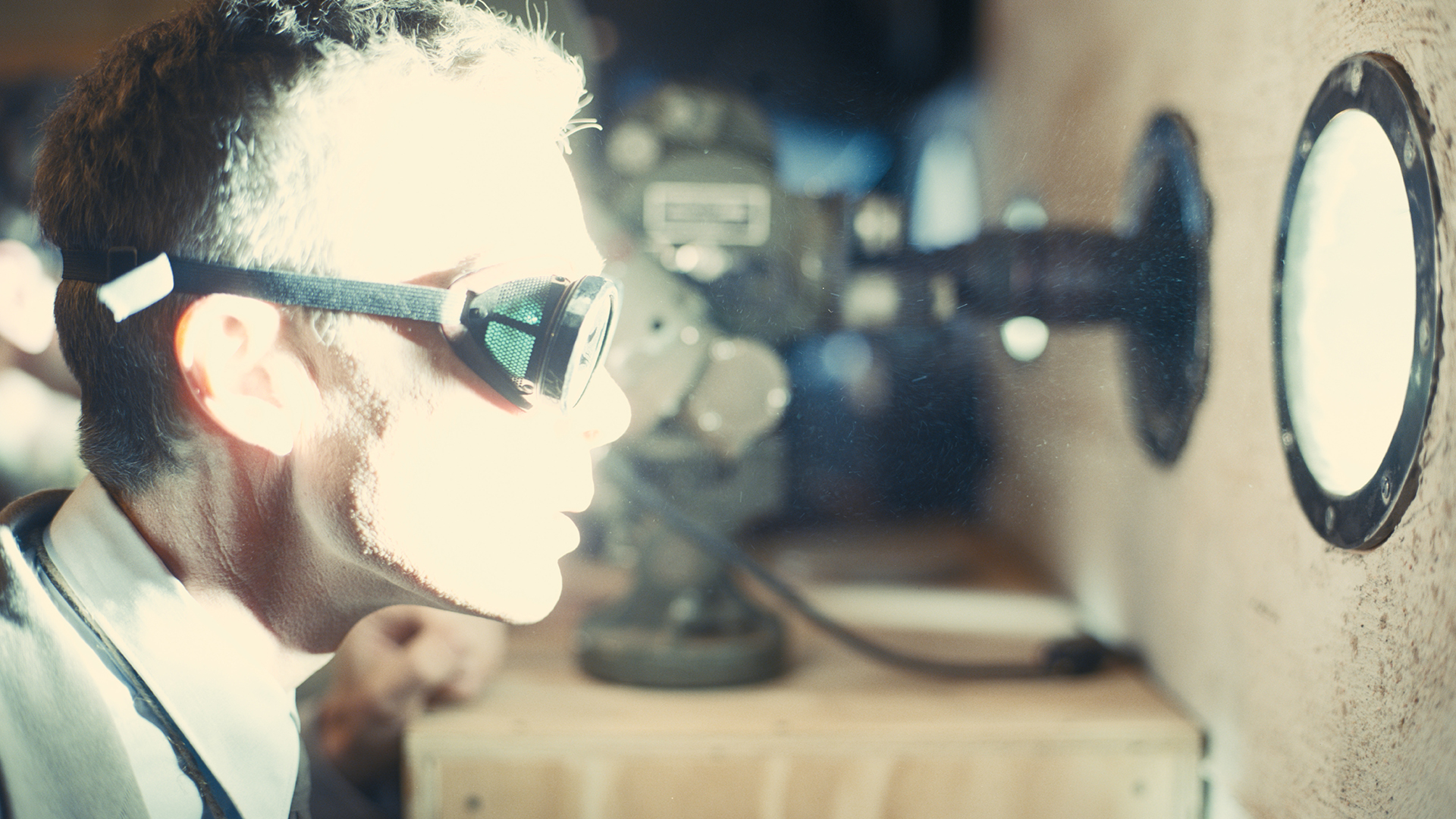 You mentioned your wife. Her violin solo early on in the film is incredible. 
One of the first things that Chris showed me after reading the script was some of the visual-graphics tests that he and [visual effects supervisor] Andrew Jackson were working on. He invited me to watch 20 minutes of footage at the IMAX theatre in Universal City. It was all analogue, there was no CGI. There were atoms swirling around, and fluorescent lights hitting you from all parts of the screen. It had such a visceral impact on me. I thought that's how I want the music to feel like. It's called 'Can You Hear The Music' on the soundtrack, which is also the Kenneth Branagh line right before the music hits.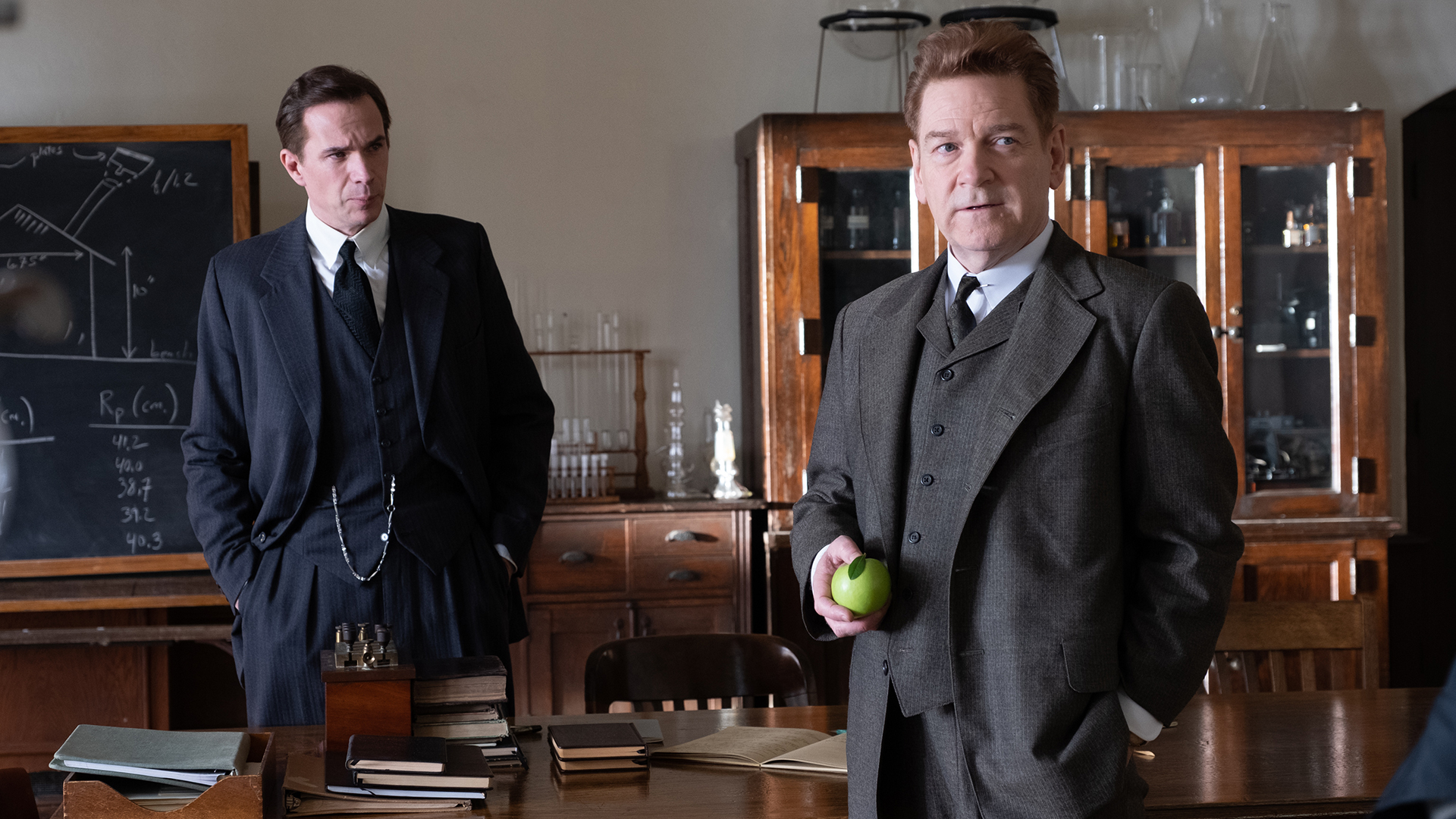 There's a violin line that consists of a Hexatronic scale, which is six notes. When it goes down, it goes faster. When it goes up again, it goes slower. When it goes down, it goes even faster. So it's an arpeggio, up and down. It has a total of 21 tempo changes. The piece ends three times faster than when it started. 
When it came time to record that with a live string orchestra, I thought that was going to be impossible for them to perform. So first we recorded it in sections. We did four bars, we stopped, we did four more bars, and I just taped it together. It sounded cool, but also not real. Serena has been playing with that group for 20 years, and she knows how incredible they are. She was like, 'What if you try to do this in one take, and you just give them a new tempo in their ears before the tempo changes?' When I heard it for the first time, it breathed new life into that piece. Then, obviously, there's a bunch of production in it too, with synths playing in different metric modulations under it. Altogether, I felt like that visual that I'd seen in the beginning came to life.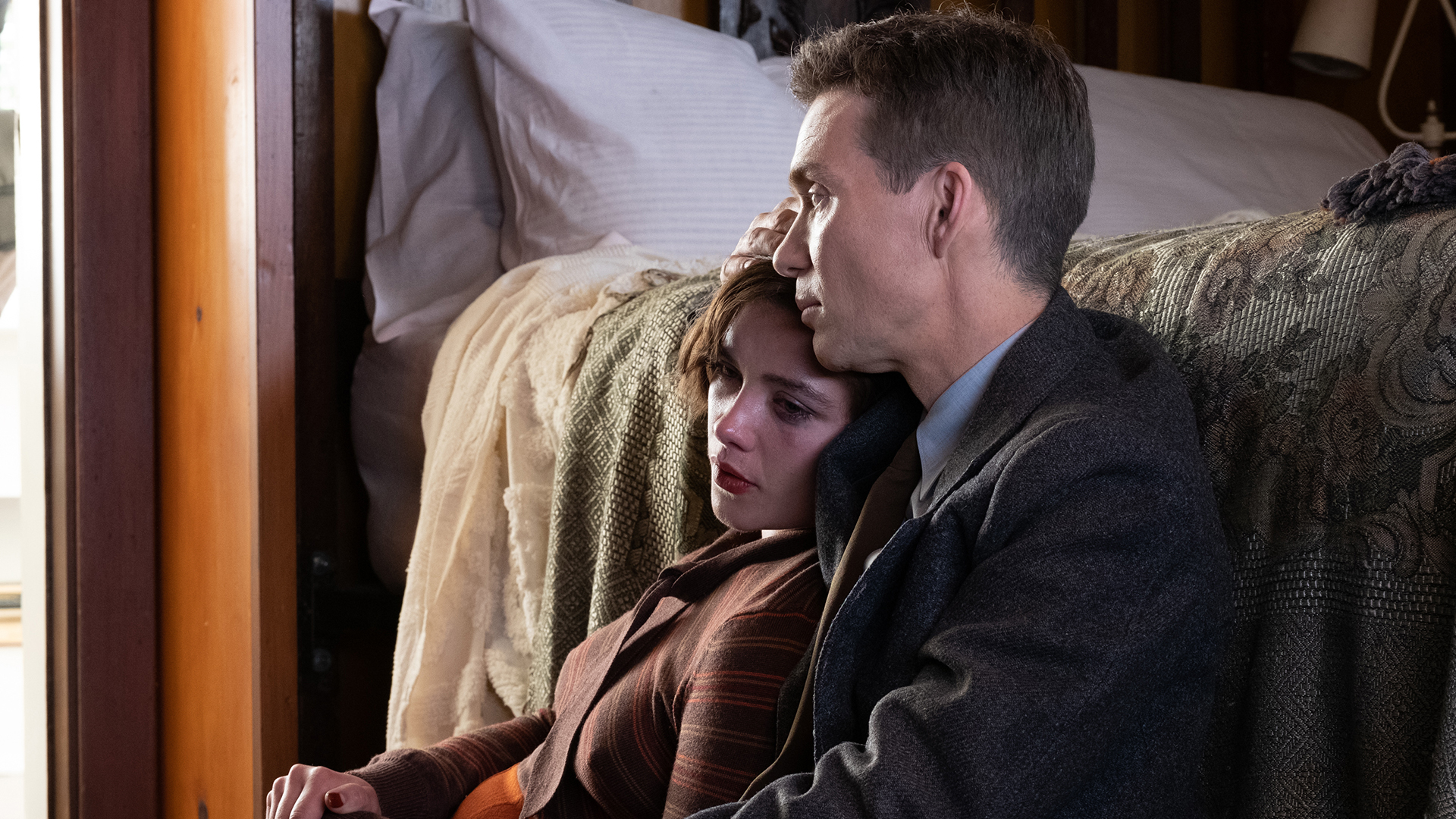 When Oppenheimer gets mentally overwhelmed, there's a stomping sound that grows louder. Where did that idea originate from?
The stomping sound was always there, it might have even been the script. I heard the sound of stomping in the first cut. That had such a visceral impact on me. And it may be what led me to not really have any percussion or heavy booms in the score. They would've lessened the impact of the stomping, and the actual bomb. A lot of those sounds – the stomping, the silence – are already in Chris' mind when he's writing the story.
One of the recurring ideas in Oppenheimer is that theory can only take you so far. You need to test it. Was there anything, when crafting the score, that you were sure would work, but then had to amend when it turned out it didn't?
Chris recorded the stomping on set, and he gave me that file very early. We were talking about incorporating that into the music. When I tried to do that, it worked but you just lost a little of that feeling of reality. In the end, it was better to just leave it as it was.
Was there any particular theme or scene that proved difficult to crack?
The last piece of the puzzle was the music that's playing right after Oppenheimer gives his speech following the dropping of the first bomb on Hiroshima. That's one of my favourite parts of the movie. His whole sense of reality has completely changed. Chris and I were working on that scene, and that music, for nine months. It wasn't until three days before finishing the movie that we had a eureka moment and figured out how to put music to his emotions.
What does it look like when Nolan is vibing with your music? Have you got better at reading him?
I've definitely got better at reading him. A lot of times when I'm writing something, he's pretty quick about his feelings. He knows himself and what he wants. So in the blink of an eye, he could say 'this is perfect', 'this is interesting' or 'let's work on this'. When we start writing music with just the scripts, he's open to anything. 
But then it becomes another thing when I'm actually writing for the picture. There might be a piece of music that I've already done, that's played in a scene 20 times and he says works. Then I might say, 'Let's try something else here now.' He might be a little bit hesitant in the beginning, because it already works, but he's always open to see.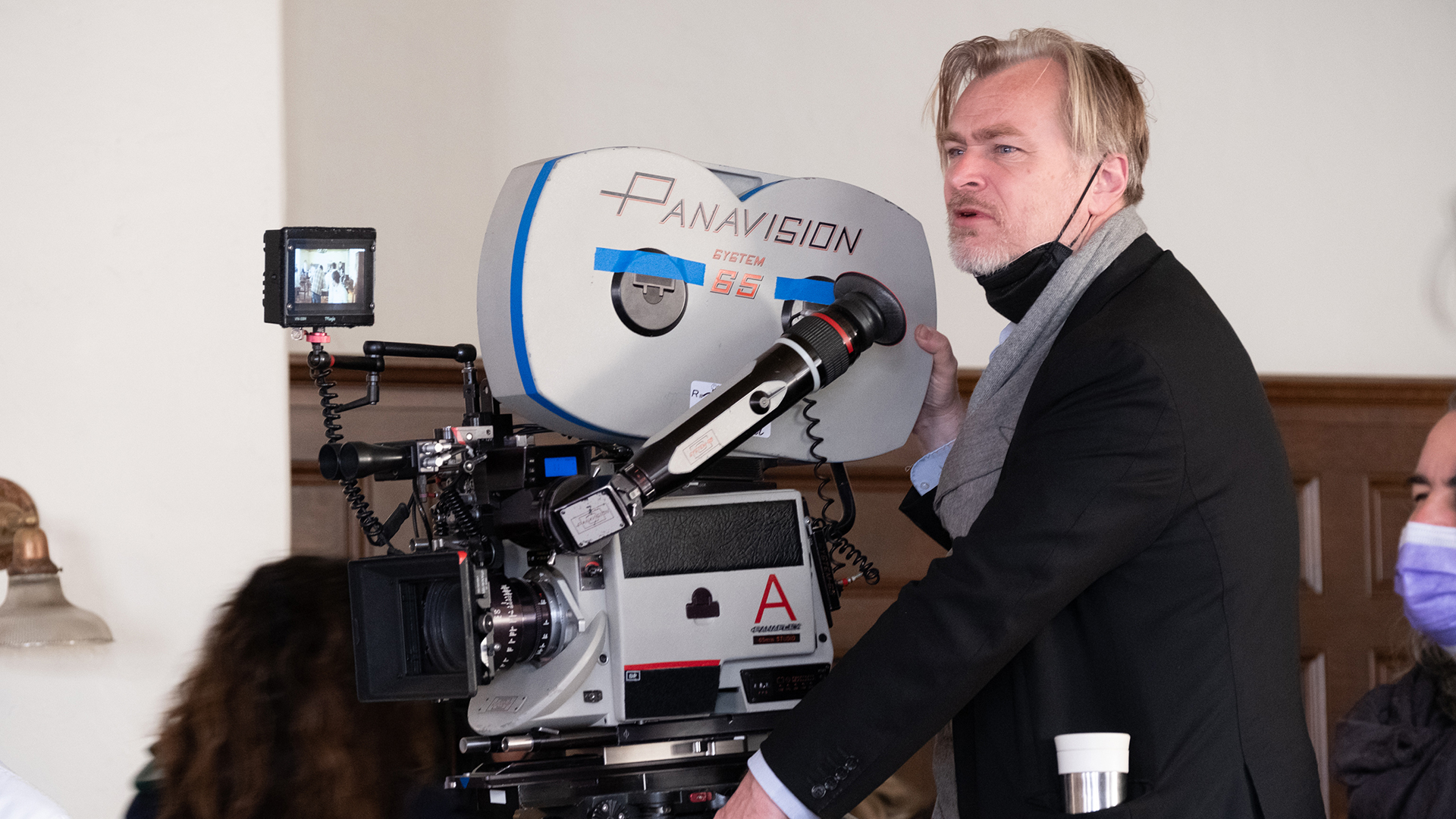 On Tenet, you said that there were three stages – conversations with Chris before shooting, conversations with Chris as he's shooting and then the edit bay. On Oppenheimer, how similar or different was your score at stage one to the final cut?
It was very different. On the first iteration of the score, which is just music written to a script, we have the skeleton of a whole. It's a half-made human, but you have the DNA there. The third part of the process is building the arms, the legs, the head… everything's being put together. I had Oppenheimer's theme in the first iteration, but I didn't have [Oppenheimer's wife] Kitty's theme or [chairman of the Atomic Energy Commission] Lewis Strauss' theme. A lot of the big important parts fall in place after seeing it for the first time.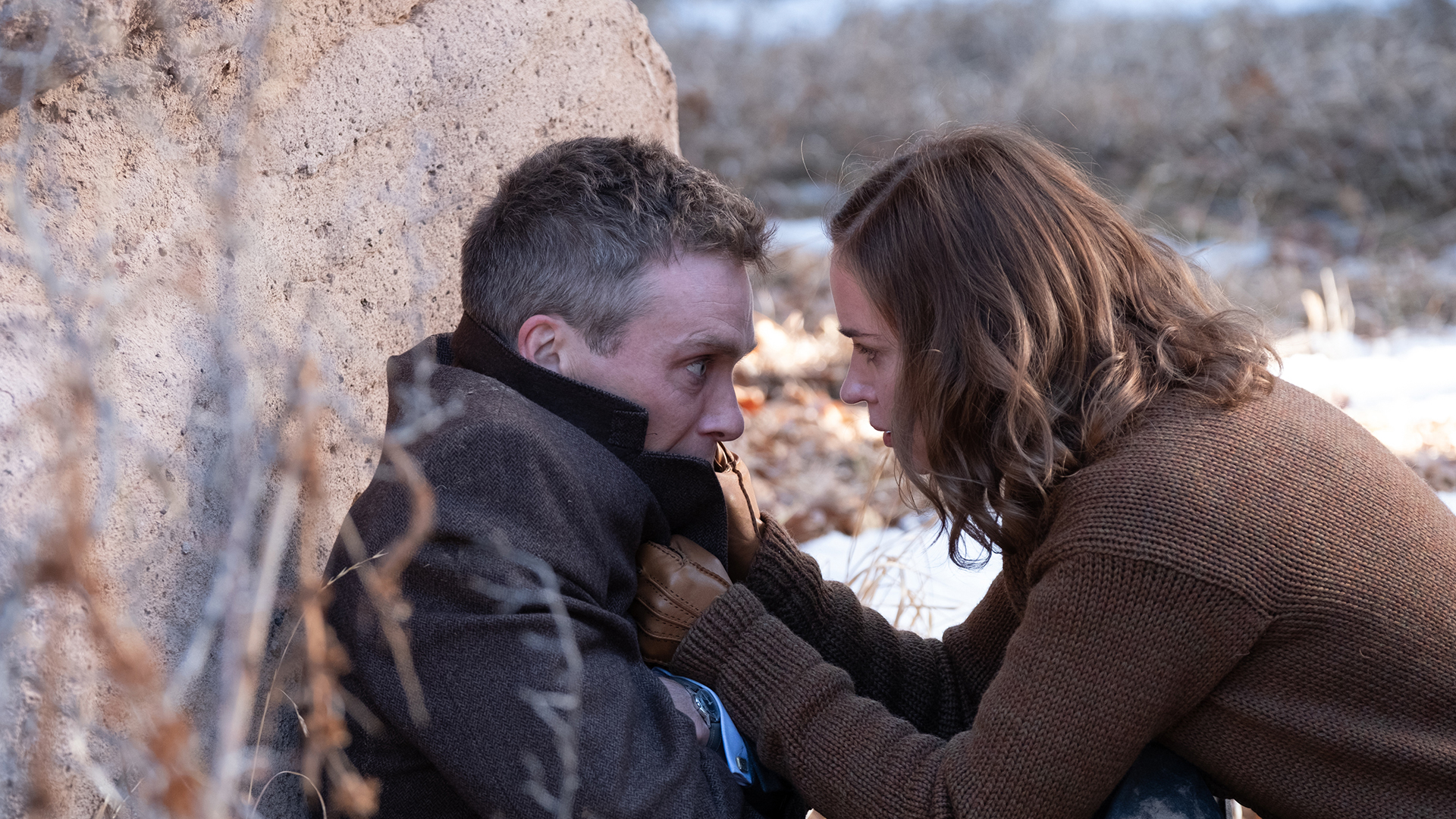 You mentioned Kitty's theme, which is piano-led. What went into crafting that?
I actually wrote that theme to picture. It's such a special bond the couple have. I had to tackle that theme through scoring the last scene with her, which is when she testifies. It's such a powerful, important scene, and if I can find the right feeling, energy and tone for it, I know it's going to work for the other Kitty scenes. That's when you feel like you really know her. Before, there's a little bit of doubt as to whether she should testify. But then when she does it, she's the boss. She's smarter than everyone in the room. That's what her music needed to be. When I found that, I put it in all the other places when she and Oppenheimer were together.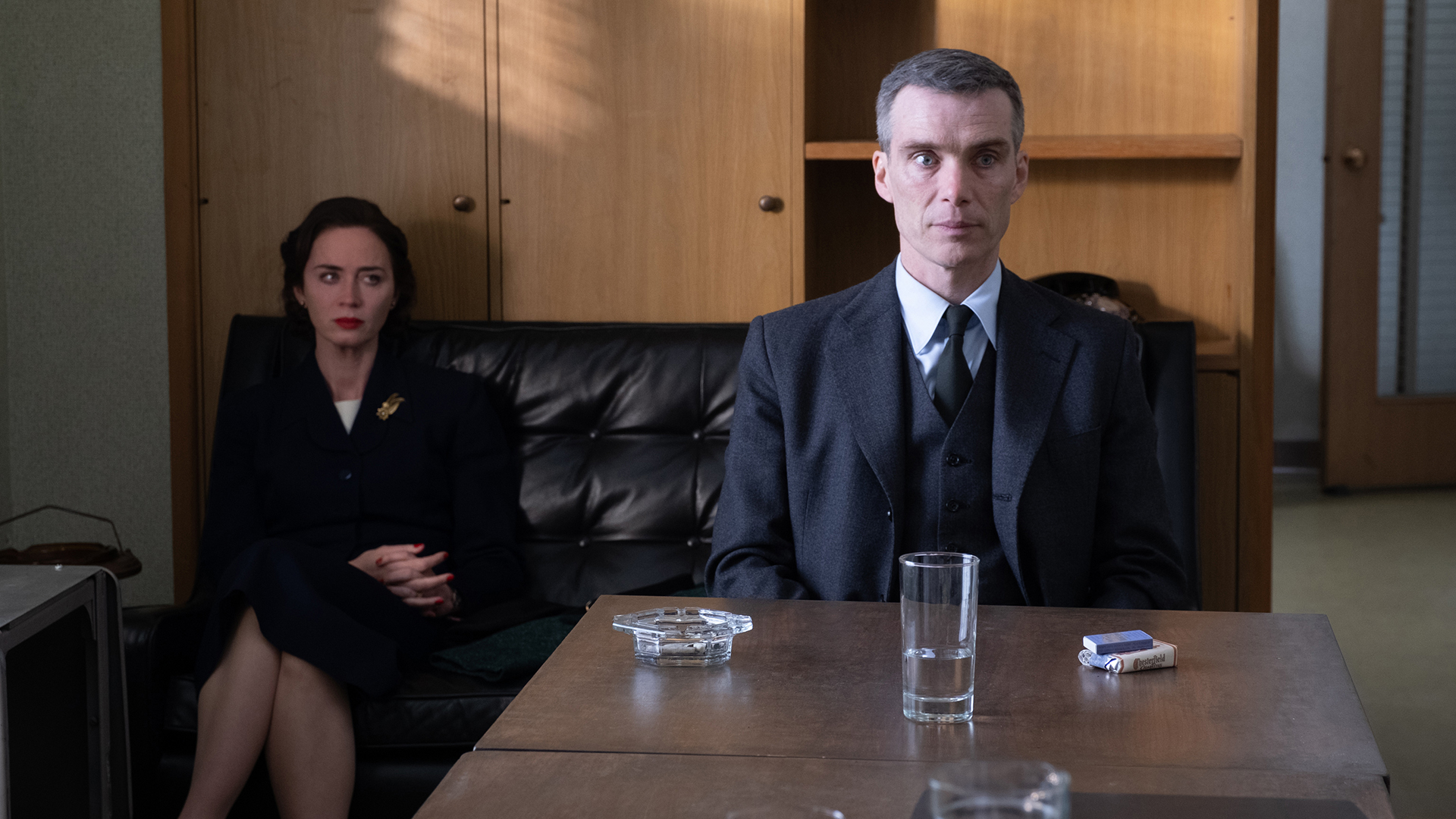 How did Lewis Strauss' theme evolve?
He has a harp. The sound changes slightly as you go into his perspective. When he meets up with Oppenheimer at the beginning for the first time, the score has a romantic, lush tone to it. Like it's gonna be a nice friendship. It's not until the end when you have that turn. The harp symbolises the mystery of his character, and his real intentions.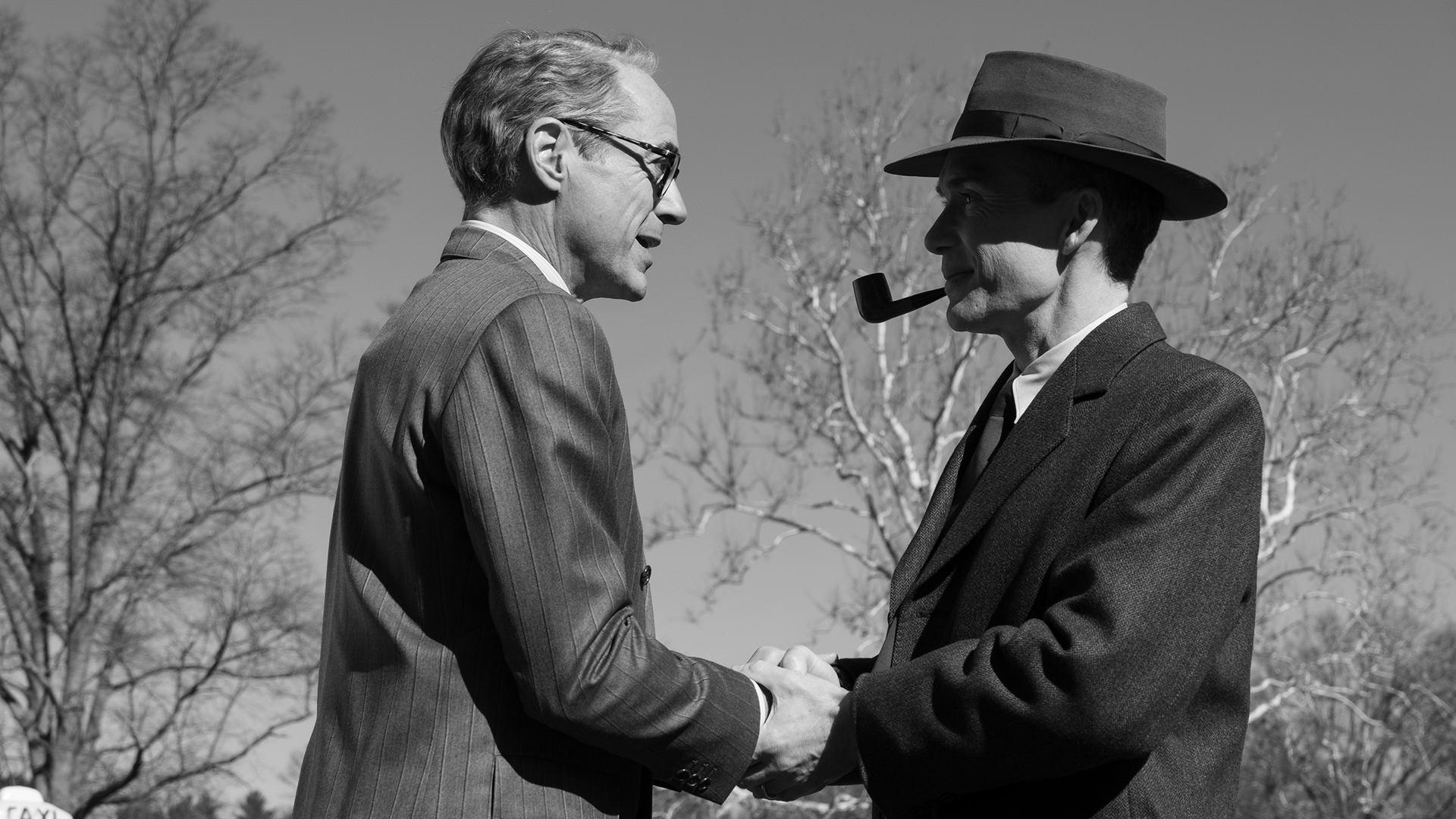 You've worked with Donald Glover previously, and I feel like that musical background is in part what inspired Killmonger's theme in Black Panther. Is there anything that you learned doing this film that you feel like you might integrate in other projects going forward?
You're right about that. Everything goes hand in hand with each other, but I'm also still adding to my toolbox. With this one, there's that piece of music we talked about earlier. It unlocked a different way of thinking about tempo and time that I haven't experienced before. There's something really interesting about how it makes you feel. After a moment, you don't even realise that it goes faster and faster. It just becomes an emotion. That was really interesting. So that will definitely become part of what I do and we'll see where I can take those kinds of ideas. 
It's such a dense score, but at some points it's also very simple. And that's part of the filmmaking – how to understand where you can bring in more, when to take back and how effective it is. When you're in it, there's so much you're thinking about all the time, so you don't really realise it and understand it until you watch the movie five months later. And you can really take it all in and you can add that to your whole experience. So as a creator, I've learned a lot and I'm going to bring it with me.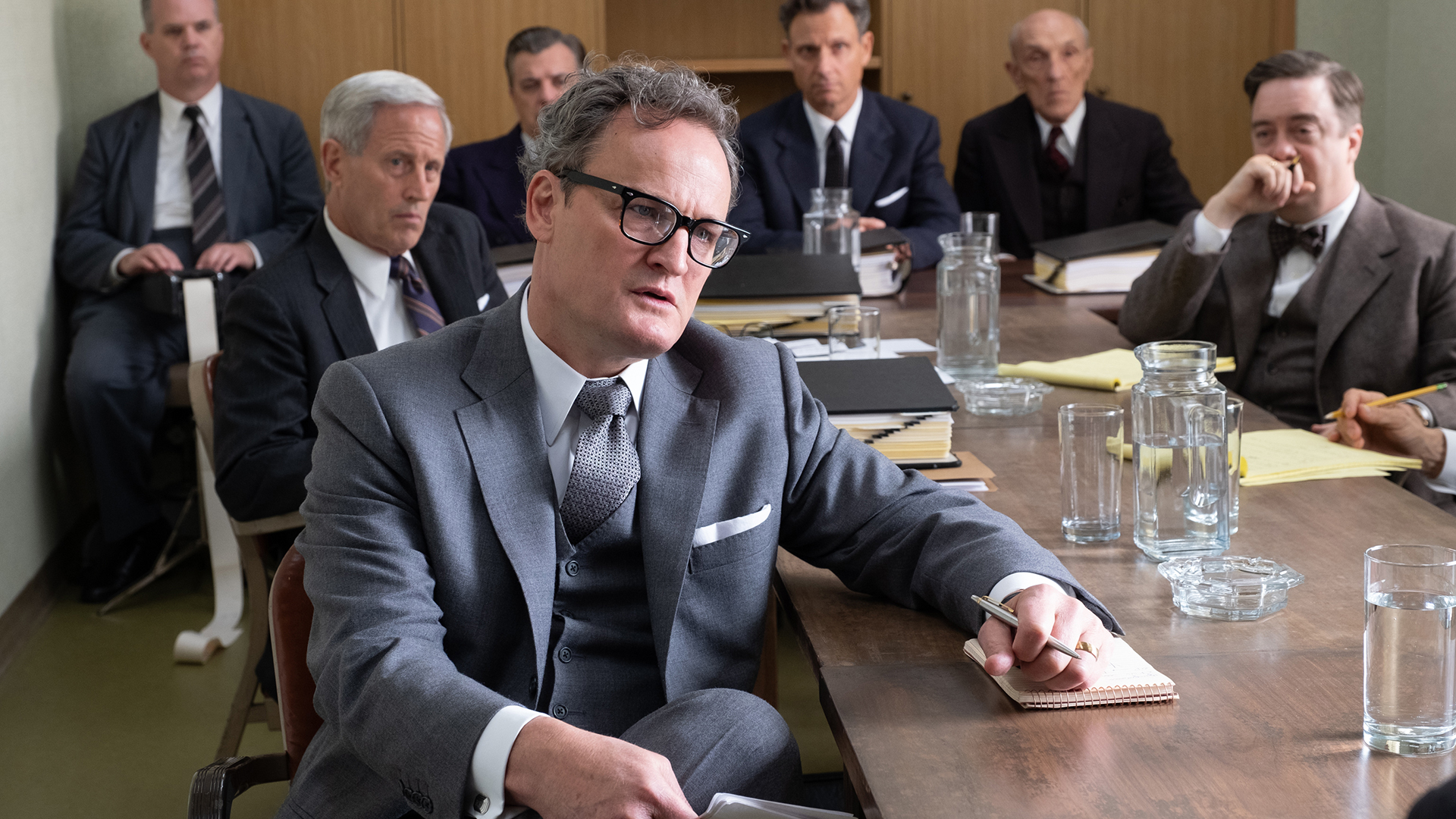 Do you ever go back to an original voice note, notation or notepad to see how it all began? If so, is that something that inspires you?
Yeah, I have. I've been in Sweden over the summer, and I visited my parents' house where I grew up. I went through the basement with my mom, looking for toys for my kids. I found this high-school report about a piece I wrote for an orchestra called 'Five minutes to Christmas'. It was the first piece of music I ever wrote for a symphonic orchestra. I had to comment on how this piece came together. I took that document, and it's with me now. But I still haven't opened it up. I started reading a sentence and I was like, 'I can't do this right now.' I'm excited about it, but it was a little scary. I know how much I've changed. But did I change too much or too little? I won't know what the right answer is until I read this paper.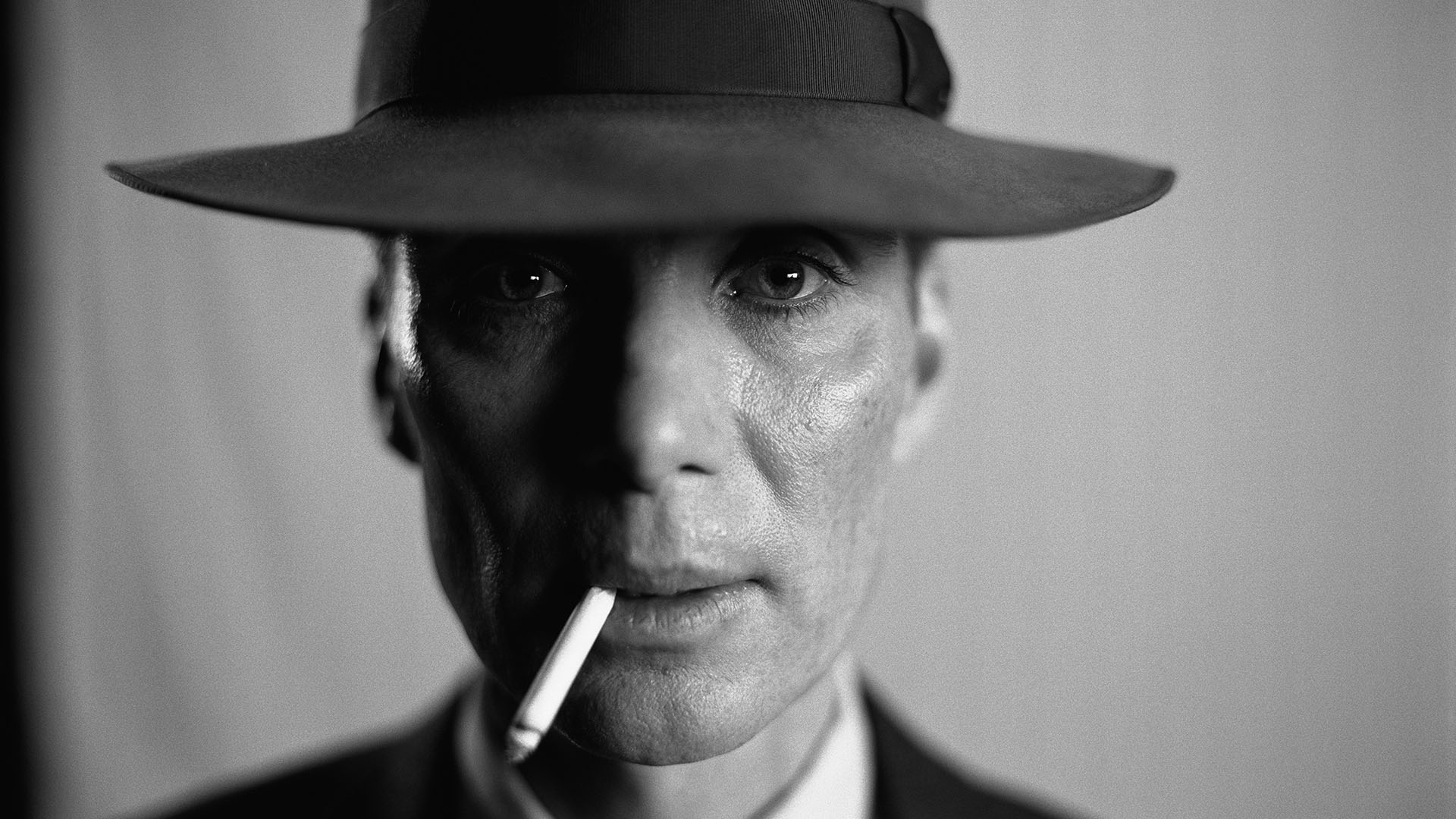 After Tenet, you said you were going to write music for yourself and finish a solo album. Will that ever be released, or is that purely for you?
It's gonna be released. I started it in 2016, got 50% done, then I started Black Panther. That took some time, then Tenet came along. After Tenet I worked a little bit more on my album and then something else came up. I'm going to focus on the album now.
How have you stayed hungry? And has what drives you to be great evolved over the years?
I think it's definitely stayed the same. I'm always evolving, hopefully. And I think I'm evolving through the work that I do. I'm fortunate enough to work with collaborators who have the same kind of feeling in terms of always trying to do something new and challenging that's also rewarding. With the last five years of work that I've done, I feel like I'm getting something back out of it. I like to do projects where I can just fully commit to something and go 200% into a film so I can breathe it and live it. I feel like I'm coming out on the other side as a new person, both musically and personally. I'm also trying to approach every project in a completely different way. It's been a pretty intense, crazy ride.
WATCH OPPENHEIMER IN CINEMAS