Leila Latif speaks to the Oscar-winning visual effects supervisor about his work on Denis Villeneuve's sci-fi epic.

Frank Herbert's novel Dune was long considered an unfilmable book, even more so after several adaptations failed to live up to their potential. Alejandro Jodorowsky's 2013 film had the plug pulled midway through, David Lynch disowned his 1984 version and the less said about the schlocky 2000s miniseries the better. But when Denis Villeneuve took on the sacred sci-fi text, he was able to create a film with the artistry and scope befitting its lauded source material. Part of the reason he was able to do so was, of course, today's cutting-edge technology, but even the highest budget blockbusters can end up with cartoony weightless set pieces playing out on sludgy backgrounds. Thankfully, Villeneuve entrusted Dune's visual aesthetics to Paul Lambert, acclaimed special effects artist and one of the rare people to have won back-to-back Oscars for his work on dystopian nightmare sequel Blade Runner 2049 (2017) and moon-landing epic First Man (2018).
Blade Runner 2049 was another Villeneuve film, and Lambert's previous experience working with the director made him confident that Dune would be in safe hands. "I'd had a great time working with Denis on Blade Runner 2049. So, when I received the script for Dune and he asked me if I wanted to be a part of it I thought, 'Oh my God. Of course I do.'" Even with the giant scale and the previous misfires, Lambert was confident they could pull it off. "I knew how problematic Dune had been in its previous journey to the big screen, but I also knew that if anybody could do this, a visionary director like Denis Villeneuve could. I knew it would be a fantastic experience and that the film would be visually stunning."
What made Dune so distinct is its seamless use of practical and computer-generated effects. Unlike so many huge movies where you can pinpoint the moment where actors and objects become animated, Villeneuve's Dune feels tangible throughout: the palaces, spaceships and sandworms all have scale and texture. "Denis wanted everything to be as grounded and as photoreal as possible. It meant coming up with techniques to make the best of the visual effects. It's very easy to put an actor in a blue box and then figure everything out in post-production and that tends to happen," he explains, graciously refusing to call anyone out specifically. "In many cases, you spend a lot of time trying to make something look believable, with nothing in the frame to help ground you." Lambert sidestepped this pitfall and took advantage of his surroundings, setting the effects against on-location shots from  Jordan, Norway and Abu Dhabi, and making every effort to use "locations as much as possible in order to capture the way the light looked there".
Light is key to Lambert's approach: when we discuss his work, he constantly refers to it. He captured its multifarious forms for Dune, working in the brightest desert sun at noon and the delicate pale greys of Scandinavian twilight. As an added complication, since the landscapes of the planet Arrakis are infamously inhospitable during the day, much of the action had to be nocturnal. In contrast to his peers, Lambert was unwilling to synthesise light: "We would never try to reproduce sunlight or moonlight inside the studio. If a scene was supposed to be outside, we shot it outside."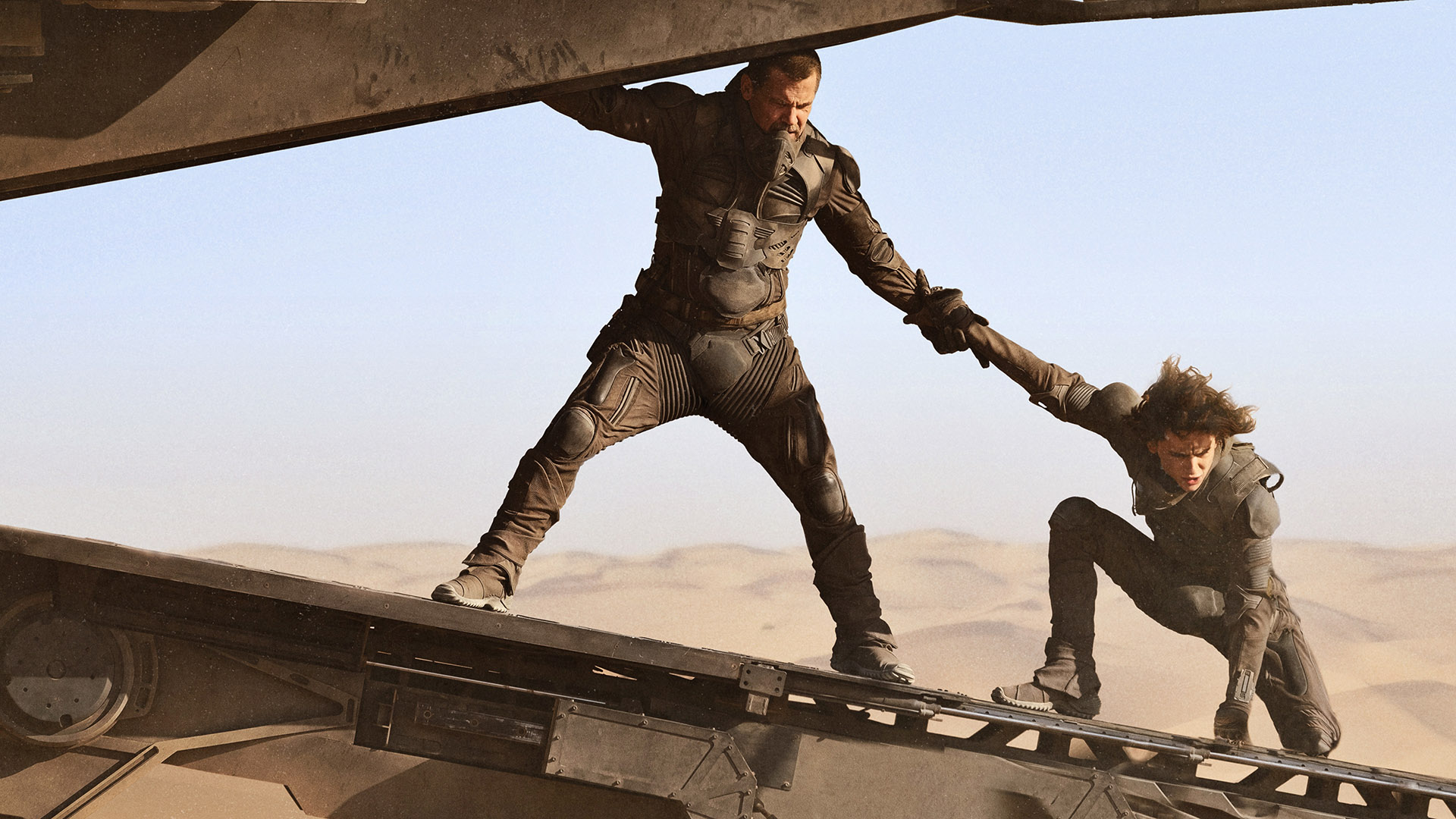 So much of what you see in Dune is rooted in reality, including many of its incredible landscapes. The awe-inspiring vistas of Arrakis, Harkonnen and Caladan are often natural ones that have been extended and enhanced by visual effects. As Lambert explains, "We did recces over the desert before shooting it from a helicopter. We then took all of that beautiful photography and blended the imagery outward, using the texture and correct lighting from the natural landscape. These kinds of techniques enabled us to make the most of the tools we were using."
Lambert's preference for building on footage carried over to the smallest objects, like the tiny but deadly Hunter-seeker that attacks Paul (Timothée Chalamet) while he stands in a hologram bush. "We shot it first with the Hunter-seeker on a stick and then again without it so that we could add the visual effect," Lambert reveals. "The challenge was in having Paul in the hologram. We actually came up with a whole new technique for that. We projected hundreds of slices of light and tracked his movements interactively. When he moved, a different slice would be projected, which made it feel as if he was going through a branch. Those beautiful projections were such an important aspect of the visual effects. If you keep it all virtual and the DOP can't see what's happening, then each person has got a different idea as to what  the final effect would look like."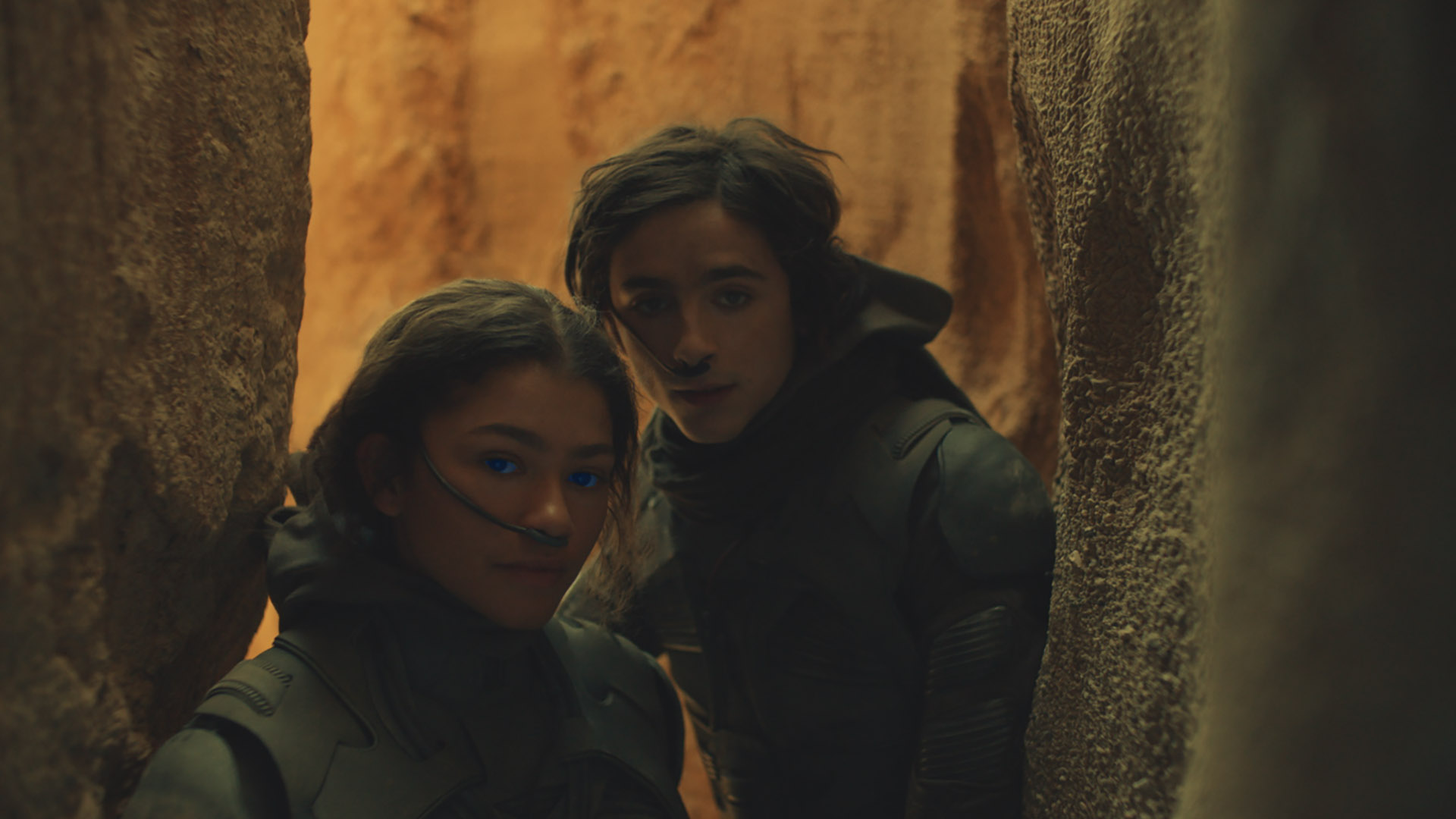 Practical effects do have their limitations, and naturally nobody constructed a kilometre-long sandworm, a vast beast that burrows through the desert, for Dune. The film's long buildup to unveiling the sandworms took inspiration from another classic movie creature. "From the outset, we wanted it to be like Jaws. Denis plays with this suggestion and gives you glimpses of them until finally, there they are," Lambert says. He took pains to ensure that when the sandworms finally appeared that they wouldn't be a disappointment. "There was a lot of effort early on to get the look of them right. There were all these amazing designs, but we also had to think about how to make the worms move and how they could turn. Then there's the texture of the skin, which resembles solid plates with a soft mesh in between, sort of like an accordion."  
Those who know what happens next to Paul Atreides and the Fremen are aware that Dune: Part II brings a whole host of sandworm adventures. Lambert seems confident that he will be able to render it, but admits that it'll be "complex to achieve". Until he's reunited with Villeneuve to work on Dune's next instalment, it's time for Lambert to enjoy the spoils of his labour. Since Dune was as popular with audiences as it was with critics, it's likely to bring this pioneering visual effects supervisor some brand-new additions to his already impressive trophy cabinet.
For more awards-season articles, pick up a free copy of the Awards Journal at your local Curzon while stocks last.