Christos Nikou's follow-up to 2021's Apples is a sharp-edged, gooey-centred sci-fi romance that makes the bold decision to raise more questions than answers, writes Yasmin Omar. 

What is love? Ask the poets, ask the philosophers, ask the scientists, and they'll all give you different answers. Whole industries have sprung up to help us find – and retain – it. When we're not mindlessly scrolling through dating apps or, later, unburdening our problems to relationship counsellors, we're watching strangers debase themselves for love on reality TV or sussing out which of our coupled-up friends are the happiest at dinner parties. All of these messy, deeply human impulses are explored in Christos Nikou's Fingernails, a searching, gently melancholy romantic drama that recognises, when it comes to love, we are often left with more questions than answers.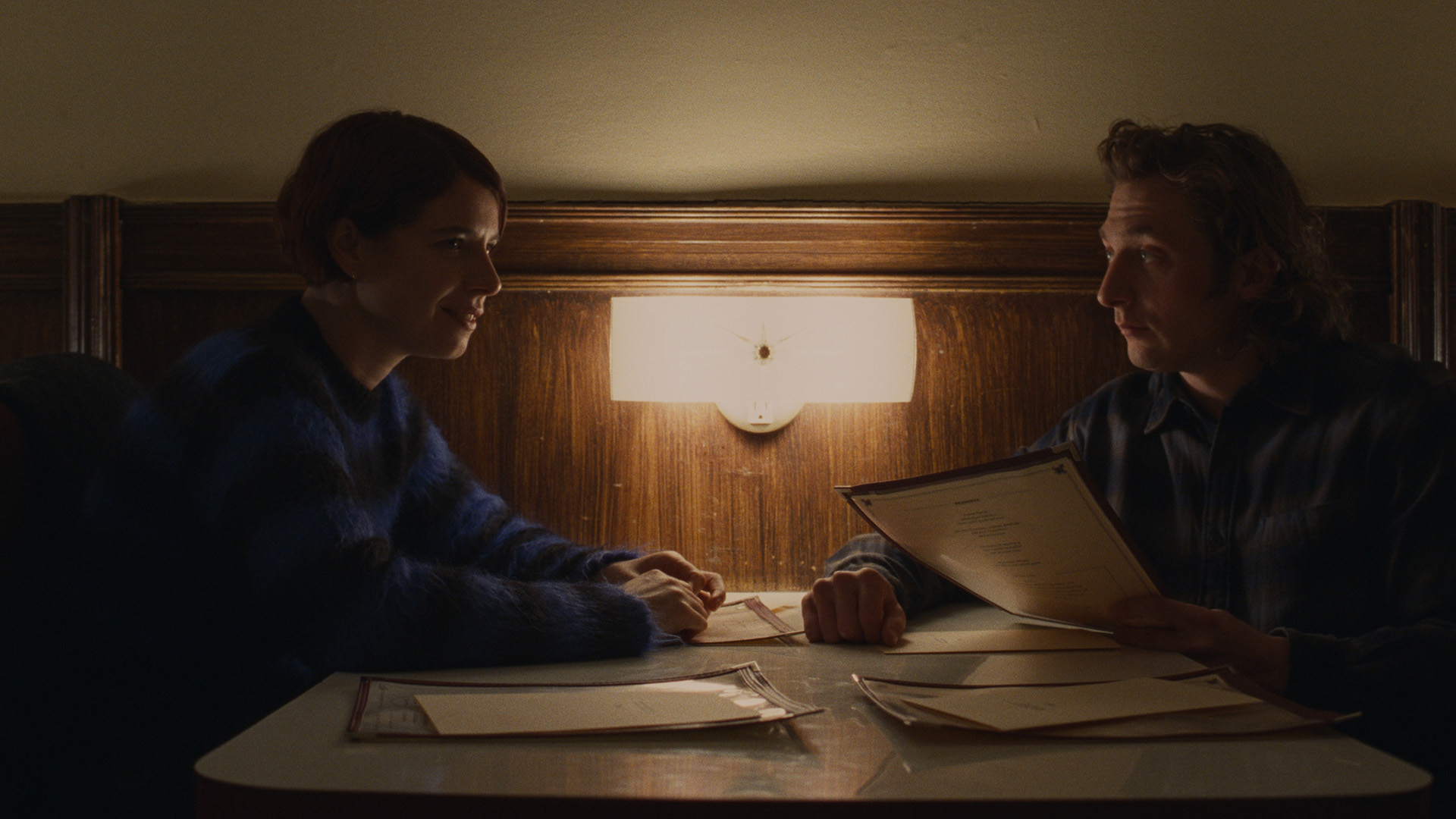 A soft sci-fi, the film takes place in a couples-obsessed near future that only slightly exaggerates our own, where amorous partnership is prized to such an extent that only people in love can redeem happy-hour deals at bars. (Nikou is a former colleague of fellow Greek absurdist Yorgos Lanthimos, and there's more than a touch of The Lobster [2015] to Fingernails.) But even those who have met social expectations and found a partner cannot rest easy, for there is a controversial test – that 87% of participants fail – designed to unequivocally prove who is truly in love, and who is going through the motions.
Anna (Jessie Buckley, fidgety and quizzical) should have no reason to be destabilised by her result. She and her boyfriend Ryan (Jeremy Allen White, brooding and taciturn) passed with the desired 100%, meaning their feelings for each other are mutual. Still, Anna is unsure: her passionate spontaneity is at odds with Ryan's stick-in-the-mud steadiness, and they seem to want different things out of their relationship. So, to quell her doubts, Anna takes a job at the love-testing institute, where she finds herself drawn to Amir (a soulful Riz Ahmed) after meeting him on a staircase by René Magritte's The Lovers II – a symbol of denied connection if ever there was one.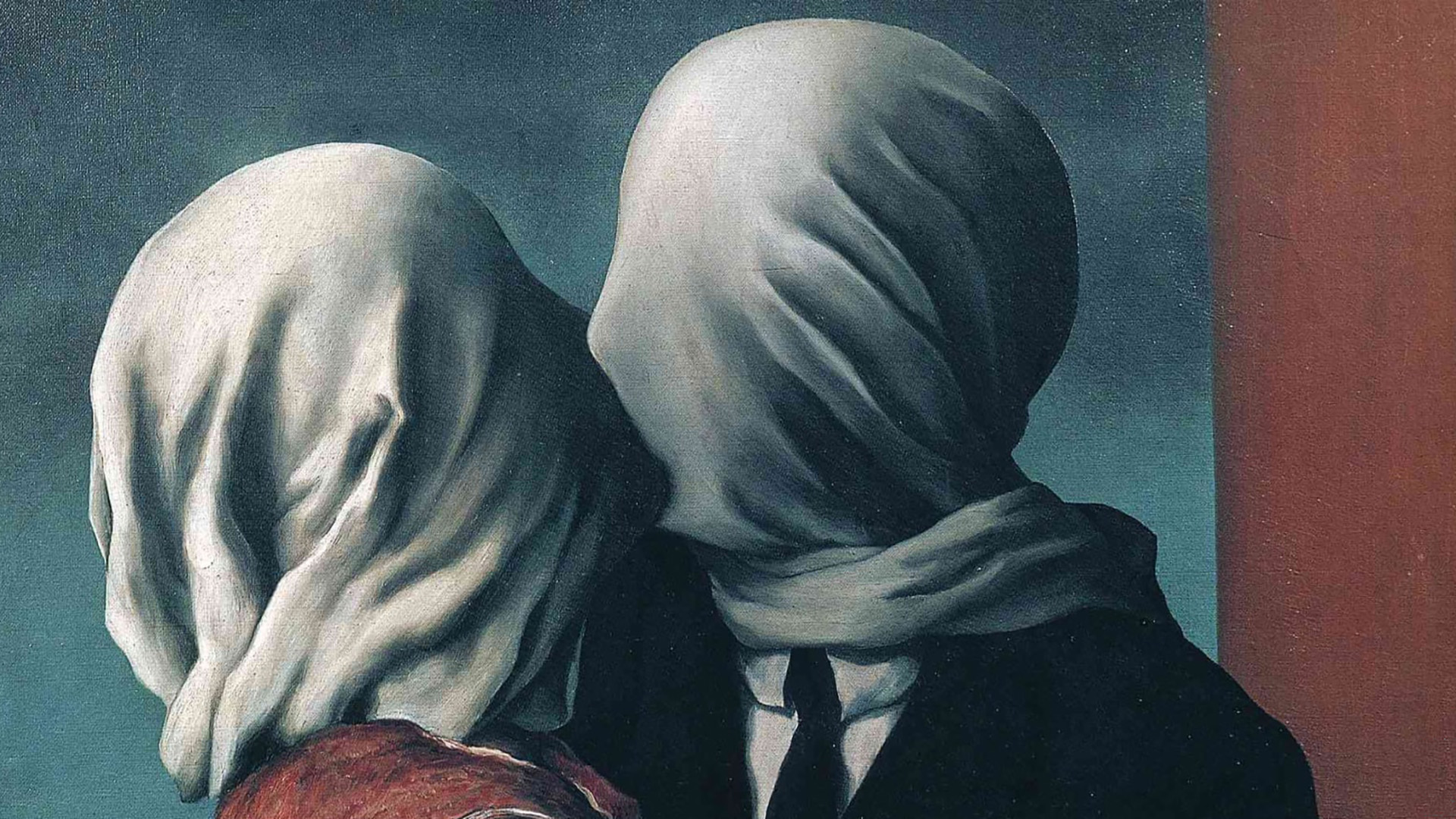 Much of Fingernails' deadpan humour derives from the institute and its practices. Its treatment rooms are painted in conversation-stimulating burgundy, its walls are papered with instructional posters in French ('the most erotic of all languages') and its waiting area is soundtracked by rain because it 'feels romantic' – no matter that the secretary complains it makes her want to pee. Each actor, from the leads to the supporting players, is adept at delivering Nikou's bone-dry comedy, and understands just how long to pause before dropping their zingers. The lengths the institute's couples go to test their bond – including tandem skydives and self-administered electric shocks – can be extreme, yet they never snap the bounds of credulity. You feel for the 21-year-old tearing up while her blindfolded boyfriend struggles to find her by scent in a crowded room, and it's a credit to the filmmaker that even the most outlandish moments remain grounded in real emotion. The same goes for the extracting of fingernails (fed into a whirring machine for the love test), which takes an image usually associated with secret-panning, crime-thriller torture techniques, and reappropriates it to mine information that's more sentimental in nature.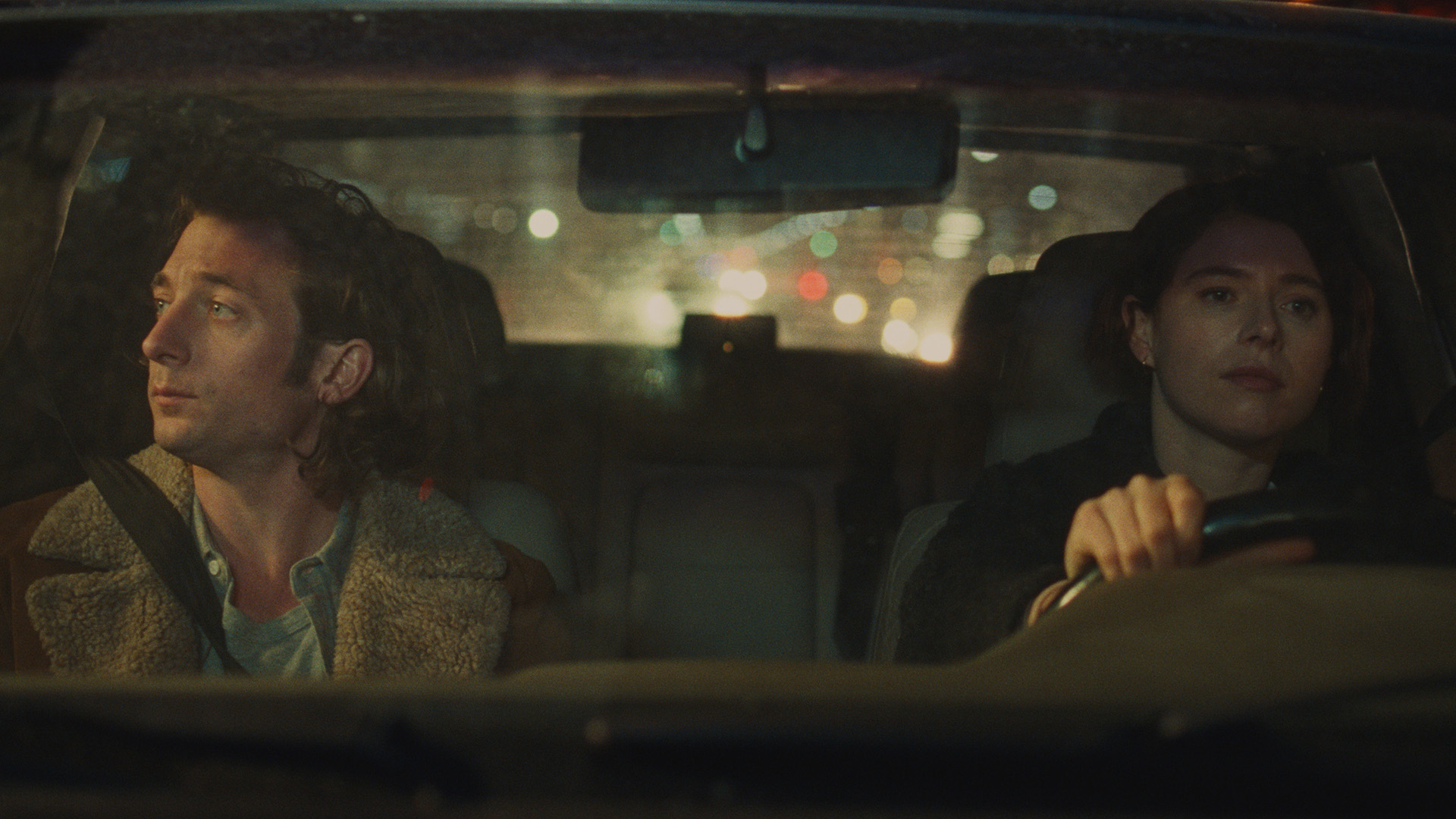 Fingernails has sharper edges than your typical romance, where any conflict must be filed down to reach the inevitable, happy resolution – former doubts be damned. There's a sense of wicked glee to how the film takes shots at traditional rom-coms. The lit-up cinema marquee reading 'Hugh Grant Retrospective: No One Understands Love More', for example, seems to be a tongue-in-cheek dig at the actor's 1995 sex-worker scandal. Several of the love institute's exercises use rom-com tropes to expose how manufactured they are, because the majority of subjects fail the test despite having completed the activities these stories tell us are a sure-fire way to spark affection. Where karaoke in When Harry Met Sally (1989) or 27 Dresses (2008) or this spring's Rye Lane leads to love, in Fingernails it's awkward and uncomfortable, with one guy diluting the romance of 'La Mer' by quibbling about the lyrics (they sing in French too). Anna is clearly inspired by the movies in her personal life, and takes cues from Ghost (1990) when attending a pottery class with Ryan, their hands massaging shapes together as the wheel spins. Ryan, however, is no Patrick Swayze; he moans about the clay's stickiness and asks, with utter sincerity and downcast eyes, 'Why are we here?'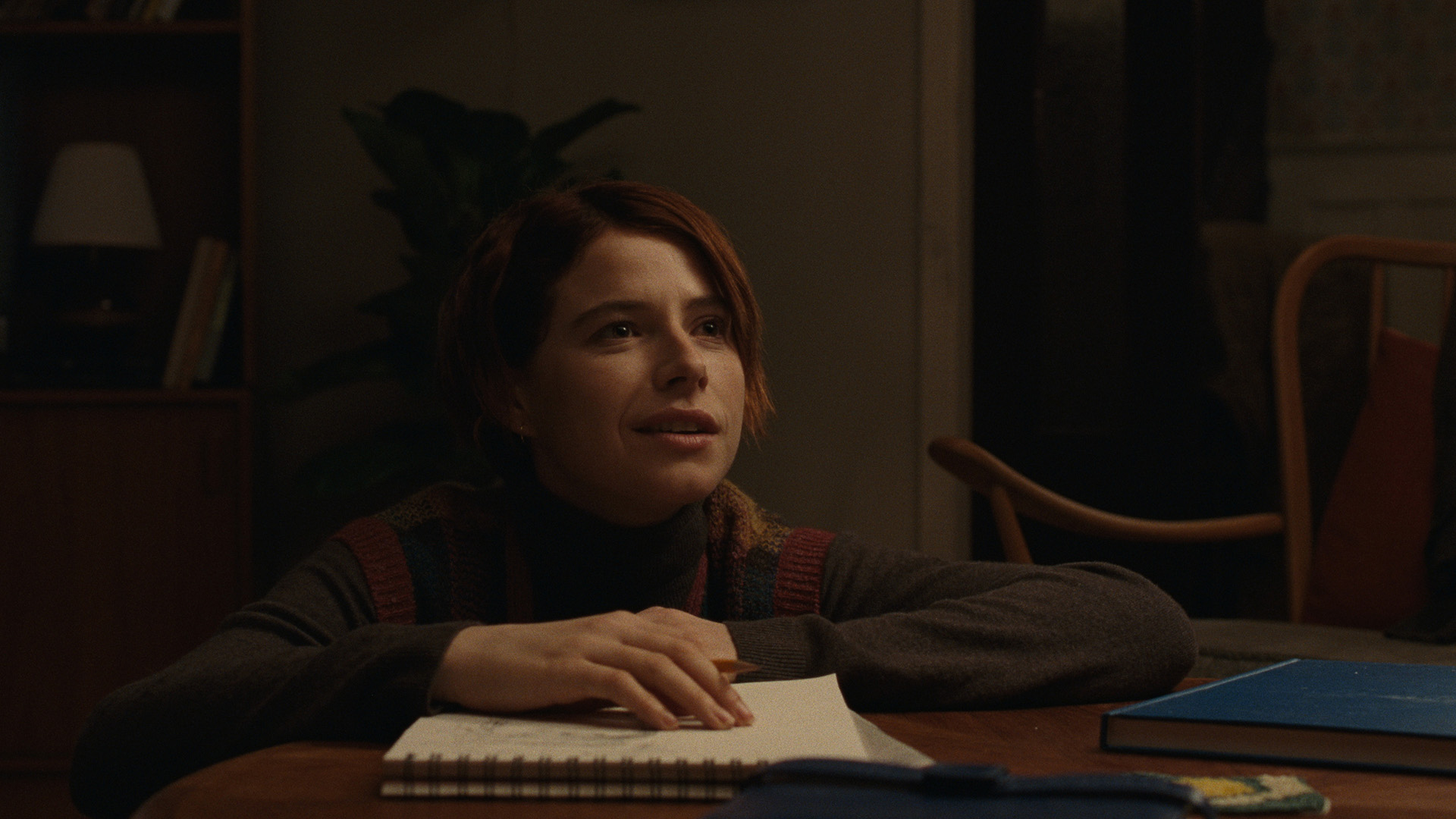 It's easy to see why Anna has tired of Ryan, who prefers the routine of watching nature documentaries on the sofa over trying anything new. A shared shower can't raise the heat on their low-burning romance and, by this stage, her breezy 'love yous!' sound more like self-deception than a pure expression of feeling. There's nothing left for her to do but run towards the scalding flames of Amir's passion. Riz Ahmed is quietly devastating in Fingernails, his character's sardonic humour masking his growing heartsickness. He always seems to be on the verge of completely lowering the emotional drawbridge and confessing something, before thinking better of it and winding it tight shut. On a number of occasions he peeks at his beloved through doorways, and Nikou trains his camera on Ahmed's longing expression as he perceives Anna, just out of reach. 
Fingernails doesn't have all the answers, and therein lies its power. It never settles for an 'all you need is love' plaster to heal the bullet wound of heartbreak. Cutting-edge technology notwithstanding, the institute cannot guarantee that a couple with a 100% result will get their happily ever after. The film focuses on the ambiguity, the doubt, the uncertainty that tears people apart. Its fitting The Graduate-style 'now what?' ending is ultimately reassuring. None of us know whether love is chemical or alchemical – we're all just trying our best and muddling through.
WATCH FINGERNAILS IN CINEMAS