Ahead of Killers of the Flower Moon, your favourite DiCapriologist Yasmin Omar weighs in on the Oscar-winning actor's standout movies.

Leonardo DiCaprio is part of a dying breed. He's one of our last viable movie stars. He's never appeared in a comic-book movie or prestige-television show or even done a sequel. While Hollywood has largely forsaken adult dramas, DiCaprio has kept on making them – with continued success. Throughout his illustrious career, we've watched him develop his once-in-a-generation talent, playing politicians (2011's J. Edgar) and poets (1995's The Basketball Diaries and Total Eclipse), heisters (2010's Inception) and hucksters (2002's Catch Me If You Can). He treats each role with rigour, demonstrating his range as he slips between genres, states of mind. With his Martin Scorsese-Robert De Niro reteam Killers of the Flower Moon (2023) on the horizon, it's high time to ascertain which are the actor's best movies. Take it from someone who has watched everything — and I mean everything, I've seen Critters 3 (1991) more than once and owned a dodgy DVD of the never released Don's Plum (2001) – these are the best Leonardo DiCaprio films.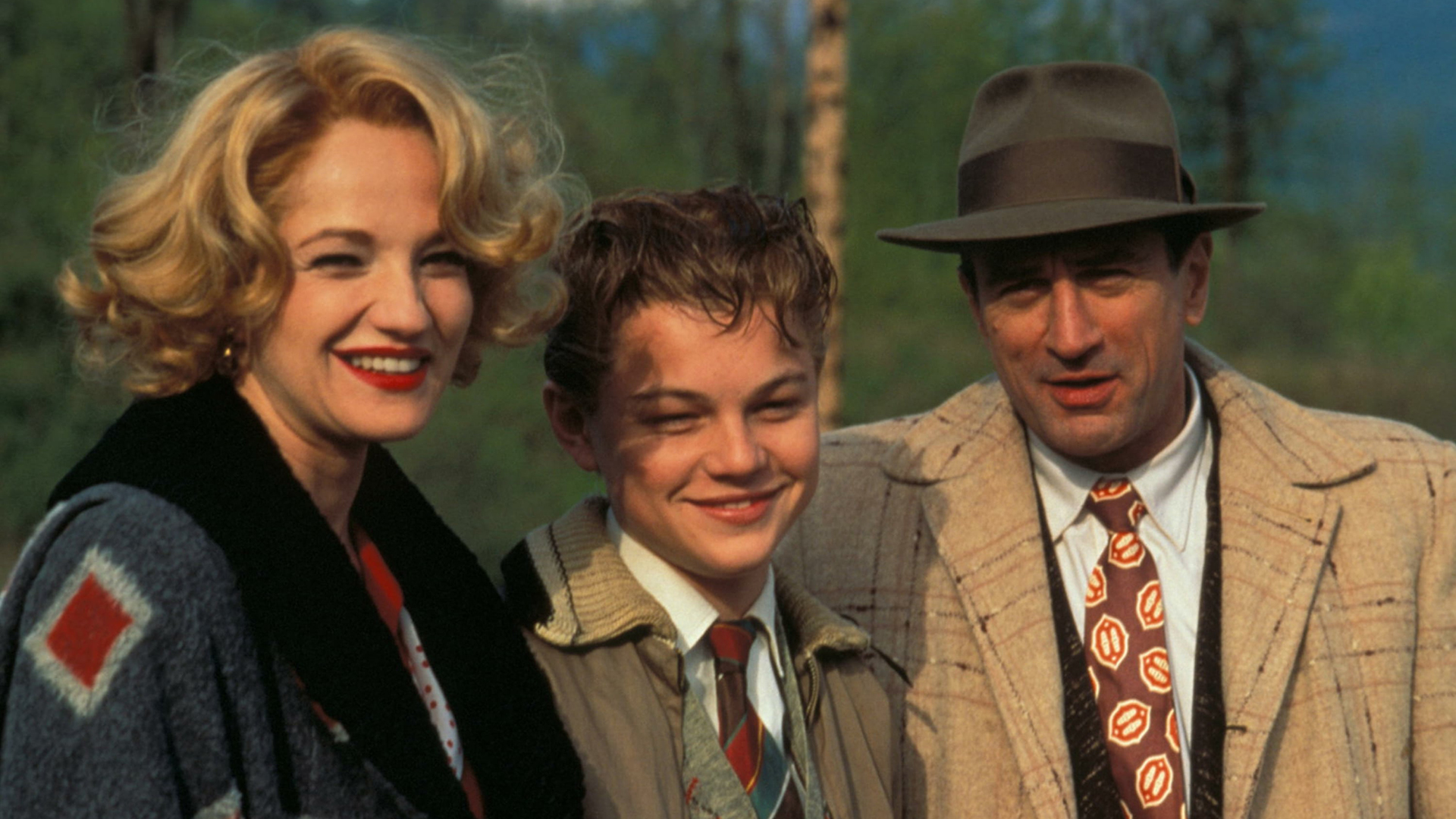 This Boy's Life (1993)
Getting your breakout role aged 16 opposite Robert De Niro? Couldn't be everybody but it certainly was Leonardo DiCaprio. In this based-on-a-true-story family drama, he plays Toby, a troublemaking kid from a broken home whose free-spirited mother Caroline (Ellen Barkin) changes boyfriends as often as socks, then skips town with her son in tow when they turn out to be stalkers, perverts, abusers – which they always do. The latest in this string of bad men is De Niro's Dwight, a mechanic with a chip on his shoulder and a haircut like a nailbrush, with whom Caroline decides to settle down in the sleepy town of Concrete, Washington. What ensues is a jousting match between stepfather and son, where the violent Dwight shows Toby tough love without the love. 
Remarkably, DiCaprio – baby-faced and even babier voiced – holds his own against De Niro. There's a sparking charge to their encounters, as they banter and bicker and exchange blows. In one of the film's best moments, Leo does a spot-on impression of his legendary scene partner – imitating De Niro's fawning cigarette-lighting technique – that really makes you sit up and pay attention. This kid, it seems to say, is going places. The teen actor truthfully captures the mood-swinging volatility of adolescence: his character flits from sullen to sincere, daring to defeated. This Boy's Life showed, very early on in his career, that Leo could carry a movie, even when in the ring with a heavyweight champion. 
Most memorable Leo quote: 'I tell you I'm thirsty and you offer me a sandwich. Thank you and fuck you.'
Should've been the Oscar clip: When he's alone doing Scout signs and meaningfully pauses on the symbol for 'father'.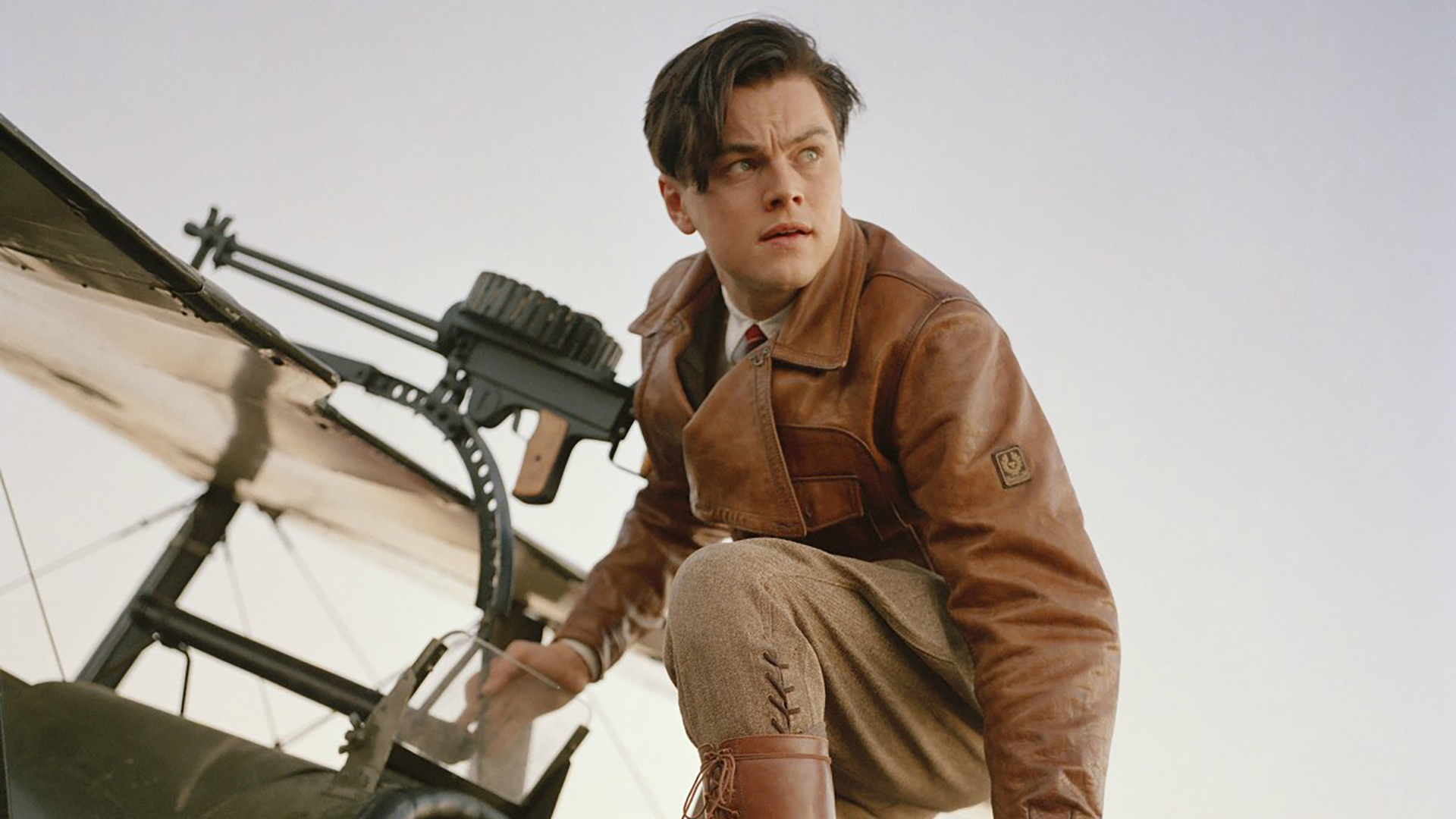 The Aviator (2004)
If you weren't roaming around your house affecting a Southern accent and spelling out Q-U-A-R-A-N-T-I-N-E during lockdown, what can I say? You and I had very different experiences of the pandemic. (Side note: the scene where Leo vigorously washes his hands until they bleed makes this a pretty apt Covid movie.) Martin Sccorsese's lavish portrait of Howard Hughes is a biopic of epic proportions, journeying through its subject's Hollywood power plays, engineering triumphs, business dealings, romantic entanglements, and descent into madness with a snap and crackle that only the inimitable editor Thelma Schoonmaker can achieve. 
At its core, though, the film is about the lecherous grip of fame – something I'm sure resonated with a post-Leomania DiCaprio – and Scorsese shoots Hughes' public appearances as a disorienting whirligig of flaring flashbulbs and grasping crowds. DiCaprio initially plays the titular multibillionaire as a black hole of striving ambition, then transforms into a convulsing bundle of neuroses, all halting coughs, twitching eyelids and repeated phrases unwittingly spilling out of his mouth. The other noteworthy actor is, of course, Cate Blanchett, impersonating Hughes' short-lived girlfriend Katharine Hepburn with a pitch-perfect authenticity that won her an Oscar. She and DiCaprio make excellent sparring partners, her mile-a-minute monologuing dovetailing with his social awkwardness. An underappreciated gem in Scorsese's gold-standard filmography, The Aviator is a glorious period piece filled with sumptuous sets, jive-worthy ragtime and exhilarating aerial sequences. 
Most memorable Leo quote: 'Show me all the blueprints! Showmealltheblueprints, showmealltheblueprints, showmealltheblueprints, showmealltheblueprints…' 
Should've been the Oscar clip: His oratorical pummelling of Alan Alda's Senator Brewster during the congressional hearing, in which Hughes is accused of war profiteering, is absolute dynamite.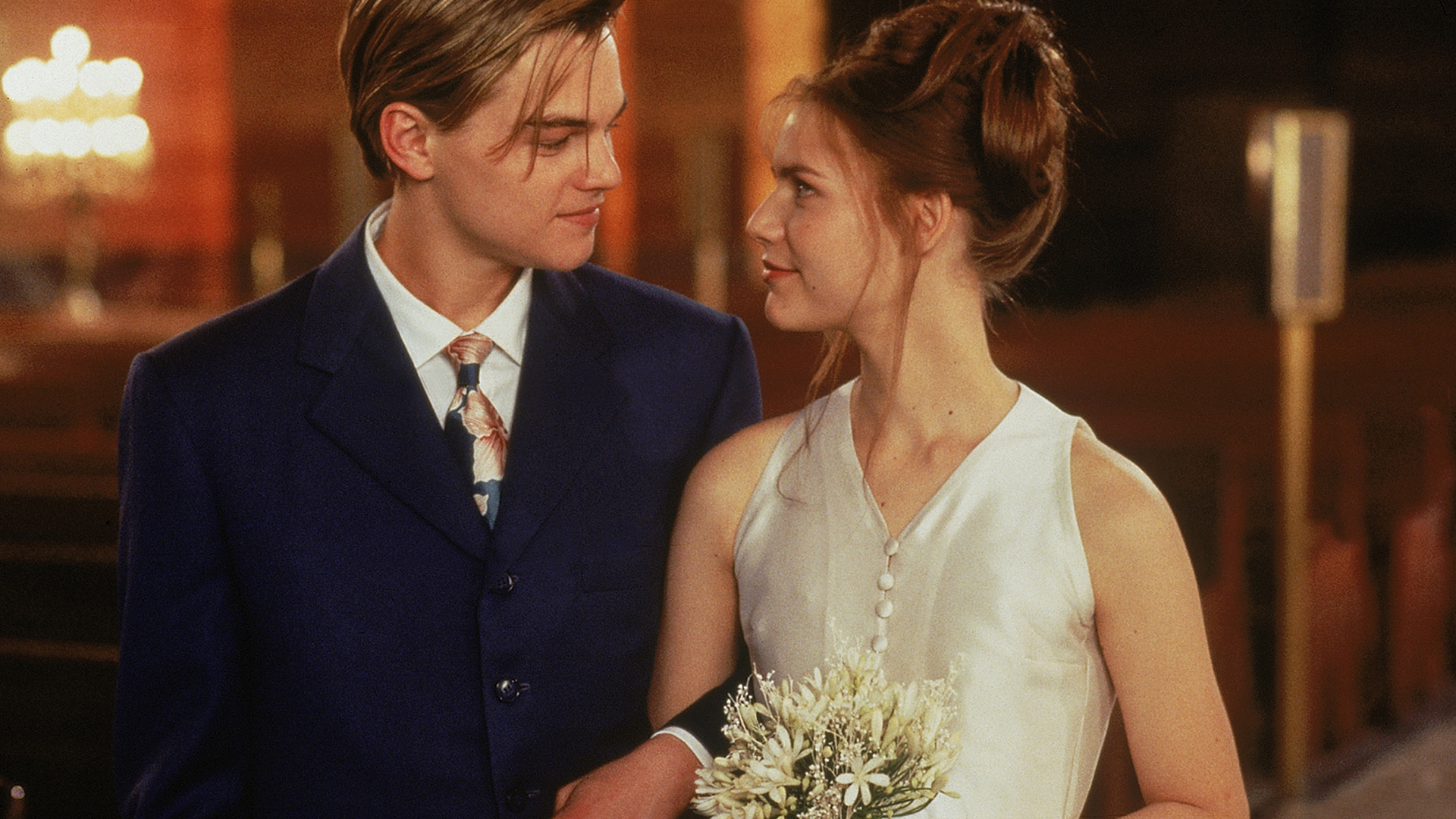 Romeo + Juliet (1996)
The one that started it all, the film that made me fall in love with films. Make of this what you will, but watching Romeo + Juliet, piecemeal over the course of three GCSE English lessons, was one of the formative experiences of my life. Sitting cross-legged on the floor, gazing up at the school's rickety television, my eyes were opened to the infinite possibilities of motion-picture artistry. As I wrote on the film's 25th anniversary, 'Romeo + Juliet is fresh, it's original, it's alive. Edited with the frantic energy of a sugar-high toddler, it zips along at adrenalin-jolting speed, stopping off to observe drug-fuelled drag performances and frenzied car chases, petrol-station gun fights and rowdy snooker games [...] Until that point, I'd never seen a movie like this.' A Shakespeare adaptation with a singular point of view, R+J yanks the play into the 20th century, modernises its references, and hands it a Hawaiian shirt and a boombox blasting out Des'ree. 
This is, quite simply, Baz Luhrmann's masterpiece. The film is a potent synthesis of the director's more-is-more creative philosophy, spinning a lively remix on the world's best known love story. Maximalist style notwithstanding, R+J would not have become the cultural touchstone it is today without a pair of brilliant actors to breathe life into it. The chemistry between Leonardo DiCaprio and Claire Danes is combustible. You never doubt for a second that they'd choose death over a life apart. As we're celebrating Leo here, I'd like to take this opportunity to point out one my favourite elements of this performance: his embrace of his gawky physicality. His Romeo is spectacularly clumsy – tripping over statues by the Capulet pool, falling over at church – which is both endearing and a nod to his teenage character's fumbling towards selfhood.         
Most memorable Leo quote: Well… I know I made the rules but it's quite literally Shakespeare… let's go with: 'But, soft! What light through yonder window breaks? It is the east, and Juliet is the sun.'  
Should've been the Oscar clip: When he kills Tybalt (John Leguizamo). The film's breakneck pace slows down and a static camera frames Leo in a close-up, mouth open in shock, tears welling in his eyes until one slides down his cheek. That's acting, baby!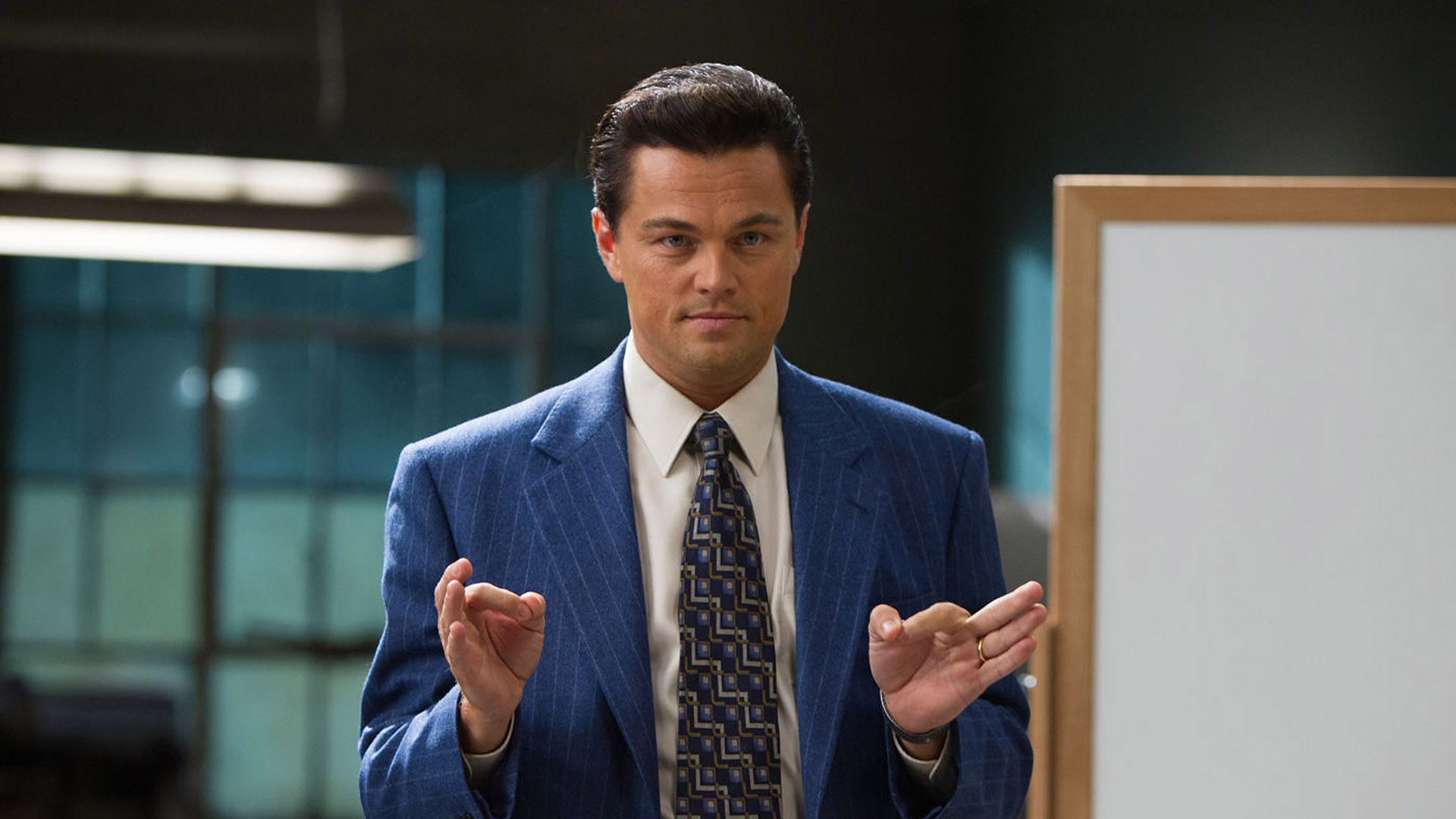 The Wolf of Wall Street (2013)
I'll be the first to admit that it's a little sick how much pleasure I derive from this movie. Watching these lowlifes defraud shareholders and snort coke out of strippers' orifices is oddly comforting to me. The Wolf of Wall Street is a dizzying, testosterone-fuelled epic, a carnival of depravity where chimpanzees rollerskate through dealing rooms and human beings are hurled at targets for sport. And Jordan Belfort, the real-life stockbroker who picked millions of dollars from his clients' pockets, is its ringmaster.
DiCaprio delivers career-pinnacle work as Belfort – and I'm not alone in thinking this, The New Yorker's Richard Brody even went as far as to call it 'the best movie performance of the century so far'. It is a mammoth screen-acting achievement. That the Academy gave Matthew McConnaughey the Oscar over him is tantamount to a criminal offence. Leo exudes oily charm, welcoming us into Jordan's debauched world with a wry, direct-to-camera address and bragging about his exorbitant material possessions. He plays the character like a twisted priest, preaching a gospel of greed to a morally bankrupt congregation. This is also the funniest he's ever been. The quaaludes scene, in which his drug-softened body bumps down the stairs of a country club in the manner of a tangled Slinky, is hilarious.  
The Wolf of Wall Street is three hours long and there's not an ounce of fat on it. The film giddily recounts Belfort's rise and fall – careening between Forbes interviews, trips to Europe, various sexcapades – while giving each member of its colossal cast time to shine. The real MVP among the supporting players (who include Jonah Hill, Kyle Chandler, Jon Bernthal, Joanna Lumley, Jean Dujardin…) is Margot Robbie, who shot to stardom with this breakout role as Jordan's take-no-prisoners lingerie-designer wife. Wolf is all fun and games until it's not. Scorsese, alongside screenwriter Terence Winters (of The Sopranos fame), shows the festering rot beneath the lavish lifestyles, pointing out the suicides, the divorces, the domestic violence. The genius of the movie is its ability to present an image of upstanding rectitude then just as quickly rip it away. The Wolf of Wall Street is a virtuoso portrait of corporate decadence – and an era-defining comedy.     
Most memorable Leo quote: 'I'm not fuckin' leaving!'
Should've been the Oscar clip: Any of his pep rallies to his employees, where his terrible, towering charisma whips them up into a money-crazed frenzy.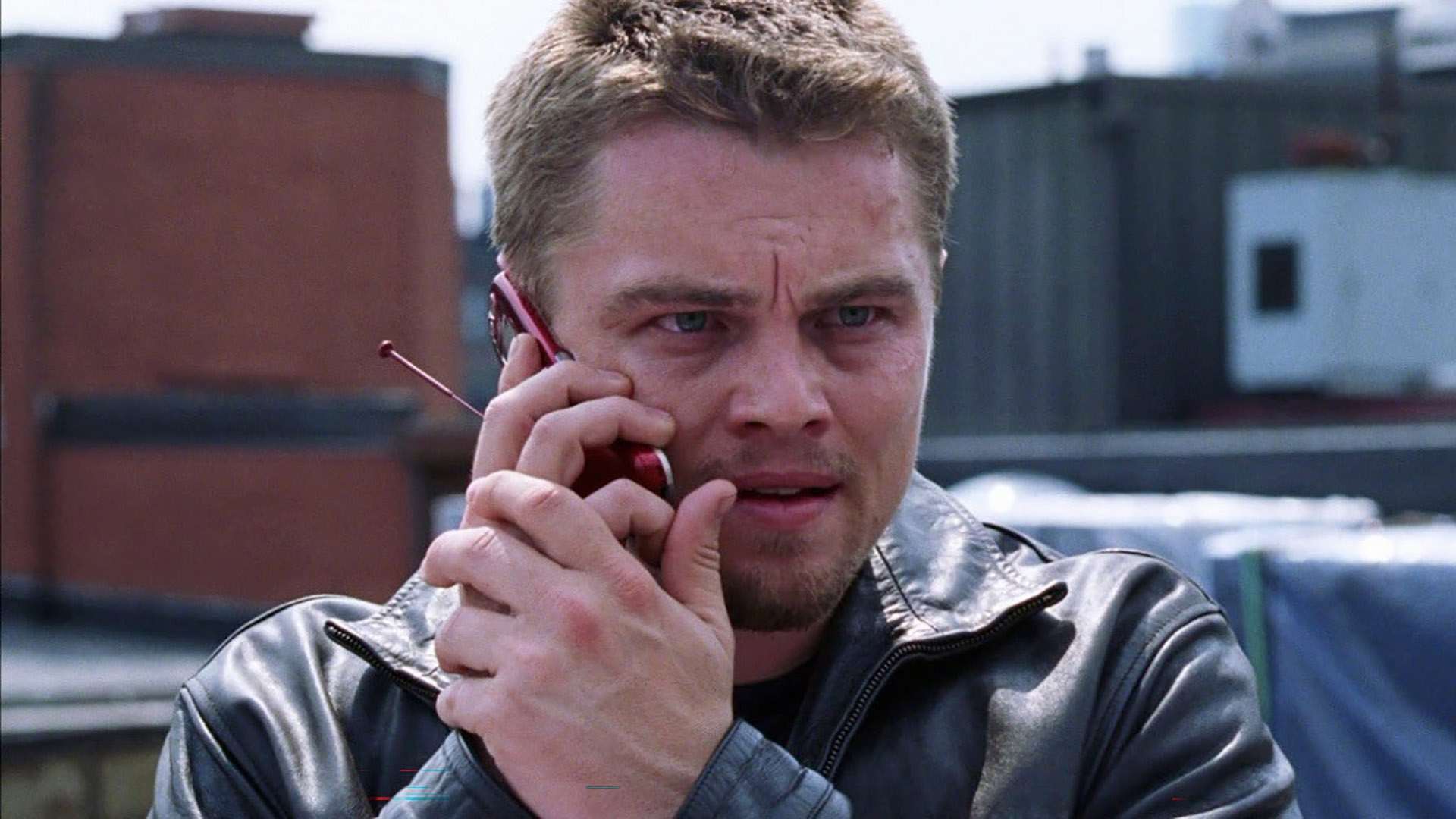 The Departed (2006)
An enormously entertaining remake of Infernal Affairs (2002) that swaps Hong Kong for Boston, The Departed – sorry, The Dep-aaaah-ted – is a spry cat-and-mouse thriller in which Costigan, DiCaprio's undercover cop with a violent past, infiltrates the city's most dangerous organised-crime network, headed up by Jack Nicholson's unhinged mass murderer Costello. The rub? There's a rat in the Special Investigations Unit (Matt Damon's Sullivan, oozing slime) keeping Costello one step ahead of the police. Scorsese's back in gangster mode and it's an absolute riot. The title card is held for 19 minutes, the filmmaker puts The Rolling Stones' 'Gimme Shelter' on the soundtrack again, the f-word and its derivatives are spoken 237 times ('Fuck yourself.' 'I'm tired from fuckin' your wife.' 'How's your mother?' 'Good, she's tired from fuckin' my father.').      
It might seem facetious to call a Best Picture winner 'underrated' but, because it's fun and zippy, The Departed doesn't get the credit it deserves. The character work in William Monahan's script, for one, is masterfully layered. The screenwriter sets up Costigan and Sullivan as good cop-bad cop foils by throwing them into directly comparable situations and recording their differing reactions. And, without wishing to open the can of discourse worms that is 'women characters in Scorsese movies', it should be noted that Vera Farmiga's tough police shrink Madolyn is just as interesting as Sharon Stone in Casino (1995) or Lorraine Bracco in Goodfellas (1990). As for DiCaprio, he stretches himself once more by playing a Massachusetts tough guy – something audiences at the time were sceptical he could pull off. Whether he's beating up mobsters or laying bare his anxieties, he brings a real grit to the part while also tapping into Costigan's vulnerabilities (the moment he rests his head on Farmiga's hip and she runs her hands through his hair is gutting). Plus, there's a scene of him tattooed and shirtless doing push-ups in prison. What's not to like?
Most memorable Leo quote: 'There is no one more full of shit than a cop. Except for a cop on TV.' 
Should've been the Oscar clip: His first psychiatry appointment with Madolyn. The rage is pouring off him, it's electric.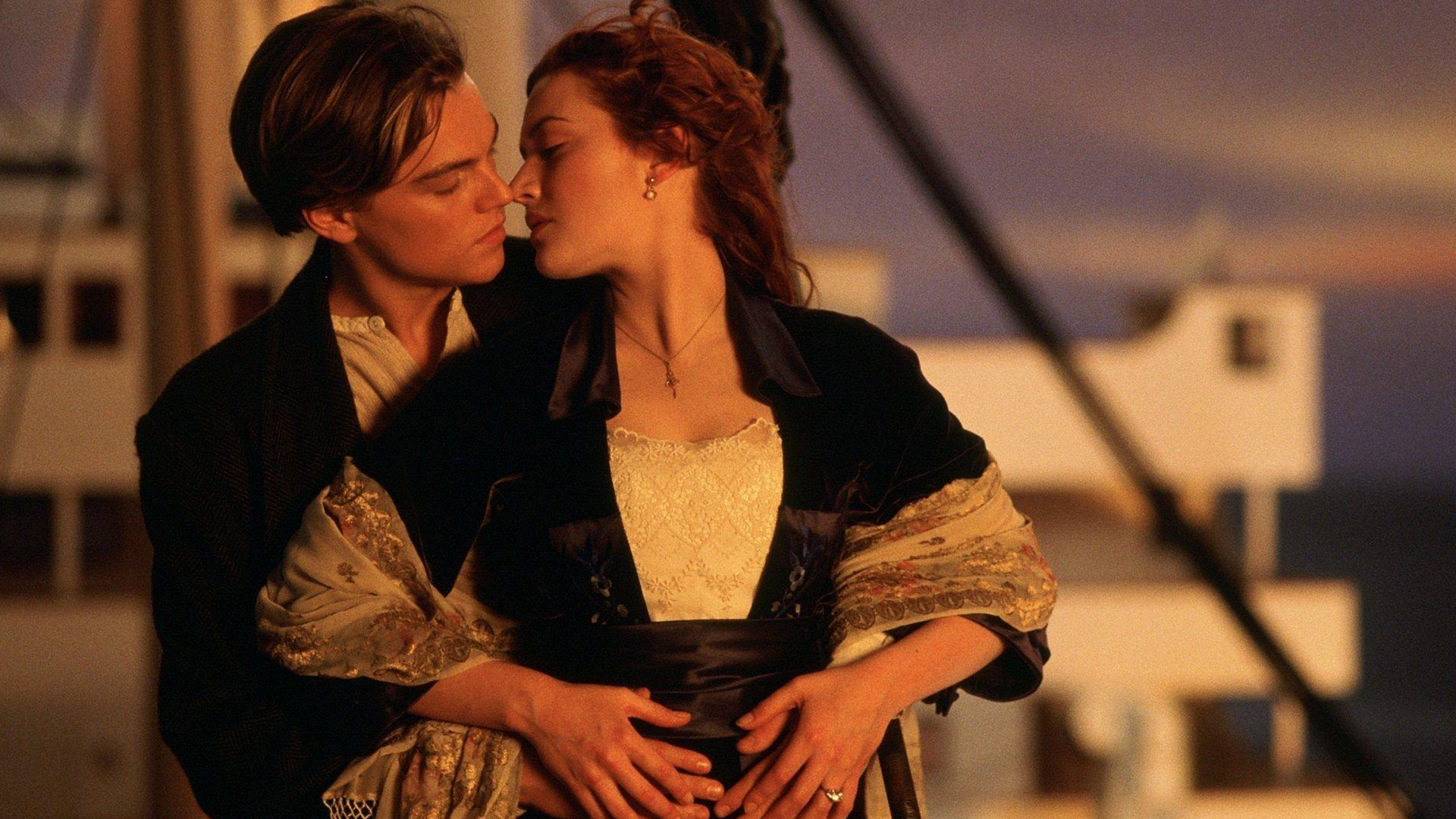 Titanic (1997)
You can be blasé about some things, dear reader, but not about Titanic! James Cameron's sweeping epic is, according to me and the five other legends who voted for it in Sight & Sound's 2022 critics' poll, one of the greatest films of all time. Everyone knows what happened to the notorious steamer during its maiden voyage on 14 April 1912. The filmmaker even shows us exactly how the ship will sink with a CGI recreation in the movie's opening sequence. What turned Titanic into a veritable phenomenon was its folding of a fictional love story – between penniless artist Jack (Leonardo DiCaprio) and cosseted rich girl Rose (Kate Winslet) – into the real-life tragedy. They anchor the film as it evolves from historical drama to swooning romance to flat-out disaster movie. Leo and Kate distinguish themselves as a truly iconic on-screen couple, their quippy playfulness moving effortlessly into sizzling intensity. People tend to forget, given the life-or-death stakes of the final two acts, all the levity of the first hour where they dance Irish jigs and practise spitting off the side of the deck. (Best piece of trivia about Titanic? Leo's line 'Over on the bed – the couch' as he gestures for her to lie down for the life drawing was a genuine mistake that Cameron kept in.)  
The naysayers who gleefully reported on Titanic's swelling production budget – it was the most expensive film ever made at the time – were forced to eat their words when it earned $1.8 billion on its initial release, and has since been crowned the fourth highest-grossing film of all time. Five weeks into the movie's run, its studio estimated that 7% of all American teenage girls had seen it twice. Titanic was critically acclaimed too for its technical prowess and expansive storytelling, and made Oscar history when it won 11 Academy Awards (tying with 1959's Ben-Hur as the most decorated film). It was this role – as the cheeky, resourceful and devoted Jack – that catapulted a 23-year-old DiCaprio to superstardom. It's easy to see why he became a heartthrob, what with Titanic being his second consecutive would-die-for-you romantic hero after Romeo + Juliet.     
Most memorable Leo quote: 'I'm the king of the world!' (Duh.) 
Should've been the Oscar clip: Shockingly, he wasn't nominated for this, which prompted 200 fans to contact the Academy demanding a vote recount. I would've selected the dinner scene in first class, where he goes toe to toe with Rose's belittling mother (Frances Fisher) and fiancé (Billy Zane).  
Once Upon a Time in Hollywood (2019)
In his second collaboration with Quentin Tarantino (following 2012's Django Unchained), DiCaprio stars as over-the-hill TV actor Rick Dalton, who made his name on the cowboy show Bounty Law and is now slowly fading into obscurity. Propping him up – both physically and mentally – is his stunt double/handyman/best friend Cliff Booth (Brad Pitt, laidback and louche). Once Upon a Time in Hollywood is an easy, breezy hangout movie that offers a sun-dappled snapshot of 1969 Hollywood, admittedly with an ending concerning the Manson Family that features a typically Tarantino wrongfooting.
Loose and free-flowing, the film is essentially a series of vignettes, enlivened by jukebox favourites from the period, that take in the goings-on at abandoned studio backlots, dimly lit diners and Beverly Hills mansions. DiCaprio or, as Pitt memorably called him, LDC is terrifically funny as Dalton, with his eggshell-fragile ego and whinnying sobs over his bleak future in (insert Missouri accent here) 'I-talian pictures'. There's a real lack of vanity to this performance. He chokes up phlegm and stammers through sentences and sings tunelessly in his pool. Leo's always game to go the extra mile for a role; his commitment is part of what makes him great. This is the guy who broke his vegetarianism and ate raw bison liver for The Revenant (2015), after all.         
Most memorable Leo quote: 'That's too hot. Anything we can do about that heat?' 'Rick, it's a flamethrower.' 
Should've been the Oscar clip: His (wholly improvised) self-flagellating rant in Rick's trailer where he bellows about his alcoholism and hurls his hip flask against the door. Tragicomedy of the highest order.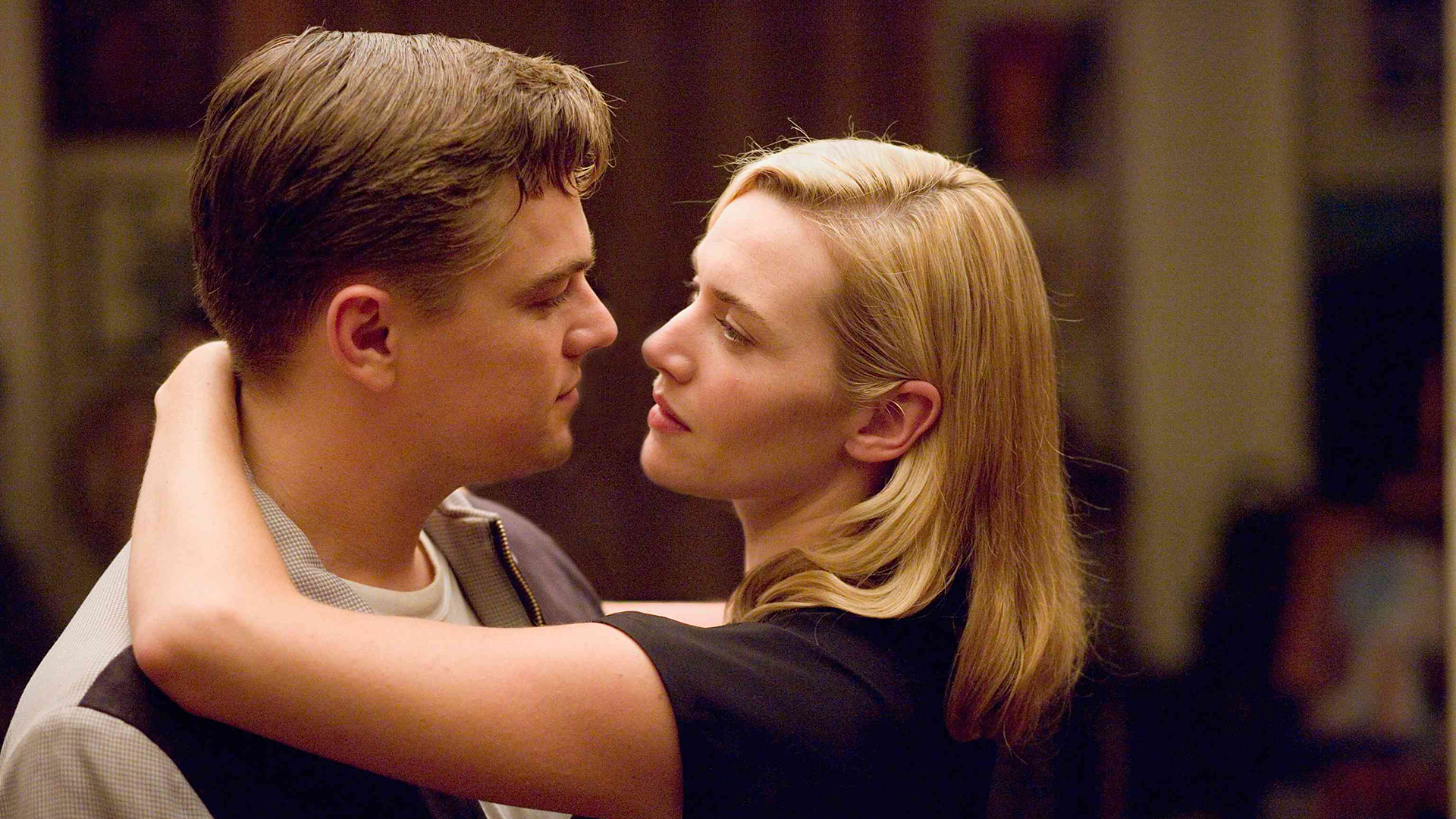 Revolutionary Road (2008)
I'm a sucker for the 'white couple's relationship falls apart' subgenre – Blue Valentine (2010), Marriage Story (2019), you name it – so seeing Leonardo DiCaprio and Kate Winslet reunite 11 years after Titanic, only for their characters to verbally pulverise one another for two hours, is simply irresistible to me. (Not to mention the press tour! Leo blowing Kate a kiss as she accepted her Golden Globe for the role, and she told him she 'loved him with all her heart', was a seminal awards-show moment.) Revolutionary Road is a crushing domestic drama about how suburban ennui smothers the vitality in the Wheelers, DiCaprio's Frank and Winslet's April, a picture-perfect, white-picket-fence 1950s couple whose apparent happiness hides a mouldering dissatisfaction. The life they imagined for themselves was technicolour; the one they ended up with is grayscale. For all his complaints of 'the hopeless emptiness' of bourgeois existence, Frank, a middle-management salesman whose head is turned by a younger woman in the secretarial pool (Zoe Kazan), is very willing to accept its comforts. 
This devastating character piece – which hops between the Wheelers' promise-filled courtship to their compromise-burdened marriage – allows its two powerhouse actors to really show us what they've got. Sure, there are plenty of explosive screaming matches, where furniture is smashed apart and saliva is flying, but they are leavened by lower-key, tender moments. The best shot in the movie might just be when Frank, having spent the afternoon between the sheets with a colleague, returns home from work to find his wife and children, faces illuminated by candles, singing 'Happy Birthday' to him while he looks on, red-rimmed eyes brimming with tears. Frank is perhaps one of the most loathsome figures Leo's ever played. He prides himself on being a worldly bohemian to obscure his true self: an aggressive, self-hating cliché no different from the suburbanites he looks down on. You still empathise with him, though, and that's a testament to DiCaprio's performance, which scrapes away Frank's bravado and exposes the quivering, insecure little boy beneath.   
Most memorable Leo quote: 'I want to feel things, really feel them. How's that for an ambition?'
Should've been the Oscar clip: Although the Academy tends to choose the Most Extreme Acting, I'd favour the quiet breakfast he has with Winslet towards the end of the film.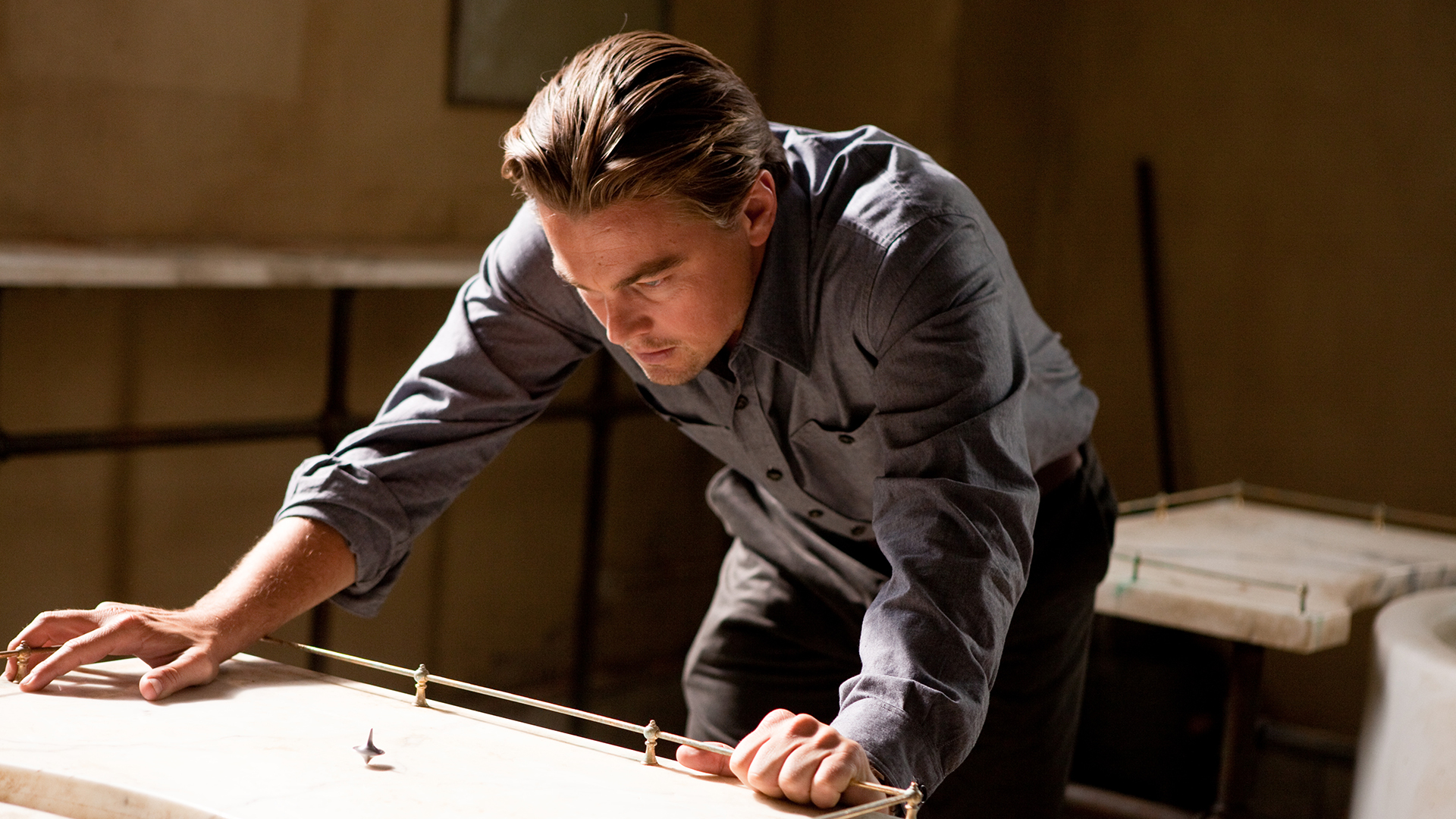 Inception (2010)
This is Christopher Nolan in his purest form. Christopher Nolan uncut. Inception blends all of the auteur's long dissected themes – the fallibility of memory, human morality, bending time – into an engrossing mega-blockbuster with an esoteric sharpness. DiCaprio stars as suave dream thief Cobb, who raids people's subconsciouses and unearths their most closely guarded secrets while they sleep. When a client asks him to plant an idea into the mind of business-tycoon heir Robert (Cillian Murphy), he assembles a crack team – including Tom Hardy, Joseph Gordon-Levitt and Elliot Page – to venture with him through five levels of dreams, plunging deeper and deeper into Robert's psyche. A brain-teasing puzzle box that demands repeat viewings, Inception rewired our collective consciousness upon its release. Viewers still hotly debate whether Cobb's spinning top – which helps him distinguish between dreams and reality – topples over in the film's final shot. The thundering 'BRAAAM' horn on Hans Zimmer's score became the defining sound of 21st-century trailers. The term 'incept' entered the language.             
There may be an anti-gravity fight and a snowmobile chase, but what makes Inception soar is the emotion propelling it – not something that can be said of many Nolan movies, considering they're more enamoured with ideas than characters. DiCaprio was concerned that the script's original draft was too theoretical, and so retooled it alongside the writer-director in order to beef up the backstory about Cobb and his late wife Mal (Marion Cotillard). This change gives us something to cling onto amid the talk of Penrose staircases and customised sleeping drugs. Leo is reliably brilliant: part action hero, part traumatised widower… full-on legend.     
Most memorable Leo quote: 'You're waiting for a train…' 
Should've been the Oscar clip: His harrowing reaction to Mal's death. Just thinking about it makes me want to cry.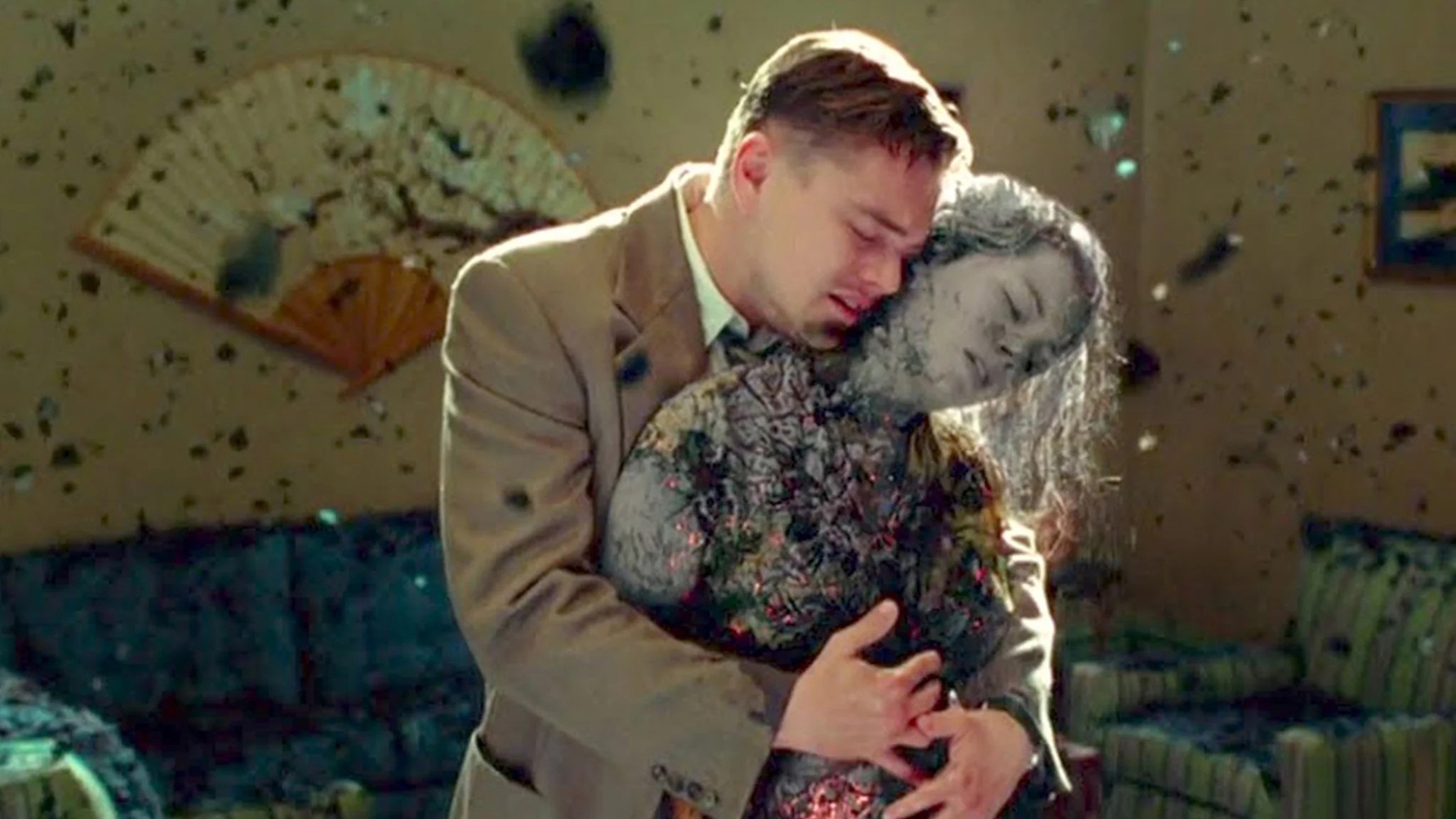 Shutter Island (2010)
Remember when we'd get two new Leo movies in a single year? Those were the days. It's a wonder we all survived his four-year career break after The Revenant. In the second of his 'my wife is dead and I'm struggling to deal with it' movies of 2010, DiCaprio plays Teddy, a federal marshal investigating a missing-woman case at an institution for the criminally insane. As he works to solve the mystery, Teddy is tormented by visions of his deceased love Dolores (a mercurial Michelle Williams). Based on Dennis Lehane's Fifties-set bestseller, Shutter Island is one of those hugely satisfying third-act-twist movies that clicks into place on a second viewing, recontextualising everything that came before.  
The paranoid thriller, directed by Scorsese in the filmmaker and actor's fourth collaboration, ramps up the tension by blurring the line between objective truth and Teddy's hallucinations. It knows when to show its hand and when to tuck its ace up its sleeve. Leo plays the bereaved detective like an open wound. There is a visceral potency to his scenes with Williams, where they sling anger, regret and guilt at one another, then dissolve into grief – such as when she turns to ashes in his arms and her remains flutter out of his tight embrace. It was dismissed as a prestige-courting B movie when it came out, but Shutter Island is a bruising, raw odyssey into one man's psychological nightmare. 
Most memorable Leo quote: 'Why are you all wet, baby?' 
Should've been the Oscar clip: Without spoiling it, the sequence when he wades into the lake. If you know, you know.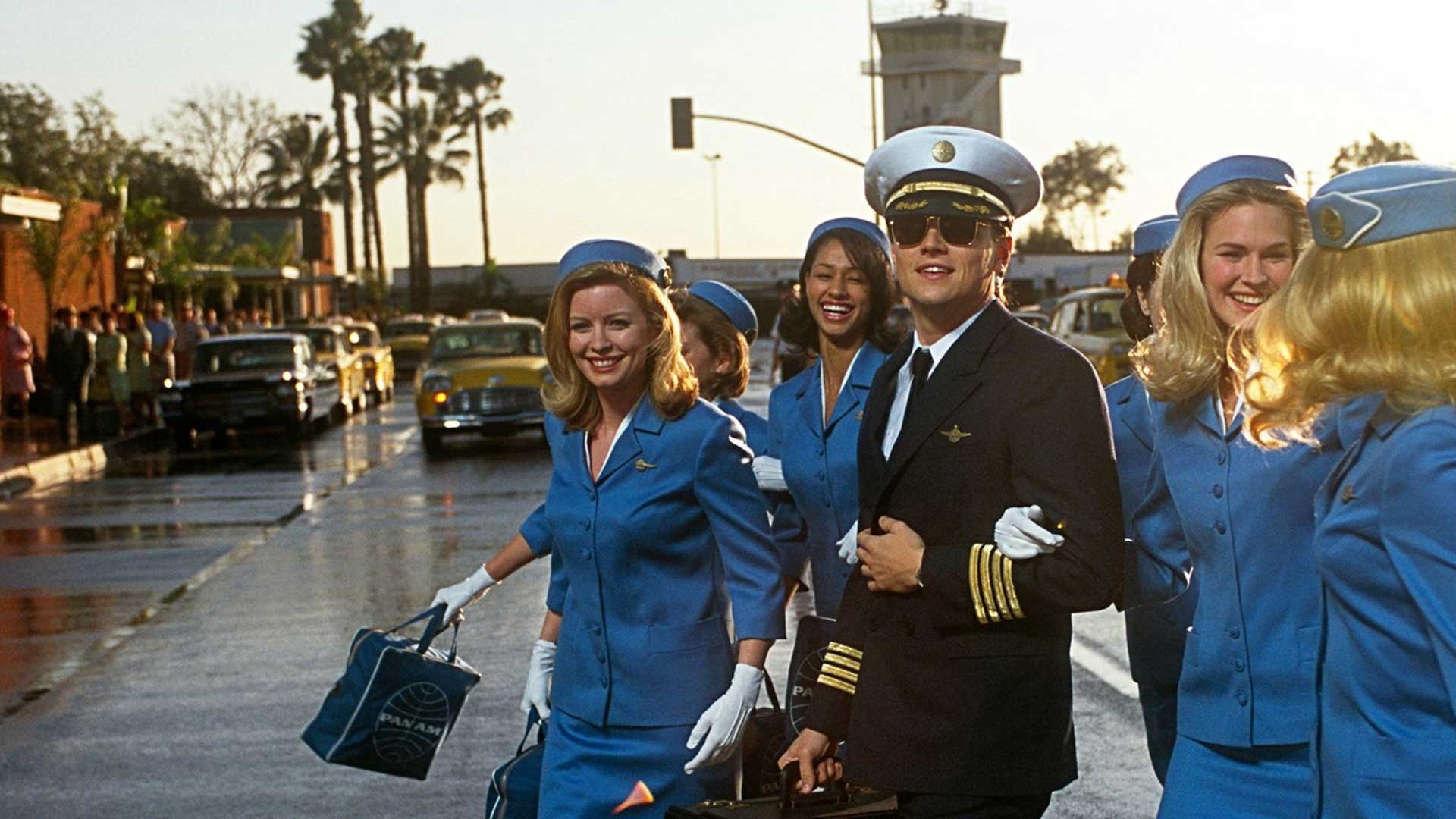 Catch Me If You Can (2002)
If there are any constants in Leonardo DiCaprio films, it's the actor's enduring interest in period-piece biopics and collaborating with Hollywood's most revered filmmakers. Both these impulses combine in Steven Spielberg's pacey, 1960s-set con-man dramedy, in which Leo portrays Frank Abagnale Jr, the wily cheque forger who impersonated a Pan Am pilot, a Harvard-educated paediatrician and an assistant district attorney – all before he turned 20. He repeatedly outwits the bad-tempered FBI agent tasked with bringing him in, Carl Handratty (an unusually grouchy Tom Hanks), by thinking on his feet and wriggling out of punishment. 
It is a little terrifying how much Frank can get away with as a good-looking white guy: no one stops to ask for his credentials, a uniform is enough of a stand-in for professional competence. His female marks – Amy Adams, Elizabeth Banks and Ellen Pompeo back when they were up-and-comers – are easily won over by a smile and a steak-dinner invitation. Leo's having fun here, speeding around in Italian sports cars and pretending to be James Bond. It's a far cry from the creased-brow heaviness he generally brings to his work, although there is an emotional weight to his scenes with Christopher Walken as Abagnale's crumpled, two-bit-criminal father – DiCaprio's eyes blaze with feeling whenever he speaks to the man Frank Jr idolises, and emulates. Catch Me If You Can is ultimately a joy ride that, with its jazzy John Williams score and dynamic script, beautifully replicates the thrill of the chase.     
Most memorable Leo quote: 'People only know what you tell them.'
Should've been the Oscar clip: His revelation of his true identity to Adams' Brenda when the FBI raids their engagement party. He's severely rattled.  
WATCH KILLERS OF THE FLOWER MOON IN CINEMAS